The Encrypt Backup element in iTunes is a feature designed to lock and encrypt data. An encrypted iTunes backup includes certain important information like your previously saved passwords or even your Wi-Fi settings. Some of the other things that you could protect with it are website history and contact information. The purpose is simple - most of us wouldn't want our iPhone stolen and wouldn't want the device compromised, for which we encrypt all the data in the iPhone easily!
Saving iPhone Data by Encrypting iTunes Backup
It is essential that iPhone backup created by iTunes is encrypted as it contains sensitive data which opens you up to a lot of risk. This data is out in the open, where it can be stolen or damaged. It also makes it easy to access data anytime from anywhere. Encrypting iPhone backup can stop anyone to look at you data as it prevents people from accessing the location data which is stored in your iPhone. This method is also cost effective as you wouldn't have to use an external drive to keep a backup of all the data in your device. Basically, encrypted backup is an added layer of protection around data that is sensitive and personal.
(Note: Here you are suggested to get a professional iPhone password manager, lest you might forget the password, which might permanently encrypt your iTunes backup since you can't even access the files.)
How to Encrypt iPhone Backup Created by iTunes?
> Connect the device to iTunes using an already included USB cable.
> Pilot to the Summary tab and at the bottom locate the section Options.
> The "Encrypt iPhone (or iPad) Backup" will be the last checkbox of that section.

> Check that box, and follow the prompt to select the password. Click on Set Password.
> iTunes will then confirm your password and start to encrypt the back up data. It also encrypts any previous data on the device.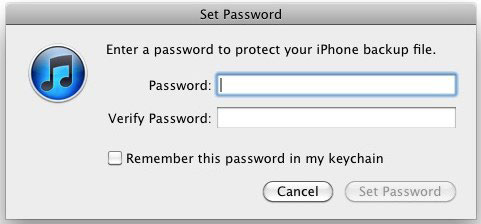 > There will be a "Remember this password in my keychain" dialogue box which will pop up after this. It's recommended not to click on it as it negates the whole purpose of using an encrypted backup.
Also Read:
How to Transfer Music from iPhone to iTunes
Useful iTunes Backup Tips You Can't Miss
Advantages & Disadvantages of Encrypting iTunes Backup:
Here is a look at the different advantages you can have with this method of backing up all the iPhone data.
- Now, iTunes will ask for the password, every time you want a data restored. Plus, the data in the backup will be encrypted too, meaning it would be useless to anyone who opens it without using iTunes. Your personal data is safe and secure now.
- It safeguards your account passwords and contact information from prying eyes. This advantage is very important for people who use emails as their primary mode of interaction.
- Encrypting the backup also makes the transition to a new device a little easier and less time taking since your accounts will still be signed in on majority of the apps on the phone.
But there are also some demerits you can't neglect:
- It is of utmost importance that you remember the password since there's no way to recover your iTunes backups without it.
- It is time consuming and for a regular user, it is unnecessary to encrypt any data.
- Storage of this data depends on your Mac or PC's available space which can be tricky if you are running low.
Related: How to Extract iPhone Bookmarks from iTunes Backup
The Easier Way Out? - Backup iPhone Files to A Safer Place
Rather than backing up iPhone files to iTunes and then encrypting iTunes backup, why not choose this Coolmuster iOS Assistant software to help you backup all the data you need from your phone to your computer in just a few simple clicks. Actually, with this software, you can directly backup important files to the computer without extra need to encrypt an iPhone backup, since computer is a safe place to save the backup files. It's simple and it's effective.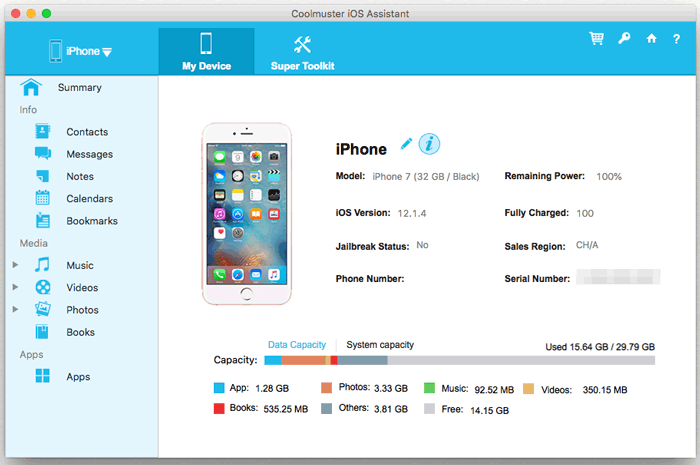 Related Articles:
Best Backup Software for iPhone/iPad/iPod