Best Way to Backup iPhone to Mac Computer
Since data on iPhone can be erased accidentally or damaged due to malfunctions, factory restore or virus threats, backing up the data on your iPhone is very important. Most people store their backup on their Mac which can be used to restore the phone. Moreover, if you had tried to jailbreak your iPhone, it might not work properly. There can also be occasional software glitches where the screen freezes or does not as it should. But you can retrieve a compromised iPhone using the previously backed up file on Mac.
Also Read: Possible Causes for Data Losses on iPhone
Now in terms of backing up iPhone, iTunes or iCloud might be your top choices. But actually using solutions like iTunes and iCloud for Mac backup is not a good choice. They have many limitations and drawbacks like:
- You need to sync which may erase the iPhone data.
- Not all file types can be backed up.
- You need consistent internet connection for iCloud backup.
- It is time consuming and not very user friendly.
Most of these methods are time consuming. There is no guarantee that you would get back the data you had with you, and it can take hours to get the restoration to complete. What if there was an easier way out?
Guide on How to Backup iPhone to Mac
Coolmuster iOS Assistant (Windows/Mac) brings the ultimate solution to export and backup data on your iPhone. All file types like movies, photos, videos, contacts, notes, books and audiobooks can be backed up on Mac like a breeze. The total management software keeps your Apple devices safe from data loss with proper backups. It also comes with many outstanding features like:
1. Two-Way Transfer - Coolmuster does more than just taking backups. Many programs can transfer files from iPhone to Mac, but very few can do the opposite. You can now easily move files from Mac to iPhone and add new songs or videos. You have the total freedom to move data in any way you want.
2. Comprehensive Search - The built-in feature lets you quickly find files you are looking for. You just have to type the file name in the search box.
3. Quick Preview - Data types can be preview with detailed information on Coolmuster. You can also get preview of media files for easy and quick identification of content.
4. Original Quality - All files going through transfer retain their original quality and there is no threat of data loss. It is also very safe and supports latest Apple devices.
Steps to Use Coolmuster to Backup iPhone to Mac:
Here are the three simple steps that will help you backup all your apps and data including media and contacts to your Mac:
> First you have to access the Coolmuster program by opening it. Then comes connecting the iPhone with the USB cable. Coolmuster will detect your iPhone automatically and display its details. All the content on the phone will also be listed in categories on the left side of the interface.
> Selecting each category will lead you to the actual files and their details. Your music, podcasts, movies, TV shows, and other content will be listed under their respective categories. You can get preview of media files through Coolmuster's useful preview feature.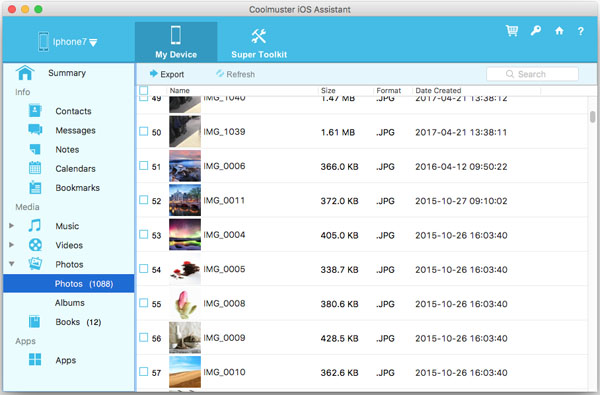 > You can choose any file by marking them. After that hit the Export button on top of the window. You can also right click and choose export to backup whole of the category. The transfer begins automatically after you set the target destination for the files.
Now, there is no need to worry about backing up your iPhone, since this powerful Coolmuster iOS Assistant (Windows/Mac) software makes it as easy as pie to backup iPhone on Mac computer!
Related Articles:
How to Copy iPad Media Files to PC/Mac