iPhone is one of the most popular and sought-after phones on the market today. Your iPhone is the most valuable piece of technology you own, and it's important to keep it safe. In fact, a lost or stolen device means your whole data is lost too. Of course, you don't want this.
When you buy a new iPhone, it's important to know how to take care of it in case something happens to it and that includes backing up your data. But how long does it take to back up the iPhone? You may have even heard this question from most phone users. This post will help you know exactly the time you can use to backup data on an iPhone. So, continue reading.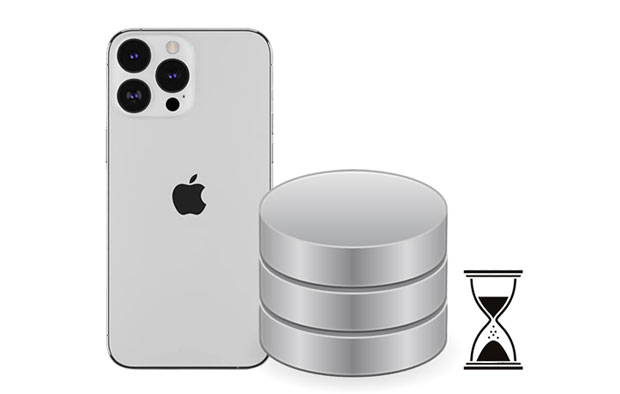 Part 1: How Long Does It Take to Back up iPhone?
Part 2: Why Is My Phone Taking So Long to Back up?
Part 3: How to Speed up iPhone Backup?
Part 4: The Fastest Way to Back up iPhone with Coolmuster iOS Assistant
Part 5: Hot FAQs about iPhone Backup
Part 1: How Long Does It Take to Back up iPhone?
Generally, it takes about 30 mins to 2 hours to backup data on an iPhone. But, various factors like the amount of data and the current state of your iPhone can make the backup time longer.
We will take you through the average time of backing up your iPhone on various storage platforms. So, keep reading to know more.
1.1 How Long Does iCloud Backup Take?
Since most people use iCloud, they may want to know how long it takes to back up the iPhone to iCloud. When it comes to backing up your iPhone, iCloud offers a variety of options. iCloud backup tends to take more time since it depends on your internet speed. For instance, a slower internet connection will take more time to backup your data.
If you back up your device over Wi-Fi, it can be as low as one hour. If you connect to a power source, it can take up to two hours and fifteen minutes for the job to complete. Different speeds for the optimal experience depend on which iPhone model you have and what type of card reader or Wi-Fi connection you are using.
If you are using your phone network, the procedure may last between 2 hours to 3 hours. Besides, the number of files you are trying to back up can affect the time taken during the backup process.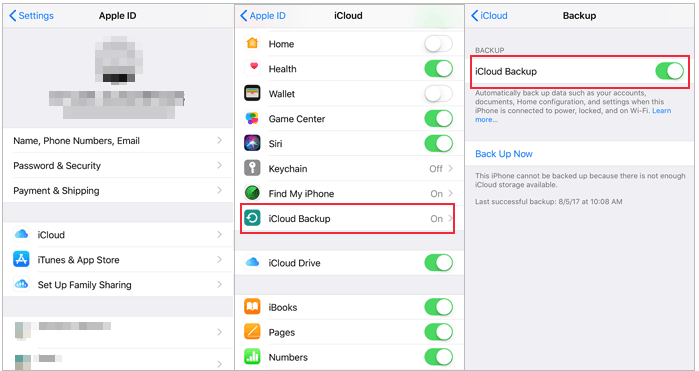 Read more: What if iCloud fails to back up iPhone data? If you want to fix it, click this link to get helpful solutions.
1.2 How Long Does iTunes Backup Take?
Backing up data to iTunes should not take more than 15 minutes. This is according to the official statement of Apple. But, if you have a large amount of data you wish to back up, it may take you about 40 minutes. Also, the model of your iPhone can increase the time of backup.
If you have an iPhone that has a storage space of 64 GB, it will take only a few minutes for the backup to finish. Subsequently, if you have a 256 GB model, it might still take you one hour to back up your iPhone to iTunes.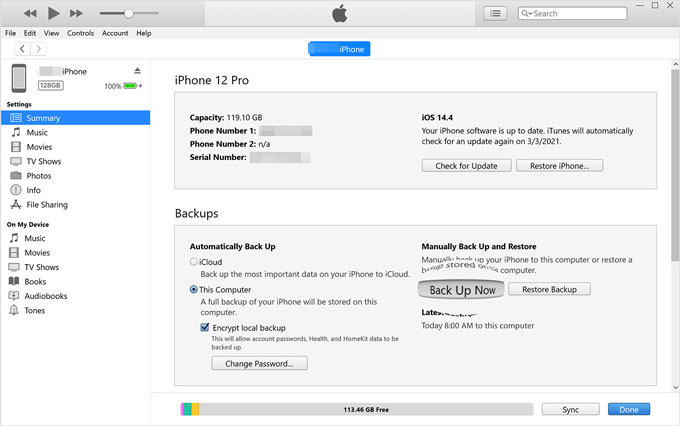 Further reading:
iPhone Contacts Backup Apps - 7 Practical Options
How to Transfer Large Videos from iPhone to PC? Try 8 Methods Here
Part 2: Why Is My Phone Taking So Long to Back up?
A lot of people are curious about why their phones are taking a long time to back up their data. Mainly, the time used to backup your iPhone data depends on the size of the backup and Wi-Fi speed. Therefore, if your device is full, for instance, it has 64 GB, your first backup may take longer.
Also, if you have an unstable or a slow network connection, it might take a long time to back up data. Thus, when your backup takes forever, you have a stable Wi-Fi, and your storage is also enough; just wait patiently.
See more: This article will help you effortlessly copy photos from an iPhone to a Lenovo laptop.
Part 3: How to Speed up iPhone Backup?
It is very frustrating when you try to back up iPhone data but it's taking forever. Luckily, there are some techniques you can adopt to speed up the backup process. Here is what to do.
3.1 Switch to a good network
A good network is needed to have a fast backup. So, the first step to do if you wish for a faster backup is to check the internet speed. Most times, the problem of taking a long time for the backup to finish is due to a poor network. So, switch to a better network with great bandwidth.
3.2 Disable apps with huge sizes and files backup
If you find iPhone backups taking a long time to finish, try disabling those apps that take a lot of space on your phone. To do that:
Go to the Settings App, and click on your profile. Then choose the iCloud option, and turn off the switches next to the apps with lots of files to back up, such as Photos.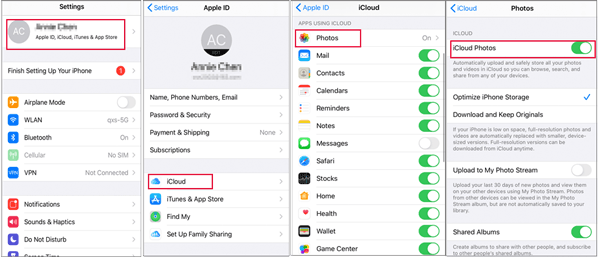 3.3 Delete all the unwanted files/apps from the phone
Unused apps should be removed from your devices since their large space is going to slow down the backup procedure.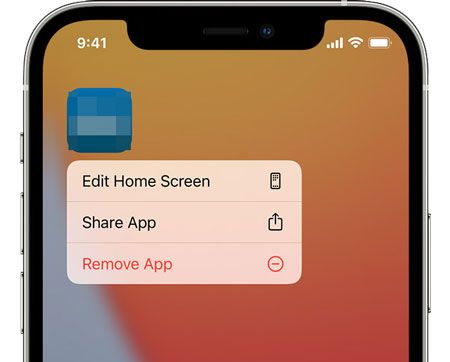 Learn more: Is it possible to back up your iPhone data to Google Drive? Yes, you can follow this guide to make it.
Part 4: The Fastest Way to Back up iPhone with Coolmuster iOS Assistant
Now, you know how long it takes to backup iPhone data to either iTunes, iCloud, or PC. And because it's a long procedure, most individuals look for a feasible and quick backup solution. We highly recommend using Coolmuster iOS Assistant to back up your iPhone data.
Compared with iTunes and iCloud backup, Coolmuster iOS Assistant provides you with the quickest and easiest way of backing up data on mobile devices. With this tool, you've got all the control of a wider range of data as you can do a full or individual data backup of a specified type of data.
Key features:
* It automatically scans most of the files on your iOS device and displays them on the main interface.
* Enables exporting all files from an iOS gadget to a PC or iTunes as a backup.
* Backs up several data like contacts, messages, music, photos, books, calendars, and many more.
* Involves simple steps, and you'll be done exporting and importing your data.
* Compatible with most iDevice models, including iPhone 14/13 Pro/13/12 Pro/12/11/X/8/7, iPad Pro, iPad Air, iPad mini, iPod touch 8/7/6/5, and so on.
Download this iOS backup software below.
How to back up iPhone data with Coolmuster iOS Assistant:
Step 1: Launch the Software and Connect Your Device
After downloading and installing the program, launch it to the computer. Then connect your device with a working USB cable, and tap the Trust option on the iPhone. Then the connection is finished.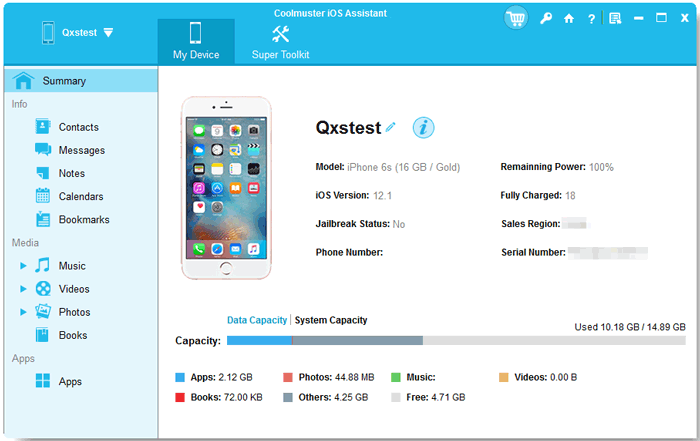 Step 2: Back Up Your iPhone to Computer
Click Super Toolkit > iTunes Backup & Restore > Backup. Then select the location you wish to save new backup data. You may either save them to iTunes backup by default or on your PC. Click the browse button and then tap the OK icon for the process to start.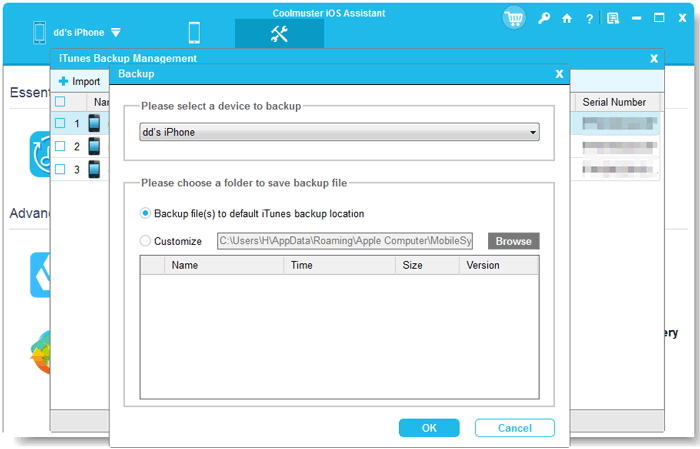 Maybe you need:
Fast Back Up iPhone without Wi-Fi via 3 Useful Methods
Export Text Messages from iPhone to PDF (Step-by-step)
Part 5: Hot FAQs about iPhone Backup
5.1 Is it true that iCloud storage is free?
Usually, Apple gives you 5GB of free storage space once you sign up on the iCloud platform for the first time. But, when your data storage exceeds the limit set, you can buy a premium service. The iCloud charges tend to vary from one region to another. And the prices normally get higher with increased storage space. So, if you have an iPhone with lots of files to be backed up, you have to buy premium packages as needed.
5.2 Why Is My iCloud Storage Always Full?
The iCloud service is designed to store your photos, videos, messages, and other data on iCloud servers. As such, you can access all of these files anytime from any device. But, it could be possible for a user to exceed the storage limit set by Apple.
It may happen if you have downloaded a huge number of apps and photos from the Internet or if you are backing up data from another device. Continuous backup of data could also make your iCloud storage to be full. In such a case, sometimes you have to buy more storage space.
5.3 Is deleting backup from an iCloud to get some space safe?
Yes, you can delete backup from iCloud to free up space. But, know that all of your files will be lost forever and you will not access them. Due to this, it is highly advisable to get more space instead of deleting iCloud space every time.
Conclusion
From this post, you now know how long it takes to back up an iPhone. As we know, backing up your iOS device is an essential step once you upgrade the operating system or switch models. You don't want to risk losing your precious data. But before that step, many ask themselves, "how long does it take to back up to iCloud?" You now know that it takes quite some time, but it all depends on your internet connection and the size of the backup.
To help you get the job done quickly and conveniently, Coolmuster iOS Assistant is a highly developed tool that has all the features you will ever need to do an effective backup of your iPhone data as quickly as possible. If you want to back up iPhone data, the most feasible and easy method is to use Coolmuster iOS Assistant.
It will keep your iPhone safe and secure by backing up all of the data on the device. Besides, this program lets you free up space on iCloud by deleting old backups.
Related Articles:
How to Edit iPhone Contacts on Your PC Easily? A Full Guide for You
3 Simple Ways to Back Up iPhone to Flash/USB/Thumb Drive
How to Do SMS Backup and Restore for iPhone Easily
iCloud vs. iTunes Backup: What's the Difference between Them? (Full Guide)
Top 8 Ways on How to Transfer Files from PC to iPad