iCloud is a service provided by Apple that allows users to store data that they have purchased from iTunes. Anything may happen and result in loss of your data. iCloud also serves as a back-up for storing all your data from music to contacts, photos apps, reminders, iBooks, documents etc. And while storing these items on iCloud will mean that you do not have to worry about losing out on your favorite memories and data like music any more, you would also need to know how to download this data from iCloud when you need it. So, how can you download it?
Related: How to Sync iOS with iCloud
How to Download Music from iCloud to iPhone/iPad/iPod?
You can download music from your iCloud account into your iPhone/iPad/iPod using the iTunes app on these devices. This is how it is done:
- Go to the home screen of your device and launch the iTunes app.
- On the bottom of the screen you can see the "Purchased" tab; tap it.
- To select the files that are not on your device, click "Not on this iPhone/iPad/iPod" tab, and you will see the list of all purchases.
- All your music purchases are listed by artist or grouped together as All Songs. Tap on the music files that you want to download to make a selection.
- Click on the iCloud icon to download the desired music files on to your device.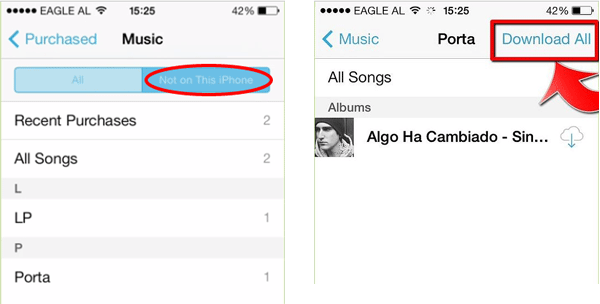 You May Want to Know:
How to Download Music from Mac to iPod
How to Access Music Songs on iCloud
How to Download Music from iCloud to Computer/iTunes?
1. For PC Computer Users
Even though your PC is not a Macbook, you can still download music from iCloud using iTunes.
- Open iTunes on your computer.
- Click the profile button on the top right corner to display the id that is currently being used to login; if you are not logged in, enter your credentials and log in.
- Click the Music Button on the top left corner to open the music library.
- Select the music from the iCloud music library that you want to download.
- Download the music by clicking on the iCloud download button.
2. For Mac Computer Users
If you are using a Mac, then downloading music from iCloud becomes much simpler:
- Open iTunes on you Mac.
- Enable the iCloud library by following the path iTunes> Preferences> General.
- From the drop-down menu, select music.
- Select the library tab.
- Go to view and then go to show view options.
- Click on the checkboxes next to the iCloud download.
The steps are simple and you can download iCloud music easily - all you need is a PC and a working internet connection to help you. The music files will be downloaded into your Mac. You can check the status of the download using the iCloud Download status icon.
Also Read: How to Protect iCloud
Extra Bonus: How to Download Lost Music from iCloud
Music songs are lost from your iPhone and now want to download lost songs from iCloud to your iPhone or to the computer? Then you just need to have a try of this iPhone Data Recovery software, which allows to you easily recover iOS data from the device itself, iTunes backup and iCloud backup as needed and wanted. And this software is compatible with all generations of iPhone, iPad and iPod devices. Below are the free trial versions of this software!
Related Articles:
How to Restore iPhone Contacts from iCloud