The iPhone is an amazing piece of device, providing its users with the experience only a technology of that class can provide. With its superlative performance and gamut of apps, the iPhone is a veritable storehouse of surprises. With the advent of technology, the company has been belting out one wonder with the other. Amidst all these, we will explore, in this article, how to rotate a video in iPhone.
You might want to rotate a video when you're lying down and want to watch a movie. Or because you just like that experience better. So, now just read through this passage to learn how to rotate videos on iPhone.
Can't Miss:
How to Make Slow Motion Videos with iPhone
How to Take Panorama Videos with iPhone
Guide to Make Slideshow with iPhone Photos
User Guide How to Rotate Video on iPhone?
The iPhone come loaded with a free proprietary tool called the iMovie. You can rotate a movie in the following possible angles: 90 degrees, 180 degrees and 270 degrees. You can always revert to the default view of 360 degrees and enjoy. With this app, you can also make videos as you wanted and needed. For example, you are free to use 3D Touch on iPhone 6s to quickly start a new project from the HomeScreen or peek at a movie from the projects browser.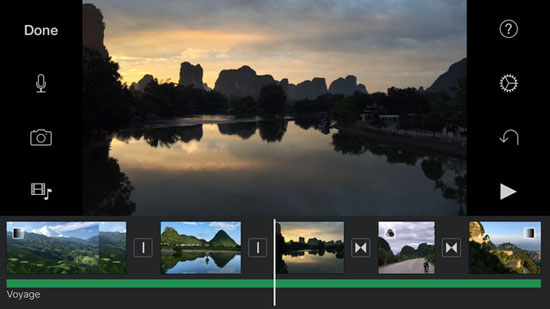 > Open iMovie on your iPhone device. Now, select the video you would want to rotate.
> You will get the movies from the movie selection list. Then press on the Share button.
> Then you will come across a window, where you will be provided with the "create movie" option.
> Now rotate the movie. It is similar to turning a dial. Rotate it towards the direction you want to and then press done.
> Press the Share button again and save the video.
> You can also share the video on Facebook, Youtube and iCloud.
The best part about iPhone is that it also allows you to choose your own resolution. A point to remember, though is that the video is saved in the Photos app and not in the videos app. Also, this app allows you to rotate iPhone videos on computer, be it PC or Mac. Just transfer your movie to the iMovie app on your computer. Then you will be given the option to rotate right or left 90 degrees clockwise or anti-clockwise. After this is done, press on "Share" and then click on "Export using QuickTime".
Other Apps to Rotate Video on iPhone:
Shrink video files, merge, cut, split and rotate easily, as you want. Save previous space across all your iOS devices, from your iPhone to your iPad. You can also email and publish your videos created easily. This is one of the best apps for videos on your iPhone but a tad expensive at $2.99.
With everything from photo filters to extensive image editing features, this is one app that you will love. There are live photo filters and a burst mode. You can also choose your own resolutions or zoom videos when you want. This highly rated app can be yours for just $1.99.
Explore Videos Like Never Before...
If you've an iPhone, you also have a great screen to watch your favorite videos. You cannot just shoot videos on 4K, you could watch them too. And one of the best ways to watch your videos is to rotate iPhone video as desired, so that you can watch it full screen. For someone who does a lot of videos through his iPhone, Camera Plus Pro is indeed a great bargain.
Related Articles: