What is iCloud Drive?
iCloud Drive is a cloud-based document and file management platform on which Apple provides clients with cloud storage for iPad, iPhone and Mac. A as an apple customer you are automatically entitled to 5GB of free storage space. However, you can choose to increase your storage space with monthly subscriptions. There are numerous iCloud Drive subscription options, from free to $.9.99 per month.
Difference between iCloud and iCloud Drive
Simply put, iCloud Drive is Apple's version of Dropbox. With iCloud, you can back up your device's information including apps, photos, music, videos and documents. iCloud Drive is your external hard drive in the sky. iCloud is not a file sharing service, but with iCloud Drive you can share your files in between devices and users. You will only need to sync devices to share files, so as to maintain end-to-end encryption.
How to Enable iCloud Drive on Your iPhone/iPad
Upon purchasing a new iPad or iPhone, you are prompted on whether you would like to subscribe to iCloud or not. If you agreed to the subscription, you don't need to enable it again and can go on to the next section. If on the other hand you do not agree, you can follow the steps below to enable iCloud Drive on your computer.
- Go to your home screen and launch Settings.
- Scroll down the menu and tap the iCloud button.
- Tap the On/Off button to enable iCloud Drive.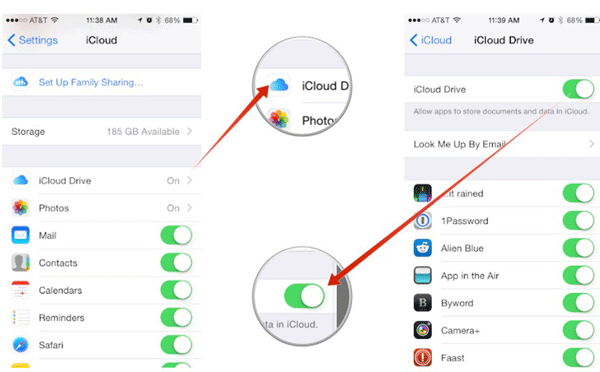 You May Also Want to Know:
How to Use iCloud Keychain on iPhone
How to Use iCloud Photo Sharing
Since the introduction of iOS 9, Apple has included the iCloud Drive App. The app allows you to see everything stored on your iCloud Drive. However, the app is hidden by default. Once you do your first iOS update, the app will appear. If it does not appear after your first update, you can enable it manually.
To do this, follow the below guide;
- Go to your home page and launch Settings.
- Tap on iCloud and then iCloud Drive.
- Tap the Show on Home Screen button to switch it on.
- Touch on the Home button to exit. The Drive icon will appear on your home screen.
Tips and Tricks on How to Use iCloud Drive
1. If you enabled the app on iOS 9, it will appear automatically when you update your device to iOS 10. However, if you still haven't enabled it, it won't appear after updating. When this happens, you will have to download the app from the store.
2. You can increase the storage capacity on Drive if you feel 5GB will not be enough for your storage needs. To do this, launch settings, in the iCloud tab, tap on Storage, scroll down to view the available expandable memory and corresponding amount. You will need to log in to your iCloud account to complete the process.
Related: How to Manage Storage on iCloud
3. If you have Mac, any file you place on the desktop is automatically backed up to drive. From there you can retrieve the file from your iOS device. You only need one iCloud drive for both your Mac and iOS devices. You can also use the documents folder on your Mac to automatically upload files to Drive. To enable these tow features,
• Go to System Preferences on your Mac and click iCloud.
• Confirm iCloud Drive is enabled. (There has to be a blue tick next to is.)
• Go to Options and select Documents and Desktop.
Now, go to your iOS Device and do this.
• Go to settings and select iCloud.
• Select iCloud Drive and turn it on.
Conclusion
You will now be able to view any file you place on the desktop or in the Documents folder. Finally, iCloud Drive makes it simpler to share files in between devices. To maximize utility of iCloud Drive, enable the functionality of iCloud Drive on all your Apple devices to ensure you have a secondary back up for your files on the Drive. The generous 5GB is more than enough storage space for documents and photos.
Related Articles:
How to Easily Delete iCloud Backup