Backing up iOS data has always been easy, thanks to iCloud services. However, that may not be the case when you restore an iPhone from iCloud backup. The data restoration will depend on whether you are restoring the data on the iPhone you are using or restoring to a new one.
Anyway, this article will discuss how to restore iPhone from iCloud service during setup and restore your iCloud backups without necessarily resetting your device.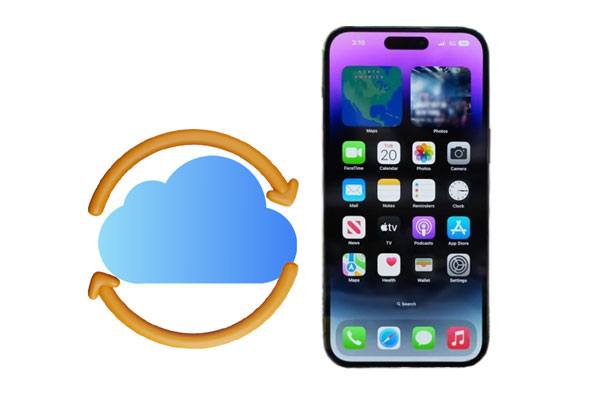 Part 1: First Things First: Notes on Restoring iPhone
"Why won't my iPhone restore from iCloud?" "How long does it take to restore an iPhone from iCloud?" Many people have asked such questions on different websites. Now, please note these three points.
1. Before restoring your iPhone, you must back up your important data.
2. If you want to restore your existing device, you have to remove all your data by resetting it.
3. The time taken to restore a device depends on the amount of data on it.
There are a number of situations where you may want to restore an iPhone. While Apple devices tend to be quite reliable, they are not exempt from failure. Also, accidents can destroy your iPhone beyond repair. For instance, the device may fall into the water, causing damage to the hardware, and the like.
Luckily, restoring your iPhone takes little effort and does not require any technical knowledge – with guidance from this article, of course.
Part 2: How to Restore iPhone from iCloud Backup Without Reset (Fast)
Sometimes you may not be willing to reset your device before restoring it from your iCloud backup because resetting it will often lead to data loss. Also, if you've lost only a small amount of data, for example, a few contacts, you may not want to delete everything from the iPhone just to recover a few missing contacts.
Therefore, you can use an effective data recovery tool to restore your iPhone from your iCloud backups without resetting it. It is highly recommended to use Coolmuster iCloud Backup Recovery, which is designed for your iOS devices to restore iPhone backup from iCloud on a computer.
This software allows you to restore your previous backup, like contacts, photos, calendars, notes, etc., from your iCloud account. Whether you have an iPod touch, iPad mini, or iPhone 14/13/12/11/XS/XR/X/8/7/SE/6, you can recover your files from iCloud backup with ease. Furthermore, you don't need to reset your iPhone or iPad.
Hot features of this recovery software:
* Effectively retrieve iCloud backup without resetting an iPhone.
* Allow you to preview your iCloud backup files.
* Easily recover your deleted contacts, and other data from an iPhone.
* Support multiple data types, like pictures, contacts, notes, calendars, etc.
Download this iCloud backup recovery software.
Here's how to restore iCloud backup after backup via this software:
01Download the iCloud Backup Recovery program and install it on a computer. Open it and log into your account.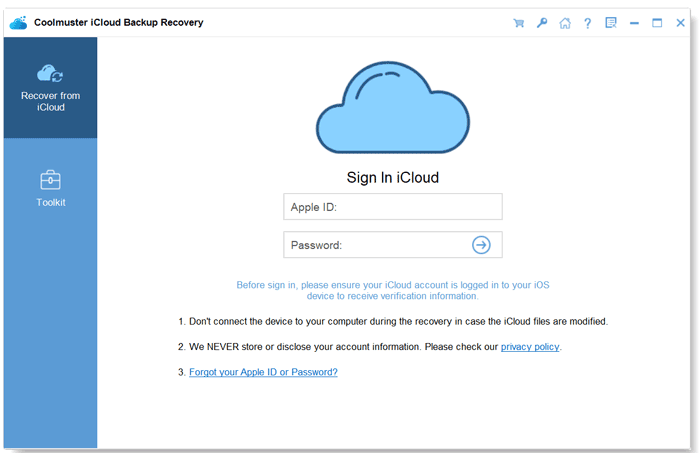 02Input the code that you received on your iPhone, and click the "Verify" to go on. Then select the file types you want to recover on the interface, and tap the "Next" icon.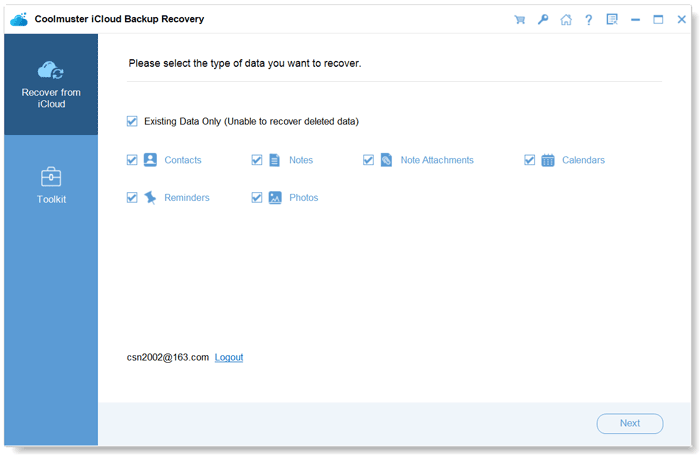 03Choose the detailed files you want to restore on the interface, and click the "Recover to Computer" icon to save the files to your computer.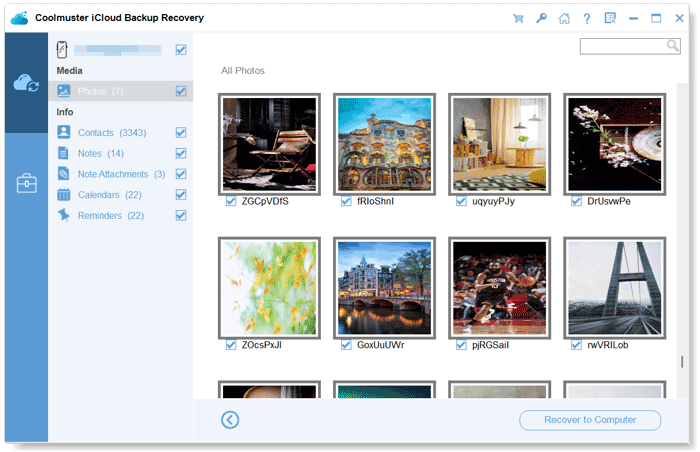 Further reading:
How to Restore Contacts from iTunes Backup to iPhone Easily? (Top 3 Ways)
How to Retrieve Deleted Messages on Messenger on iPhone with Ease?
Part 3: How to Restore iPhone from iCloud Backup Manually
3.1 How to Back Up iPhone to iCloud
Before you think of how to download backup from iCloud, you first need to ensure you have iCloud backup files to download and restore. Below are the simple steps you should follow to back up your files to iCloud.
Step 1: Open your iPhone Settings and select your name.
Step 2: Select "iCloud" and then tap "Back Up Now".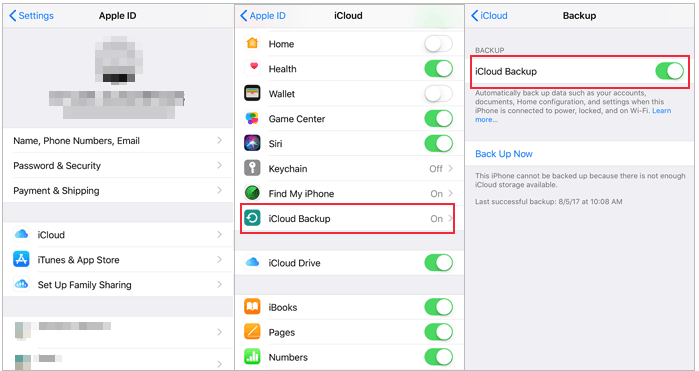 Note:If you're running iOS 16 and earlier, open Settings, scroll through, and tap iCloud. Switch on the iCloud Backup and tap Back Up Now.
Learn more: If iTunes is stuck on preparing stage when you use it to restore your iPhone, how can you cope with this situation?
3.2 How to Restore iPhone from iCloud Backup
Now that you are sure you have an iCloud backup, you can proceed to look at how you can restore your device from iCloud.
Restore a new iPhone from iCloud backup:
Step 1: Switch on the new device and follow the instructions on your screen.
Step 2: Tap "Restore from iCloud Backup" on the "App & Data" page.
Step 3: Log in to your Apple Account and select all the backup files you wish to restore.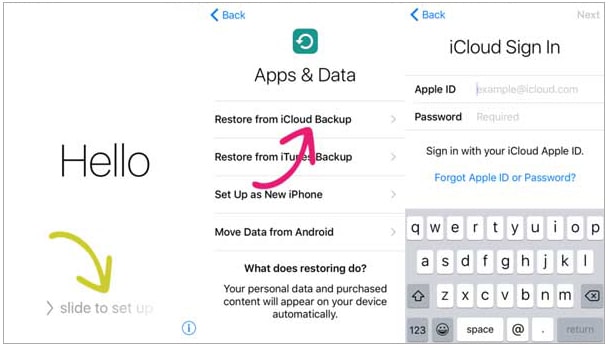 How Do I Restore My iPhone in use from iCloud Backup?
Note that restoring your data from your iCloud backups can be done via the iOS Setup Assistant only, meaning it's only available during your device's setup process. Therefore, to restore some sections of data from the iCloud backups, you will have to erase the device and set it afresh. Below are the steps you should follow to restore your iOS device from your iCloud Backup.
Step 1: Open the Settings and select "General" > "Reset" and "Erase All Contents and Settings".
Step 2: When the device boots again, follow the instructions on the screen to set it up.
Step 3: When you open the "App & Data" page, select "Restore from iCloud Backup".
Step 4: Continue to log in using your password and Apple ID, and your new device will start restoring your files, including contacts, music, apps, and more.
Final Remarks
You can now see how it's easier to restore an iPhone from iCloud. Remember, restoring files helps you regain backup data within a few minutes and be able to access your treasured files. Among the methods articulated, the Coolmuster iCloud Backup Recovery software is the most powerful method to restore an iPhone from iCloud. The advantage of using this tool is that you won't encounter data loss while restoring your data, and you can view your backup files before restoring them. It's easier to use and great for non-tech-savvy people.
Related Articles:
iPhone Lost Contacts After Update? Here's How to Get Contacts Back
How to Remove Forgot iPhone Passcode without Restore? (3 Simple Ways)
How to Fix iPhone Won't Restore Problem with 6 Ways
How to Recover Photos from iPhone without iCloud [With Tutorial]
How to Undo a Restore on iPhone 14/13/12/11/X Instantly? (Blow-by-blow Tutorial)
How to Restore Reminders on iPhone Swiftly: FAQs and 3 Easy Solutions