With the glut of smart phones in the market, it has become a choice of plenty for consumers. With a new phone model being launched every other day, there is a new handset in almost every hand. But have we ever thought about the data that remains in the old one. Phone data is a goldmine of information and needs to be kept very safely. In this article we will find out how to transfer such data, which also includes the ubiquitous app, to your other phone. Your new iPhone.
Also Read: What to Do After Getting A New iPhone?
You wouldn't want to spend hours transferring apps from your old smart phone to your new iPhone. So how can you make this task simpler, so that all it needs is a few clicks to get the job done? Actually, to transfer Apps to a new iPhone, you can import from another device, be it iOS or non-iOS, or from the computer.
1. Transferring Apps to New iPhone from Another Device
2. Transferring Apps to New iPhone from Computer
Part 1. How to Transfer Apps to New iPhone from Another Device
There are a few methods for transferring data from device to device. One such method also includes the long and tedious, copying and pasting. However, with the revolutionary Mobile Transfer, movement of data between devices is now a breeze. The professional tool ensures absolutely zero percent loss of data with optimum quality transfers.
The best part about this software is that you can also back your data up and have them restored in case there is a data loss. It is extremely easy to use and is a standalone product. That would mean that there is no need of any third party software for the transfers. Windows and Mac versions are both available for your free trying!
How do you go about it?
• Download the right version on your computer and install it.
• Now plug in two USB cables into the computer, and connect both devices to the computer. A new window will appear, showing the options you might want to perform.
• Click on "Phone to Phone Transfer" mode to continue the process.
• All the transferable files will appear in a new window. You can either click on "Select All" or individually choose your files.
• Mark the files and start the transfer. Click on the "Ok" button on the transfer dialogue box. A progress bar will show the transfer.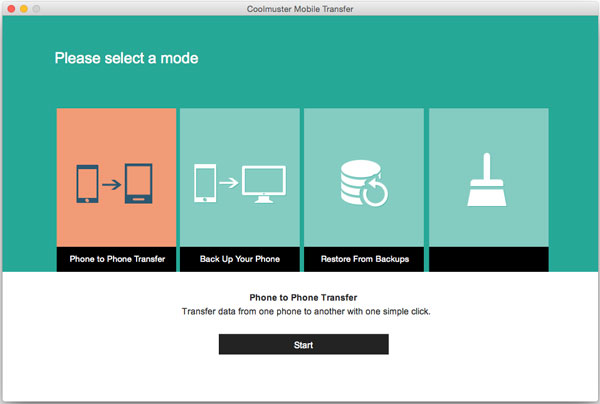 Part 2. How to Transfer Apps between New iPhone and Computer
For those who have saved apps to the computer as a backup, you may need to transfer apps from the computer to your new iPhone. Also, if you have successfully exported the apps data to the new iPhone, it is possible that you would want to keep them safe forever. All you would need to do it use the iPhone/iPad/iPod to Computer Transfer - Coolmuster iOS Assistant, and move your data between the iPhone/iPad/iPod touch and PC/Mac computer. This revolutionary software intelligently transfers data from the device to the computer as a backup and effortlessly import files from the computer to the device without any hassle. You can also manage those contacts and pictures using this powerful tool.
How to do it?
• Download the software and install it. Now launch the powerful software.
• Connect your device to the computer via a USB cable. The tool will detect your device.
• You can select all the files or individually preview them.
• Media files can be previewed in thumbnails.
• Mark the one you wish to transfer and hit the Import or Export option.
• The progress bar will show you the file transfer. Just wait for the process to complete.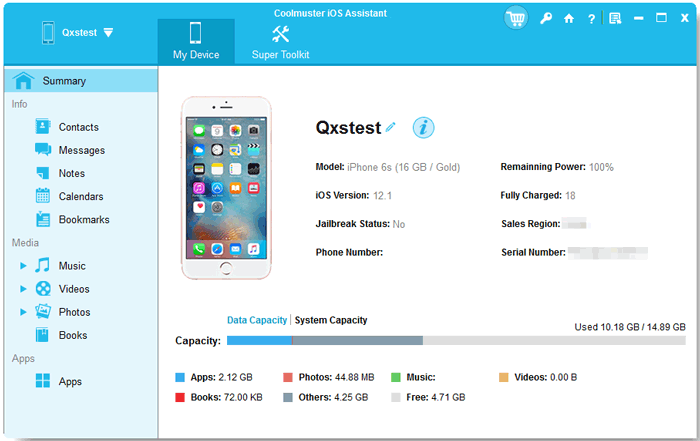 The two ways introduced in the above make it lot easier than before to store your data, media and memories always. You can backup everything in your smart phone and can ensure that what's special to you, remains with you always. (Note: If you have backed up your apps data to iTunes or iCloud, you may need to restore these files to your new iPhone from iTunes backup or iCloud backup!)
Related Articles:
How to Sync iPhone with A New Computer
How to Transfer Photo Albums from iPhone 14 to PC with Ease
[Without Password] How to Recover Photos from Locked iPhone 14/13/12/11
How to Recover Deleted Photos from iPhone | FAQs and 5 Solutions