Are you experiencing green lines of death on an iPhone device? Know that this problem affects almost all iPhone users, so you aren't alone in this. Many iPhone X users have taken to Apple forums and social media with the same complaint. Apparently, the problem of "green lines on an iPhone screen" seems most prominent among users of iPhone X and iPhone 7 after updating the iOS software.
This problem has been around for some time now after releasing iOS 10. But, Apple doesn't seem to have a solution to this issue yet. That is why we are here to resolve this annoying green line issue on your brand-new iPhone. The issue of green lines on iPhone screens can be frustrating. Luckily, we've got various fixes that can help you.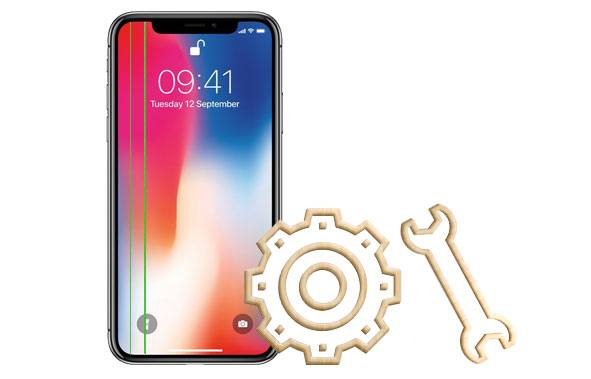 Part 1: Why is there a green line on my iPhone?
Part 2: How to Fix Green Lines on iPhone Screen?
Part 1: Why is there a green line on my iPhone?
Apple has not provided a cogent explanation of the issue yet. There are two possible issues with the green line on iPhone screens. One could be hardware-related and the other software-related. These explanations are based on insider speculation. The issue may be on iPhones with OLED screens. Below are some reasons for this issue:
* The green line happens when there is a poor connection between your iPhone's digitizer and LCD. Whenever this happens, you will see green lines that appear on the screen.
* The green line problem may happen because of liquid getting on your device. For instance, when you put your iPhone in liquid, green lines will show on the screen since liquid causes damage to the circuits.
* If you drop your iPhone, it can damage its display physically, leading to green line problems.
* Sometimes this problem is a result of a manufacturing defect.
* Software glitches in the system might also cause green line problems on an iPhone.
* Another cause might be application conflicts or a lack of operating system programs.
* Malware infection.
Further reading:
How to Fix iTunes/iPhone Stuck on Preparing iPhone for Restore?
How to Fix iPhone Clicking on Its Own in 11 Practical Ways?
Part 2: How to Fix Green Lines on iPhone Screen?
It's quite annoying to have green lines on the screen of your iPhone. Luckily, we have a few fixes that can help.
2.1 Restart your iPhone
It may seem odd, but computers also have a force restart option, and a simple force starting makes it operate efficiently. This feature is crucial for your iPhone and will give it a fresh start too. It's a popular fix for most iTunes and iPhone errors. If the green lines on the iPhone screen are due to an app bug, restarting the device may fix it. Here is how to force restart an iPhone:
For iPhone 8 or later models, press and release the Volume Up button quickly and do the same for the Volume Down buttons. From there, hold the Side button till an Apple logo shows.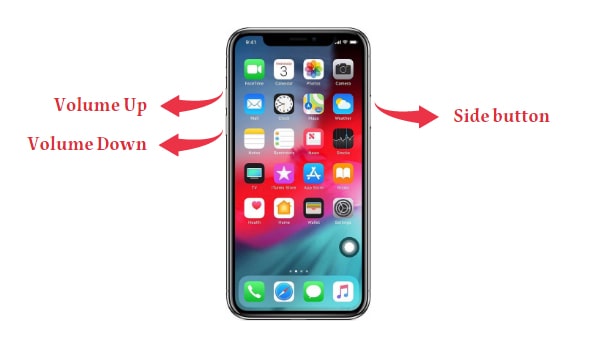 For iPhone 7 & 7 Plus, Long press the Volume Down button and Power button simultaneously till the Apple logo shows on the screen.
For iPhone 6S and earlier older models, Long press the Side button and Home Button simultaneously till the Apple logo shows on your iPhone's screen.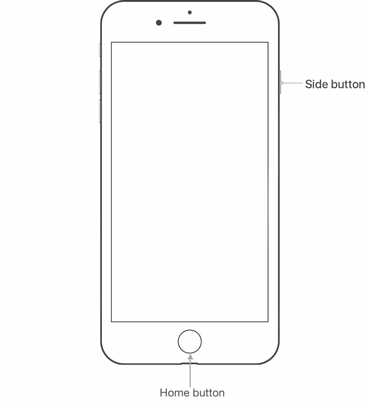 Tips: Why does my iPad always restart itself? If you want to figure it out, click this guide.
2.2 Check if the screen is wet
Ensure you check moisture or any wetness on your iPhone since wetness can lead to green lines on the screen. If your iPhone screen is wet, use a cloth to wipe it and see if the green lines disappear.
2.3 Reset iPhone Settings
If force restarting doesn't help alleviate the issues, try resetting the custom setting to factory settings. The issue might be a result of wrong personal settings. This solution to reset your iPhone only clears personal settings. You don't have to worry about losing data. To reset iPhone settings, do the following:
Step 1: On ou iPhone's main menu, navigate to Settings and General.
Step 2: From General, scroll down till you reach the Reset tab and click Reset All Settings.
Step 3: Enter your password to confirm the action and wait for the process to finish.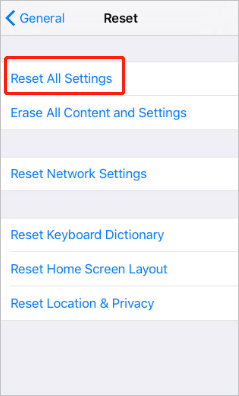 See more: When an iPhone gets stuck during the data transfer, you can follow this guide to repair it.
2.4 Update iOS to the Latest Version
Apple provides regular updates to fix software bugs and improve system performance. But, running an outdated OS on your iPhone will make it susceptible to security risks, leading to green lines showing on the iPhone's screen. Please update it to the latest iOS version using the quick guide below to fix the problem.
Step 1: Go to Settings and choose General.
Step 2: Click on the Software Update icon to get the updates menu.
Step 3: Click Download and Install to download all the latest software updates. Ensure you have sufficient space.
Step 4: Finally, tap Install and then the password to install all the updates.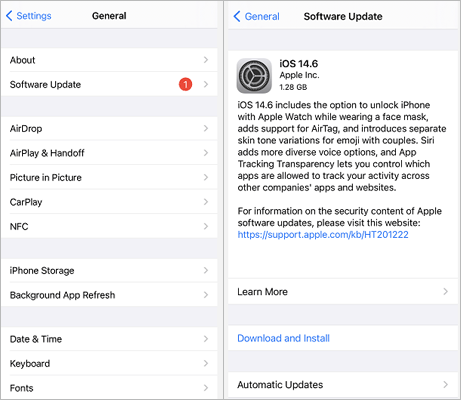 Maybe you need: Is there a possibility to recover deleted text messages on an iPhone without backup? This post will tell you the answer.
2.5 Run your iPhone in Recovery Mode
Try running it in recovery mode if the green line doesn't go away after resetting your iPhone. The process is similar to resetting your iPhone, except this time, you will be updating your iPhone in recovery mode.
It is imperative to pay attention to the fact that this process will not delete data from your iPhone. We recommend backing up data before running the iPhone in recovery mode. Below, we provide instructions for how to do so.
Step 1: Connect your iPhone to the PC using a good Apple USB cable. Then launch iTunes on the computer. Ensure you get the latest version of the iTunes app on the computer.
Step 2: After connecting the iPhone, force restarts your iPhone, and long press the power button till you see the recovery mode. Then a popup notification will be displayed on the phone's screen that says: There is an issue with your iPhone that needs to be updated.
Step 3: Click on the Update option to continue, and iTunes will then re-install the iOS software automatically on the iPhone. Wait for some time for the procedure to complete before exiting the recovery mode.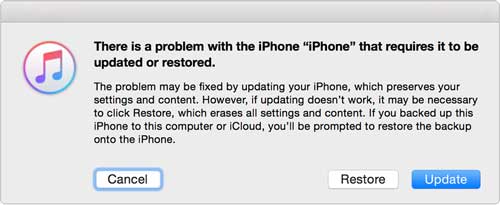 2.6 Fix green line on phone screen via iPhone Repair
If you haven't noticed, most software recovery solutions are quite aggressive and often lead to data loss. You should know a better and more friendly tool that enables you to repair your iPhone without data loss.
This tool guarantees no data loss whatsoever. It is much less aggressive and works quickly to resolve iOS-related issues. It is high time you get to know the iOS System Repair software.
It's a unique solution and unlike other methods of fixing the problem. Since its release some years back, many Apple customers have truly benefited. Here is how to use the iOS System Recovery program:
Step 1: Launch the program on the computer and connect your iPhone via USB. Then choose iOS System Recovery on the interface.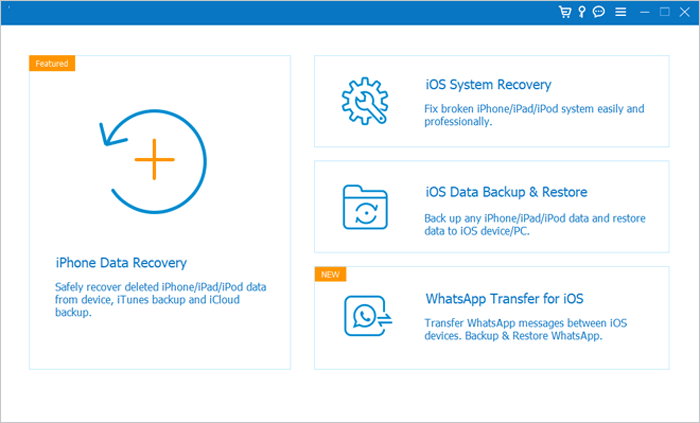 Step 2: Click the Start icon and follow the guide to put your iPhone into DFU mode.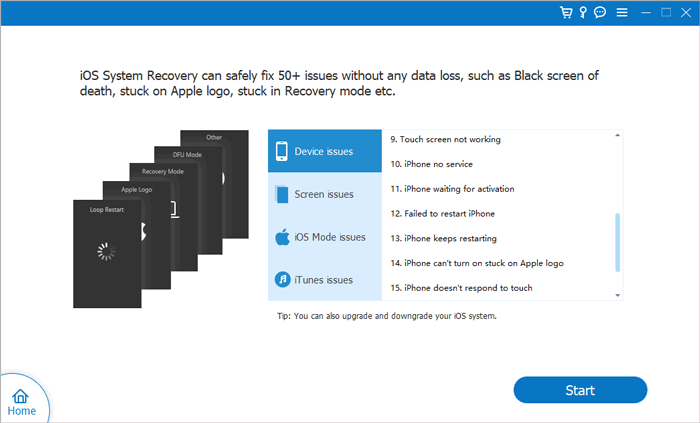 Step 3: Confirm the information of your device and download the firmware package. Then tap on the Repair icon to download the firmware package and fix the green lines on your iPhone.
Conclusion
We hope you can now resolve the "green lines on the iPhone screen" problem without hassle with all the above solutions. You must try each of them to find one that works for you. We highly recommend using iOS System Recovery to fix the issue. The program has remarkable reviews, and we hope it will work for you.
Related Articles:
[New] How to Recover Text Messages from Broken iPhone in 5 Ways?
iPhone Notes Disappeared? 6 Methods to Recover Lost Notes on iPhone
How to Back Up Text Messages from iPhone to Gmail [5 Approaches]
How to Transfer Music from Computer to iPhone? [5 Ways Offered]
How to Back Up iPhone without Wi-Fi via 3 Useful Methods (Step by Step)
A Comparative Study on How to Get iPhone Text Messages on Windows 10 [Proven]