"Got the blue screen of death while texting and it just get rebooting to this blue screen. Working fine so far this morning, is this a software issue?"
- A user from Reddit
iPhone blue screen of death, also known as BSOD, is one of the iPhone display problems that annoy many Apple users. It usually occurs when the device becomes unresponsive. And some users also complain that the iPhone screen goes blue then restarts. Fortunately, there are many ways to solve this problem. This article resolves the iPhone blue screen issue in seven ways. Learn the possible reasons for this issue first and see the detailed guides to fix it.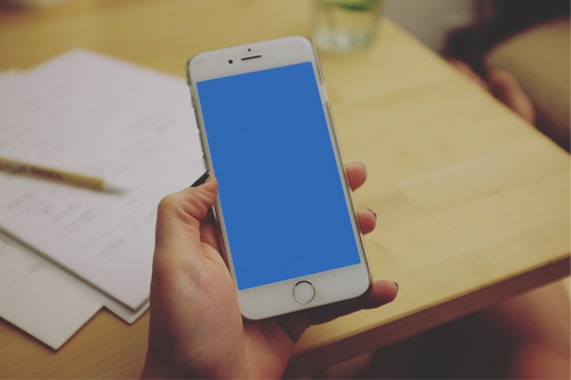 Why is my iPhone Screen Turning Blue?
Fix 1: Force Restart iPhone
Fix 2: Delete or Update the Suspicious App
Fix 3: Disable iWork Apps
Fix 4: Update to the Latest iOS
Fix 5: Restore iPhone in Recovery Mode
Fix 6: Put iPhone in DFU Mode
Fix 7: Fix iPhone Blue Screen via iOS System Recovery without Data Loss
Why Is My iPhone Screen Turning Blue?
Want to know what causes the iPhone screen turning blue issue? This issue usually occurs after some update or physical damage to the device. Below are some possible reasons:
1. Software update failure or bugs. Did you update your iPhone to the latest iOS recently? If the update was failed for some reasons, such as uprecendent error, poor internet connection or battery drain, etc., your device may has some glitches like screen turns blue.
2. Faulty apps. A crashed app may cause your iPhone screen to become unresponsive, or in some cases, the screen turns blue. And some users reported that when the device was handling multiple apps at once, they will come across the blue screen issue.
3. Hardware issues. Sometimes the BOD problem may also indicate that there are some issues with the hardware inside. Any physical damage or water damage may cause the iPhone hardware malfunctions.
Fix 1: Force Restart iPhone
Showing a blue screen usually means that your iPhone device has become unresponsive. In this case, you can try to restart the phone forcibly. This is undoubtedly one of the best ways to solve the iPhone blue screen problem. If you are lucky, you can solve this problem by simply pressing some buttons. Just follow the steps below:
iPhone 6s or older iPhone models:
Press and hold both the Sleep/Wake buttons and the Home button at the same time.
Release the buttons once you see the Apple logo.
iPhone 7:
Press and hold the Volume Down button and Side button simultaneously.
Let go of the buttons when you see the Apple logo.
iPhone 8 and later models:
Press and release the Volume Up button.
Press and release the Volume Down button.
Press and hold the Side button until the Apple logo appears.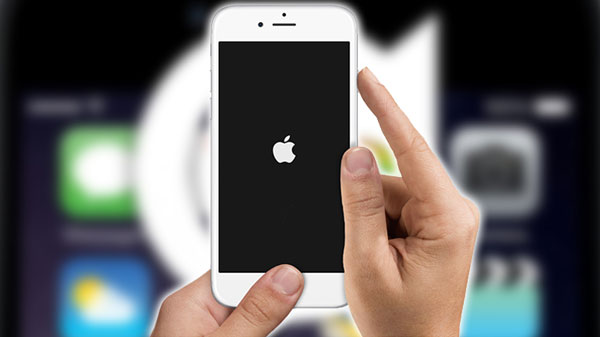 Check it if needed:
Do you know what file types iTunes can back up? If you are interested in it, don't miss this related article.
How can you unlock SIM on an iPhone? If you are curious about it, open this full guide.
Fix 2: Update or Delete the Suspicious App
Did the iPhone become blue screen issue happens shortly after you installed certain apps from the Apple Store? This may be the culprit. It has been reported that faulty or unsupported applications can cause the iPhone to have a blue screen. Therefore, you can update these applications to resolve this issue. If the update does not help, delete the application.
To update apps on iPhone:
Open the Apple Store on your iPhone.
Tap your account profile at the top-right of the screen.
Find the app that you want to update and tap UPDATE next to the app.
You can also tap the Update All option to update all the apps in the list.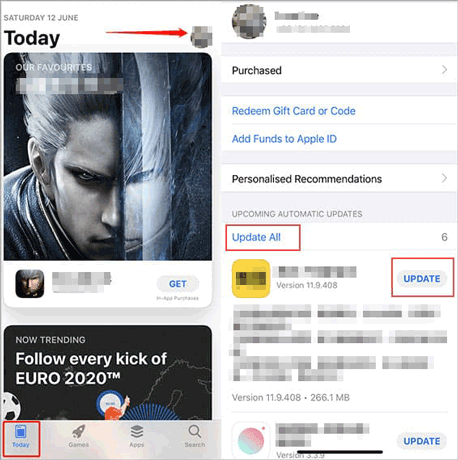 To delete apps on iPhone:
Find the app you want to delete and long press it.
Tap the "-" icon on the app.
There will be a pop up appears, tap Delete app.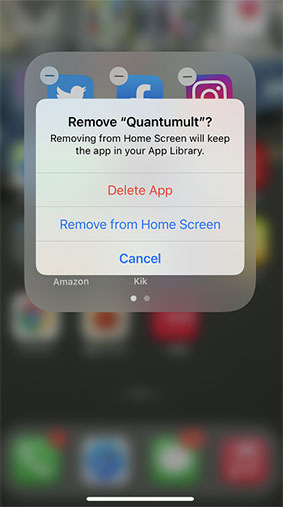 Fix 3: Disable iWork Apps
Some users complained that they encountered the iPhone blue screen error when using the iWork apps Keynote, Numbers, and Pages. Some also reported that when they run multitasking between multiple applications, the iPhone screen turns blue then restarts. If you have similar problems, you can try to fix it by disabling the iWork apps.
Open Settings on your iPhone.
Tap [your name] > iCloud.
Turn off Numbers, Pages, and Keynote.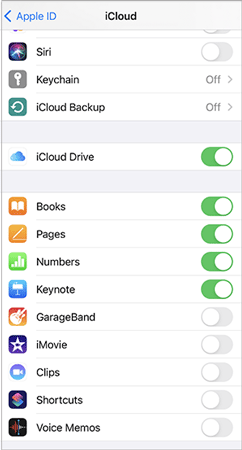 Fix 4: Update to the Latest iOS
If this is a software bug recognized by Apple, it will usually be resolved with a new software update that includes a fix. So if you're using a faulty or unsupported version of iOS on your device, it's best to update it to avoid or fix the iPhone blue screen. The new version of iOS will bring security and performance improvements and bug fixes.
To update your iOS:
Make sure your iPhone is charged and connect to a stable Wi-Fi network.
Head to Settings> General> Software Update to check for updates.
Tap Download and install button to update your device.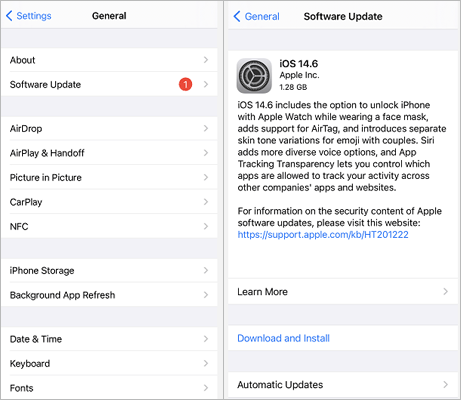 Fix 5: Restore iPhone in Recovery Mode
If your phone is unresponsive and the above tips don't work, you can put it in recovery mode and update it with iTunes. This solution can solve some tricky iPhone screen problems like this. But it has the risk of losing data.
Link your iPhone with your computer using a USB cable and open iTunes.
Force restart on your iPhone but keep pressing the button(s) you see the Apple loge.
Release the button(s) when you see the iTunes logo. It means that your iPhone has booted into the recovery mode.
You will see a window pops up in iTunes, asking you whether to Restore or Update your iPhone, choose Update.
If the Update option doesn't work, try Restore. Note that doing so will wipe out all data on your iPhone.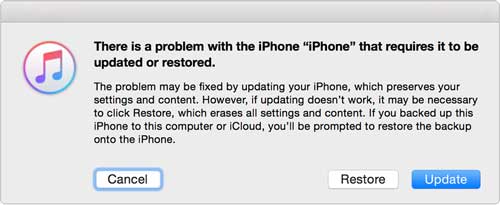 Fix 6: Put iPhone in DFU Mode
If the recovery mode does not work, you can also put iPhone in DFU mode to resolve the iPhone blue screen of death issue. But be aware that doing this may brick your device if it is physically damaged or water damaged before. Also, all data on your device will be deleted.
Connect your iPhone to your PC using a USB cable.
Press and hold the Power button for about 3 seconds.
While keep pressing the Power button, press and hold the Volume Down button for 10 seconds. Note that if you see the Apple logo, it means you've pressed the buttons too long, please start all over again.
Release the Power button but keep holding the Volume Down button for 5 seconds. If you see the screen stays black, you've entered the DFU mode successfully.
A window will pop up and tells you that iTunes has detected your iPhone. Just follow the prompts to restore your iPhone.

Fix 7: Fix iPhone Blue Screen via iOS System Recovery without Data Loss
If you want to get rid of the iPhone blue screen without losing any data nor encountering any other error messages, we recommend that you try iOS System Recovery. It is safe and simple to use. With a few simple steps, you can fix your blue screen iPhone to normal quickly. What's more, it can also be used to fix many other system issues. Check more of its features:
* Fix iPhone screen issues like frozen/white/red/black screen of death.
* Get iPhone out of DFU/recovery/headphone mode and bring iPhone back to normal.
* Fix various iTunes errors like iTunes 13014.
* Available on Windows and Mac. iOS 16 supported.
How to fix iPhone blue screen via iOS System Recovery:
Step 1. Download and launch the software on your Windows or Mac computer. Connect your iPhone to the computer with a USB cable. Click More tools at the bottom left and then select iOS System Recovery.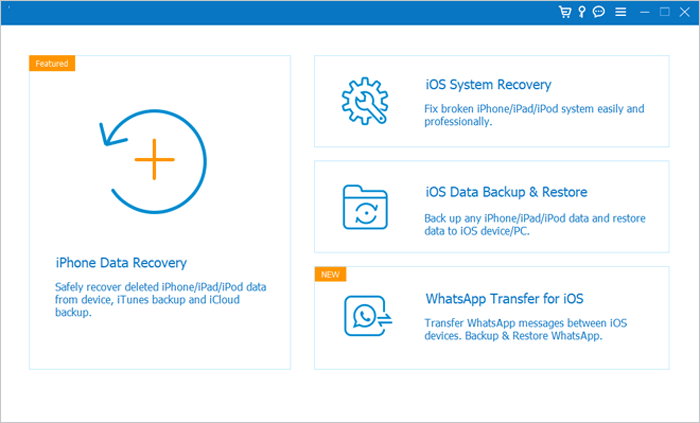 Step 2. Click the Start button and the program will detect your iPhone blue screen issue automatically. Follow the instructions shown on the screen to turn your iPhone into Recovery or DFU mode.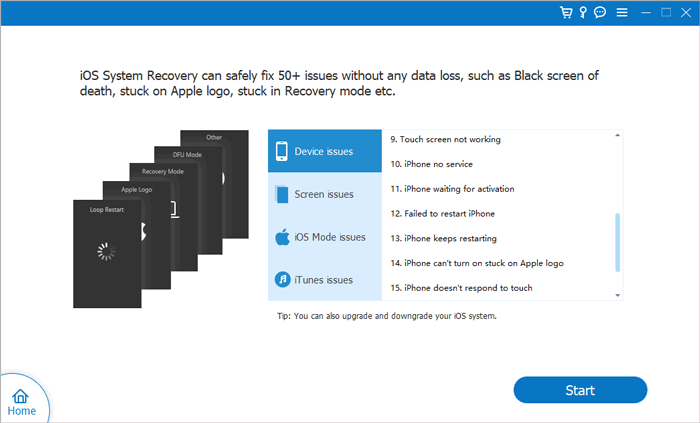 Step 3. Check and confirm your iPhone information as prompted. After that, click the Download button to begin repairing. The software will download the latest firmware version for your device. When it is complete, the iPhone blue screen problem will be fixed.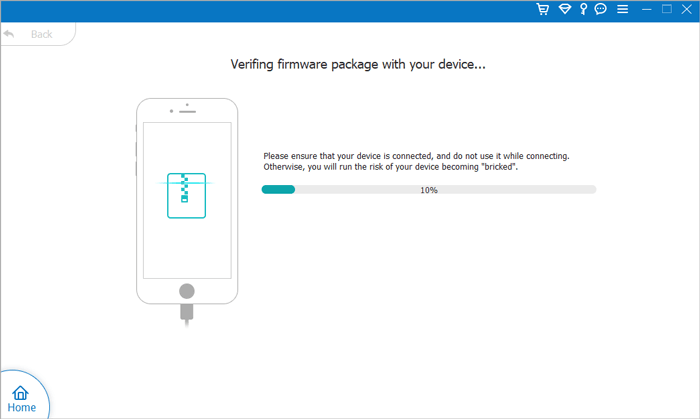 The Bottom Line
In this article, we mainly explore some effective methods to fix your iPhone blue screen problem. If the problem is caused by software error, iOS System Recovery is a reliable solution to fix it without data loss.
If all the above tips do not work, it may be due to damaged hardware, which needs to be solved with the help of professional technicians. In that case, you should contact Apple Support or other trusted repairing service to have your device checked and fixed.
Related Articles:
9 Best iPhone Repair Software to Fix All iPhone System Problems with Ease (2023 Review)
iPad White Screen Problem: How to Fix iPad Stuck on White Screen?
How to Fix the iPhone Stuck on Apple Logo Issue
How to Control iPhone with Broken Screen Effortlessly?
How to Recover Data from Dead Broken iPad in All Possible Ways