Apple and Samsung are the most popular phone makers in the world. Samsung's flagship phone, Samsung Galaxy S20, has impressed us with its outstanding 120 Hz fresh rate display, powerful camera, and 5G capability. As for Apple, the new iPhone 12 lineup, including iPhone 12 mini, iPhone 12, iPhone 12 Pro, iPhone 12 Pro Max has already released this fall. As iPhone 12 will likely be a closer rival for Samsung Galaxy S20, we mainly focus on comparing iPhone 12 vs. Samsung S20 in this article.
We have made a comparison between iPhone 12 vs Samsung Galaxy S2 in terms of some important aspects. Which phone will win this battle? let's find out!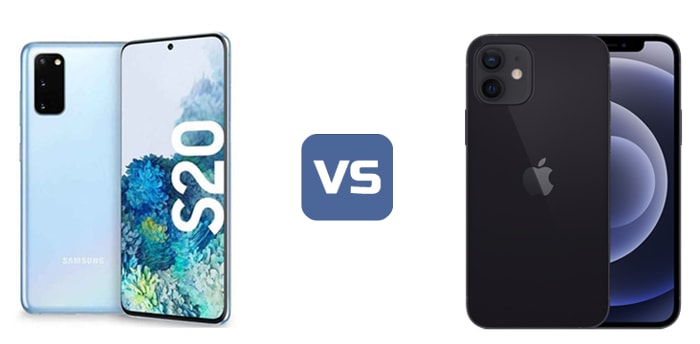 iPhone 12 vs. Samsung S20: Pricing
iPhone 12 vs. Samsung Galaxy S20: Camera
iPhone 12 vs. Samsung Galaxy S20: Hardware
Samsung S20 vs. iPhone 12: Display
Samsung S20 vs. iPhone 12: 5G
iPhone 12 vs. Samsung S20: Design
iPhone 12 vs. Samsung S20: Battery
Who Wins the Battle?
iPhone 12 vs. Samsung S20: A glance at some technical specifications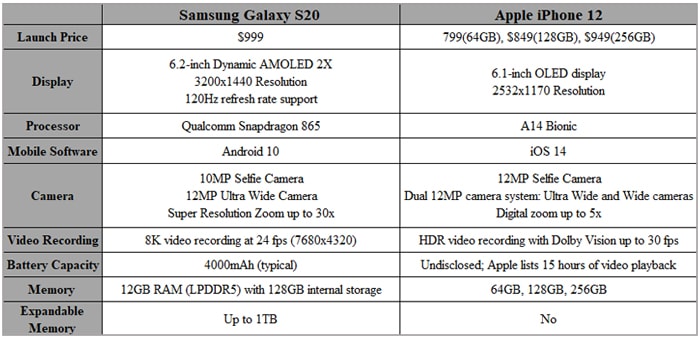 Tip: If you are planning to upgrade to iPhone 12, check this one-stop guide to transfer to new iPhone 12, which contains everything you need to know on how to transfer data from old phone to new iPhone 12.
iPhone 12 vs. Samsung S20: Pricing
The launch price of the 6.2-inch Samsung Galaxy S20 with 128 GB storage is $999, while the 6.1-inch iPhone 12 with the storage options ranging from 64GB to 256 GB starts at a price of $799. The Samsung Galaxy S20 is more expensive than the iPhone 12 in terms of the launch price, but you may find a cheaper price of S20 during some promotions.
In addition, both the iPhone 12 and Samsung S20 families have a more affordable model: iPhone 12 mini and Samsung Galaxy S20 FE which both start at the price of $699.
iPhone 12 vs. Samsung Galaxy S20: Camera
The camera is always one of the most important aspects that many users will take into consideration when getting a new phone. With Samsung S20, you will get a triple rear camera that comes with a 12-MP wide sensor, and the telephoto lens has a 64 MP sensor. Wite large sensor, Galaxy S20 can do the job well even in very dim light. What's more, Samsung S20 has a powerful digital zoom that can go up to 30x. It also has the ability to record 8K video.
How about the iPhone 12? It has also made some improvments on its cameras, but iPhone 12 doesn't get the powerful new features that iPhone 12 Pro and 12 Pro Max have. iPhone 12 has a dual 12 MP rear camera with wide and ultrawide angles. The digital zoom supports 5x. And when it comes to taking video, iPhone 12 supports Dolby Vision video recording. It seems that Samsung S20 has a more competitive camera.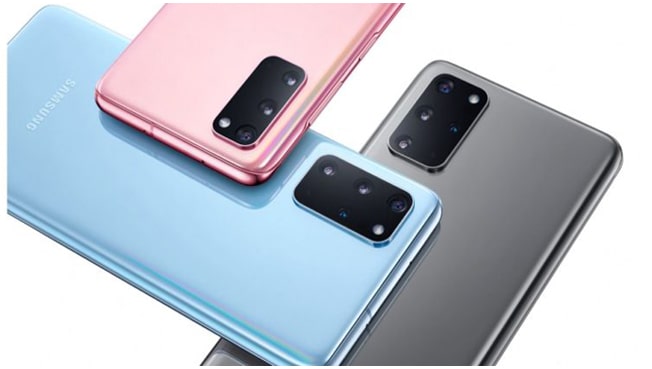 iPhone 12 vs. Samsung Galaxy S20: Hardware
Samsung Galaxy S20 equipped with Qualcomm's Snapdragon 865 processor along with 12 GB of RAM. As for the storage capability, unlike the S20 Ultra and S20+ which offers 128 GB and 512 GB of storage options, Samsung Galaxy S20 only has 128 GB. But the good thing is, you can add up to 1 TB of storage by inserting a micro SD card.
There's no doubt that the Galaxy S20 has excellent performances with such a combination of the processor and large RAM. However, iPhone 12 which uses the powerful A14 Bionic processor may beat the S20 in this aspect. This A14 Bionic is built on a 5nm fabrication process, which results in better performance and efficiency. Additionally, iPhone 12 comes with 4 GB of RAM and the storage choices are 64 GB, 128 GB or 256 GB.
You may like:
How to Fix the Large Storage in iOS 14 Issue
How to Delete Documents and Data on Samsung Completely
Samsung S20 vs. iPhone 12: Display
Samsung Galaxy S20 has a leading display among all the flagship phones in the past half-year of 2020, and it surpasses the iPhone 12 as well. The 6.2-inch Samsung Galaxy S20 supports 120Hz refresh rate while the 6.1-inch iPhone 12 only equipped with 60 Hz. Why do we care about the refresh rate? The thing is, with a higher refresh rate, you will feel smoother when scrolling the screen and have greater gaming experience. Besides, the resolution of the Galaxy S20 is 3200×1440 is sharper than iPhone 12 which has a 2532×1170 resolution.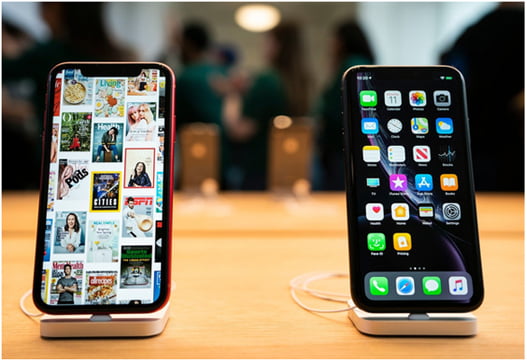 Samsung S20 vs. iPhone 12: 5G
5G lets us enjoy a high speed when surfing the website or downloading items from the internet. As Apple's first 5G phones, iPhone 12 models cover the most 5G bands compared to all the current mobile phones. And all the iPhone 12 models supports mmWave in the U.S. which has a faster speed. And as for Samsung Galaxy S20, only the Verizon carrier version supports mmWave. Galaxy S20 on AT&T, Sprint and T-mobile supports sub-6GHz.
iPhone 12 vs. Samsung S20: Design
Now let's take a look at the design and colors of the two phones. Samsung Galaxy S20 has four colors: cosmic gray, cloud pink, cloud blue and cloud white. The curved display is used for several years on the previous Samsung devices, but the Galaxy S20 has only a slightly curved display. Some users may be pleased as the curved display looks a bit fragile and it is not great for viewing full-screen videos.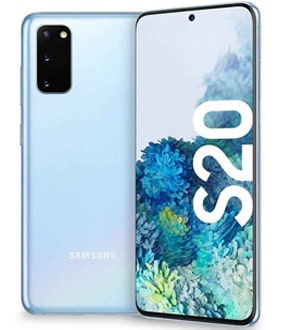 iPhone 12 has five colors: black, white, red, blue and green. And it has a flat metal-edge design which is similar to iPhone 4. The rear cameras and notches of the iPhone 12 remains the same as iPhone 11. What's more, iPhone 12 adds a new technology called "Ceramic Shield" which will be more resistant to drops.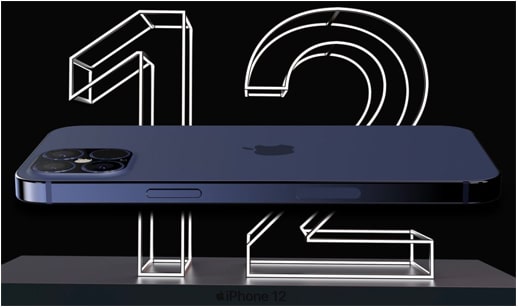 iPhone 12 vs. Samsung S20: Battery
The Samsung Galaxy S20 has a 4,000 mAh battery and it comes with a 25W Super Fast charger that can power up the phone in a very quick way. The new iPhone 12 has 2,775 mAh and it is said that it will have a MagSafe wireless charger instead of the charging port.
According to some users' tests, Samsung Galaxy S20 lasts about 9 hours which is not the best performance. As for iPhone 12, the Apple A14 Bionic should significantly contribute to power efficiency. What's more, iPhone always does a great job in software and hardware optimization. So iPhone 12 may have a slight advantage when it comes to battery life even if it has a smaller battery.
Tip: Want to improve the battery life for your phone? Here are the top 5 Battery Optimizers for Android and iOS.
Who Wins the Battle?
After making the comparison in some vital aspects, have you made a decision on which one is better? Well, overall speaking, the winner may be iPhone 12. It has a cheaper price, smoother performance as well as better battery efficiency. Samsung Galaxy S20 also does a great job for it has a sharper screen and a more powerful camera.
And of course, it is all a matter of preference. And as Samsung and iPhone are running different operating systems, there are also other aspects we could compare. If you often communicate your phone with a Windows PC, Samsung Galaxy S20 should be taken into consideration as iPhone doesn't get along well with Windows. And if you are a fan of Apple products, upgrading to iPhone 12 should be worth it.
Related Articles:
iPhone Comparison: iPhone XS vs iPhone XS Max vs iPhone XR
Samsung Galaxy S9 vs Galaxy S8: Is It Worth Upgrading?
Effective Ways on How to Transfer WhatsApp from iPhone to Samsung
How to Transfer Notes from iPhone to Samsung?
5 Best Methods to Transfer Contacts from Samsung to iPhone
How to Transfer Photos from Samsung to iPhone [Top 4 Methods]