Summary: This article is about to show you the difference among iPhone XS Max, iPhone XS and iPhone XR, and offer you some suggestions to choose which to buy, also teach you how to transfer data to new iPhone, etc.
Millions of people around the globe are always awaiting the next Apple iPhone model unveiling. There is always quite a buzz about it on social media. Everybody wants to get their hands on the next big thing - smartphone being "it". Due to its popularity, there are a number of new iPhone models on the market, one that goes hand-in-hand with every preference. Indeed, even though their shell might look quite alike, they are different to some extent in both their internal and external structures, hence the importance of comparing to determine which one to select.
At the moment, iPhone XS Max, iPhone XS, and iPhone XR are making quite an impression due to their many beneficial features that are fresh out the oven. If you are like the rest of the world and thus want to carry the latest iPhone in 2018, one that meets your needs and wants, but are not completely certain when it comes to selecting, keep on reading.
Part 1. iPhone Comparison: iPhone XS Max vs iPhone XS vs iPhone XR
Part 2. Which to Buy?
Part 3. How to Transfer Data to New iPhone
Part 4. Elevate Your Special Status with iPhone XS, iPhone XS Max, or iPhone XR
Part 1. iPhone Comparison: iPhone XS Max vs iPhone XS vs iPhone XR
One of the first elements about an iPhone that tends to captivate the attention of consumers the most is the color options. Out of these three models, iPhone XR comes in more colors - six to be exact, whereas the other two only have three to choose from. The iPhone XS Max has a 6.5 inch super retina high-definition display, which is greater than the other two. This is not shocking as this model has the word "max" in its name. The iPhone XR is 6.1 inches, and the iPhone XS is 5.8 inches.
The cameras of iPhone XS and iPhone XS Max are more advance than that of iPhone XR, as they provide a wide-angle. The iPhone XR is resistant to a depth of water of 1 meter for no more than 30 minutes. On the other hand, the iPhone XS and iPhone XS Max are water resistant to a depth of water of 2 meters for 30 minutes.
With a 512GB option, iPhone XS and iPhone XS Max have the greatest capacity. iPhone XS has a 2436-by-1125-pixel resolution at no other than 458 ppi; iPhone XS Max has a 2688-by-1242-pixel resolution at 458 ppi; iPhone XR has a 1792-by-828-pixel resolution at 326 ppi. Just as it was expected, their height, width, depth, and weight vary as well. iPhone XS's height is 5.65 inches; iPhone XS Max's height is 6.20 inches; iPhone XR's height is 5.94 inches.
Want to use one Apple ID to manage multiple iOS devices?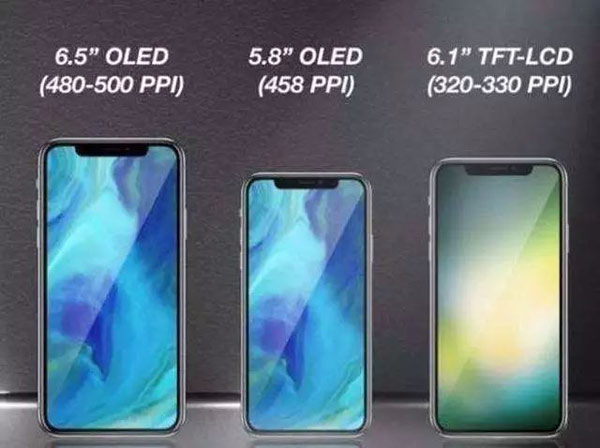 The one that weighs the most is iPhone XS Max with 7.34 ounces. The iPhone XS weighs 6.24 ounces while the iPhone XR weighs 6.84 ounces. Besides all three models being water resistant, they are also dust resistant, which is just one of the many things that make Apple's smartphones standout from the bunch.
All three models come with true tone display, wide color display, Apple Pay, video calling, video recorder, Siri, 7MP photos, wide color capture for live photos and photos in general, smart HDR for pictures, portrait mode with advanced depth control, and bokeh, five effect portrait lighting, cinematic video stabilization, extended dynamic range, memoji and nimoji, 1080p high-definition video recording at either 60 fps or 30 fps, and the same level of integrated brightness.
With Face ID, there is secure authentication. It is enabled by TrueDepth camera in order to recognize one's face. This is a particular feature that Apple keeps integrating to their devices, as it has allowed users to feel assured that their information will be safe at all times. There are other smartphone manufacturers that have tried to come up with a similar feature, but unfortunately, they cannot be regarded as first class. There are times when cheap devices actually cost more at the end of the day due to one having to ditch them to purchase a model that it is really worth the time of day.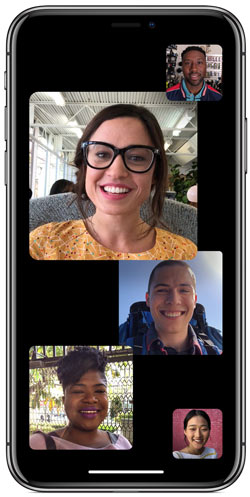 Part 2. Which to Buy?
This is an often asked question. It all depends on your day-to-day activities, as well as your liking in the aspect of aesthetics. If you are the type of individual who conducts a lot of job-related tasks on your smartphone, then the iPhone XS Max would be your best bet. It is a sturdy device that is of meaningful size. It is has a great display and a decent height so that you can see everything in grand size, which comes in handy for those individuals who have vision issues. Want to manage iPhone effectively?
If you tend to be in the water every now and then, or seem to be around water, then the iPhone XS and iPhone XS Max would be great options due to them being water resistant to a depth of 2 meters for 30 minutes. As previously mentioned, the iPhone XR is also water resistant, but it would resist to a depth of only 1 meter for 30 minutes. If you like devices that do not weigh much, then the iPhone XS is an option to consider. It is only 6.24 ounces. Due to its also minimal height, it would be easy to store away. It would certainly not take as much space. Need to recover lost data from water damaged iPhone?
If you are a YouTuber or just like to record high-quality videos, any one of these cameras will satisfy your needs. Apple knows the importance of having the best camera integrated to their iPhones, as we are living in a different era - one that has changed this feature from a want to a need. Need to backup iPhone photos or edit videos on iPhone?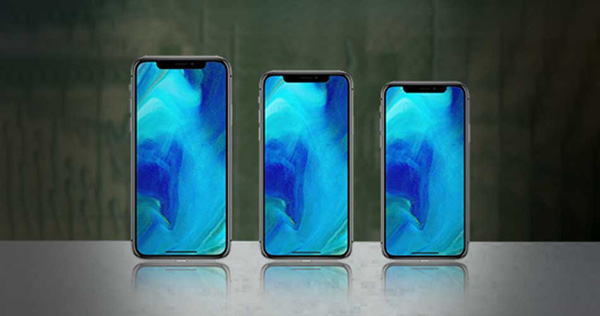 Part 3. How to Transfer Data to New iPhone
There are some iPhone users who have a difficult time transferring data to a new iPhone; therefore, they opt to just stick with their old models, or just opt to lose data when they make the switch to a newer model. It can definitely be a frustrating task, but only if you do not have the adequate program to aid you in every step of the way. Coolmuster Mobile Transfer is the go-to choice for countless smartphone users because it is both easy and effective in transferring everything at one shot, without taking a long time.
Steps to Follow:
Step 1. Download Coolmuster Mobile Transfer and then launch it.
Step 2. With the aid of a USB cable, connect device to computer. (Make sure to enable USB debugging on device.)
Step 3. Begin the transferring of data from iPhone to iPhone. Select the desired contents and click "Start Copy" button.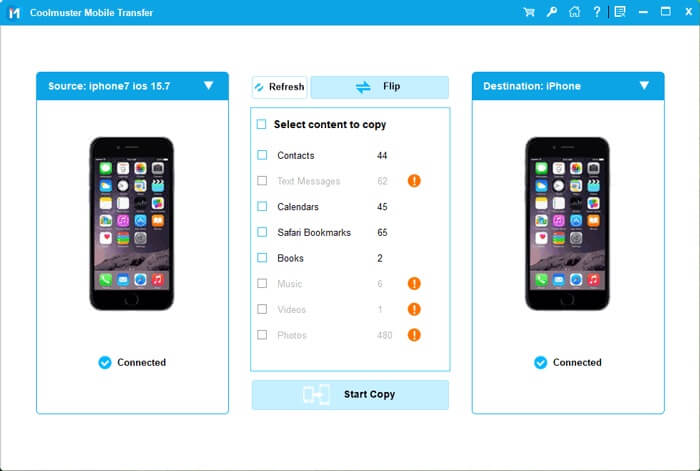 Yes, it is that easy. There is not much to it than following these three steps. Depending on the amount of data that you are going to transfer, the time for the process to finalize will vary; nevertheless, you can rest assured that it will be faster than any other program available on the market.
Coolmuster Mobile Transfer keeps beating the competition because it does what it was designed to do: to transfer data from device to device within a short period of time, without surprises and thus headaches. It does not matter if you have never conducted a transfer before, because it was created with everybody in mind. You will be able to get the hang of it in a matter of seconds. Yes, it is that easy, hence why people of all ages put it to good use every time they get their hands on a new iPhone model.
More methods to transfer to new iPhone XS, iPhone XS Max or iPhone XR >>
Part 4. Elevate Your Special Status with iPhone XS, iPhone XS Max or iPhone XR
Even though the iPhone XS, iPhone XS Max, and iPhone XR tend to be different in several aspects, their quality is of first class. One would not expect anything less from the company Apple. Ever since it was introduced to consumers, it has not failed in manufacturing top-notch products that stand out in a meaningful way from the competition.
They tend to be the first ones to introduce new technology in the smartphone field and then other companies tend to follow behind, trying their best to keep up with the changes. Having one of these iPhones places you in a special status, as you can get a lot of different tasks done in the best way known to mankind at the moment.
Related Articles:
Useful Tips to Sell Your Old iPhone at Higher Price
How to Erase iPhone Data before You Sell It
How to Easily Restore New iPhone from iTunes Backup?
How to Restore iCloud Backup to New iPhone