You may hear that the iOS 14 will come out in fall this year. When I write this article, the iOS 14 beta 5 has already been available to testers over the air. Do you get excited and wonder how to get the iOS 14 beta? Wait! Before you hastily find how to download the iOS 14 beta, take a look at the problems or warnings many testers report. In fact, many testers have discovered that the update takes up large storage in iOS 14. And not only that, there are also many other bugs in iOS 14 beta, for example, some apps may crash after iOS 14 updates.
Well, is the iOS 14 beta really so terrible? Don't panic. This article will introduce the current bugs in iOS 14 and tell you how to fix the issue the update takes up large storage in iOS 14. Just read more details to learn how to solve the problems related to the iOS 14 update.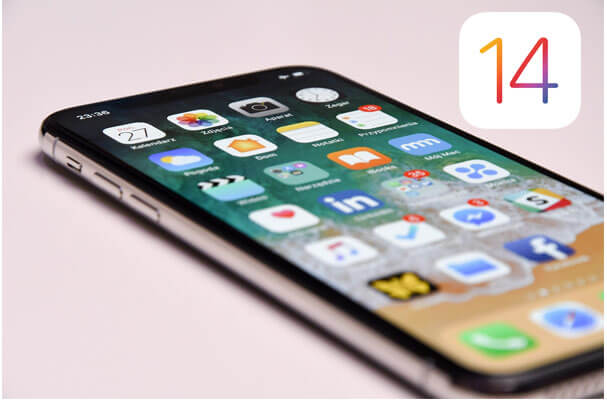 Part 1. A Brief Overview of iOS 14 and the Current Problems or Bugs
Part 2. Why Does the Update to iOS 14 Take So Large Storage on iPhone?
Part 3. How to Fix the Large Storage in iOS 14?
Extra Tips: Downgrade from iOS 14 to a Stable Version if Needed
Part 1. A Brief Overview of iOS 14 and the Current Problems or Bugs
iOS 14 is one of Apple's biggest updates this year. According to people who have participated in the public beta of iOS 14, iOS 14 will have many new changes to streamline the iOS devices, meanwhile, the iOS 14 public beta also has many problems. Let's take a brief look at it.
What's new in iOS 14?
> Home screen
At first, Apple redesigned the Home screen to give support to the widgets, which can be now dragged from the Today view onto the Home screen and fixed in different sizes. Besides, a new page for App Library will be added to the Home screen, which can automatically group apps into different folders and let you search for apps from a search box on the top, and clean or remove apps from the home screen without losing access to all apps or features on your iPhone.
> Smart Stack & Siri
Then, the Smart Stack allows you to find the wanted widgets by swiping through the commonly used widgets and intelligently displaying the customized widgets for work, travel, sports and other usage. What's more, the Siri in iOS 14 will become a "blob" at the bottom of the screen and will display the result on the top with rich notifications after you trigger it.
> Other big changes
Moreover, there are also other big changes in iOS 14, including adding picture-in-picture mode into iPhone with iOS 14, creating App Clips to enable you to use some apps without installing but just signing into, improving the Messages to pin up to nine conversations at the top of the Messages stack, adding various new options into Memoji, bringing elevation changes, bike lanes, stairs, speed cameras, red-light cameras and routes rescheduling around congestion zones into the Maps, etc.
> The compatibility
Well, the iOS 14 is compatible with iPhone 11 Pro/SE (2nd generation)/11 Pro Max/11/XS/XS Max/XR/X/8/8 Plus/7/7 Plus/6s/6s Plus/SE (1st generation), iPod touch (7th generation). And, it is expected to come out in the fall of this year. By then, users will experience the iOS 14 or the iPadOS 14 on newly released iPhone. Let's expect.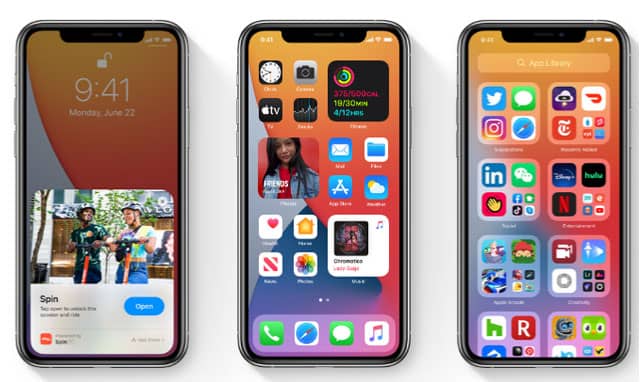 Apart from the new changes in iOS 14 or iPadOS 14, there are also some bugs or problems in the beta version:
The system and other files take up much storage space after updating to iOS 14.
Some apps may crash or stop after launching, such as Niantic games, Barclays Mobile Banking, Office 365, etc.
Updating to iOS 14 takes a much longer time.
Widgets cannot work properly: The Weather widget always shows the Cupertino data or goes blank temporarily, the Activity widget will not refresh unless you manually update it.
No improvement to the problem that battery drains fast.
Safari cannot load websites sometimes.
You cannot copy the Gmail text.
The device reboots now and then.
Although there are so many bugs in iOS 14 public beta, we believe that the official version of iOS 14 will be perfect.
Part 2. Why Does the Update to iOS 14 Take So Large Storage on iPhone?
In fact, this problem has persisted since the update of iOS 11. In the past, there were many relevant reports saying that the system and pre-installed files take up most storage space after upgrading. Here we guess it may have something to do with the third-party apps. As an iPhone user, you can see that there are so many pre-installed apps along with the system on iPhone each time, and Apple company may regard them as parts of the system. Well, how to free up more storage after updating to iOS 14? Continue reading the solutions below.
Part 3. How to Fix the Large Storage in iOS 14?
To fix the large storage in iOS 14 after upgrading, you can free up more storage by clearing other data on your iPhone. But what kind of data should be safely cleared from your device? Usually, you can remove the junk files, temporary files, app caches, corrupted files, the copy of previously deleted files in storage space, large files and incomplete fragments of the third-party apps safely.
Solution 1. Clear the iOS 14 profile
If the update occupies large storage in iOS 14, you can try to delete the firmware file of iOS 14 from the device by going to iPhone Settings > General > Profile & Device Management to check if there is an iOS software profile. Then, tap the existing software profile and select Remove Profile if there is one.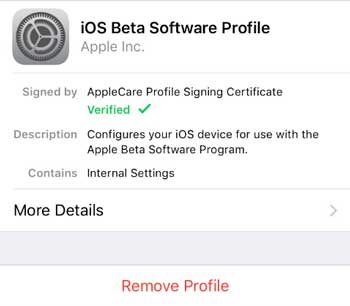 Solution 2. Reduce the system storage in iPhone or iPad from computer
To use this way, you will need an iOS device, a suitable USB cord and a computer with the latest iTunes installed on it. If you have already prepared these things, you can repeat the following steps:
Start your computer > Run iTunes > Plug iPhone into computer via a USB cable > Unlock your iPhone and tap Trust on iPhone to trust the computer when it asks you (jump this step if you have connected iPhone to computer before) > Leave the iPhone connected to computer for several minutes and do not do anything during that time > Tap Settings on iPhone > General > Storage > Select System to see whether the size is smaller > Eject iPhone from computer.
Solution 3. Uninstall unused apps
If there are a lot of unused apps on your iPhone, the quickest way to free up other large storage in iOS 14 is to delete those apps. You can follow these steps to remove unused apps: Tap and hold the app icon in home interface > Click Delete Apps or find Edit Homescreen on your device and tap it > Press the X icon at the upper right corner of each app icon to delete unwanted apps one by one.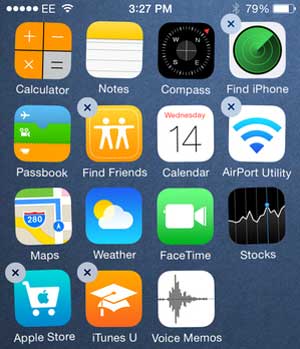 Further reading: Want to clear app data on iPhone? The 3 ways here tells you how to do it.
Solution 4. Remove unwanted media files
Usually, the videos, photos and audio files take up huge storage space on iPhone. Thus, if there is not enough space on iPhone after upgrading to iOS 14, you can delete the unnecessary media files from your device, or move all media files to an external storage device or a cloud storage before you delete all of them to free up more space.
Solution 5. Clear Safari history, cache, cookies or other temp files
When you surf the internet on your iPhone, the Safari may have accumulated a lot of caches, cookies, passwords, browsing/downloading history or other temp files in your iPhone. In fact, the safari uses these data to track your browsing activities or fast load the website, otherwise, they are unimportant to you. Hence, you can safely clear the Safari data by following these steps: Open iPhone Settings > Navigate to the Safari option > Tap Clear History and Website Data > Confirm your choice by clicking Clear History and Data.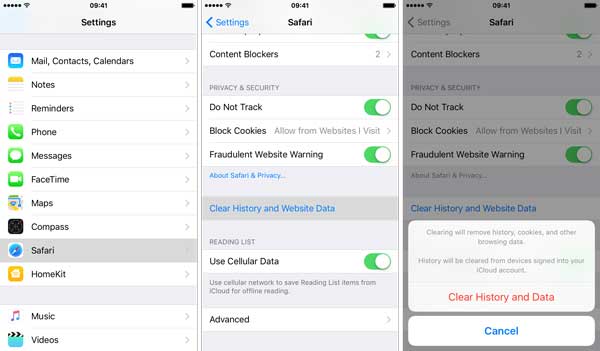 Solution 6. Disable iCloud Drive
Some iDevice users find from practice that the iCloud Drive also contributes to the large storage in iOS 14. Thus, if you regularly sync files between different Apple devices via iCloud Drive, you can disable the iCloud Drive to disallow it running large storage on iPhone. And the steps are as below: Navigate to iPhone Settings > iCloud > Toggle off iCloud Drive.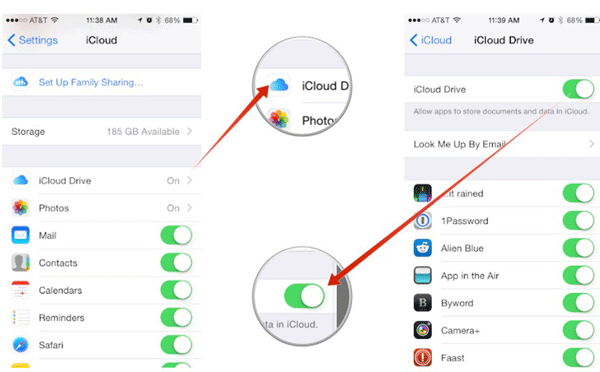 Solution 7. Delete linked accounts on iPhone
The linked accounts on iPhone sometimes occupy large storage in iOS 14 after update. So, you can go to Settings > Mail, Contacts, Calendars > Select the third-party account, for example, Gmail > Turn off the Mail, Contacts or Calendars > Tap Delete Account to free up more storage.
Solution 8. Delete unwanted mails
If you have installed the client apps of email services on your iPhone, those email apps may also take up large storage in iOS 14. To solve the problem, you can open the email service app on iPhone > select and delete the unimportant emails from your device.
Further reading: How to block emails on iPhone? You can check here if needed.
Solution 9. Optimize iPhone Storage (iOS 11 or later versions)
The iOS 11 and higher versions enable you to optimize the iPhone storage by getting rid off the unused third-party apps from your device. Consequently, you can solve the large storage in iOS 14 problem by navigating to Settings on iPhone > General > iPhone Storage > Choose any recommendation the iPhone offers to you and tap Enable to free up more storage on iPhone.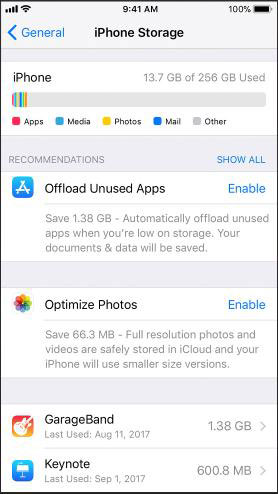 In addition, you can also follow these tips to fix the large storage in iOS 14 after upgrading: Delete the stock, games center or other pre-installed apps, reinstall social media apps, automatically delete old messages (Settings > Messages > Message History > Keep Messages > Select a period of time to keep messages) or turn off Photo Stream (Settings > Photos > Disable Photo Stream) on iPhone/iPad/iPod.
Solution 10. Factory reset your iPhone/iPad/iPod
Finally, you can factory reset your device if other tips cannot fix the problem large storage in iOS 14. However, factory resetting will delete all data on your iDevice. Thus, remember to back up your iDevice before you take the following steps to factory reset your device: Go to iPhone Settings > General > Reset > Erase All Content and Settings > Enter the passcode to confirm your choice > Tap Erase iPhone.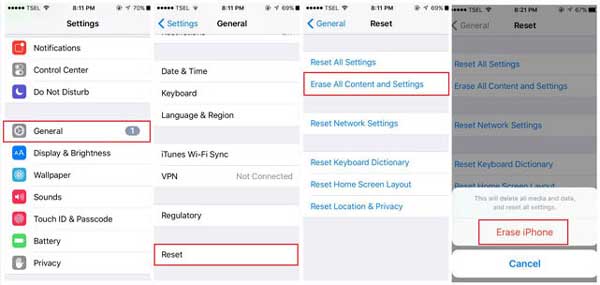 See more: How to Reset iPhone without iCloud Password?
Extra Tips: Downgrade from iOS 14 to a Stable Version if Needed
Since the iOS 14 public beta may be vulnerable and unstable, if you encounter the large storage in iOS 14 issue, you can downgrade from iOS 14 beta to a stable version if needed.
Also, before you downgrade iOS version, you are recommended to back up the iDevice data to avoid data loss. Here, we strongly recommend you to try Coolmuster iOS Assistant, a useful iDevice manager for you to back up and restore iPhone, iPad and iPod, easily export all files from iPhone, iPad or iPod to computer or iTunes for backup, import contacts, bookmarks, calendars, eBooks, iTunes backups and more files from computer to iDevice, and delete photos, calendars, bookmarks, eBooks, apps, etc. from iDevices in one click to enlarge more storage.
Final Thoughts
If you encounter the problem that the system occupies large storage in iOS 14 after upgrading, you can follow the useful tips in this article to fix this problem by yourself. And, if you choose to factory reset your device, I highly recommend you to back up your iDevice data via Coolmuster iOS Assistant to avoid data loss. Well, if you think these tips are helpful for you, or if you have other better ways to fix the large storage in iOS 14, you can leave a comment below to help more people. Thanks!
Related Articles:
How Can I Delete Photos from iPhone But Not iCloud? [Solved]
4 Ways on How to Delete Music from iPhone But Not iTunes
How to Compress Photos on iPhone? 4 Ways to Reduce Photo Size
[3 Ways] How to Delete Email Caches on iPhone Completely
How to Fix Email Disappearing from iPhone [Solved]
[Simple Guide] How to Delete Apple ID without Password on iPhone?