When it comes to the most frequently-used software in iPad, calendar must now have ranked top. There is no denying that nowadays people are just more forgetful than before under greater pressure. More and more people are relying on calendar software inbuilt within their iPad. With calendar, we can now take down all important events on their calendar in case they may forget the vital dates, such as birthday dates of their families and friends, interview date or examination date and etc. In addition, the calendar software within iPad enables users to make a detailed schedule of their weekly and monthly plan. So through previewing noted in calendar, you can have a clear picture of your tasks remained undone.
However, the thing is that sometime due to various reasons such as system breakdown, virus infection or mistaken deletion and etc, your important calendar with many vital notes will be gone from your iPad. But as long as you are relying on Coolmuster Data Recovery for iPad (Windows Version), your calendar can be regained within a few simple clicks. Then you can schedule your daily life in order with the restored calendar.
More Alluring Features of This Software:
With this software, you are able to recover the lost files from iPad within a few simple clicks, including calendar, contacts, messages, photos and etc. When you lose any files from your iPad, iPhone, iPod for whatever reasons, you can always trust in this software. It will bring back your lost data safe and sound. Once you have launched this software on the computer, this software is able to detect all files from your iPad and display them on the computer for your reference. As to the safety of this software, it is 100% clean and safe without bringing any virus infection or data loss during the file recovery. Most importantly, this software is highly compatible with all generations of iOS devices like iPad, iPhone, iPod. Below is the free trial version of this software, choose the right version and give it a try by yourself!
Notes: It is awful when you are trying to use certain files, only to find that you have lost them by accident, right? Therefore, you should form the habit of backing up your important iPad files at regular times.
Read More:
How to Fix iPhone Grey Screen of Death By Yourself? (8 Solutions)
How to Restore from iCloud Backup without Reset? (5 Effective Methods)
Tutorial: How to Retrieve Lost Photos from iPad on PC
Step 1: Launch the Program and Connect iPad to PC
After opening the installed software on the computer, connect your iPad to the computer via the USB cord. Then you will see the below interface. Now, you can choose an iTunes backup file of your iOS devices to scan the files and then click the option of "StartScan" to continue the process.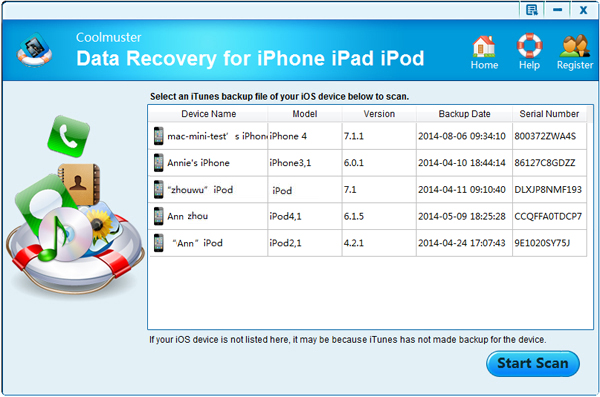 Step 2. Preview& Recover Calendar from iPad
After that, you will see the below interface. All file folders are displayed on the left panel on the main interface. Now, you can choose the "Calendar" option to preview more detailed information. After that, choose the files that you want to recover from iPad and click the "Recover" option to continue. By the way, you can also follow the similar steps to recover other files from iPad as you needed and wanted. These files will be saved on your computer.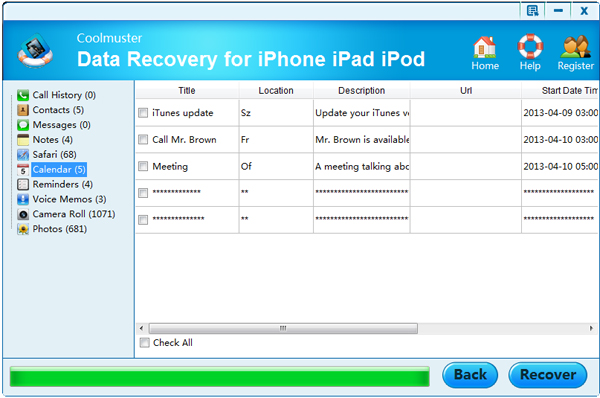 The instructions introduced in the above are for Windows users. For Mac users, you can have a try of this Mac Version. As to the steps, just download the Mac version on your computer and open it with double clicks. Then just follow the similar steps to recover files from your iPad, iPhone, iPod as you needed!
Related Articles:
iPad Air: Specs, Tips & Tricks, Reviews, Prices, Video Format, Tutorials
How to Transfer Purchased Items from iPhone/iPad to iTunes Library
How to Access iPhone Recycle Bin and Recover Deleted Items?
How to Recover Snapchat Messages on iPhone in Four Hassle-free Ways?
How to Recover Pictures from Text Messages on iPhone [2 Excellent Ways]
How to Fix the iPhone Stuck on the Emergency SOS Mode Issue?