"This is a problem I had for about a year since I upgraded to the iPhone X and had through all the iOS updates. All the contacts I enter don't show up on my contact list or my WhatsApp, but if I retype the number or someone calls me, they do. So far, the only workaround I've found for this is to immediately call them after entering. That makes them appear. The ones entered before I started using that method still don't show up even if I call them, so I have to delete and re-add them. You can see how that can be a problem. Any help would be appreciated. Thanks in advance!"
- Excerpted from Apple Support Community
Whenever you want to call someone in your contact list, you can do a simple search to find them. However, there are times when saved contacts are not showing up on the iPhone. Why did my iPhone contact names disappear? And how to get my contacts to show back on my iPhone? If you are deeply troubled by the problem, flicking through this guide may enlighten you.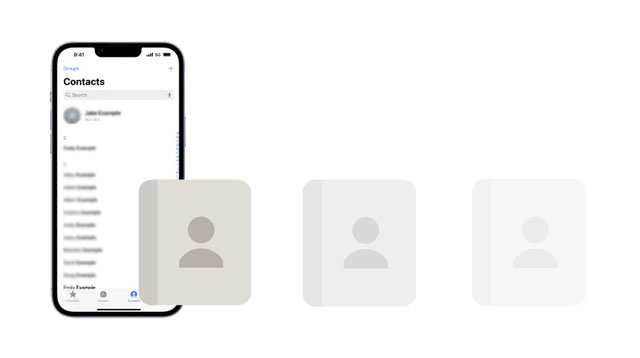 Part 1. Why Are My Contacts Not Showing Up on My iPhone?
Various factors may cause contacts not to load on your iPhone. Generally, you will encounter this error after upgrading or restoring the iPhone 14/13/12. Besides, there are also other culprits for iPhone 12/11 contacts not showing:
You have signed in with the wrong Apple ID.
You have switched off the groups.
iOS glitches.
iPhone cannot access iCloud contacts.
iPhone cannot access the contacts synced with Yahoo, Gmail, etc.
You have mistakenly turned on the Hide All Contacts option.
iTunes syncing errors.
You have accidentally deleted contacts.
Firmware/hardware issues.
Part 2. How to Fix the iPhone Contacts Not Showing Up Issue?
Trick 1. Restart Your iPhone
The first thing you can do is to restart your iPhone. Since a temporary system glitch may cause many common errors, like all contacts not showing on iPhone, app crashes, sluggish performance, etc., a simple restarting of your iPhone may fix the problem.
Trick 2. Ensure to Show All Contacts
Your iPhone usually shows contacts in groups with the associated accounts, and the hiding groups may trigger some contacts not showing up on iPhone. You must enable all contact groups on your iPhone to see them again.
Open the Phone app on your iPhone and click Contacts.
Click Groups at the upper-left corner > Show All Contacts > Done.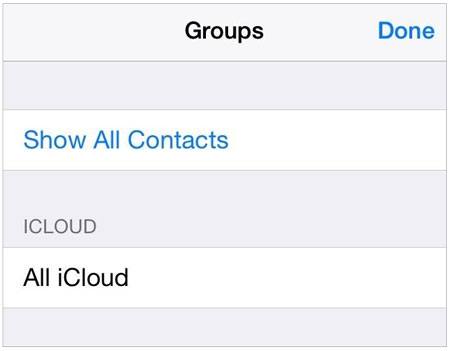 You might need: Is your iPhone stuck on transferring data? If so, you can follow these solutions to repair it.
Trick 3. Disable and Enable iCloud/Gmail/Yahoo Contacts
You can also turn off and on the iCloud/Gmail/Yahoo contacts to fix the system errors.
iCloud contacts:
Navigate to iPhone's Settings > tap your name.
Choose iCloud > toggle off iCloud Contacts.
Tap Keep on My iPhone on the pop-up window.
Reboot your iPhone.
Toggle on iCloud Contacts again.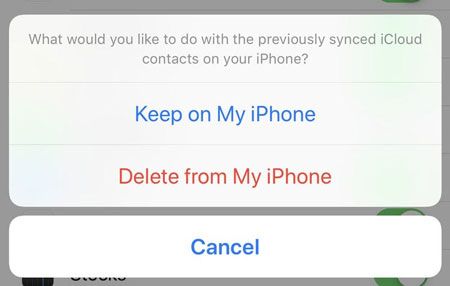 Yahoo/Gmail contacts:
Head to iPhone's Settings > Contacts > Accounts.
Choose the account you have synced your contacts to.
Switch off Contacts and restart your device.
Switch on Yahoo/Gmail Contacts again.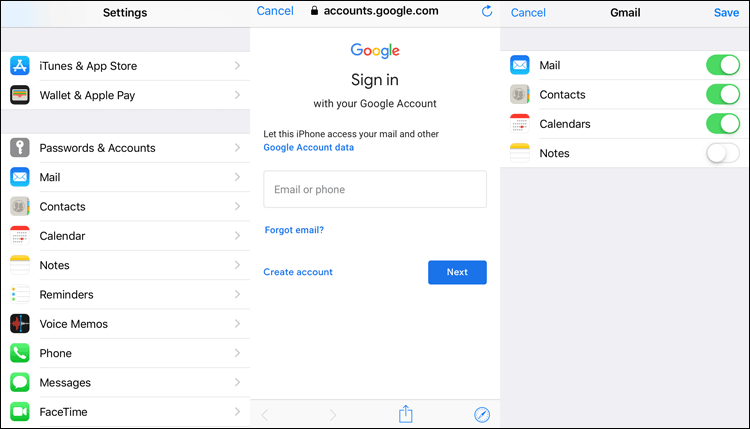 See more: When your memorable videos disappear from your iPhone, you can get them back with these methods.
Trick 4. Upgrade iOS to the Latest Version
Another easy way to fix ios bugs when new contacts are not showing up on an iPhone is to update your iPhone to the latest version. Here's how.
Go to iPhone's Settings > General > Software Updates.
Tap Download and Install if there is a newer version.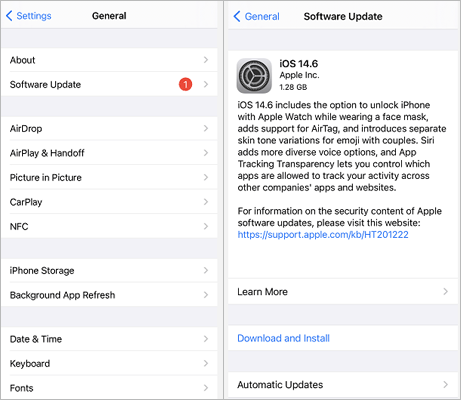 Trick 5. Make All Groups of Contacts Visible
If you have saved a contact to a contact group, but it is not showing up in Contacts, try the following steps.
Open the Contacts app on your iPhone and click Groups at the top-left corner.
Ensure you have checked All Groups.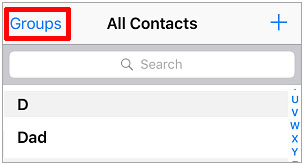 Further reading: What can you do if iCloud is stuck when you download your messages from iCloud? Please don't miss this practical tutorial.
Trick 6. Sign Out and In Your Apple ID
iPhone contacts are not showing up when something is wrong with your Apple ID. So, you can sign out your Apple ID on your iPhone for a while and sign it in again. Note that it may cause data loss on your device.
Go to Settings > tap your name.
Click Sign Out and confirm the operation.
After a few minutes, open Settings > tap your name > tap Sign In to log in to your Apple ID.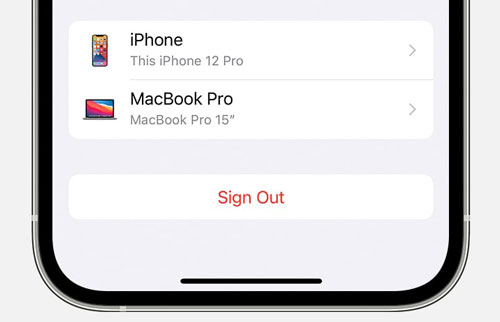 Trick 7. Rebuild the iPhone Contacts
You can also rebuild the contacts to get the missing contacts back. You have to edit one contact and restart your iPhone.
Open the Phone app and choose one visible contact.
Tap Edit at the upper-right corner and add some new details, like email, address, etc.
Hit Done at the top-right corner and restart your iPhone.
It will force rebuild all contact details when it powers on.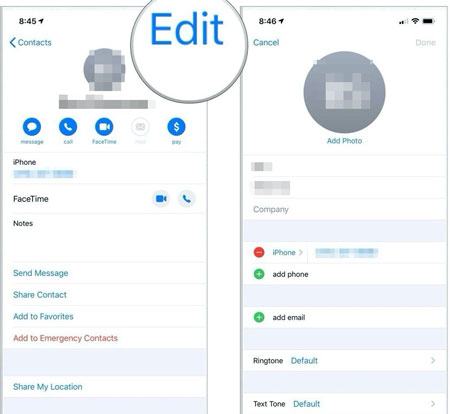 Read also: Can you retrieve your WhatsApp messages from a lost phone without backup? Let's check it out.
Trick 8. Re-sync Contacts with iCloud
Open the Settings app and tap your name.
Choose iCloud > turn off Contacts > tap Keep on My iPhone to save the synced contacts to your iPhone.
Turn on the Contacts option. If asked, click Merge on the popup.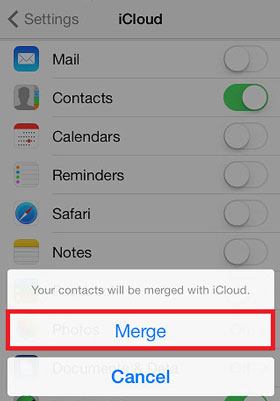 Trick 9. Turn Off Short Name
Short Name is designed to make your contacts easier to read, but this feature often conflicts with third-party apps. Thus, you can turn off the feature to see whether it fixes the contacts not showing up on the iPhone issue.
Open the Settings app > select Contacts.
Click Short Name > disable Short Name.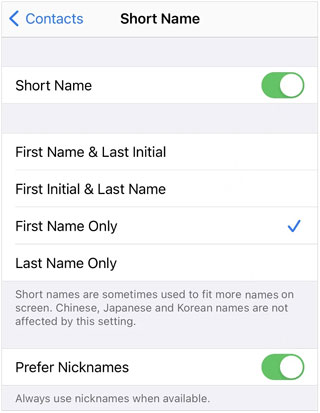 Guess you need: How can you fast get your contacts from iCloud to an iPhone? You can follow this guide step by step.
Trick 10. Restore Lost Contacts from iTunes/iCloud Backup
Assume you have backed up your iPhone with iTunes or iCloud before. You can restore the disappeared contacts from the iTunes or iCloud backup file to your iPhone. However, it may delete the existing iPhone data when restoring directly with iTunes or iCloud.
Option 1. Use iTunes
Connect your iPhone to your computer via a USB cable and launch the latest version of iTunes.
Tap the iPhone icon in the iTunes window and click Restore Backup under Summary.
Pick the most recent iTunes backup and hit Restore.
Wait for the restoring process to be complete.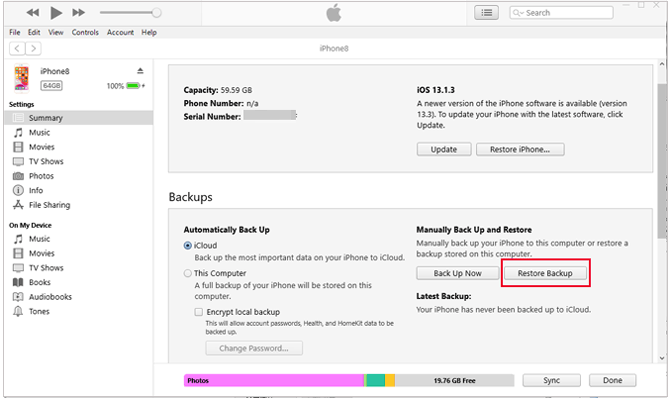 Option 2. Using Coolmuster iPhone Data Recovery
Coolmuster iPhone Data Recovery is a handy tool that selectively restores contacts and other data from the iTunes backup file to your computer without connecting your iPhone. As a result, it won't cause data loss on your device.

Free Download for PC
01Install and run the software on your computer and tap the iOS Recovery module to continue.
02Choose the Recover from iTunes Backup File mode on the left side and select a backup file that includes the missing contacts.
03Tap Start Scan.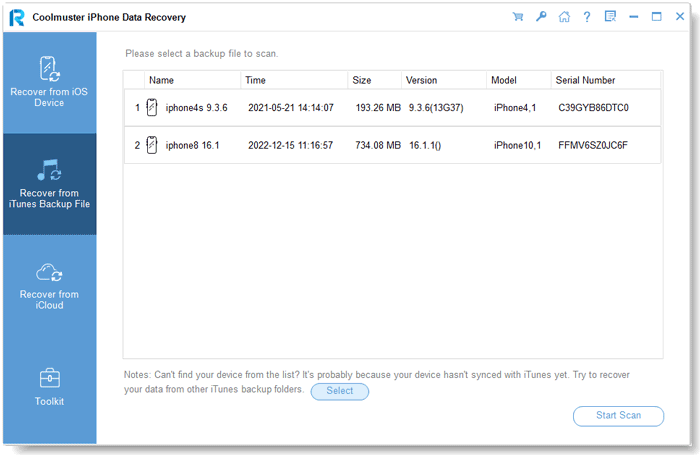 Note: If you cannot find the desired iTunes backup file, hit the Select button below to choose the iTunes backup file from other customized folders.
04Tick off Contacts on the data selection interface and tap Start Scan to proceed.
05Preview all the contacts and check the wanted contacts to restore.
06Click the Recover to Computer button below to save them to your computer.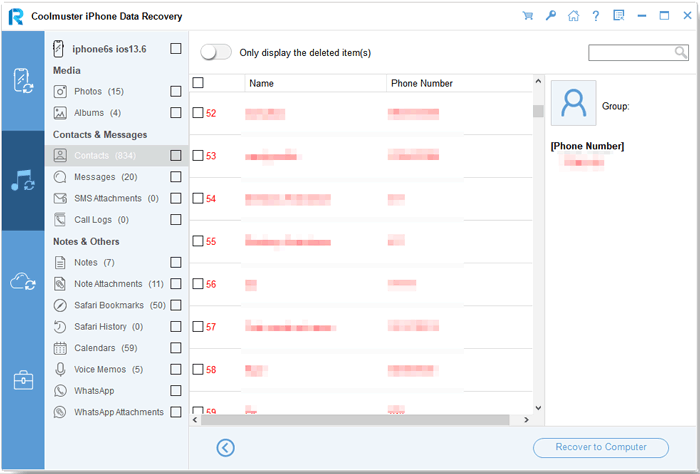 Option 3. Using icloud.com
Open icloud.com from a browser and sign in with the same Apple ID credentials with which you synced your iPhone contacts.
Go to Account Settings > Advanced > Restore Contacts.
Tap Restore next to the iCloud backup file you want to restore.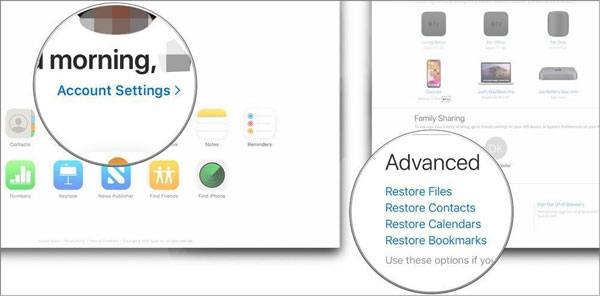 Learn more:
Fixed: iPad Keeps Restarting | 11 Proved Tricks
6 Fabulous iPhone Photo Recovery Apps: Fast Help Recover Deleted Pictures
Trick 11. Contact Apple Support
If all the above tips fail to get back your contacts, try contacting the Apple Support team for help. You can reach out to them on the Apple support official website and follow their suggestions.
The Bottom Line
We sincerely hope our tutorial will help you resolve the contacts not showing up on the iPhone issue. If you have made a backup of your iPhone with iTunes previously, you can use Coolmuster iPhone Data Recovery to restore the missing contacts from the iTunes backup without data loss. Besides, you can also try other methods you want.
Please leave a comment below if you have anything to let us know.
Related Articles:
[Solved] iPhone Photos Not Showing Up on PC? Quick Solutions Here! (Windows & Mac)
14 Amazing Tricks to Fix iPhone Contacts Missing Names (Comprehensive Guide)
14 Painless Ways to Fix the iPhone/iCloud Photos Not Showing Up on Mac Issue
9 Ways to Fix the iPhone Photos Disappeared from Camera Roll Issue
iPhone Calendar Not Syncing? Here are 7 Fixes
How to Recover Deleted Contacts from iPhone with Ease? (4 Easy Ways)