You may want to factory reset your iPad for various reasons, such as wiping away all data before reselling it or creating more storage space. Whatever the case, a full reset is an effective way that will ensure none of your personal information remains stored on the phone.
If you can recall your Apple ID and password, it'll be easier to factory reset an iPad. But what if those credentials have slipped your mind? How to factory reset iPad without Apple ID password? Well, fear not, as this guide addresses such an issue while providing the best methods to reset iPad to factory settings without Apple ID.
Part 1. Will I Be Able to Factory Reset iPad Without Apple ID?
Regrettably, it'll be tricky to factory reset an iPad if you don't have an Apple ID. iPads are designed with advanced security measures to prevent any unauthorized access. Although restoring your iPad to its factory settings without the Apple ID password may seem impossible, alternative methods still exist to give you a smooth way. Using iTunes and DFU (Device Firmware Update) mode is one way that makes the process simpler. Also, third-party apps can help you factory reset your iPad.
Part 2. How to Reset iPad Without Apple ID?
If you don't know your Apple ID or password, attempting to factory reset your iPad can be a real headache. After all, Apple won't let you move forward without this information. But fear not. In this article, we'll explore the most reliable methods for factory resetting an iPad, even if you don't have the required login credentials.
Method 1. How to Factory Reset iPad Without Apple ID Password in 1 Click?
To reset an iPad to its factory settings, you require an Apple ID and the passcode. But if you can't remember the passcode, then you may get stuck. iOS Unlock is a powerful tool you can effortlessly use to reset an iPad, even if you don't have Apple ID. You'll be surprised how quickly you can bypass your Apple ID.
This tool can help you remove the Apple ID, iCloud activation lock, iCloud account, iTunes backup passcode, and any screen locks on both iOS devices, even without the passcodes. Moreover, you do not need to worry about complex operations whatsoever. All you do is link your iPad to the computer and tap some buttons. Then, iOS Unlock will automatically erase the associated Apple ID from an iPad and reset it without an Apple ID. It's that simple, no much stress. The key features of iOS Unlock are as follows:
Reset iPad by unlocking Apple ID without requiring a password.
Remove all screen locks on iOS devices.
Unlock iPhone to use on any carrier.
Remove MDM profile and locks without losing data.
Bypass iCloud activation locks.
Click the button below to download a free trial of iOS Unlock.
Here are steps on how to erase iPad without Apple ID:
01Launch the Software
First, install the software on the computer and launch it. Once initiated, you will be presented with an interface where you should choose "Screen Unlock".
After selecting the "Screen Unlock" option, a new interface will display. Click "Remove Apple ID".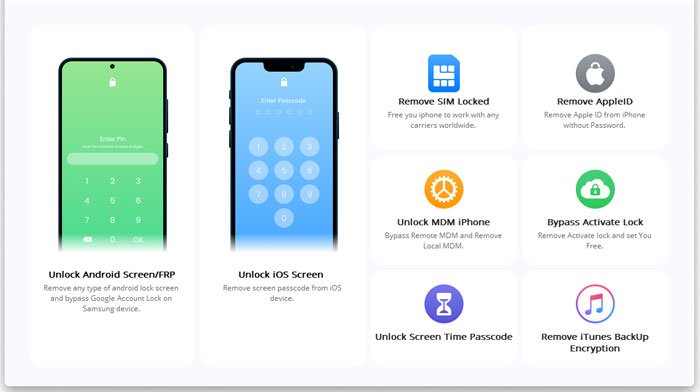 02Unlock Your Device
Unlock your device to trust this PC which will enable further scanning of the available on the device. So, you must enter the screen password to unlock your iPad.
Before you begin to unlock the Apple ID, we strongly advise that you back up all of the files on the iPad in a safe place. Otherwise, the operation may lead to its permanent removal.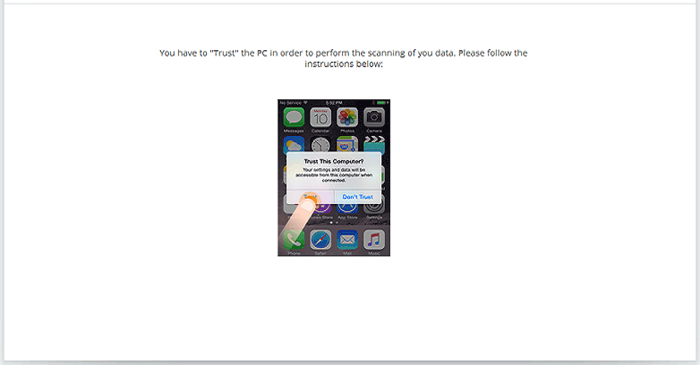 03Confirm iOS Device Information
Now enter the iPad into the recovery mode with the instructions on the screen. When you restart after entering this mode, the unlocking process will immediately start.
Then, iOS Unlokc will exhibit the device information, such as Device Model and System Version. If the information is inaccurate, you can also select the appropriate information from the dropdown lists. Then click Download to download the firmware for your device.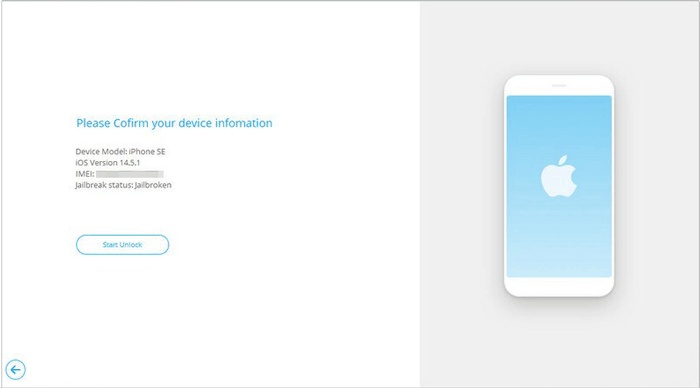 04Reset iPad Without Apple ID
After you have completed resetting your iPad and restarting it, the program will start the unlocking process of Apple ID right away.
Before you know it, your Apple ID will be instantly removed. After successfully bypassing the Apple ID, a confirmation window will appear, letting you know that the process has been completed.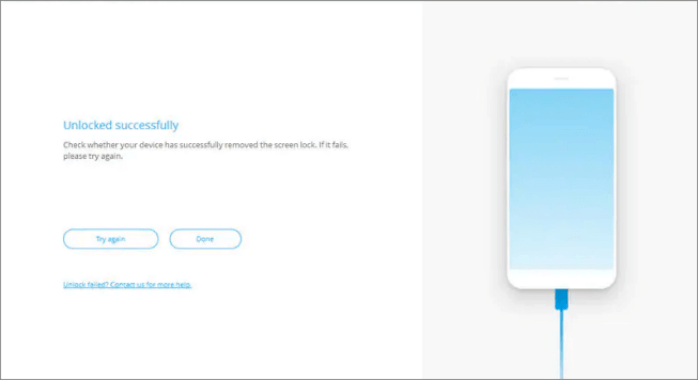 See More: Want to factory reset your iPhone without password or erase your iPhone without passcode? This is a step-by-step guide that you can utilize.
Method 2. How to Reset iPad Without Apple ID via iTunes?
Forgetting an Apple ID password can be a real nuisance when you want to reset it. However, that should not worry you much because you can reset your iPad without an Apple ID with iTunes. This built-in function lets you reset your iPad's operating system, eliminating all files and settings. This resets the device to its original settings, returning it to a clean state as if it were new. Here's how:
Step 1. Open up the iTunes application if you're using Windows; for Mac users, launch Finder instead. Once that's done, use a USB cable to connect iPad to the computer.
Step 2. Reboot iPad to recovery mode by holding the "Home" and the "Power" key.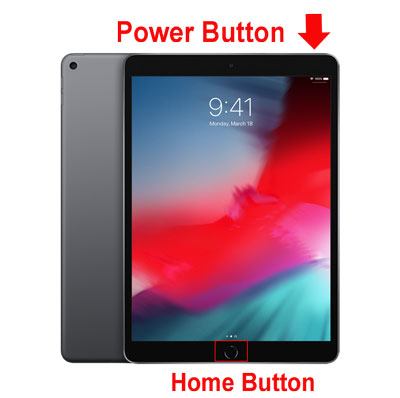 Step 3. When your computer prompts you to update or restore your iPad, press the "Restore" for iPad reset. Doing so will reset all of its settings back to their original state.
After successfully resetting your iPad without a password, you should activate it. If the device is linked to Apple ID, enter its details during setup. Unfortunately, if you don't remember this information correctly, it'll be impossible to proceed and bypassing iCloud Activation Lock will be necessary.
You May Also Want to Know:
How to Factory Reset iPhone without iTunes? (Accessible & Disabled iPhone)
4 Easy Ways to Restore iPad without iTunes You Need to Know
Method 3. How to Erase iPad Without Apple ID by DFU Mode?
For those looking to reset their iPad and unlock it without a password, DFU (Device Firmware Update) mode is a workable option. You will not need to recall the Apple ID password, for that matter. Once you enter your phone into DFU mode, you can freely reset it. Here's how:
Step 1. Link the iPad to the computer through iTunes.
Step 2. Now, put iPad into the DFU mode by holding down both the Power and Home buttons. Release the Power button and keep holding the Home button.
Step 3. Select "Restore" on iTunes to clear data and settings. Wait for the download and installation of new firmware before proceeding.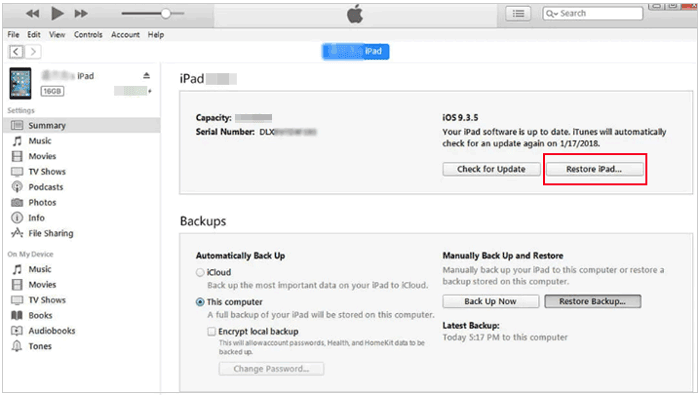 Step 4. After restoring your device, you may now reset your iPad to its factory settings.
You May Like: How to Put iPhone and iPad in DFU Mode? (Solved)
Method 4. How to Wipe an iPad Without Apple ID Through iCloud Website?
Once you realize your iPad has been stolen, you can put into place some preventative measures to prevent your files from being accessed. You may erase all files from the device through iCloud. Losing or having your iPad stolen can be an incredibly devastating experience. Still, you can minimize the risk of data theft by enabling "Find My" and performing a remote erase. To do this securely and effectively, follow these easy steps:
Step 1. Head to the iCloud website and find the "Find My" feature.
Step 2. Tap on "All Devices" and choose iPad you wish to erase.
Step 3. Several options will appear, and you have to select some options. Choose the "Erase iPad" option and ensure that your selection has been made.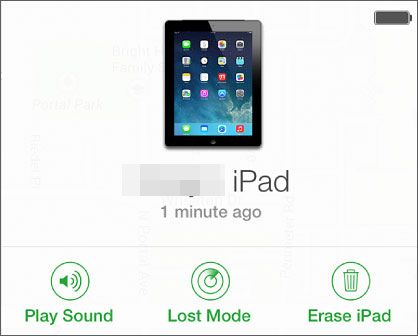 Learn More:
How to Delete iCloud Account without Password (iOS 16 Supported)
How to Reset iCloud Password on iPhone, iPad, iPod or Mac?
Method 5. How to Bypass iPad Passcode Without Apple ID via Settings?
How to reset iPad without Apple ID password no computer? A great way to do that is by using Settings. Surprisingly, most users overlook this simple method of restoring an iPad to its original factory settings. Through settings, you can customize your iPad's sound volumes with ease, adjust its brightness to the perfect setting for any environment, switch languages on a whim and even reset your device without Apple ID.
The Settings app features a convenient reset function that allows you to restore your iPad and clear network, location, and other location settings. If you tap this option on your iPad, it will ask for the passcode to proceed. Once you enter the correct passcode, the resetting process will start immediately.
Don't have access to a computer in a remote place? That won't stop you from resetting your iPad without an Apple ID. Here are the steps that will help you easily reset your device without requiring extra devices.
Step 1. Start by tapping on the Settings application from your home screen. Then go to the "General" settings menu and select "Reset" on the lower part of the screen.
Step 2. On the next page, choose "Erase All Content & Settings" to factory reset an iPad.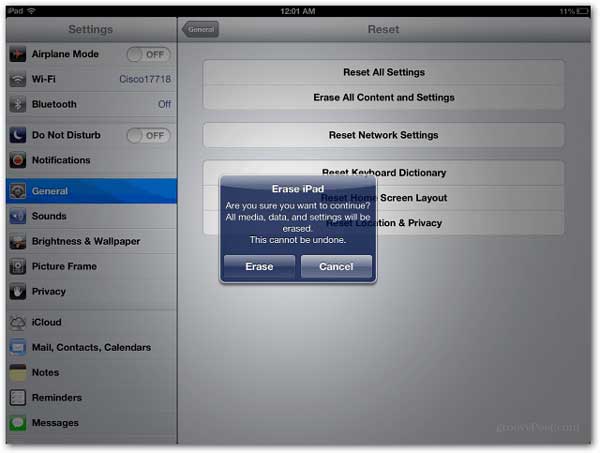 Step 3. The reset process will begin as soon as you enter your iPad's passcode. Subsequently, your iPad will be completely wiped clean and restored to its original state.
Further Reading:
What Happens If You Reset Your iPhone or iPad
How to Erase All Content and Settings on iPhone
Conclusion
Now that you understand the simple steps about how to restore iPad without iTunes or passcode, you will find it a piece of cake to try. However, before attempting these processes, create a backup for all files stored on the device. Since factory reset wipes away all data, you can easily restore the files with a backup.
Above, we mentioned various methods for how to unlock an iPad without Apple ID. One dependable tool we suggest you try to use is iOS Unlock. It is, without a doubt, the best unlocker for all iOS devices. It removes Apple ID in one touch. It merges convenience and efficiency when erasing your iPad without Apple ID. So, don't miss out on this unbeatable opportunity and try it.
Related Articles:
4 Methods to Remove Apple ID from iPad without password (Easy & Quick)
[Simple Guide] How to Delete Apple ID without Password on iPhone?
How to Recover Deleted Videos from iPad with or without Backup? (iOS 16 Supported)
[Solved] How to Unlock Disabled iPad without iTunes | Latest Guide
How to Unlock iPod touch without Password (Solved with 4 Ways)
Fix the iPad Touch Screen Not Working Problem in 12 Pro Ways (All iPad Series Supported)