Forgetting your iPhone passcode can be extremely frustrating and leave you locked out of your device. This issue is increasingly common among users with the latest iPhones, making it difficult for many to figure out how to factory reset a locked iPhone or iPad. What's worse, if you cannot access a computer, do you know how to factory reset an iPhone without a computer?
Maybe you are fretting about this issue, but now you can get the cushy ways provided in this post to factory reset your iOS device with or without a computer or a passcode.
Part 1: Can you Factory Reset an iPhone without a Computer?
You can factory reset an iPhone without a computer. You just have to access the Settings app on your iPhone or iPad to erase all the content and settings from the device. Then the resetting process will start.
However, this way cannot work on those locked iPads and iPhones. So, how do you reset a locked iPad without a computer? Go on reading, and you will know it.
Part 2: Why Factory Reset an iOS Device?
Factory resetting an iOS device can be beneficial in some ways:
1. It can help to improve performance, clear up space on the device, and protect personal information from potential hackers.
2. Factory resetting is especially useful when transferring ownership of the device to another user since it helps to erase all data stored on the device and restore it to the original settings.
3. Additionally, factory resetting can fix any software issues causing the device to malfunction. RestoringRestoring the device to its factory settings will allow the user to start fresh with a clean slate and enjoy a better overall experience with their device.
Learn more: Reset All Settings VS Erase All Content [Informative Comparison]
Part 3: How to Factory Reset iPhone/iPad without Computer?
How do I reset my iPad without a computer? We have shared all the effective resetting methods in this part. With them, you can easily reset your iPhone and iPad without a PC or Mac.
3.1 How to Reset iPhone to Factory Settings without Computer via the Settings App
This is one of the easiest ways to reset an iPad or iPhone without requiring a computer. All you have to do is head to the settings page and look for the erase content option. It's very simple.
Below are steps to restore an iPad without a computer:
Step 1: Open the Settings application on your iPhone, scroll down, and select "General".
Step 2: At the bottom of the "General" page, select "Transfer or Reset iPhone".
Step 3: Tap "Erase All Content and Settings" to factory reset your device without a computer.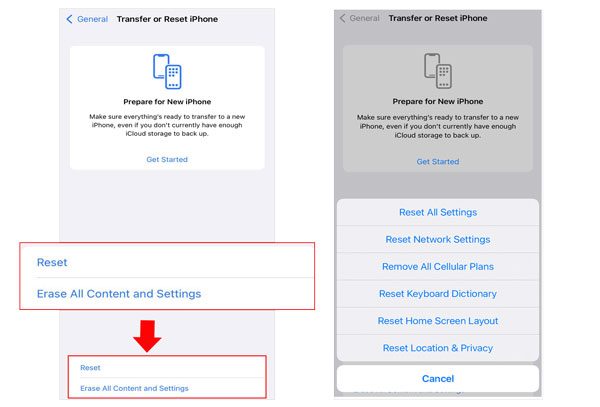 The procedure will take a few minutes. After completion, your iPhone will be restored to the state it was when you first bought it so that you can set it up.
3.2 How to Reset iPad without Computer via Find My Feature
Find My iPad or iPhone is a feature available on iOS devices that allow users to locate, lock or erase their device if it's lost or stolen. You can access this feature from your iCloud account online or through the "Find My" app on another Apple device. With this tool, you can locate the device, display a message on its screen, and remotely erase all data. It is also useful for resetting an iPhone to factory settings without a computer.
Here are the steps:
Step 1: Launch a browser or Safari on the phone, open the iCloud website, and sign in using your Apple ID and passcode.
Step 2: You will get a code from Apple, which you'll use to register the devices. Enter the code and click "Trust" to enable the phone sign to the site.
https://www.easeus.com/images/en/screenshot/mobimover/sign-into-icloud-on-iphone.jpg
Step 3: Click "Find My iPhone" from the page and hit on "All Devices", Then choose the phone you want to clear before pressing "Erase iPhone".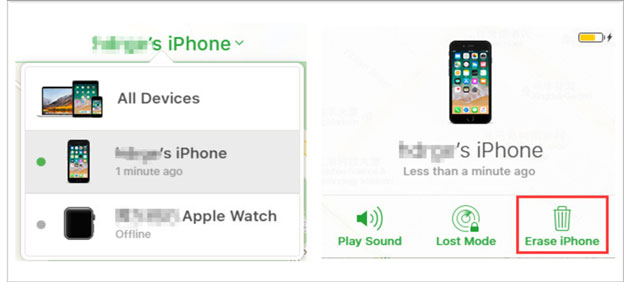 Read more: [Solved] How to Remove Screen Lock PIN on Android without Password?
3.3 How to Restore iPhone without Computer Using Buttons
You can also factory reset an iPhone without a computer by using buttons. It is very easy, and all you need to do is simultaneously press and hold the volume and home buttons. If your device has been malfunctioning and won't respond, or if there is an issue with the software that can't be resolved in any other way. When you hard reset your iPhone, all the data stored on your phone will be wiped, and the software will be reset completely.
Do this to restore an iPhone without a computer:
Step 1: Press the "Volume Up", "Volume Down", and "Side" keys simultaneously for a few seconds for iPhone X/8 and later. For 7/7 Plus, press the "Volume Down" and "Side" keys. For 6S or below, press the Side and top buttons.
Step 2: Keep on holding till the screen goes dark.
Step 3: Wait till the Apple logo shows, then release the buttons. At this point, your iPhone will enter data recovery mode; consequently erasing all stored information on it much like a new phone.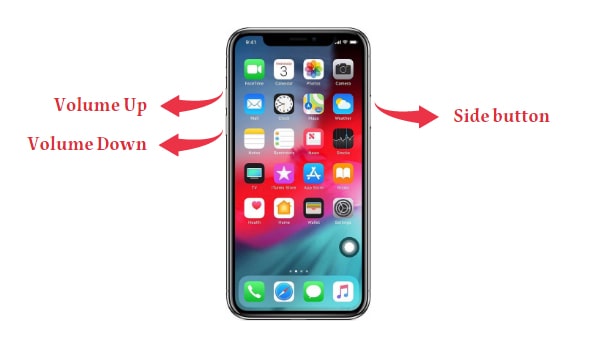 Check it if needed: Are you going to reset a Motorola phone when it is locked? Maybe this article will give you a hand.
Part 4: How to Reset iPhone Completely with Computer Using Coolmuster iOS Eraser?
When selling, donating or trading your device, it's good you remove all your files. Coolmuster iOS Eraser is the ultimate tool for the job. It wipes away all types of files and settings from the iOS device with complete certainty that they will never be recovered - ensuring maximum security for your peace of mind. Thus, you can use this software to reset your iPhone and iPad on a computer.
Additionally, it works perfectly on most generations of iPhone, iPad and iPod touch. As long as your device runs iOS 5.0 and upper, the software will perform well.
Why choose Coolmuster iOS Eraser:
* Reset iOS devices completely on a computer.
* Deletes all files from an iOS device, such as system settings, private data, and more.
* Remove deleted data from your iPhone or iPad without recovery.
* Read your data only without leakage.
* Three levels for your selection: Low, Medium, and High).
* Support deleting all contacts, call logs, videos, photos, reminders, calendars, apps, etc., from iOS devices.
Download this eraser to reset your iPhone or iPad.
How to use this app to factory reset and iPhone on a computer:
01Launch iOS Eraser after installing it on your PC.
02Use a lightning cable to connect iPhone to the PC. Unlock it, then hit "Trust". Click "Continue" to allow the software to recognize the device. Next, tap on "Erase" from the primary interface, then choose a security level to erase data by tapping the "Medium" icon.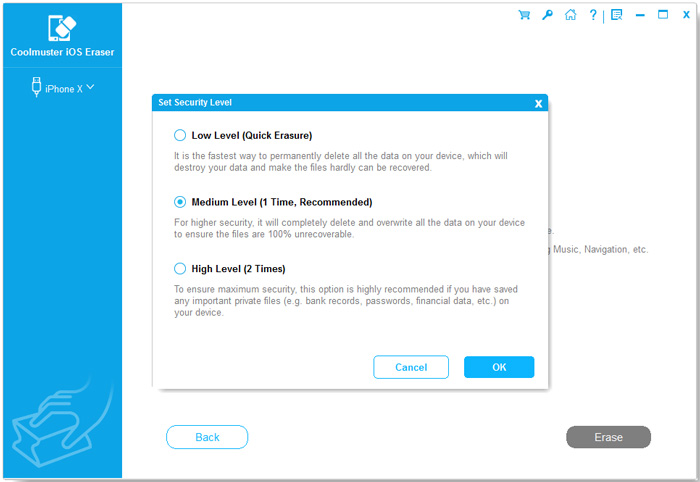 03Input "delete" in the blank field. Now tap "Erase" and click "OK" on the pop-up window. The program will start erasing files.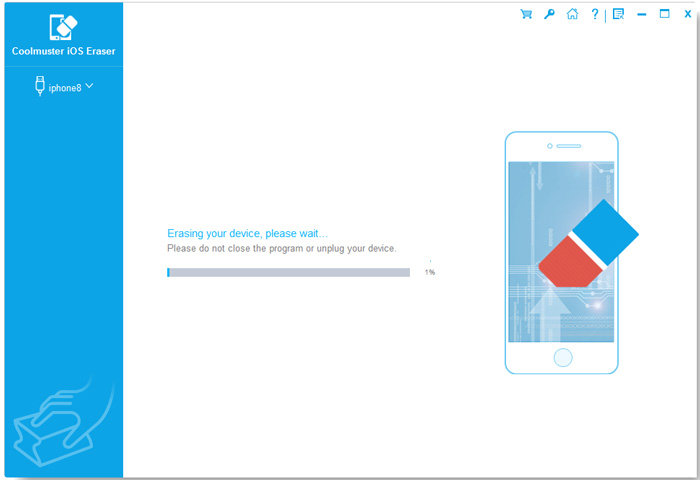 Guess you need: How to Unlock SIM Card on iPhone with Easy Steps [3 Solutions]
Part 5: How to Reset iOS Devices without Passcode via iOS Unlock?
If you have locked your iPhone or iPad accidentally and forgotten the password, do not worry. The iOS Unlock is here to save the day. This sophisticated software was specifically designed for those of us who may have a momentary lapse in memory regarding our device's passcode. With just a few clicks, you can quickly bypass any lock screen on your iOS device and regain access to it with ease. It can also bypass iCloud activation lock quickly.
Top features of this iOS unlocking tool:
* Fast reset a locked iOS device without a password.
* Remove screen locks from iPhones and iPads, such as passcodes, face ID, and Touch ID.
* There are no skills required to conduct the process.
* Widely compatible with various iOS devices.
Download this software to reset and iPad without a passcode.
How to use iOS unlock to factory reset an iOS device without passcode:
01Install the software on your PC or Mac, and select "Screen Unlock".
02Connect the device to the computer with a lighting cable and hit "Unlock iOS Screen".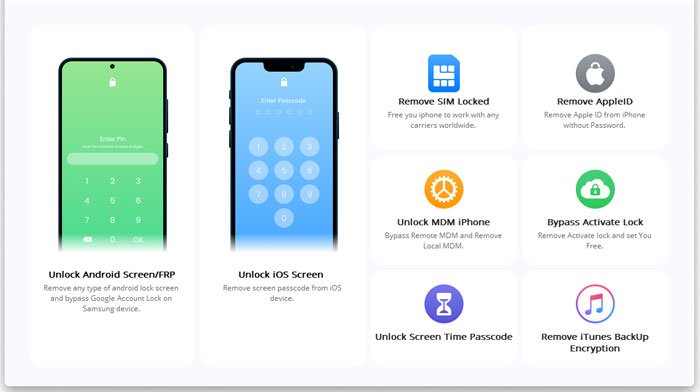 03Follow the guide on the interface to get your iPhone into Recovery Mode. Next, select the device model and system version of your device, and tap the "Download" icon to download the firmware.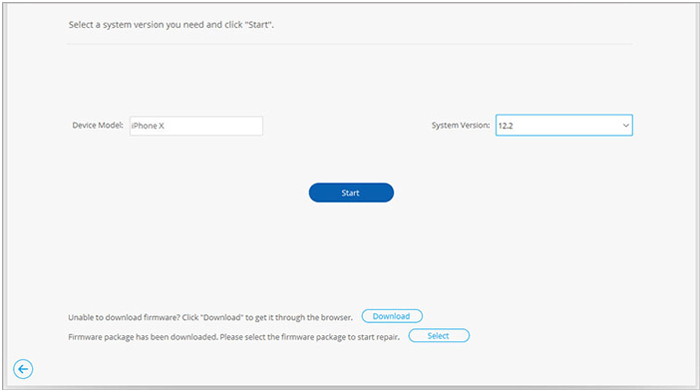 04Finally, press "Unlock Now" to remove the screen lock and reset your device without the passcode.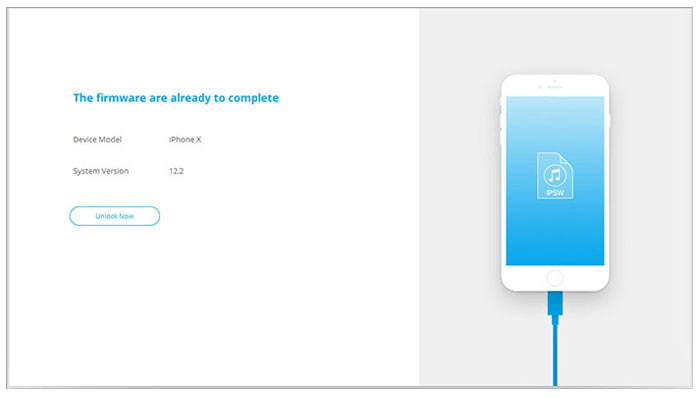 Conclusion
If you ever find yourself in the unfortunate predicament of a forgotten passcode, disabled iPhone, or malfunctioning screen password, fret not! You can easily factory reset your device without having to enter a password and without a computer with these methods. However, if you want to do it quickly, get Coolmuster iOS Eraser. It's an easy-to-use program that will reset your iPhone and remove all data in one click. Moreover, iOS Unlock is the ultimate solution for resetting an iOS device without a passcode.
Related Articles:
How to Reset a Samsung Phone that Is Locked Effortlessly? (Samsung Galaxy S22/S23 Supported)
How to Back Up Android Phone before Factory Reset? (7 Methods)
How to Fix the iPhone Transferring Data Stuck Issue Effortlessly? 14 Quick Tricks Here
How to Mirror iPhone/iPad to Windows 11/10
9 Ways to Fix the Bookmarks on iPhone Disappeared Issue (iOS 16 Supported)
How to Transfer MP4 to iPhone in a Simple and Quick Way? (New Data)