Reminders Apps on iPhone, iPad, iPod devices allow users to note down reminders for important tasks such as meeting out with friends, going out for an interview, organizing notes for tomorrow's meetings and trivial things that may slip your mind. Especially when you have a long to-do list, this application will be extremely useful for you, since it can organize your messy tasks in order. So you just need remove a to-do item from your list one by one according to the priorities, things seem to be much easier, right? However, sometimes due to various reasons such as mistaken deletion, failure to OS upgrade, the reminders saved on your iPad could be lost. In this case, what should you do? How can you recover the lost reminders from your iPad in an easy and efficient way? Get the answer in the following part:
Things Needed to Recover iPad Reminders:
1. A computer (Windows/Mac) which can connect to the internet.
2. Your iPad device or iTunes backup of iPad reminders.
3. A reliable recovery tool.
Speaking of the best recovery program to recover the lost reminders from iPad, my strongest recommendation comes to Coolmuster iOS Data Rescuer, which is able to recover deleted reminders from your iPad no matter whether you have an iTunes backup or not. With this software, you are able to easily get back your important reminders lost under whatever circumstances. Moreover, this software has a wide range of compatibility. This software can not only recover reminders from iPad, but also retrieve other types of files like contacts, messages, music songs and etc. of multiple generations of all the other iOS devices. In this passage, we will tell you how to recover files from iPad device without iTunes backup and how to regain files from iTunes backup.
User Guide : How to Recover Reminders from iPad Device or iTunes Backup
Step 1. Open the installed software on the computer and then connect your iPad to the computer. Then this software will automatically detect your iPad and show the below interface. Now you can choose to Recover from iOS Device and Recover from iTunes Backup File as you needed. Then click the option of Start Scan to preview the files on your iPad or your iTunes backup files.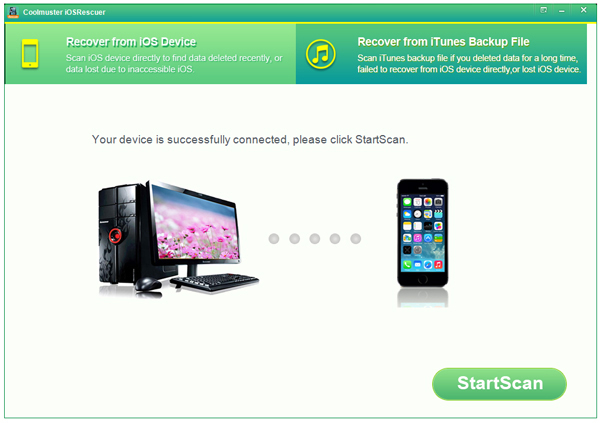 Step 2. After that, this software will detect and display all the file folders on the left panel. Enter the Reminders folder to preview and select the files on the right window. After selecting the files you want to recover from your iPad. You can click the option of Recover to retrieve the files from your iPad in one click.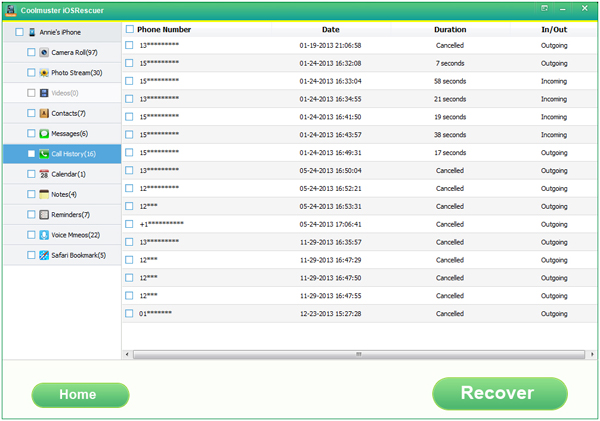 Now, just wait for the process to complete. If you have backed your iPad files to iTunes, there are more than one way to get back your lost files. You can use this Coolmuster iPhone Backup Extractor to extract the iPad files from iTunes backup in one click; you can rely on this Data Recovery for iOS (Windows to get back your lost reminders from iPad. Therefore, you have many valid reasons to back up your important iPad files at regular times. In terms of iTunes backup, there are several tips that you can't miss!
Extra Bonus: How to Set Reminders on iPad?
1. Verbally Creat Reminders on iPad
> Open your iDevice and find Reminders App on your iPad. Tap the app to open it.
> Then you can create a reminder by tapping a blank line. Now, you can fill in the reminder's date and time in your reminder's options menu.
> After that, you can set the priority level of your iPad reminders. Then click the option of Done to finish the process.
Now, you have successfully set your own reminders for important things on your iPad device. (Tips: If you want to remove unwanted reminders permanently, just tap Edit and then tap the icon next to the reminder, followed by Delete. )
2. Orally Set Reminders on iPad
> Press the Home button on your iPad until you hear a chime sound. Then Siri service has been activated.
> Next say to the iPad "Set a reminder".Then this service will automatically note down all information you will say.
> Speak the details of your reminder, including when, where, what, who. Then Siri will ask you to check the details of your reminders. Just choose Confirm to set the reminders on your iPad. Now, you can create your own reminders for vital events in case you may forget.
Related Articles:
iPhone Contacts Recovery without iTunes Backup
How to Recover iPad Notes without iCloud Backup
How to Recover Pictures from Text Messages on iPhone [2 Excellent Ways]
How to Fix the iPhone Stuck on the Emergency SOS Mode Issue?
How to Fix iPhone Grey Screen of Death By Yourself? (8 Solutions)
How to Restore from iCloud Backup without Reset? (5 Effective Methods)