Simple Way to Restore iPad from iCloud
Many of us own an iPad. For most of us, owning an iPad is one of the best decisions we had made. The device runs smooth, does not lag and can carry out powerful functions with ease. However, most of us use an iPad for storing many of our memories that includes pictures and videos. What do you do if you find that all those memories are lost?
How to deal with iPad data loss?
iPad data loss is not something shocking. Many of us have been there but what exactly are the reasons behind this painful data loss? Well, we can enlighten you with the major ones:
- Hardware malfunctions. (Crash, controller failure)
- Physical harm. (Dropping into water or over ground)
- Virus attack. (Malware)
- Jailbreak. (Stuck in DFU mode)
- iOS device battery change.
- iOS upgrade.
- Restoration.
- System crash.
These are the potential reasons for iPad data loss and one must take care of the aforementioned. But what if you fail to do so and end up with the loss of files? You can easily restore iPad from iCloud backup for sure, if you had your iPad backup over iCloud before the mishap. The iCloud backup can be very crucial to the iPhone or iPad users as it is the best way one can easily recover the entire files and data.
Also Read:
How to Sync iOS Devices with iCloud
How can an iCloud backup help?
All that needs to be done are the following steps:
1.Go to software update on your iPad and if there exists a recent version of iOS then download and install it.
2.Go to "Manage storage" and tap on the devise under Backups to see the date and size of it. Now reset and tap on "Erase all content and settings".
3.Go to apps and tap on "Restore" from iCloud backup by choosing the most recent backup.
All that you wanted will be back on you iPad which is why phone backup is important, almost next to mandatory. But, did you forget to backup your iPad earlier and now feel like it's the end of the world? Ain't no worries though. There is always a way out for you to restore iPad even without iCloud backup!
Recover iPad without iCloud - How Can Coolmuster Help?
Imagine being able to recover all the data you need in a few simple clicks. Additionally, you will be able to backup all the data you want and also transfer everything from contacts, apps to even call logs in a few simple clicks. Coolmuster iOS Data Rescuer is available to rescue you from the great trouble you are in. It helps in recovering the lost, deleted or even corrupted data for your iPad by extricating the backup files.
Related: Recover iPhone Contacts & SMS without iTunes/iCloud Backup
It offers you 2 methods. All you need to do is to follow these simple methods.
Method 1: Direct Recovery from iPad:
1. Connect your iPad to your computer and run the recovery software.
2. Scan your iPad for the lost files.
3. Choose the data you want from thumbnails on the screen and recover it.
Method 2: Extracting iTunes Backup Files:
1. Scan the iTunes backup file for your iPad.
2. The synced files will appear. Choose the one you want to recover from them.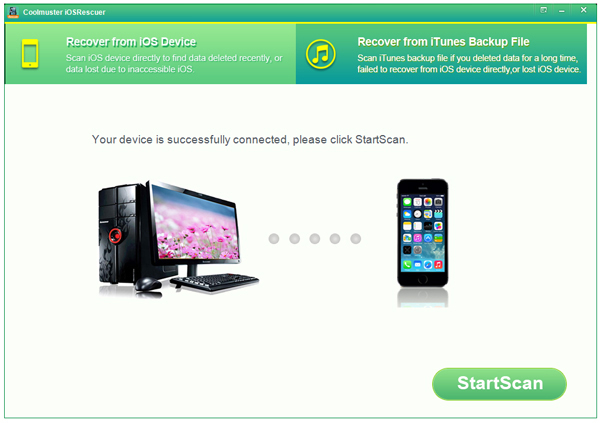 In just 3 simple steps you can recover your entire data with a process easier than you even expect. The two different methods provided make the coolmuster rescuer even better. Can recovering data on iPad or any other iDevice, be this easy? You must be wondering. Don't keep wondering. Try it. You'll then believe!
Related Articles:
Alternative to iCloud to Backup iPhone/iPad/iPod