A mobile phone is one of the most precious possessions you may have. All photos, contacts, videos, and other essential documents are stored on it. So, we can imagine how upsetting it can be if your device suddenly dies. If your iPhone is old, we expect it to run through some stucks and other issues. However, if it's new, it can be surprising if it dies. Of course, you will want to know why your iPhone died and possible fixes for iPhone dead problem.

Part 1. Why Is My iPhone Dead?
You should first rule out the possibilities and then identify the root cause of the iPhone dead issue. Though several factors could lead to this problem, these are the most common:
A dead battery - We use our phones daily, so it is normal for them to deplete charge completely. Therefore, it may be because you didn't charge the battery, leaving it to drain completely.
The phone's software crashed - Despite the fact that Apple uses cutting-edge technology to make its devices, things can still get messed up. It may cause your device to die or hang while in sleep mode, thus becoming unresponsive. This means the screen won't respond to your touch.
The battery is faulty - Your iPhone may also be dead because of issues with the circuit board. This is more of a hardware causing the iPhone dead battery. The way out is to revive the battery or replace it.
More relevant articles:
4 Ways to Recover Photos from Dead iPhone (All-inclusive)
How to Transfer Data from Broken iPhone to New iPhone? (4 Ways Out)
Part 2. What to Do When iPhone Is Dead [Basic Fixes]
If you are facing this issue, you should try the below-mentioned fixes:
Fix 1. Charge the Phone
Apple devices have a lithium-ion battery that does not usually take longer to charge. But, if the battery is dead completely, you may need to recharge the device longer. You should start with this fix before starting with more advanced troubleshooting tips. Just plug your iPhone into the power outlet with its original charger.
If the charging cable, jack, or power adapter are functioning well, you will see a battery symbol on the screen, and it should power on in minutes. But, if the display is black and seems to be dormant even after charging, your iPhone isn't charging or doesn't recognize the charger.
In that case, you should try other solutions.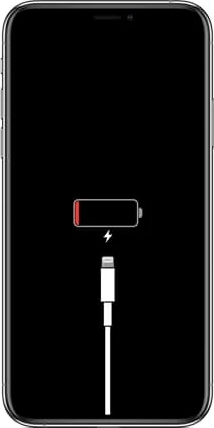 Fix 2. Replace the Battery
It may come as a surprise, but most of the time, the iPhone battery died issue may be due to an overly used device. If you've used your device for a long time, there's a high possibility of its battery getting drained completely. The best part is that you may revive the device by just replacing it.
If your device is covered by AppleCare, you can get your iPhone's battery replaced without paying anything but only for the battery drained below 80%. Else, you may just purchase another battery.
Fix 3. Do a Hard Reset
For any issue that seems to be related to software, a simple reset tends to work. Besides, there is no harm in trying since all the files are preserved. At times, all your iPhone needs is a restart and refresh of its memory when it seems dead or frozen.
The procedure of conducting a hard reset to the iPhone will depend on the model.
iPhone 6s/6/SE
Press the Power/Side+Home buttons for a few seconds.
Release them when the device starts up.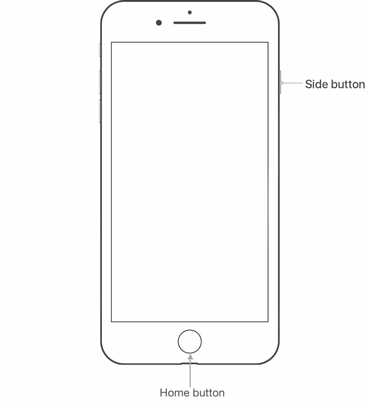 iPhone 7/7 Plus
Long press the Volume Down+Power/Sleep buttons at the same time.
Let go of both buttons when you see the Apple logo.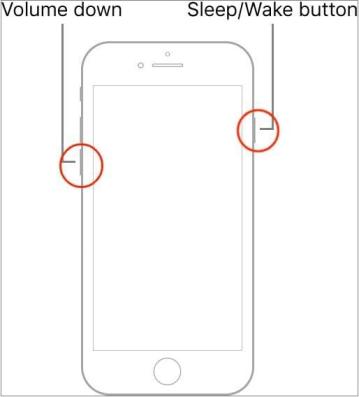 iPhone 11 or later/X/8/8 Plus:
Press then release Volume Up key quickly. Do the same with Volume Down key.
Hold Power/Side key till you see the Apple logo.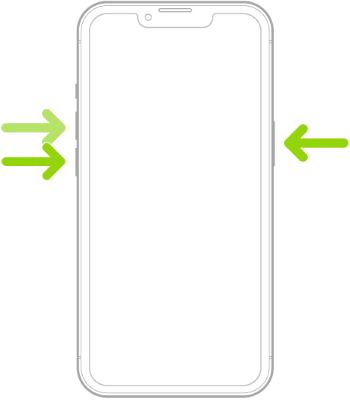 You can check if your dead device is working. If not, it could be a more complex software issue that's making your iPhone completely dead.
Fix 4. Restore Dead iPhone Using iTunes
You can also restore the iPhone via iTunes. However, the process will lead to data loss. So, ensure you back up your data first. Here are the steps:
Step 1. Start by placing the iPhone in Recovery Mode. Then launch iTunes.
Step 2. Plug your iPhone into the computer, and iTunes will display a window telling you that There is a problem with the iPhone... and it needs to be updated or restored. Choose the Restore option.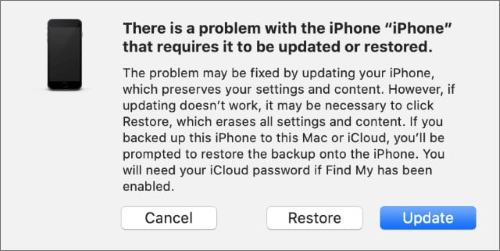 Step 3. Once done restoring, check if the issue is resolved.
Fix 5. Restore iPhone in DFU mode
DFU (Device Firmware Update) mode is the deeper state for troubleshooting your device's issues or software hiccups. Usually, it uses iTunes to restore iPhone and then bring the dead iPhone to the previous version.
Step 1. Now link the device to the computer, then run iTunes on PC/Mac.
Step 2. Put your device to DFU mode:
Press & release Volume Up button, then the same to Volume Down button;
Press & hold the Side button untill the screen goes black, then keep holding the Side & Volume Down keys for 5 seconds;
5 seconds later, release the Side key & hold the Volume Down key until the iPhone appears on your computer.
Step 3. When the device enters the DFU mode, iTunes will instantly recognize it and ask you to restore it. Tap OK and restore it.

See more:
[Full Guide] How to Get iPhone/iPad Out of DFU Mode Without Effort? (Child's Play)
4 Ways to Recover Photos from Dead iPhone (All-inclusive)
Part 3. What to Do When iPhone Is Dead [Final Solutions]
Still got no effect on the issue? Try the final solutions we have here:
Solution 1. Use an Efficient Repair Tool
Most probably, the issue is due to a software problem. The good thing is that you can easily fix it in a few clicks with powerful software like iOS System Recovery. This is an exceptional tool that won't fail as long as the iPhone dead problem is due to issues in the iOS system.
iOS System Recovery is the ideal tool that fixes all iOS system-related problems on your iPhone and returns it to normal. Thanks to its advanced technology, it helps fix all iOS-related issues like black screens of death in a few clicks. It has higher rates of success, so it is a promising tool.
Here's what iOS System Recovery can do:
Repair a dead iPhone to normal.
Easy to use and safe as well.
Fix other problems like being stuck on the Apple logo, headphone mode, and more.
Compatible with all iPhone models.
Work on Mac and Windows PC.
How to repair a dead iPhone with professional software:
01Launch the software on your PC after downloading it. Choose the More Tools > iOS System Recovery option to get to the iPhone system recovery window.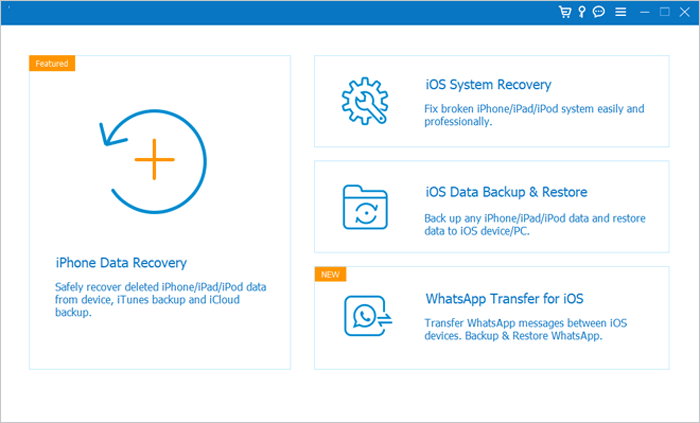 02Tap the Start icon to start fixing the issue.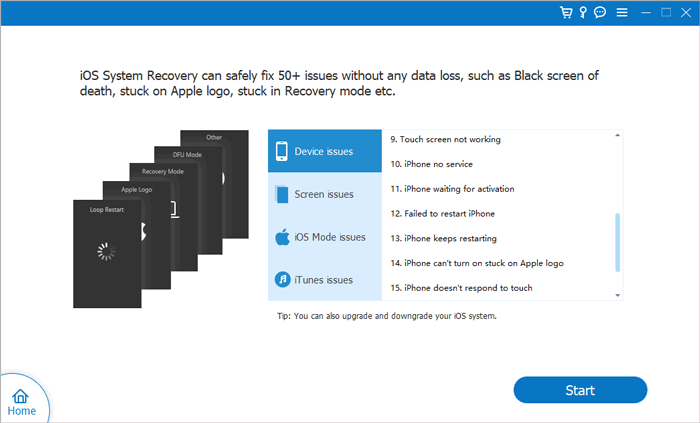 03Choose Standard Mode in the mode choosing window. Boot the device to DFU mode, then click Repair to install the right iOS firmware.
04After that, the app will fix the dead iPhone and return it to normal.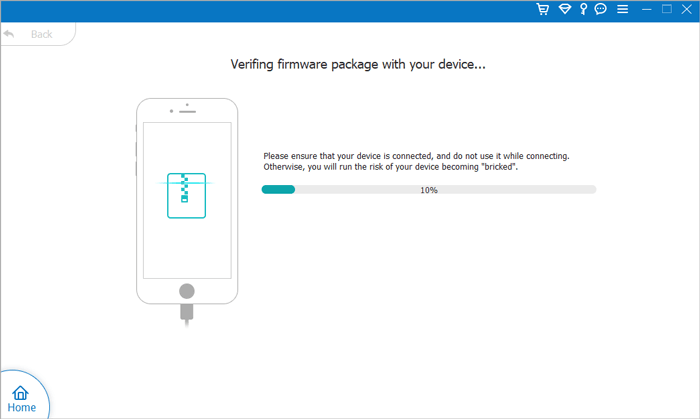 Solution 2. Contact Apple Support
If the iPhone is still dead and will not power on and the screen is still unresponsive after trying the above troubleshooting tips, the issue is probably due to hardware damage. So, it is time for your turn to official help.
You can contact the Apple team to help fix the iPhone totally dead issue. You can make an appointment with an Apple specialist online or head to the App Store for help. However, the procedure can vary. So it is ideal to contact a local store for details.
Conclusion
That's all on how to fix a dead iPhone. All the techniques in this article can help you solve the issue no matter the model of your iPhone and start using it normally. However, official software like iOS System Recovery can simplify the repair process. It is a convenient tool that is not only safe but also clean.
Related Articles:
How to Undo an Update on iPhone 14/13/12/11/X/8? (Proven Tips)
How to Retrieve Deleted Text Messages on iPad? (iPad Pro/Air/4/mini Supported)
iPad White Screen Problem: How to Fix iPad Stuck on White Screen? (Undemanding Job)
How to Recover Pictures from Text Messages on iPhone [2 Excellent Ways]
[Without Password] How to Recover Photos from Locked iPhone 14/13/12/11