Even though iPhone is considered one of the few stable smartphones, it isn't without problems. You may face many issues, such as "iPhone dying and not turning on" even after connecting it to power. This issue becomes more drastic when Apple releases iOS updates.
If you have ever encountered an "iPhone died and won't turn on" issue, then you understand how disturbing it can be. Your device will be useless since it doesn't turn on. Such an issue occurs due to various reasons. And we are here to put your worries at bay. This article discusses the main reasons behind this problem and what you should do to fix it.
Part 1. Why Won't My iPhone Turn On After It Died
Here are some reasons why an iPhone may fail to turn on after it died:
1. Problems with iPhone OS - If your iPhone won't turn on after dying, it could be due to its operating system. Since it is the device's operating system that loads all its content, it needs to operate properly; failure to that it may not turn on.
2. The physical parts of your iPhone are damaged - Maybe you dropped your iPhone, which damaged it physically. This may make the device refuse to turn on.
3. The power button isn't working - To turn on an iPhone or, let's say, any phone, you always use a Power button. So, if this button is broken or damaged, you might face problems turning the iPhone on. A broken Power key won't send the required signals to your device's system to power it on.
4. The charging cable isn't working - If the cable you are using to charge your iPhone has problems, it may not provide an electric supply. Usually, this happens when you purchase a non-authentic cable from the market. You may find your iPhone suddenly died and won't turn on. It is best if you use the original charger to charge your device.
Part 2. What to Do to Fix iPhone Died and Won't Turn On Problem
Before trying some of the advanced solutions for iPhone is dead and not charging problem, you can try these simple fixes. Maybe it is because of minor hardware problems. So, try doing these tricks before you try the complex methods or even go to a repair shop.
2.1 Charge Device for Some Time
Know that if your iPhone's battery is drained completely, then it will not power on immediately after you put it on charge. It will require time to take in the charge first, which may take longer. Therefore, you should just wait for about 30 mins or so before you again check its condition.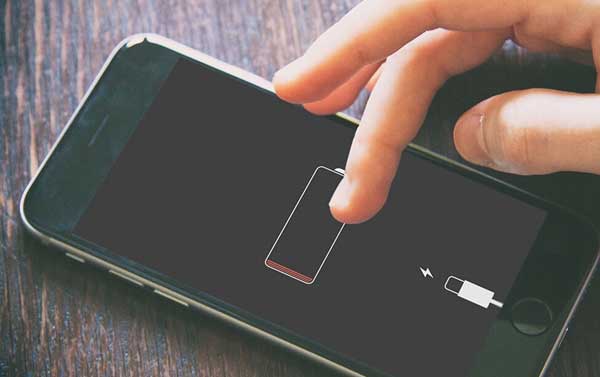 Also, if a device is used daily, but it won't just turn on, there's a chance that the issue results from the charging components.
Read More:
4 Ways to Recover Photos from Dead iPhone (All-inclusive)
3 Proven Ways to Recover Data from iPhone that Won't Turn On (with Troubleshooting)
2.2 Inspect Charging Accessories
Before trying to turn on an iPhone, try checking the charging accessories. Look for signs of damage. At times, we often overlook these charging components and just start with the advanced solutions, but we only end up changing the USB cable. The charging accessories play an important role in how the iPhone was made. So, you should look for the dents on the charger port and ensure the lightning cable isn't damaged.
You can test if the charging cable and any other hardware is working by plugging the device into a wall outlet, on a computer, or in your vehicle to be sure they are working. If you're sure they are perfectly fine, you should try out other solutions.
Can't Miss:
How to Retrieve Photos from iPhone that Won't Turn On? (Comprehensive Guide)
How to Fix Slide to Unlock/Power Off Not Working on iPhone
2.3 Clean Charging Ports of iPhone
Your iPhone's charging ports may be dirty. You should try checking them and gently wipe any dust/debris from them.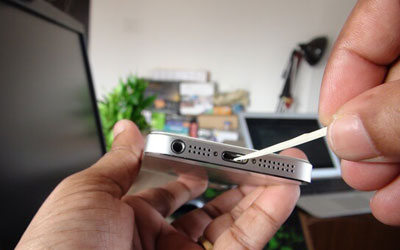 2.4 Force Restart iPhone
Still unable to solve the problem of iPhone died and won't charge or turn on? A force restart could be the best remedy for this. Here's how to force restart various iPhone models:
iPhone 6 and older models:
Step 1. Press the "Side" + "Home" key simultaneously.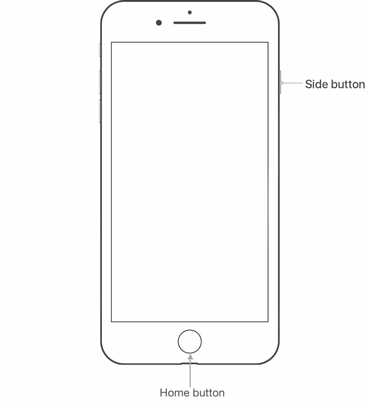 Step 2. Keep pressing them and only release them when Apple logo shows on the screen.
iPhone 7 and 7 Plus models:
Step 1. Hold the "Side" button of the iPhone device and press "Volume Down" button as well.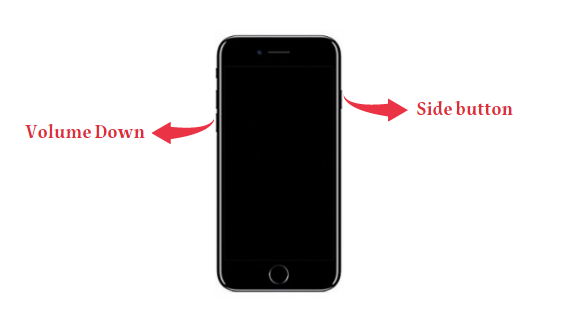 Step 2. Release when Apple logo shows.
iPhone 8 or later models:
Step 1. Quickly press and let go "Volume Up" key.
Step 2. Quickly press and let go "Volume Down" key.
Step 3. Long press "Side" button and release it when Apple logo shows on the screen.
See Also:
How to Fix iPhone Grey Screen of Death By Yourself? (8 Solutions)
iPhone Touch Screen Not Working or Responding? Here's The Fix
2.5 Restore iPhone to Factory Settings
If iPhone has been charging for hours but won't turn on, then you can try restoring it to factory settings. With this method, you'll lose all files on your iPhone if you don't have a backup. Therefore, if you don't want to lose your data, please back up your iPhone in advance. Here are the steps:
Step 1. Link the iPhone device with iTunes. Then put the device into DFU mode by doing this:
iPhone 8 and later devices - Press then quickly release "Volume Up" key and do the same with "Volume Down" key. Hold "Side" button till you get the recovery mode screen.
iPhone 7/7 + devices - Hold the "Top/Side" button and "Volume Down" key simultaneously and only release them when you see the recovery mode screen.
iPhone 6 and earlier devices - Long press "Home" button + "Top/Side" button simultaneously and keep holding them till you see the recovery screen.
Step 2. After booting the device to DFU, iTunes will show a message saying "iTunes has detected an iPhone in recovery mode". Then click "OK".

Step 3. Tap "Restore" and agree to the terms & conditions. Now iTunes will download software and fix the dead iPhone.
May Like:
5 Easy Ways to Fix iPhone Stuck in Recovery Mode Issue
How to Solve It When iPhone Keeps Crashing? 9 Easy Tricks
Part 3. Fix iPhone Died and Won't Turn On While Charging Problem in 1 Click
There is a high chance the iPhone not turning on but charging problem is caused by a software issue. You can fix it with third-party software like iOS System Recovery. This is a superb iOS System Recovery software that can fix many iOS issues that are caused by the software, for instance, iPhone died and won't turn back on, iPhone stuck on a white screen, the Apple logo, and much more to normal.
It repairs iOS devices such as iPhones/iPods/iPods/ back to normal on a computer. It follows the newer tech and updates, which makes those using the newest devices and the latest iOS 16 benefit from it.
It ensures high success rates and is very easy to use, even if you are not tech-savvy. Furthermore, it is safe to use and will not jeopardize your privacy. The catch is that it won't lead to data loss, unlike the most common solutions you know. With that said, here are the key features:
Resolve iPhone died and won't turn on issue easily without data loss.
Repair other system problems like iPhone in DFU mode, stuck in Apple logo, Headphone Mode, and more.
Support most iOS devices such as iPhone 14, iPhone 13, iPhone SE, iPhone 12, iPhone 11/XS/XR/X/8, iPad Pro, iPod, etc.
Steps to fix dead iPhone charging but won't turn on problem using iOS System Recovery:
01Install the application on your PC and link the iPhone. Head to "More Tools" and click "iOS System Recovery" on the main interface.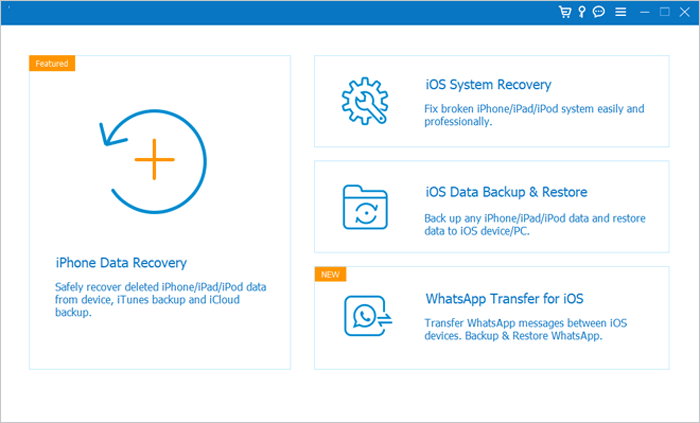 02Tap the "Start" icon to start fixing the iPhone. Let the iPhone enter DFU mode following the onscreen instructions.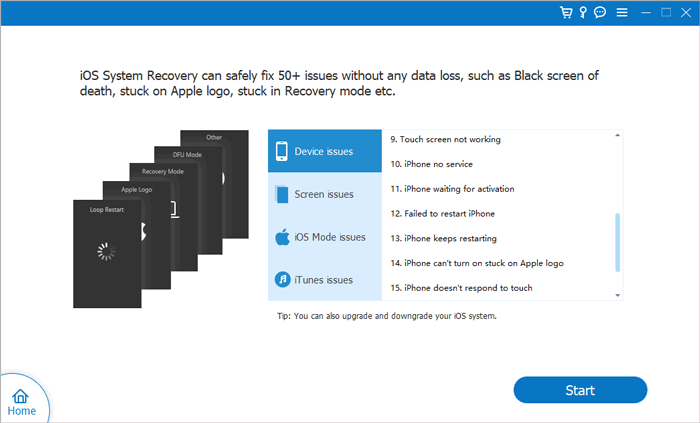 03After that, tap "Repair" to download firmware for your iPhone. After the firmware is downloaded, iOS System Recovery will start fixing the iPhone automatically.
Conclusion
Is your iPhone plugged in but not turning on? It is annoying when you find your iPhone not booting up, even when you plug it into the charger. As said, it could be due to hardware, software issues, etc. The troubleshooting steps outlined above will help fix this problem.
iOS System Recovery still is and remains the top solution to repair iPhone system-related issues. Repairing your iPhone to normal will be much more straightforward with this tool.
Related Articles:
Techniques to Recover Data from Phone That Won't Turn On
How to Fix iTunes Error 0xE8000015 on iPhone/iPad?
iPhone Blue Screen of Death? Here are 7 Easy Ways to Fix
How to Fix iPhone Purple Screen of Death? 4 Easy Solutions
How to Fix the iPhone Transferring Data Stuck Issue Effortlessly? 14 Quick Tricks Here