It can be an alarming event if your Android phone won't turn on. You're then left with the question of what to do next? Android phones are one of the most popular types of phones available on the market today. These devices are essential for communication and entertainment purposes.
But, sometimes, your Android phone won't turn on completely, which can be frustrating. All this does not mean that your phone is damaged. There are easy solutions to get your phone working again. This guide will enlighten you on the reasons why you may encounter this issue and some fixes to help.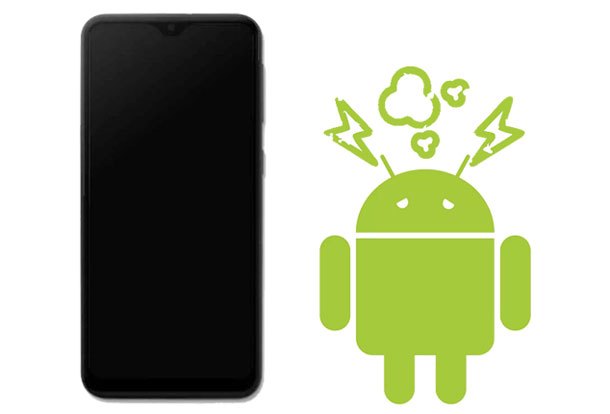 Part 1: Why isn't My Android Phone Turning on?
Part 2: How to Fix an Android Phone/Tablet That Won't Turn on All the Way?
Part 3: How to Recover Data from Android Phone That Won't Turn on
Part 1: Why isn't My Android Phone Turning on?
You try to turn on your phone, and it won't. You've tried different charging and docking locations, but it still doesn't work. You've tried to update your phone's software or apps, but those haven't worked either. Why is that?
The main cause for an Android phone not turning on may be due to software-related issues such as glitches. Whichever the case, this can be a disappointing encounter. However, other issues that can prevent your phone from turning on. Some of these include:
Outdated Software
The software on your Android phone may be obsolete, meaning the drivers need to be updated. As a result, there will be interdependencies in which the entire system will crash if one part of the system crashes. In this case, you need to update the driver and install them again. This can fix many issues within your device and make sure that it works properly.
Hardware-related Issues
The hardware, such as the battery, may be damaged beyond repairs, such as leakage or other physical damage. This may be a result of charging the phone while it is on charge or dropping your phone and causing some damage. In this case, you will need to replace the hardware to fix it. If your battery is damaged, make sure that you replace it immediately. Once the battery has been replaced, you can restart your phone safely and continue using it.
In rarer situations where the software part of your phone has crashed, you will need to find an app that can fix these problems. For example, if you are using an older version of Android or iOS on your device, you might need to update the software to function properly on your device again.
Further reading:
Troubleshooting for 'My Text Messages Disappeared on My Android Phone'
Powerful Android Flashing Software: Easily Flash Android Devices
Part 2: How to Fix an Android Phone/Tablet That Won't Turn on All the Way?
It can be due to many issues preventing your phone from turning on. If you're experiencing an issue with your Android device not turning on, possible fixes can help solve the issue.
2.1. Restart Your Android Phone
If your phone isn't turning on completely, consider restarting it. A restart will refresh your phone's memory and return it to its normal operating state. It is a simple procedure that is often overlooked when troubleshooting issues with phones and other electronic devices. Here is how to restart an Android phone:
Press and hold the Power button for up to 10 seconds until the Powers off option appears, and click it to turn your phone off. Then, press the Power button once again to turn it back on immediately.
But on some Android phones, you need to tap the Volume Up or Volume Down and Power buttons simultaneously, and then choose the Power off icon.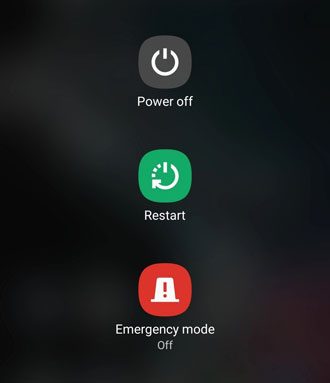 See more: Want to recover your photos from Samsung Secure Folder? If so, please don't miss this comprehensive guide.
2.2. Charge Your Phone
If your phone is not turning on, then the issue might be the battery doesn't have a charge. This is a common issue that many individuals face when using their phones. In order to fix this issue, you need to charge it back up as soon as possible.
For a fast and easy way to charge your phone's battery, use the official charger that came with your device originally. According to the current settings in Android and the original charger setting settings, this will restore power without rebooting or turning off completely.
2.3. Boot Into Safe Mode
Turning on safe mode is a great way to check if any third-party apps are causing the problem. When your phone is in safe mode, it will only run the essential functions of your phone. This prevents malicious apps from interfering with the performance of your phone. To turn on safe mode, follow these steps:
Long-press the Power button.
Once the phone starts to boot up, long-press the Volume down button till the Safe Mode option appears on the screen.
After checking, restart the phone to exit the Safe Mode.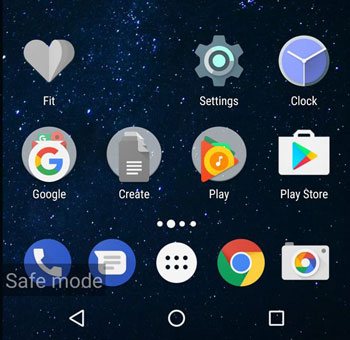 Learn more: Your Samsung phone keeps restarting on its own? Don't panic. You can find out the reason and fix it.
2.4. Check If the Phone Is Damaged
If your phone is not turning on, then it might be because the part of the device that is required to turn it on is damaged. You should double-check if the device has any physical damage to it. If so, you may need to replace the hardware part of that device and solve your problem. If there are no external signs of any physical damage, try charging your phone and see if that works as a possible solution for your issues.
2.5. Perform Power Cycle
A power cycle is a procedure that has a number of different steps. It involves removing the battery, waiting for some time then putting it back. This process can help fix some issues with your phone and make it work again for those devices that don't have a removable battery; long-press the Power button of the device for some time, like 10 seconds. Switch off and on again.
Perhaps you like: This tutorial can help you move apps to the SD card installed on your Huawei phone. If you want to save the internal storage, check it out.
2.6. Check the Battery
If your phone is not turning on at all, then this might be due to the battery being discharged. To solve this problem, you will need to check the battery. But most batteries installed on Android devices are non-detachable, so please take your phone to the phone repair store rather than remove the battery by yourself.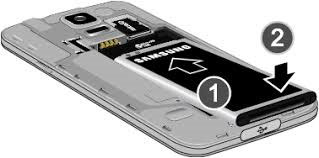 Guess you need: Here are 11 tricks to repair a frozen Samsung tablet. Let's take a look.
2.7. Check the Screen of Your Android Device
If your phone is not turning on, then your screen might be the problem. An easier way to check if the screen is working properly is to press and hold the power button to switch it off and then on again.
2.8. Check Your Charger or Cable
If your phone is not turning on, then it is possible that the cable or charger isn't working properly. If this is the case, then you will need to replace it with a new one. However, make sure you use the original charger and cable with your phone.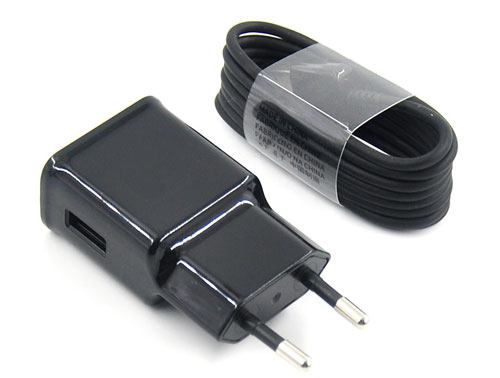 2.9. Restore Your Phone to Recovery Mode
Sometimes, restoring an Android device to recovery mode is the quickest way to fix an issue. For example, if you're experiencing some glitches in your system, this quick fix can help you get your phone running again. To do this, follow these steps:
Press and hold the Power button until you see the option to power off.
Open the Settings app, tap on General, now tap on the Backup & reset option and click on Factory data reset.
Lastly, click Reset Phone at the bottom of the screen.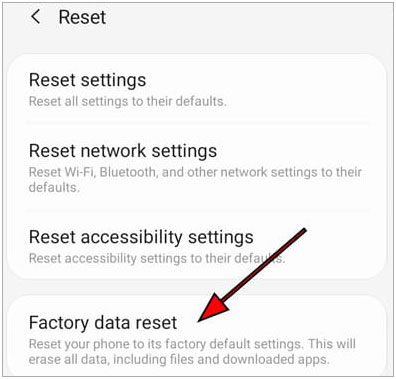 Remember, this is a temporary solution that will only restore your phone back to its factory settings. All personal information and files will be deleted in the process.
Read more: It is easy to recover deleted videos from an SD card. You can lick this link to get the guide.
Part 3: How to Recover Data from Android Phone That Won't Turn on
If your Android device doesn't turn on completely after trying the above fixes, you can rely on Broken Android Data Extraction software to solve the issue. No matter if your Android phone doesn't turn on, this software can help retrieve the lost files from it for you. It is the best way to deal with this serious problem.
Moreover, it is a versatile data recovery program that enables users to extract the data from a damaged SD card, such as photos, videos, documents, etc. But please note that this software currently supports Samsung Galaxy S6/S5/S4, Samsung Galaxy Note 5/Note 4/Note 3, and Galaxy Tab Pro 10.1.
Download this Android data extraction software below.

Here's how to recover data from the phone that won't turn on via this extraction program:
Step 1. Launch the Program on the Computer
Install and launch the software on your computer. Then connect the device using a USB cable, choose the Broken Android Data Extraction option, and tap the Start button.
Step 2. Choose the Device Model of Your Android Phone
Select the corresponding device name and model on the interface, and tap Confirm.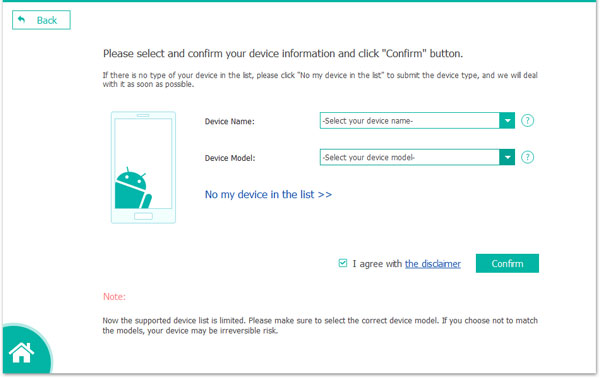 Next, follow the instructions on the interface to get your device into Download Mode, and click Start.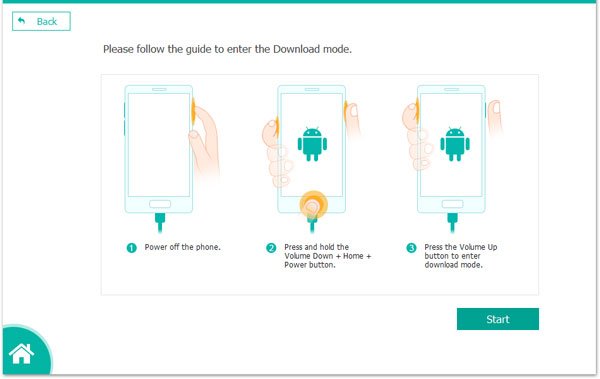 Step 3. Recover the Android Data from the Broken Phone
After the software scans the data from the Android device, you can select the files you want by checking. Then click the Recover icon to save the data to your computer.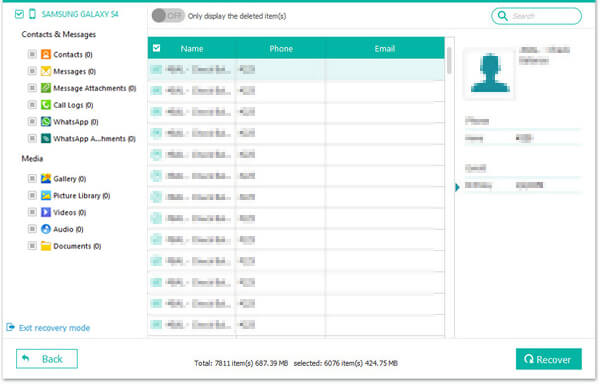 Conclusion
You now know why your Android may fail to work and the possible fixes. The Android phone won't turn on - the problem is a common issue that shouldn't worry you. The Android Data Extraction software would be a safer way to handle the problem. With it, you can easily get the files off the phone that won't turn on. Hence, you can download it to have a try.
Related Articles:
How to Transfer Files Between PC and Android Tablet?
[Transfer to iPhone 13] How to Transfer Data from Android to iPhone 13?
[Solved] How to Remove Screen Lock PIN on Android without Password?
How to Transfer Data from Broken iPhone to New iPhone? (4 Ways Out)
How to Fix the iPhone Transferring Data Stuck Issue Effortlessly? 14 Quick Tricks Here
How to Unlock Samsung Tablet without Losing Data? [6 Proven Ways]