Do you own an iPhone? If yes, then you know how interesting this gadget can be. iPhone users know there's no other brand out there that can provide them with the best user experience, cool cases and accessories, and amazing support. However, when it comes to software issues, it's no exception. Imagine your iPhone crashing in the middle of an important call. Not fun at all. It can be quite frustrating, and when you imagine starting all over again – it's even more annoying!
Sometimes it can feel like an endless fight to get your iPhone working. But as always, we are here to lessen your worries. We'll take you through the reasons why the iPhone keeps crashing and how to troubleshoot it. So, let's get it rolling!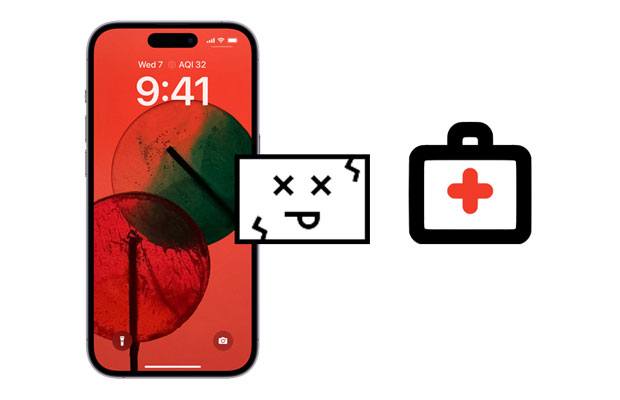 Part 1: Why Is My iPhone Crashing Constantly?
Even though iPhone crashing is quite common, many people don't know the reason behind such a problem. Before coming up with any solution to a problem, you must know its actual cause. Here are the reasons why your iPhone may keep on crashing:
* Bugs in the latest iOS system.
* Launching many apps on your device takes up a lot of space.
* An issue with your iPhone's drivers can cause it to crash.
* Bugs in the apps you launch.
Now that you know the reason behind the iPhone crashing, we want to show you how to fix that.
Part 2: How to Fix iPhone Keeps Crashing Issue
Knowing the cause of your iPhone crashing isn't enough to solve the issue; you have to follow our guide and make use of it to completely fix your iPhone crashing randomly.
Fix 1. Try Restarting your Device
Well, as simple as it is, restarting your device can resolve many issues like freezing or crashing. It helps clear up unwanted processes and can make some applications run smoothly. To restart your iPhone, do the following:
iPhone X and Above
Press then hold the Power button and Volume Up/Down button, and drag it to switch off the iPhone. Once turned off, turn it on again by holding the Power button.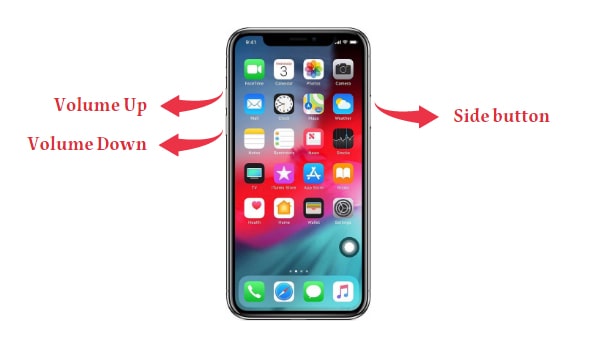 iPhone 8 and Below
Long-press the Power button until you see the Slide for powering off, then drag it to switch off the phone. Then long-press the Power button till the Apple's logo shows to turn on your iPhone.
Learn more: Your iPhone camera photos are not showing up on a Windows PC? Please fix it with these methods.
Fix 2. Update Your Phone's Software
It is true that the latest releases of any device usually include bug fixes, software enhancements and performance improvements. So, if you regularly face iPhone crashing problems, it is highly recommended to update your device to the latest version of iOS. This will help fix all iPhone-related issues related to bugs that can cause crashes. To update the iOS system, do this:
Step 1: Go to Settings, then tap on General, and then tap on Software Update. Now, you will see a summary page showing all the available iOS updates.
Step 2: If any. Click on the Update option.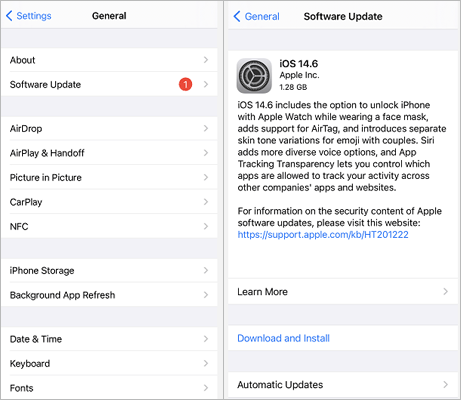 Note:To update to the latest version, ensure your phone has enough charge. So once your battery is fully charged, connect your device to a Wi-Fi network and do the software update.
Fix 3: Reinstall the App Causing iPhone to Crash
If you notice your iPhone crashing when using a certain app, ensure you remove that app. You may uninstall and then install the app again. Or, you can update all of your apps if you don't know the specific app crashing your phone. Go to the App store, then click on Update to see if there's an update available.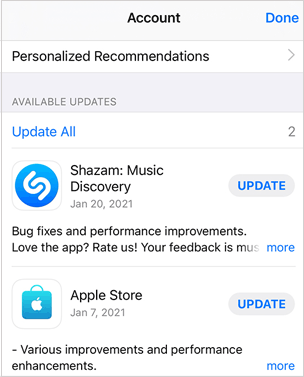 Read also: Your contacts on your iPhone are missing? That sounds confusing, but you can cope with it using this guide.
Fix 4. Check Your iPhone's Storage
Low storage space can affect the performance of your iPhone. An iPhone device without sufficient storage will work slow and sometimes freeze and crash. So, it's essential to check the storage space of your iPhone by doing this:
Step 1: Open the Settings, then tap on General, and then tap on iPhone Storage.
Step 2: Here, you will see the memory occupied by apps, music, photos, and videos stored on your device. If you find the storage space not enough, then it is suggested to remove some files from your device.
Step 3: Just check which file is taking up more space and delete it if required.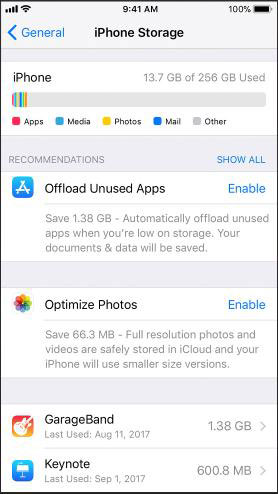 Fix 5. Check Your Internet Connection
Poor hotspot or Wi-Fi connection may cause your phone to crash. So, test to see if your internet is working normally by searching in Google and see if it'll load web pages. If it won't, then try restarting the Internet modem or router. After that, check if you can open web pages again.
Fix 6. Hard Reset Your iPhone
Hard resetting your iPhone isn't much recommended as it always erases data. But, it works to resolve any software issues that prevent the normal functioning of the device. Hard resetting will erase all data and settings, so you have to make sure you back up your important documents before doing this, as this action cannot be reverted. Do this to hard reset your iPhone device:
iPhone 8 or the latest
Step 1: Press and quickly release Volume up and down buttons for a few seconds.
Step 2: After that, proceed to long press the side button till an Apple logo shows and release them.
iPhone 7/7 Plus
Long press the Power together with the Volume Down buttons for at least 10 seconds until you see Apple's logo appearing on the phone's screen.
iPhone 6 and below
Press the Home together with the Power button simultaneously. When Apple's logo appears on the screen, release the buttons.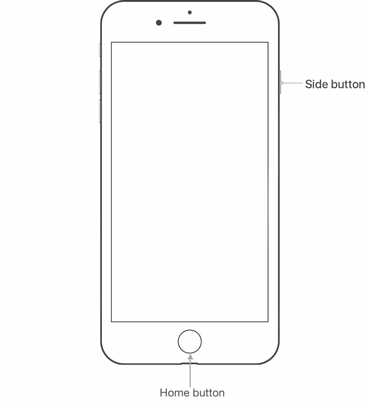 Maybe you like: Easily Recover Photos from iPhone without iCloud [With Tutorial]
Fix 7. Close Those Apps Running in the Background
Most apps keep crashing iPhone devices. Make sure all apps running in the background are closed down. Closing all the apps running in the background on your device will help you solve the iPhone crashing issue as more storage is created.
It's very simple. Swipe up from the bottom screen for iPhone X and above. Press the Home button twice for iPhone model 8 and lower. Doing this will help you see all applications running in the background. Swipe them up to close them.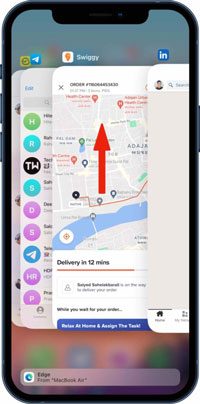 You might need:
How to Retrieve Deleted Text Messages on iPhone with or without Backup
9 Best iPhone Repair Software to Fix All iPhone System Problems with Ease (New Review)
Fix 8. Fast Fix iPhone Crashing Constantly With iOS System Recovery
If all the above methods don't work for you and your iPhone still keeps crashing, the most recommended remedy is to try out iOS System Recovery. It's the most powerful tool to fix all iOS system-related problems, including iPhone crashing. It's a very simple application with a ton of features that lets you fix those crashing issues with a few clicks.
Do you know the best thing about this amazing tool? It's standard mode can fix the iPhone crashing issue without losing any data on the device. With its simple user interface, this software makes it really easy to repair your iPhone. It can bring your device back to normal with a few clicks, and you'll see it working as new without any errors or crashes.
Key features of this iPhone system recovery software:
* Fix the iPhone crashing issue with simple clicks.
* 100% safe and easier to use.
* Effectively fix iphone grey screen, black screen, failing to unlock, loop restart, etc.
* Support most iOS generations, including iOS 16.
* Support Windows and Mac computers.
Download this software below.
How to fix a crashed iPhone via this system recovery software:
01Download and then install the program on the computer. Once done, it'll automatically get launched. With a working USB cable, connect your device to the PC, select iOS System Recovery and tap Start.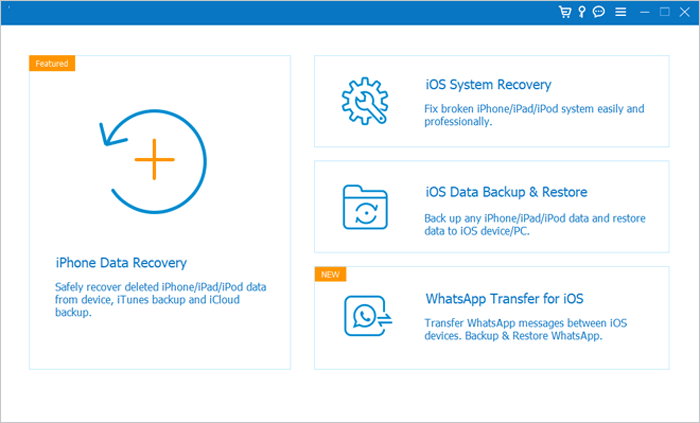 02Choose Standard/Advanced Mode when asked and confirm your device's information.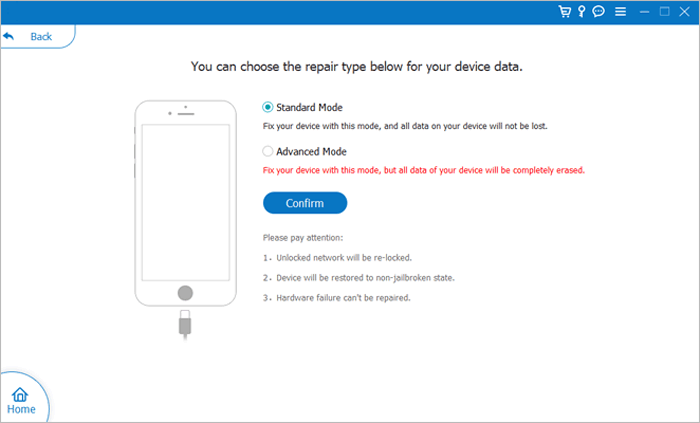 03Tap Repair to begin the fixing process. Wait for some time for the procedure to complete.
See more: What if your iPhone is stuck on a loading screen? If so, follow this guide to fix it.
Fix 9. Contact Apple Support Center
This is your last resort. If you still have any issues after following the above steps, you can contact Apple Support Center. You will have to provide them with your iPhone's unique information, including the model number and version of iOS installed on the device. You can get the information from Settings > General > About > Product.
Conclusion
That's all you should know about the iPhone crashing problem and how to fix it. You have the solutions here if your iPhone has been crashing too often. With powerful and reliable tools like iOS System Recovery, you'll be able to fix any iOS-related issues in a jiffy. It's a simple application that helps you fix all those annoying crashing issues for good. The program is easy to use and much effective.
Related Articles:
10 Ways to Fix the iPhone Migration Not Working Error without Trouble
[3 Ways] How to Transfer iBooks from iPhone to PC
How to Transfer iPhone Data to Xiaomi: iPhone to Xiaomi Transfer in 5 Ways
3 Ways to Transfer Music from iPhone to Computer without iTunes
How to Recover Data from Broken iPhone with or without Backup?
How to Recover Deleted Viber Messages on iPhone (with/without Backup)