10 Ways to Fix the iPhone Migration Not Working Error without Trouble
"I got the iPhone 12 Pro Max yesterday, and I am trying to migrate all of my data from my iPhone XS Max to my new phone. I have tried iCloud backup, but it took over 12 hours and failed. I have had all kinds of issues setting up my new phone, and it would say 'preparing to transfer' and never do anything. It finally started to transfer after many restarts and re-tries, but it failed when it was about to finish. Manual backup is not an option for me because my laptop is filled with storage. Hopefully, someone can help."
- Apple Support Community
Transferring data from iPhone to iPhone usually works perfectly. However, you may get deeply frustrated when the iPhone Migration is not working. Stop being down right now. With this detailed tutorial, you will be able to resolve the iPhone to iPhone transfer not working issue without a hassle.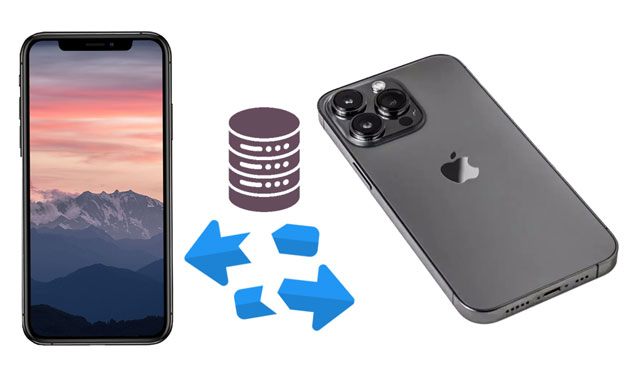 Part 1. FAQs about iPhone Migration & How to Use It
Part 2. How to Fix iPhone Data Transfer Not Working
Part 1. FAQs about iPhone Migration & How to Use It
iPhone Migration, or Quick Start, is an Apple proprietary feature built-in iOS 12.4 or higher to transfer data between iPhones during setup. If you are not familiar with this feature, you may have the following queries.
1. What to Transfer and Not to Transfer with iPhone Migration?
You can transfer everything from your old iPhone to your new iPhone with iPhone Migration, like contacts, notes, calendars, reminders, etc. However, you cannot select what to transfer during the process.
2. How to Use iPhone Migration?
Ensure to connect both iPhones to a stable Wi-Fi network and connect both iPhones to power.
Turn on your new iPhone and place it near your old iPhone.
When a message pops up on the old iPhone and asks you whether to set up the new iPhone with your current Apple ID, ensure it's the correct Apple ID and follow the on-screen instructions to set up your new iPhone.
When you see the Transfer Your Data screen, tap Transfer from iPhone to start the transfer process.
Keep both devices near each other and connected to power until the data transfer is complete.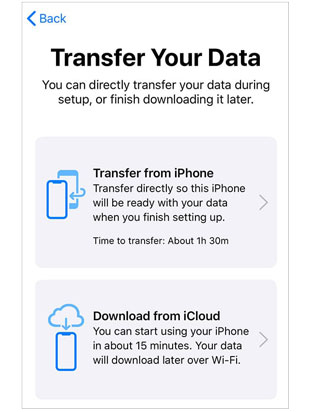 3. How to Speed Up iPhone Migration Process?
You can place both iPhones close and connect to a stable and fast Wi-Fi network to speed up the data migration process for a wireless transfer. If you use cable migration, the transfer speed will be faster than the wireless migration.
4. How to Use iPhone Migration if the New iPhone Is Already Set Up?
Suppose you have already set up your new iPhone. In that case, you can erase the iPhone before using this feature by going to Settings > General > Reset > Erase All Content and Settings. Note that the erasure will delete everything from your iPhone. Back up your iPhone before a factory reset if you don't want to lose data.
5. Why Is iPhone Migration Not Working?
Many factors may contribute to iPhone to iPhone transfer not working, including:
Poor Internet connection.
System glitches.
The two iPhones are far away from each other.
You didn't enable Bluetooth on the old iPhone.
Not enough storage space on the new iPhone.
Low battery.
The iOS version is lower than iOS 12.4.
Learn more: Can you transfer your phone number to a new iPhone? If you are confused with this problem, click this guide.
Part 2. How to Fix iPhone Data Transfer Not Working
Below are ten efficacious methods for iPhone transfer troubleshooting.
Method 1. Update Both iPhones to iOS 12.4 Or Later
As mentioned earlier, iPhone Migration only works on iPhones with iOS 12.4 or above. So, if data won't transfer to the new iPhone, your first thing is to check whether both iPhones fulfill the system requirement. If not, you should update both iPhones to iOS 12.4 or higher before performing a data migration.
Open Settings on your iPhone and choose General.
Scroll down to tap Software Update.
If a newer version is available, tap the Download and Install button to update your iOS version.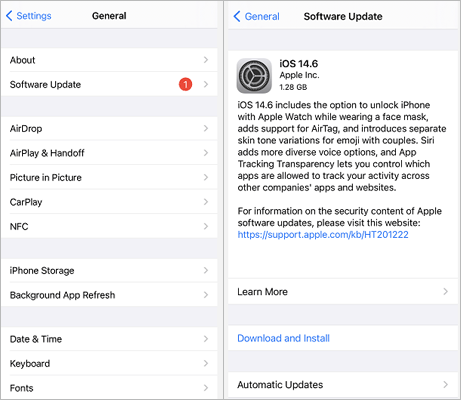 See more:
Easily Back Up iPhone Data without Wi-Fi in 3 Ways
Expeditiously Move Data Between Pixel Phones (2 Methods)
Method 2. Restart the Source iPhone and Reset the Target iPhone
Assume the transfer directly from iPhone is not working and there are no prompts displayed on the source iPhone. There might be system glitches to prevent it from responding to the iPhone migration. You can restart the source iPhone and reset the target iPhone before another attempt.
To reboot the source iPhone:
On iPhone X and above:
Press and hold either of the Volume buttons and the Side button together until the Power-off slider shows up on the screen.
Drag the slider from left to right to switch the iPhone off.
Power on your iPhone a few seconds later.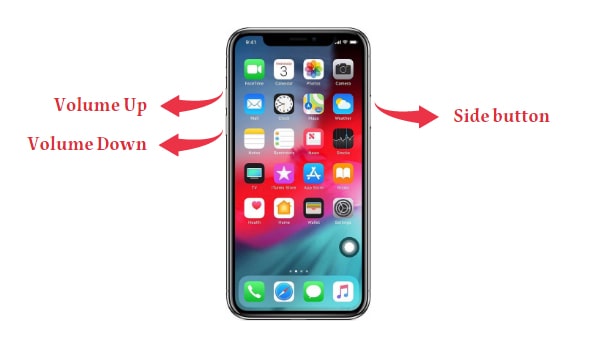 On iPhone SE (2nd generation), iPhone 8, and below:
Press and hold the Side button until the slider appears on the screen.
Drag the slider to turn off your iPhone.
Turn on your iPhone in a few seconds.
To reset the target iPhone:
Open Settings on your iPhone.
Tap General > Reset > Erase All Content and Settings.
Click Delete on the popup to confirm the operation.
Method 3. Insert a SIM Card to the Source iPhone
If your source iPhone is brand new and not activated, you need to put a SIM card into the iPhone. Note that you cannot activate an iPhone without a SIM card. Then, try again to move data from iPhone to iPhone.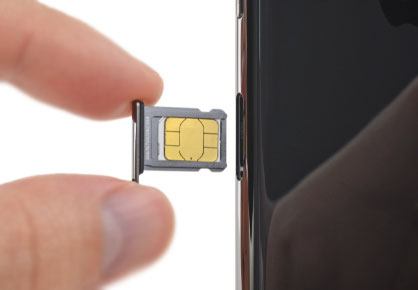 You might need: Here are two approaches for moving music from an iOS device to an external hard drive. You can take a look at them if needed.
Method 4. Put Both iPhones Closer
Assume you move data from iPhone to iPhone wirelessly. It would help if you need to place both devices at a close distance. If the iPhone transferring data is not moving, ensure to put them side by side to establish a successful connection.
Method 5. Enable Bluetooth on Both Devices
When transferring from iPhone to iPhone with iPhone Migration, you need to enable Bluetooth on your devices to make a connection between both devices. So, if the transfer from the old iPhone to the new iPhone is not working, ensure that whether you have turned on Bluetooth on your iPhone or not.
You can switch on Bluetooth from Settings or the Control Center. Pull down the drop-down screen or open the Settings app on your iPhone, find Bluetooth and toggle on the Bluetooth icon.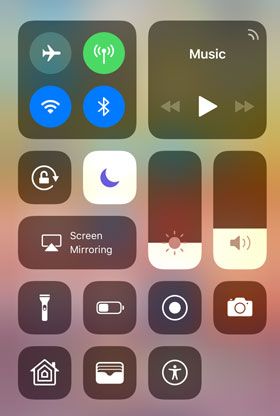 Guess you like: Using an effective backup software for your iPad can save you time a lot, especially when you need to back up myriads of files.
Method 6. Plug Both iPhones into Power
iPhone Migration automatically moves files from the old iPhone to the new iPhone over Wi-Fi and enough power. If your iPhone battery runs low, you can plug both iPhones into a nearby power source to accomplish the transfer process.
Method 7. Try a Wired Migration
The wired migration is much more stable than the wireless transfer. When you cannot complete data transfer on iPhone 13 over a Wi-Fi connection, try using a USB 3 Camera Adapter and a lightning cable to connect both iPhones and continue moving files.
If the iPhone migration doesn't work still, check whether the USB cable has physical damages or deficit. You can change another Apple-certified cable and try again.
Method 8. Transfer Data from iPhone to iPhone with iTunes
Suppose you tried all the above tips, but iPhone Quick Start continues not working. In that case, try migrating data from iPhone to iPhone with iTunes. The process involves backing up your old iPhone with iTunes to a computer and restoring the iTunes backup to the new iPhone.
How do I manually start migration on iPhone with iTunes?
Connect your old iPhone to the computer via a USB cable.
Run the latest version of iTunes on your computer if it doesn't launch automatically.
Tap the iPhone icon when it appears on the top of the iTunes window.
Go to Summary > Backups > check This computer > tap Back Up Now.
When the backup process is over, disconnect your old iPhone from the computer and plug your new iPhone into the computer.
Click the iPhone icon when it appears in iTunes.
Tap Summary > Restore Backup > pick the backup file you want to restore.
Hit the Restore button. If asked, enter your iPhone password.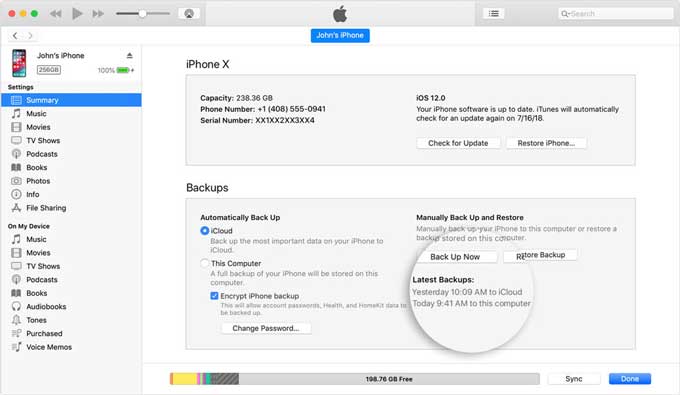 Method 9. Use an iPhone Migration Alternative App (Recommended)
Another way to copy data from iPhone to iPhone when the iPhone Migration is not working is using Coolmuster Mobile Transfer. This alternative app lets you transfer various files from iPhone to iPhone on a computer after setup and consumes no network.
The highlights of Coolmuster Mobile Transfer:
Transfer data from iPhone to iPhone in one click, including contacts, bookmarks, calendars, eBooks (PDFs & ePubs), and notes (not supported in iOS 11 or higher).
Consume no networking during data migration.
Easy and user-friendly to use.
Work with all iPhone models running iOS 5 to iOS 15.5, such as iPhone SE (3rd generation)/13 Pro Max/13 Pro/13/13 mini/12 Pro Max/12 Pro/12/12 mini/SE/11 Pro Max/11 Pro/11/XS Max/XS/XR/X/8/8 Plus, etc.
To transfer data from iPhone to iPhone in one click:
1. Launch the software on your computer after installation and enter the Mobile Transfer module.
2. Connect two iPhones to the computer using two working USB cables and tap Trust on your iPhone if asked. When the program recognizes your iDevices, you will see Connected under the device images.
Note: The sending iPhone should be in the Source position. If needed, tap the Flip button to switch them.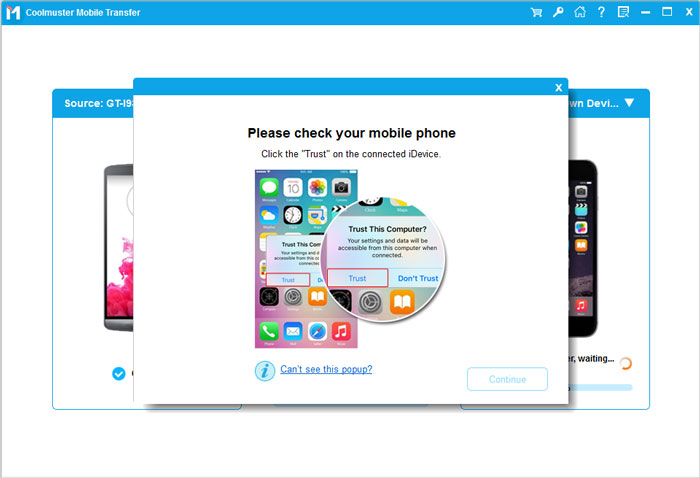 3. Tick off the files you want to transfer and tap the Start Copy button below to migrate data from iPhone to iPhone.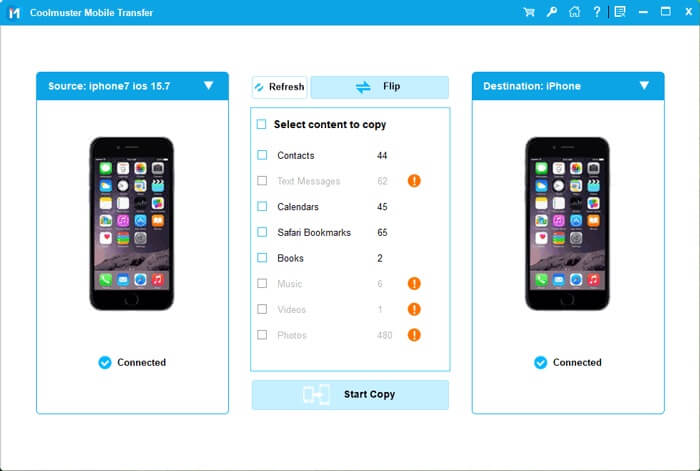 You may like:
How to Transfer Ringtones from iPhone to iPhone? (iPhone 13 Included)
How to Transfer Data from Broken iPhone to New iPhone? (4 Ways Out)
Method 10. Contact Apple Support
After moving files with the alternative way, if you still want to fix the iPhone Migration not working error, you can contact the Apple Support team and make an appointment in advance. Later, you can take your iPhone to the nearest Apple Store to see whether they can help you inspect and fix the iPhone software or hardware issues.
In Closing
As you can see, you have so many options to take to fix the iPhone Migration not working problem. Thus, select one way to resolve your issue right now. If you don't want to take time troubleshooting the error and lose data, use Coolmuster Mobile Transfer to migrate files from one iPhone to another in one click. After that, you can bring your iPhone to the nearest Apple Support Center to get it repaired.
Related Articles:
What If OnePlus Switch Not Working Occurs? (Troubleshooting & Alternative)
How to Fix the iPhone Transferring Data Stuck Issue Effortlessly? 14 Quick Tricks Here
How to Fix Move to iOS Unable to Migrate Issue without a Hitch?
What to Do If Samsung Smart Switch Stuck at 99% during Transfer?
How to Transfer from Huawei to iPhone 13? 3 Easy & Quick Ways
How to Transfer Data from Old Tablet to New Tablet? (Updated)
Add a comment