Unless you have been living under a big cabbage leaf, you would be aware of the Graphics Interchange Format, or the GIF, which are those cute and adorable pictures than can move or increase in size and do all kinds of slightly mesmerizing tricks to make us go gaga.
Just like other pictures, GIFs are just another picture format that can be shared among family members and friends. With GIFs now ruling social media, having popular GIFs on your iPhone is now a very common sight. However, just like you may delete or accidentally lose pictures on your iPhone, you could also do that with GIFs and you shall then be faced with the daunting task of recovering them.
The problems that you may face while recovering your GIFs are just like the problems that you may face while recovering other photos from your iPhone. Sometimes, you may lose out on some GIFs if you haven't carried out the available software updates. Even if you are restoring your phone from an unknown backup, your GIFs might go missing.
Related: How to Recover iPhone Photos without iCloud Backup
Solution: How to Recover GIF Photos from iPhone
1. You could just switch off your phone and turn it on again to see if the GIFs have come back. Most of the times it doesn't work.
2. Log out and then log in to your iCloud to see if you had entered the incorrect user name and password.
3. Check the recently deleted albums to see if you accidentally deleted the GIFs and then click on "restore" to have them back.
4. You can connect your phone to iTunes using the USB cable and just restore your data. Any lost ones should come back, provided you keep carrying out regular back ups.
Go the smarter way and get Coolmuster IOSRescuer:
The Coolmuster Team is always innovating and coming up with easier methods to help you navigate iOS devices and manage data in them. The Coolmuster iOS Data Rescuer software is one such product that helps you recover your data, including pictures and GIFs with the help of iTunes as well as without using iTunes. So if you don't wish to use iTunes to retrieve your GIFs, it's not a problem as long as you have this all-in-one software at your hand.
Also Read:
Recover Lost Contacts/Messages from iPhone 14/13/12/11/X/8/7/7 Plus
Before we go ahead, remember that GIFs are like any other picture format, so they generally tend to be stored in the Gallery tab on the iTunes as well as your phone. If you have iTunes, then the process of retrieving your GIFs will be a cakewalk for you. Just connect the iPhone to the computer in which you have installed the software. It will recognize the device and give you the options of transferring files (selectively or all of them) to get back any valuable data, in this case the GIFs.
The good news is that even if you don't have iTunes, you can use this software to get your lost GIFs. All you have to do is follow the instructions given below and you are good to go:
1. Download and run the software on your personal computer.
2. Connect your iPhone to the computer using the USB cable.
3. Now, the software will instantly identify your device and give you two options to select from. Select the right one to continue the process.
4. Then you will see all files and folders are displayed on the left side. Because you are trying to get GIFs, select photos by clicking on the box next to the folder named photos.
5. Now select the "Recover" option and you can now have all the GIF photos that you had once lost. Problem solved!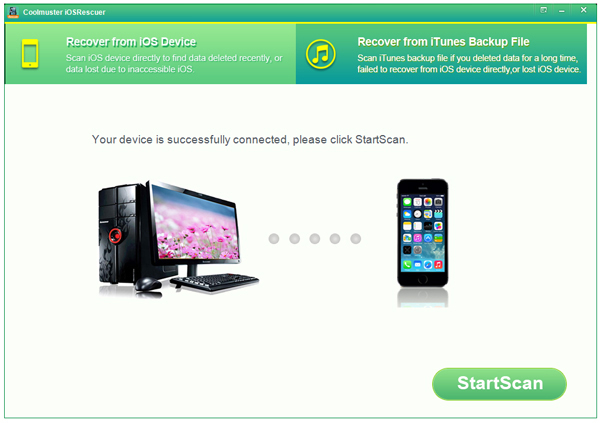 The End
Whether you lost GIF pictures or photos in PNG, JPG/JPEG format, you can follow the above operations to get them back. What are you still hesitating about? Try it now by clicking the download button below.
Related Articles:
How to Recover Reminders from Broken iPhone/iPad
How to Easily Restore iCloud Backup to New iPhone
How to Recover Deleted Photos from Android Phone (Top 6 ways)
[Solved] How to Recover Deleted Photos from iPad? (2023 Update)
A Full Guide to Recover Deleted Photos from iPhone without Backup Easily
[With Tutorial] How to Recover Photos from iPhone without iCloud in 2023?