It is a great way to restore backup to a new iPhone because you can get your data without starting from scratch. If you recently upgraded your phone or are switching from one model to another, you must restore the data from your previous device.
With Apple's free iCloud service, you can easily back up your iPhone and restore your devices wirelessly. And if a USB connection is what you prefer, you also have other convenient methods to restore your backup files to a new iOS device. Continue reading through this article to learn effective tricks.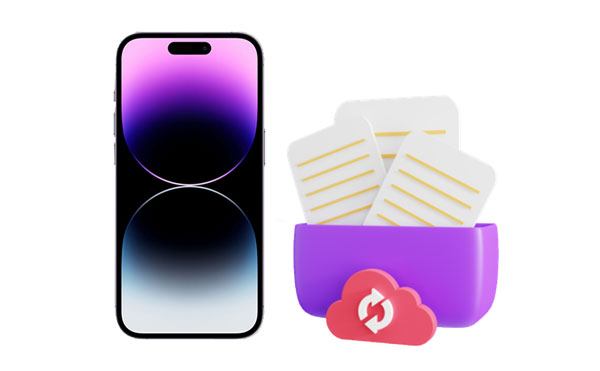 Part 1: How Long Will It Take to Restore Backup to New iPhone?
The time it takes to restore your iPhone from a computer backup can vary drastically depending on your method. Due to faster speeds and local access, restoring an iPhone directly from a PC is notably quicker than other methods since internet speed won't impact it.
Deciding to restore from iCloud could require way more time than other methods. The process of restoring will depend on your internet connection for downloading the backup and on how fast your iPhone can unpack and reinstate it. Of course, how long it will take to restore backup also relies on how many files that you plan to transfer. Thus, we cannot tell you an exact time.
Guess you need: How Long Does It Take to Restore an iPhone on iTunes/iCloud? (Authoritative & Reliable)
Part 2: How to Restore iCloud Backup to New iPhone?
If you want to recover your data, settings, and other information to your new iPhone, you can utilize your iCloud account. But please be sure that you have an available backup file on iCloud. This method is highly recommended to ensure that you can access all current info on your phone after restoration.
Follow the below steps to learn how to restore a backup to a new iPhone from iCloud:
Step 1: If you have completed the setup on your new iPhone, please reset it first. Navigate to the "Settings" application and tap on the "General" option. Scroll down and tap on the button named "Reset", Choose the "Erase All Content and Settings" option and enter your password. After that, your phone will restart.
Step 2: Follow the on-screen instructions when setting up your iPhone. Select your Wi-Fi, Choose your country, etc.
Step 3: Tap the "Restore from iCloud Backup" from the "Apps & Data" screen. After that, sign into the iCloud and proceed to choose a backup containing the data you want to restore.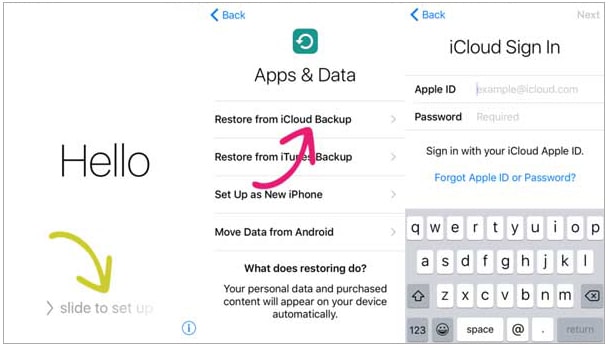 See also: Can you copy your iPhone data to a Xiaomi phone? If you switch to a new Mi phone, you can follow this guide.
Part 3: How to Restore iTunes Backup Selectively to New iPhone?
iTunes is an Apple application that allows users to manage and back up their iOS devices, such as iPhones, iPads, and iPods. It permits users to store their music, movies, photos, apps, and more on their computers and organize them into playlists. Also, you can restore your iTunes backup via the software directly, but the restored data will replace all the files on your iPhone; and you cannot select files before the restoration. So, what can you do?
In this situation, you can make use of Coolmuster iPhone Data Recovery. This software can extract your iTunes backup files, and list them on the interface. Then you can select what you like to restore without restriction. What's more, it can recover deleted files from your iTunes backup. If you want to find your deleted data, this program will be helpful.
Key features of this recovery software:
* Help you restore iTunes backup files to your iPhone selectively.
* Effectively recover deleted data from iTunes backup.
* Support a wide range of data types, including contacts, photos, SMS, notes, camera roll, music, etc.
* Retrieve deleted text messages and contacts from the internal storage of iOS devices without backup.
* Allow you to view detailed files on your computer.
* Transfer your iPhone data to a computer without effort.
* Support many iOS devices, like iPhone 14 Pro/14/13/12/11, iPad mini, iPad Pro, and so on.
Download this iPhone recovery software.

Free Download for PC
Here's how to restore iTunes backup to a new iPhone via this software:
01Select Your iTunes Backup File
With Coolmuster iPhone Data Recovery software, you will get the job done without connecting your new iPhone to the computer. Download and install the software on your PC, and select the "Recover from the iTunes Backup File" option on the left.
Coolmuster iPhone Data Recovery software will automatically start to scan the iTunes backup location. Choose a backup file from the list available on the user interface and click on "Start Scan".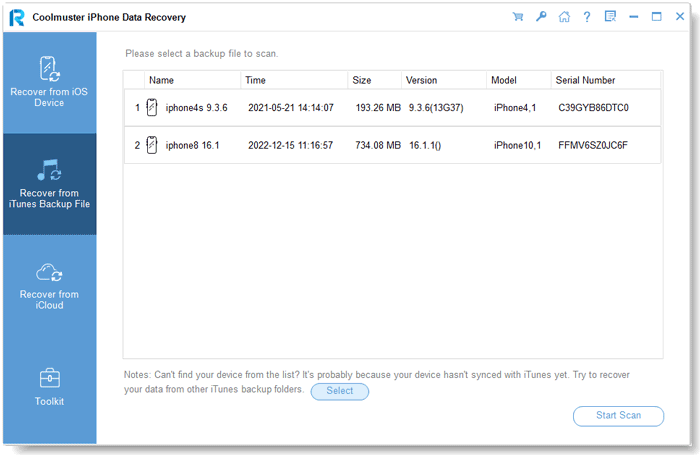 02Select All the Data Types You Want
Tick off the data types you want to restore and click on the "Start Scan" button on the bottom right side of the screen. By the way, Safari History and Call History are not supported by iOS 10 and later.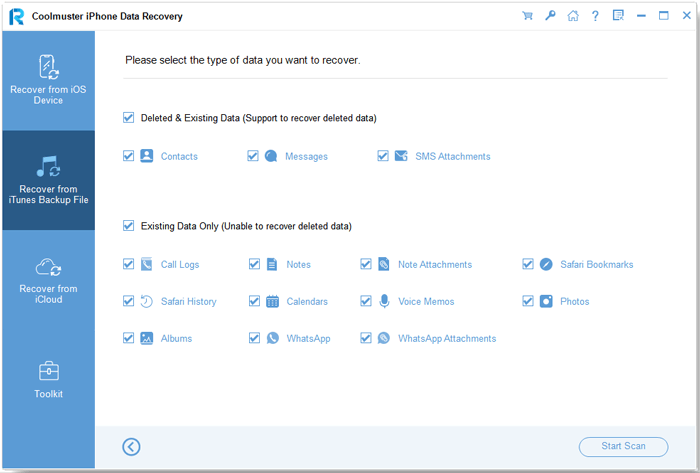 03Restore the Backup to Your New iPhone
Click on the categories and select the existing and detailed deleted files at the right side of your screen. To restore files from iTunes backups, click the "Recover to Computer" button. Then you can choose your iPhone drive as the location, and input the data to it.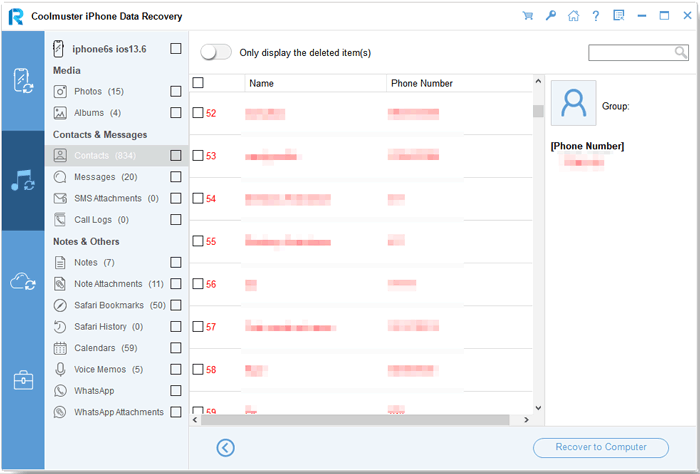 Perhaps you like: Ten Tricks for the Issue "Cannot Restore Backup to This iPhone Because the Software Is Too Old"
Part 4: How Can You Fix iPhone Cannot Restore Backup Problem?
You may encounter problems while restoring a backup to a new phone. If you cannot restore Backup to the new iPhone, there are a few troubleshooting steps you can take.
1. Restart both Your iPhone and Computer
Have you ever found yourself stuck in a jam? A simple restart may be the answer. Reboot your computer or iPhone, depending on the issue at hand, and give it another try. If that doesn't solve things, check out some of our other methods to get back up and running!
2. Update Your Devices
It's always a good idea to keep your devices up-to-date with the latest software updates. This can help improve the restore process, as it ensures that all your data is transferred correctly and that any bugs or errors in the restore process are fixed.
3. Ensure Your Internet Connection is Working Correctly
Your restore process relies on a working internet connection. If there is an issue with your Wi-Fi or other connection, it can cause the restore process to fail. Try connecting to a different network and see if that resolves the problem.
4. Ensure You Have Enough Storage Space
If your device does not have enough storage space, it cannot restore the Backup. Make sure you have enough free space on your device before restoring a backup.
Final Thoughts
These are the simple steps you need to follow to restore backup to a new iPhone. We highly recommend using Coolmuster iPhone Data Recovery as it is a reliable and easy-to-use program. It will help you restore the iTunes backup with ease. Plus, it can recover your deleted iOS files from your device and iTunes backup, which is useful when you delete your important files by mistake.
Related Articles:
How to Fix iTunes/iPhone Stuck on Preparing iPhone for Restore?
How to Restore from iCloud Backup without Reset? (5 Effective Methods)
How to Restore Contacts from iTunes Backup to iPhone Easily? (Top 3 Ways)
How to Retrieve WhatsApp Messages from Lost Phone without Backup?
How to Do SMS Backup and Restore for iPhone? (Best SMS Backup Apps)