"My last phone got stuck in a reset loop, and I wasn't able to save it, and I now have an iPhone X. I am restoring it from iCloud, but it is taking ages. I started it 7 - 8 hours ago now. Does anyone know how long restoring an iPhone can take...?"
- Bangerz from Apple Discussion
How long does it take to restore an iPhone? Guess you may have encountered the thorny problem when raising this question, such as iPhone gets stuck during the restoring process, iPhone restoration is taking forever, etc. Well, the question "how long does restoring an iPhone take" depends on several factors, like the network condition, file amount, etc.
If you are now facing the iPhone stuck problem when restoring an iPhone and ignorant of how to fix it, this tutorial is here to help you figure out the exact period it may take and the practical methods to fix the issue. Let's explore.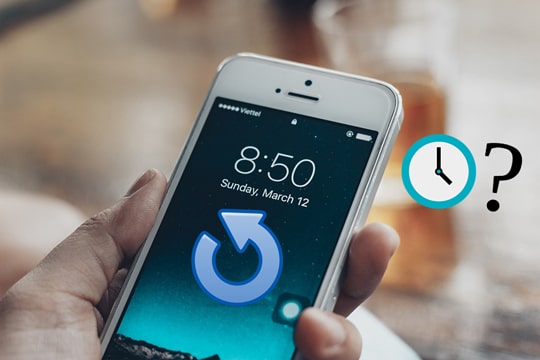 Part 1. How Long Does It Take to Restore an iPhone?
Part 2. How Long Does It Take to Factory Reset an iPhone?
Part 3. How to Fix It when Restoring an iPhone Takes Too Long?
Part 4. The Ultimate Way to Fast Restore an iPhone without iCloud/iTunes
Part 1. How Long Does It Take to Restore an iPhone?
When it comes to restoring an iPhone, we mean to restore your device to its factory settings, wipe everything on it, and replace everything with the backup content.
How long does it take for an iPhone to restore?
Generally, restoring an iPhone from iTunes backup takes up 15 to 30 minutes, and restoring the iPhone from iCloud takes 1 to 4 hours.
But that's not set in stone because the factors that determine the time restoring an iPhone spend include:
The amount of data to be restored to your iPhone. The larger the file is, the more time it consumes.
The backup frequency. Some statistics indicate that the more often you back up your iPhone, the less time it will take to restore an iPhone.
The restoring model you choose.
Whether the network condition is stable and fast or not.
Then, why is iPhone restore taking so long?
As we mentioned above, the average time to restore an iPhone is about 15 to 30 minutes using iTunes and 1 to 4 hours using iCloud. If you find it takes more than 15 hours to finish restoring your iPhone or the progress bar never marches, it may indicate an abnormal problem which is usually affected by:
iOS update.
The amount of iPhone files, especially a large number of media files.
The internet speed is slow.
You might need:
How to Unlock iPhone without Passcode (4 Ways)
Lost Bookmarks on iPad/iPhone? Practical Recovery Guide
Part 2. How Long Does It Take to Factory Reset an iPhone?
If you factory reset your iPhone from iPhone's Settings, the whole process may take a few minutes, given that you are using the latest iPhone model with the updated iOS firmware. That is to say, if you are using old iPhone models and obsolete iOS versions, the factory reset process may take longer to finish.
You might need: Why does the Move to iOS app take so long to move data? Read this guide and you will know what is going on.
Part 3. How to Fix It when Restoring an iPhone Takes Too Long?
By far, Apple does not give an official response to the question "how long does it take for iPhone to restore." However, iTunes/iCloud taking forever to restore an iPhone may easily upset you. Now that you know how long to restore iPhone, it's time to troubleshoot this issue when it takes excessive time to complete.
Here are some valuable tips that you can have a try.
3.1 How to fix restoring from iTunes takes too long
Tip 1. Update iTunes
Sometimes, the outdated iTunes version may take a longer time to read and restore an iPhone. Therefore, updating iTunes to the latest version is proved to be helpful in some cases. To update iTunes on your computer, you can follow these steps:
1. On your Mac, launch iTunes > click iTunes on the Apple menu > choose the Check for Updates option > update iTunes if there is a newer version.
2. On your Windows PC, run iTunes > click Help in iTunes window > tap Check for Updates > follow the on-screen prompts to update iTunes when a recent version is there.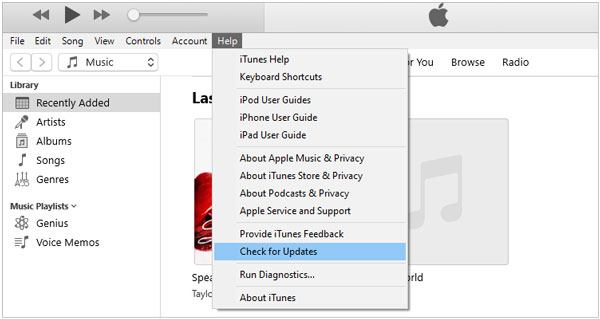 Tip 2. Restart your iPhone
You can also reboot your iPhone when the restoring process gets stuck. In doing so, you will stop the process instantly.
The following instructions show you how to force restart different iPhone models:
For iPhone 6/6s or older versions:
Press and hold the Home + Power buttons altogether until the Apple logo appears on the screen.
For iPhone 7/7 Plus:
Press down the Volume Down + Power buttons simultaneously until the Apple logo shows up on the screen.
For iPhone 12/11/X/8:
Press and hold either volume button + Side button until the Power slider shows > drag the slider from left to right to power it off > press and hold the Side button until you see the Apple logo.
Tip 3. Try a different USB cable or computer
In some cases, the iPhone restoring process will take longer if the USB cable or computer has physical damage or isn't genuine. In this case, ensure that you are using an authentic USB cable certified by Apple to establish the connection between your computer and your iPhone. Also, you can try plugging your iPhone into another computer and repeat the restoring operations on the new computer to check whether the problem exists.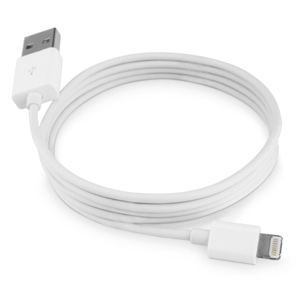 People also read:
How to Transfer Data from Broken iPhone to New iPhone? (4 Ways Out)
3 Simple Ways to Back Up iPhone to Flash/USB/Thumb Drive [Ressuring Guide]
Tip 4. Disconnect your iPhone from the computer and try again
Some glitches which caused the restoring iPhone from iTunes to take too long can be fixed this way. However, it may not work all the time.
3.2 How to fix restoring from iCloud takes too long
Tip 1. Connect to a strong Wi-Fi network
Ensure that you connect to a stable and strong Wi-Fi network before restoring your iPhone from the iCloud backup. Also, plug your iPhone into a power source during the whole process since the restoring process may last hours.
Tip 2. Switch off the large app backup
Large app backup is one of the main reasons for the iPhone restoring takes too long. Thus, you can go to iPhone's Settings > tap your name > choose iCloud > hit Backup > turn off the large app or file options. This operation will speed up the restoring progress in the background.
Tip 3. Stop restoring from iCloud backup immediately
If iPhone restoring get stuck, you can stop the restoring process at once first.
Navigate to iPhone's Settings > choose iCloud > tap Backup > find Stop Restoring iPhone and click it > confirm the operation with Stop.
Tip 4. Delete large and unwanted files
The large media files can also slow down the restoring process. So, if these large photos, videos, or music are not necessary for you, you can delete these files from your iCloud backup. Or, if they are precious to you, you can back up the large media files to a computer and restore other files to your iPhone.
Tip 5. Avoid downloading and uploading files via other apps
When restoring your iPhone with iCloud, please stop downloading and uploading data with other apps. Too many running processes will decelerate the restoring process.
See more:
It is easy to cast iPhone to iPad with the help of these useful tools.
How to Find Hidden Or Deleted Messages on iPhone Smoothly? [Full Guide]
3.3 Use iOS System Recovery to fix iPhone restoring taking forever
iOS System Recovery is a professional repair tool. It can fix various iPhone system issues: iPhone charge issue, battery drain, iPhone stuck on Apple logo/DFU mode/recovery/restore mode, blue/white/black/red screen of death, iTunes can't restore error, etc.
When the iPhone restoring process gets stuck, emerges errors, or taking forever to complete, you can give this software a try to fix it to normal.
Here's how it works.
1. Connect your iPhone to the computer.
After installing this program on your computer, launch it and connect your iPhone to the computer using a USB cable. Next, tap More tools from the left sidebar and enter the iOS System Recovery mode.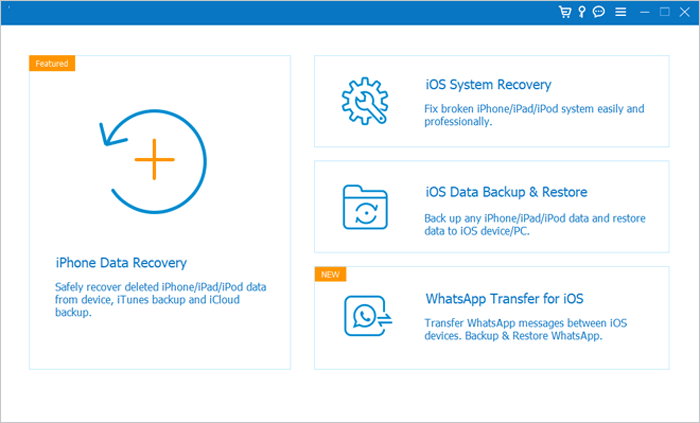 2. Automatically detect the iPhone system problem.
The program will automatically detect the iPhone and display the problem on the screen. After that, click the Start button to continue.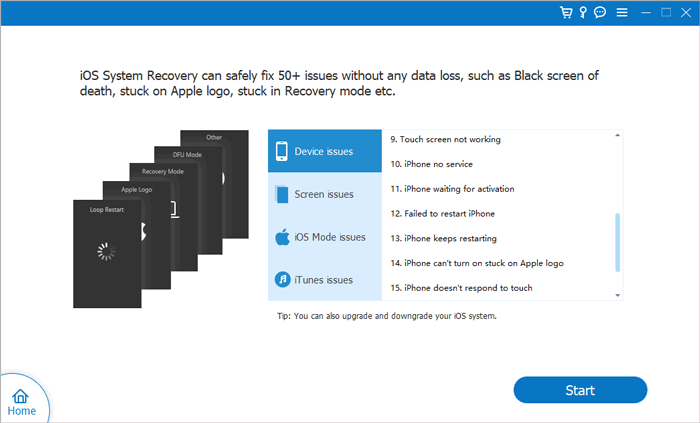 3. Fix the iPhone restoring taking forever/stuck problem.
Confirm the iPhone information on the screen to customize the repair process. If it is incorrect, choose the right one from the drop-down lists. Then, hit the Repair button to start fixing the problem.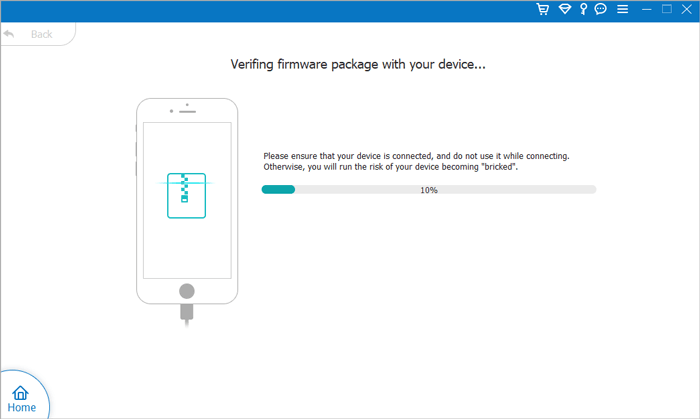 Further reading:
How to Fix Touch ID Not Working on iPhone in No Time? (Incredibly Simple)
9 Best iPhone Repair Software to Fix All iPhone System Problems with Ease
Part 4. The Ultimate Way to Fast Restore an iPhone without iCloud/iTunes
Now you have understood the problem "how long does iPhone restore take" normally. If the iPhone restore takes forever via iTunes or iCloud, another quick solution is to restore an iPhone using Coolmuster iPhone Data Recovery.
Equipped with the latest algorithm and recovery technology, Coolmuster iPhone Data Recovery allows you to recover data from your iPhone directly or restore the iPhone from iTunes backup. Besides, it also lets you back up the existing files to your computer and preview the data before recovery or backup.
The key features of Coolmuster iPhone Data Recovery:
* Two recovery modes to safeguard your iPhone files: Recover from iOS Device and Recover from iTunes Backup File.
* The Recover from iTunes Backup File mode enables you to restore the deleted and existing contacts, messages, and message attachments from the iTunes backup file to a computer.
* Under Recover from iTunes Backup File mode, you can also export the existing call history, notes, note attachments, Safari, Safari history, calendars, camera roll, voice memos, and photos from iTunes backup file to your computer. (Note: Call history and Safari history are not supported in iOS 10 and later due to the strengthened Apple security system.)
* Preview both existing and deleted data and choose the wanted files to recover or back up.
* No data damage during the process, and all files remain the original file format and quality.
* The Recover iPhone from iCloud Backup mode is coming soon.
* Highly compatible with all iPhone models (iOS 16 supported), such as iPhone 14/13/12 Pro Max/12 Pro/12/12 mini/SE/11 Pro Max/11 Pro/11/XS Max/XS/XR/X/8/8 Plus/7 Plus/7/6S Plus/6S/6 Plus/6/5S/5C/5/4S/4, etc.

How to restore an iPhone with Coolmuster iPhone Data Recovery?
1. Choose an iTunes backup file.
After downloading this software on your computer, launch it and choose the Recover from iTunes Backup File mode from the left panel. Afterward, it will scan the default iTunes backup location on your computer and display the backup records on the screen. Please choose one backup file from the list and hit the Start Scan button.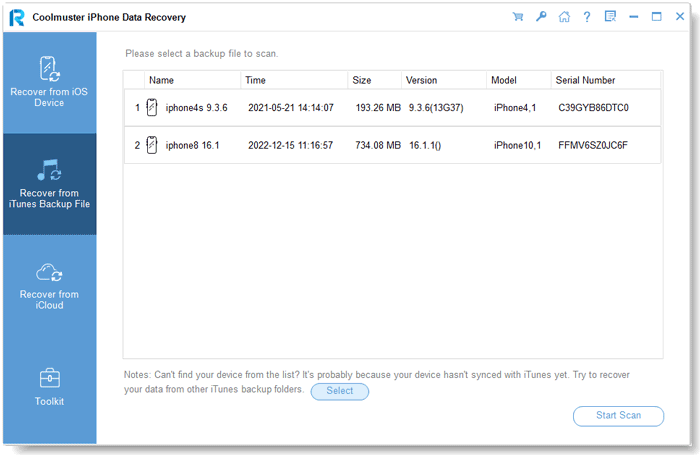 Note: If you cannot find the desired iTunes backup file, please tap the Select icon to pick one from other folders.
2. Select the data types you wish to restore.
Tick the wanted data types on the screen and press the Start Scan button at the bottom.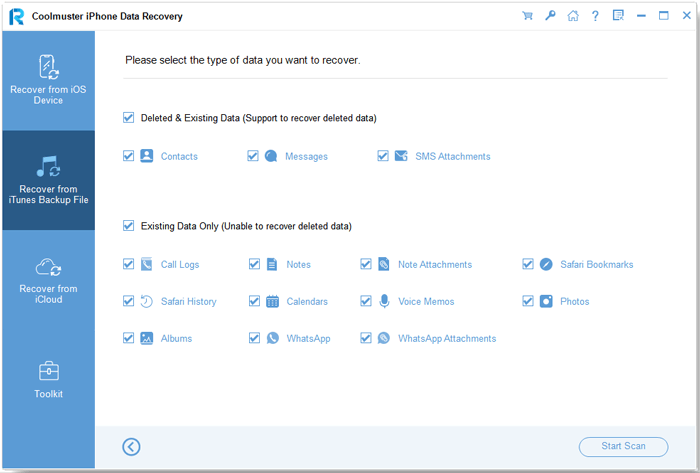 3. Start restoring iPhone from iTunes backup.
Choose one category from the left window, for example, Contacts. Preview and check the contacts you want to restore and hit the Recover to Computer button below to start restoring them to your computer.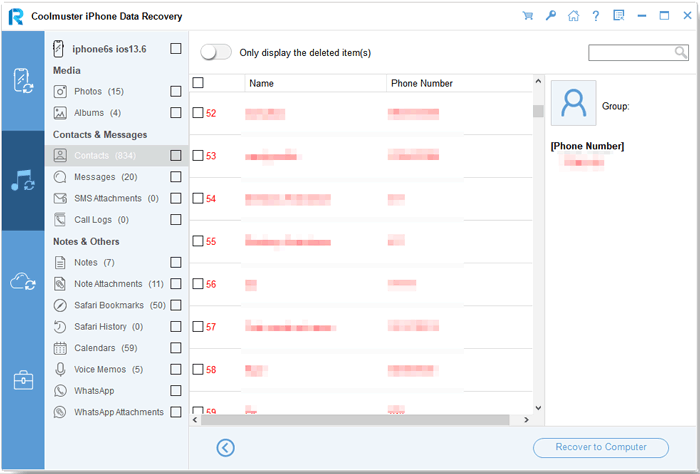 You may like:
How to Recover Deleted Videos from iPhone with or without Backup? (4 Ways)
How to Retrieve Deleted Call Logs on iPhone Easily and Quickly?
Words in the End
How long does it take to restore an iPhone? Now you have the answer in mind. When iTunes or iCloud runs abnormally to restore your iPhone, you can follow the simple tips above to fix the problem or directly restore your iPhone from iTunes backup with Coolmuster iPhone Data Recovery. It is reliable, easy, and user-friendly to use without connecting your iPhone and damaging the backup content quality.
Apart from this, iPhone System Recovery is also an excellent tool to fix all iPhone system issues in minutes. You can have them a try if needed.
If you run into difficulties somehow, please tell us in the comments. We will contact you and provide technical support soon.
Related Articles:
[2023] How to Retrieve Deleted Messages on Messenger on iPhone with Ease?
How to Recover Deleted Viber Messages on iPhone? (with/without Backup)
How to Recover Data from Broken iPhone with or without Backup? (iOS 16 & iPhone 14 Supported)
How to Recover Data from Water Damaged iPhone? (with or without Backup)
[SOLVED] iCloud Backup Taking Forever? 8 Easy Ways Can Fix It
iPhone Gets Lost Contacts After Update? Here's How to Get Contacts Back