iCloud is an important Apple cloud service that enables iOS users to save their data to the cloud. Data backup is an integral aspect that every iOS user should embrace. You never know when a disaster may strike. As they say, it is better to be safe than sorry. This is true with data backup. It is advisable to always back up your files, and as Apple users, iCloud can be a better place to start. It makes data backup a seamless process.
However, you may want to restore iCloud backup. But is it possible? Well, it depends. Restoring an iPhone from the iCloud backup isn't as straightforward as restoring with iCloud. It depends on whether you want to restore this backup to your new iOS device or just wish to restore some files on the device in use. In this guide, we will walk you through every step, showing you how to restore your iPhone from iCloud.
Part 1. What to Do Before Restoring iCloud Backup
There are various scenarios when restoring your iOS device is highly needed. Even though Apple hardware is reliable, it is not exempt from malfunctions. Besides, accidents such as water may damage your device beyond repair.
Also, there is a possibility of your device getting lost or stolen. Not only is the phone gone without a backup, but also other existing data on it. A full data backup and restore saves you the heartache that comes with data loss. Additionally, updating your device to the latest iOS version before the restore is also a must.
Follow these steps to upgrade an iPhone:
Step 1. Go to Settings and select "General".
Step 2. Locate Software Update and click on it. Check for the latest iOS version and tap on "Download and Install". If you don't see this option, it means your device is already running on the latest iOS version.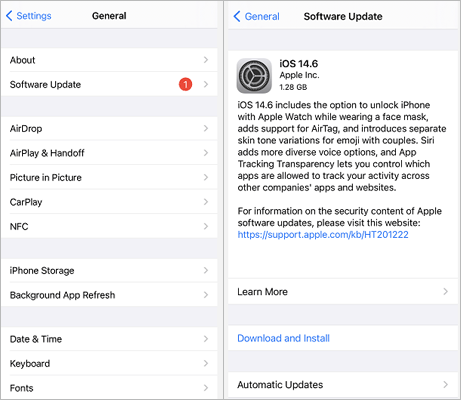 After that, you can now start restoring your iCloud backup on your iDevice. The good thing is that restoring your iOS device takes little effort, and even a novice person can handle the task by following this simple guide.
Read More:
How to Restore from iCloud Backup without Reset? (5 Effective Methods)
How to Download iCloud Backup with Ease? 4 Methods [Updated]
Part 2. How to Restore iCloud Backup by Coolmuster iCloud Backup Recovery
Mostly, restoring an iCloud backup involves resetting your device. This means all your data will be lost. So, the best way to restore your iCloud backup without resetting your device is to a professional software like Coolmuster iCloud Backup Recovery. It is so simple to use this software. You just need to log into the program with the same iCloud credentials and start the restoring process. The best thing is that the software lets you preview iCloud content and then selectively restore only the items you want to the computer.
Let's say you only want to retrieve a few lost contacts, and you don't want to erase all data from your phone. This tool makes that possible. It supports various file types, and the recovery procedure is quick. First, the tool scans your iCloud backup and sorts the backup by category. This way, you will easily choose the content you wish to recover. With Coolmuster iCloud Backup Recovery, you can quickly restore your files from an iCloud backup safely as it adopts the read-only mode where no data can get leaked during the restoring process. It can't save or share your info.
Key features of Coolmuster iCloud Backup Recovery:
Restore iCloud backup files safely.
Preview the backup file on the computer.
Allow selective iCloud backup restore.
Support contacts, photos, reminders, notes, etc.
Higher rates of success.
No quality loss.

Free Download for PC
How to retrieve iCloud backup on iOS devices selectively:
01First, download, install, and launch iCloud Backup Recovery on the PC. Log into your iCloud account with your Apple ID & passcode.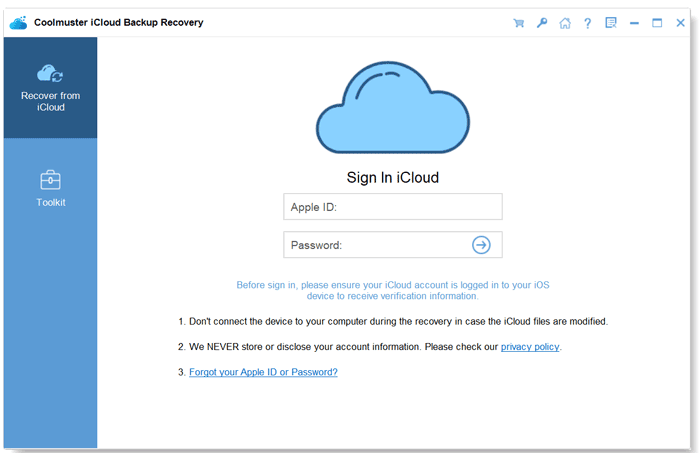 02After signing in successfully with the correct Apple ID and passcode, the Two-Factor Authentication interface will appear. Key in the code you get on the iPhone.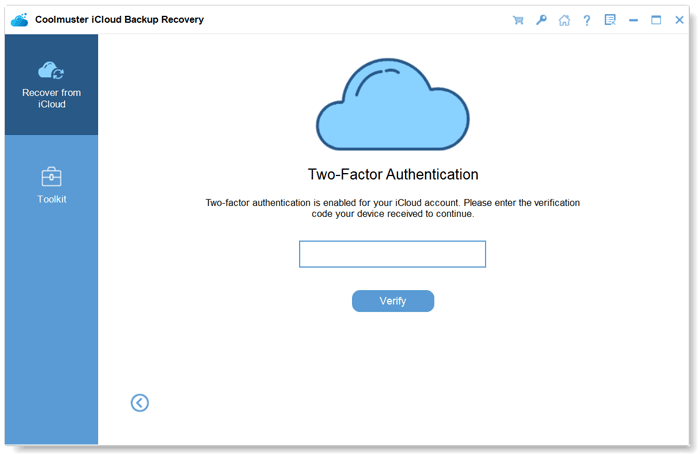 03Choose your desired file types, then click "Next". The software will start scanning your iCloud files. Select a category on the interface and choose the files you need.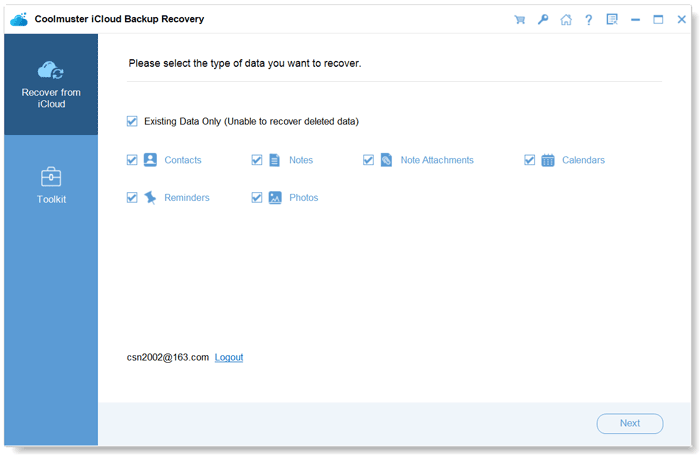 04At last, click on the "Recover to Computer" icon at the bottom right corner. Your files will be restored from the iCloud backup without resetting the device.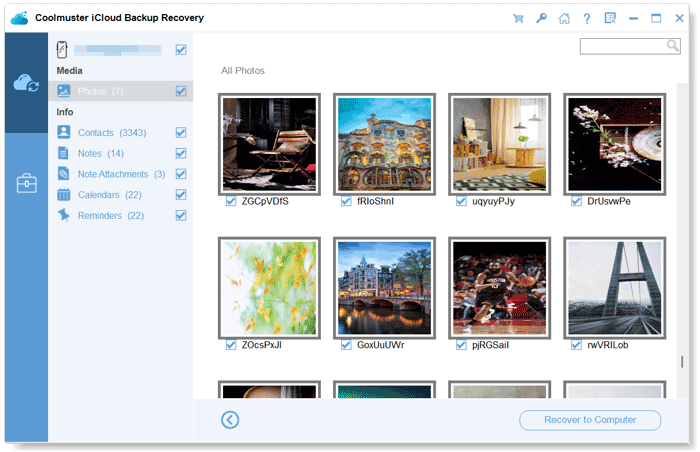 Can't Miss:
Restore from iCloud Paused? Fix It with 9 Solutions Here!
[2023 Updated] How to Restore Messages from iCloud | 3 Simple Methods
Part 3. How to Restore Data from iCloud on a New iPhone
Before restoring data to your new iPhone, you need to make sure you have the backup files in iCloud you can restore. So, the first thing to do is back up your old iPhone to iCloud first, just in case you have new data on the device that hasn't been backed up yet.
Even though it is Apple's official way to restore data from iCloud backup, all settings and content on your device will be erased. Despite that, most users prefer this option. It is very simple to download an iCloud backup to a new phone. Here are steps for how to get a backup from iCloud:
Step 1. First, ensure your iPhone is running on the latest iOS version. To update the device, head to Settings and choose "General". Locate Software Update and check if there's a new iOS version. Download and install it using the on-screen instructions.
Step 2. Make sure you've backed up your iPhone. However, you can still do that right away by heading to Settings. Click on "your name" at the top and select "iCloud" followed by Backups underneath Manage Storage, then check the files you wish to backup.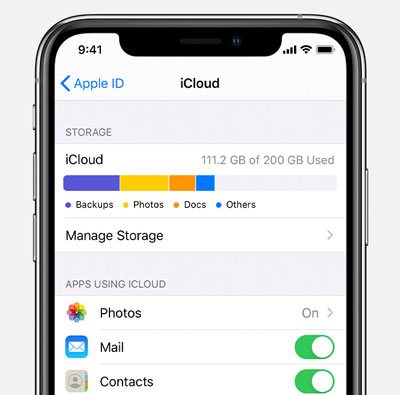 Step 3. On your new iPhone, go to Settings and choose "General". Choose "Reset" and then select the "Erase All Content & Settings" option.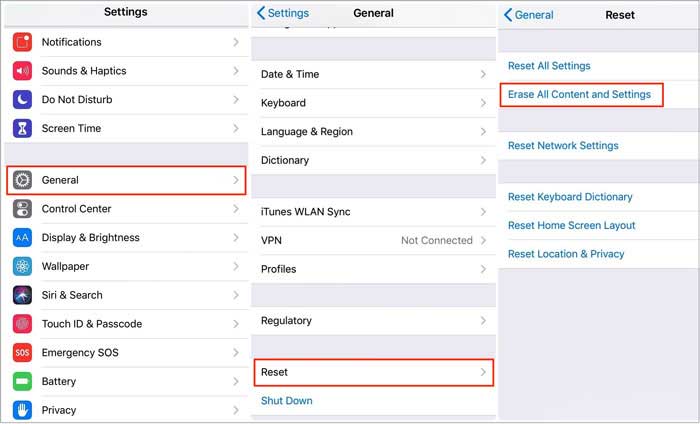 Step 4. Your iPhone will restart automatically, so you have to set it up as a new device. When you get to a screen showing Apps & Data, select the option for "Restore from iCloud Backup" from the screen, then confirm using the same Apple ID and passcode.
Step 5. Choose the latest backup file, then click on the "Restore" button to restore iCloud backup data to your new iDevice.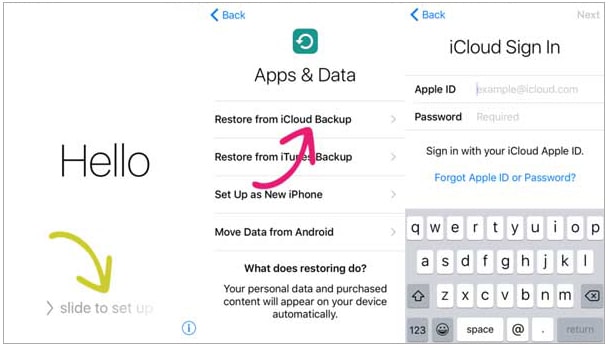 May Like:
How to Recover Voice Memos from iCloud Smoothly | 2 Advanced Solutions
[Essential Tips] How Long Does It Take to Restore from iCloud?
Part 4. How to Restore Backup from iCloud via iCloud Website
Another way to access iCloud backup files is through the iCloud website. The good thing is that there is no data loss. You just need to log into your iCloud account on a web browser and access the iCloud backup file. Here are steps on how to retrieve backup from iCloud:
Step 1. Open a web browser on your computer and sign into icloud.com with your Apple ID and Apple ID & password.
Step 2. You will find all your backup files on the website. Access the file type you need by tapping on it.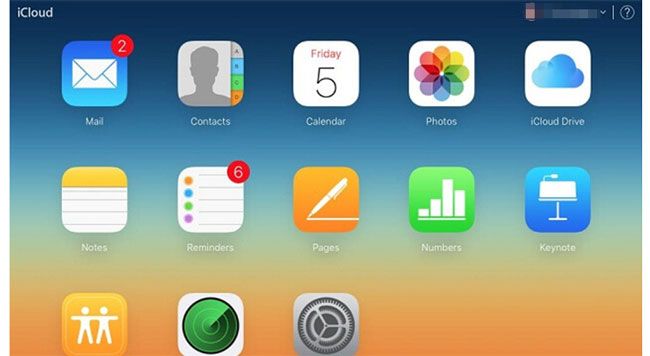 See Also:
iCloud vs. iTunes Backup: What's the Difference between Them? (Full Guide)
How to Back Up iPhone to iCloud and Restore iPhone from iCloud Backup Fast
Last Words
In a nutshell, restoring an iCloud backup isn't an issue anymore. The ways mentioned here will help with the process. You can use a third-party tool or directly access the specific files you need from your iCloud account. We recommend Coolmuster iCloud Backup Recovery, a reliable and user-friendly desktop application that streamlines restoration procedures.
Related Articles:
Easily Restore iPhone from Backup [Contain iTunes and iCloud Backups]
How to Restore Contacts from iCloud with or without Backup? (5 Options)
10 Tricks for the Issue Cannot Restore Backup to This iPhone Because the Software Is Too Old
How to Restore iPad from iPhone Backup Effortlessly? [3 Solutions]
iCloud Backup: What You Need to Know
How to Restore iPhone 15 from Backup Efficiently? [4 Techniques]