iCloud is a great service for backing up our iOS data to the Cloud and restoring it later when in need. The process is simple and can be done anywhere, anytime, provided you have a stable internet connection. There is no need to go through the hassle of connecting your device to the computer and starting iTunes. The iCloud service is already integrated with your iOS device and does all the work. The only thing that you need is a linked Apple ID account. The restoration process can take approximately 1 hour to 4 hours to complete, depends on the size of your files and the internet connection speed.
Even though iCloud is an impeccable service, it's not perfect. For instance, some iOS users have reported experiencing an iPhone restore from iCloud paused when trying to restore from Cloud. Well, the problem isn't very common but it doesn't mean it's unsolvable. This article has all the answers you seek. So, keep reading to discover the root cause of restoring from iCloud stuck and possible ways to unpause iCloud restore.
Part 1. How to Fix Restore from iCloud Paused Issue
Did your iCloud restore stuck? The iCloud service has been around for years, so minor issues such as iPhone restore in progress stuck are prone to occur. The good thing is that there are simple ways to get around it. Let's check them one at a time!
Fix 1. Check Your Internet Connection
The first thing to fix iCloud restoring stuck is to check the internet connection. As you know, iCloud operates when the device is connected to WiFi. Similarly, you require a stable and strong internet connection to restore your iPhone from iCloud.
If your device is connected to WiFi, try forgetting it in the WiFi settings, then reconnect it again. Additionally, you can try fixing the problem by connecting the device to a different WiFi.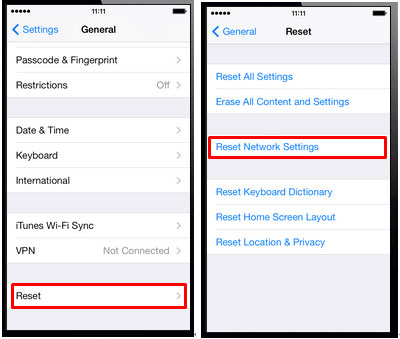 Fix 2. Reboot Your Device
The next solution is to reboot your device. It is the best thing to do if you have tried the above solutions and nothing is working to solve the restoring from iCloud stuck issue. Since your device is backed up already, there is no need to worry about losing your data, though a simple restart won't harm your data. Restarting a phone can help in clearing the application's cache data, giving it a fresh start.
Here are simple steps to restart an iOS device;
Step 1: Long press the Power or Side button until you see the screen's power menu.
Step 2: Swipe this slider to the right to shut down the phone.
Step 3: Wait for a few seconds for the screen to shut down fully and power it on again by long pressing the Power or Side button.
Once done, try to restart iCloud restore.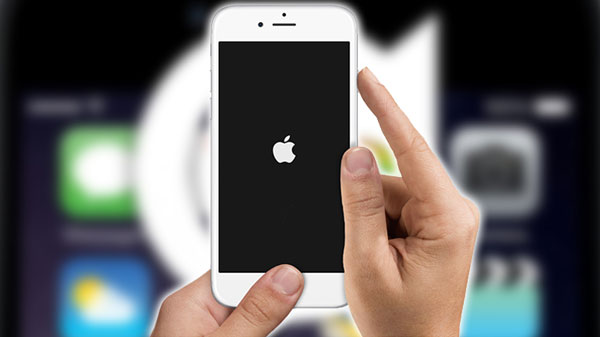 Fix 3. Check your iCloud Storage
Why won't my iPhone restore from iCloud? Restoring from iCloud paused is often caused by not enough storage. iCloud restores your data normally, but when there is not enough space, it is likely to halt, getting paused on the iPhone. So, it's imperative to check the iCloud storage space to ascertain whether it's the cause of this problem. To check the available space, do this;
Step 1: Head to "Settings" and look for your iCloud account at the upper part of the settings page. Click on it and proceed to choose "iCloud."
Step 2: After that, click on the "Manage Storage" option and check the used and remaining storage. If you find out the storage isn't enough and can run out in a couple of days, you can clear up space by removing unwanted files. Still, you can upgrade your storage capacity and get a higher storage plan.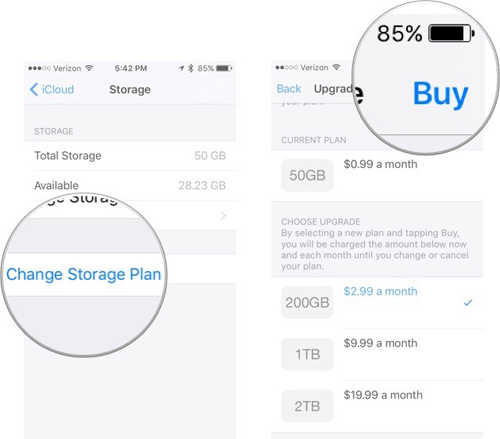 Fix 4. Ensure There's Enough Battery Charge
This is also a common reason your iPhone restore from iCloud is stuck. Sometimes, the iPhone restore progress may get stuck because the device's battery is not fully charged. As such, you should ensure your device's battery is not very low when restoring an iCloud backup. To avoid this problem, ensure you charge the device before attempting the restoration process. Charge the device until it's full, and try restoring an iCloud backup.

You may like:
iCloud Backup Failed | iPhone Not Backing Up to iCloud (12 Fixes)
iPhone Won't Update? Here's How to Fix!
Fix 5. Check iCloud System Status
Another potential cause of iCloud restore halted is due to system problems. You can go to the Apple System Status page to check the status of the iCloud system. Check if a green dot is next to the services like iCloud backup, Apple ID, etc. If there's no green dot, it means those services have issues or are under maintenance. In such a case, you will have to wait till Apple solves the problem.
Fix 6. Update iOS System
Is your new iPhone stuck on restore from iCloud? Usually, an iPhone can get stuck while restoring data from iCloud if its version is not up to date. So, it's a deal you check if it's updated to the latest version. Several users have reported that they couldn't restore from iCloud until they updated their iOS device to the latest version.
Updating a device will help remove any present bugs and fix any problems in the system.
Step 1: Check if there is an update available by going to "Settings," "General," and then to "Software Update."
Step 2: Look for any latest update available for your phone and hit the "Download & Install" option if you find any. Once done, your device will restart, which should fix the "iPhone restore from iCloud stuck."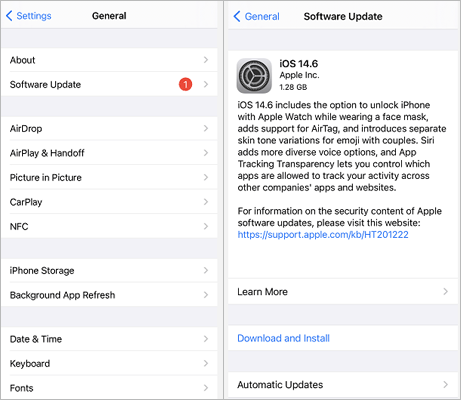 Fix 7: Stop iCloud Restore Then Try Again
If you have tried all the above but still restore from iCloud not working, you can try stopping the iCloud restore process and start it again. Now see if it will finish. Here are a few steps to stop the restore process;
Step 1: Open the "Settings" app, look for your "Apple ID" from the settings page, and click on it.
Step 2: Next, click "iCloud," and below the Device Backups, hit "iCloud Backup."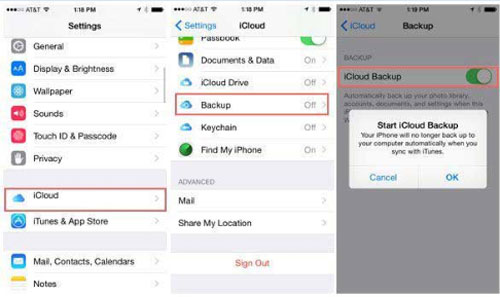 Step 3: Click on the "Stop Restoring iPhone" option.
Doing this will cancel the restoration process. Now restart the procedure to finish restoring iPhone from iCloud backup.
Fix 8. Restore from Another Backup
If nothing seems to help, try other tricks. If restoring from iCloud backup failed when using your account, try using another iCloud backup instead, as it might only be a problem with your Cloud account. You can use someone else's iCloud backup and restore it to your device. After doing it successfully, the problem is only with your iCloud account.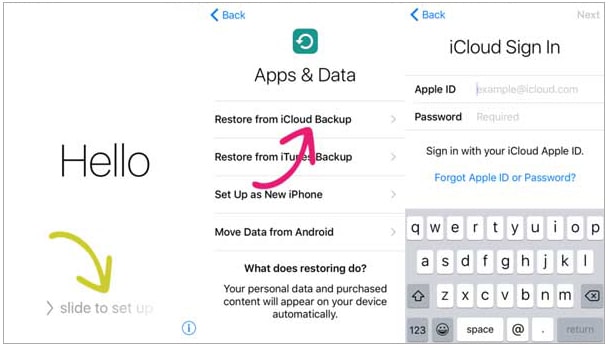 See more:
How to Fix "Cannot Restore Backup to This iPhone Because the Software Is Too Old"
Failed to Export or Delete iPhone Photos with iCloud Photo Library Enabled? [Solved]
Part 2. An Alternative Tool to Restore iCloud Backup to iPhone Selectively
iPhone Data Recovery is the best tool you can use to recover lost or deleted data from iPhone. The app is professionally designed to help you restore iPhone data from iCloud, iTunes or iPhone iteself efficiently without a hassle. Its simple interface makes it easier for even a newbie to use. This is a lifesaver for those iCloud users who are trying to recover their data but don't know where to start.
It's an all-in-one application that can recover files such as iMessages, Photos, Text messages, Contacts, Call History, Notes, photos & videos from Facebook, Whatsapp, etc., from iCloud backup. Additionally, the app recovers lost files from iPhone, iTunes, or iCloud safely and easily.
Key Highlights of iPhone Data Recovery
* Restores iPhone from iCloud with ease.
* Recover iPhone data from iTunes backup.
* Retrieve deleted data on iPhone directly without backup.
* It can restore iMessages, Photos, Text messages, Contacts, Call History, Notes, photos & videos from Facebook, Whatsapp, Viber, etc.
* Supports both Mac and Windows computers.
* Supports most iOS devices and the latest iOS 16.
Let's check out the steps to restore the iPhone from iCloud by using iPhone Data Recovery.
01 After you've installed the software on the computer, launch it and select the "Recover from iCloud Backup File" option. Then, log into your iCloud account.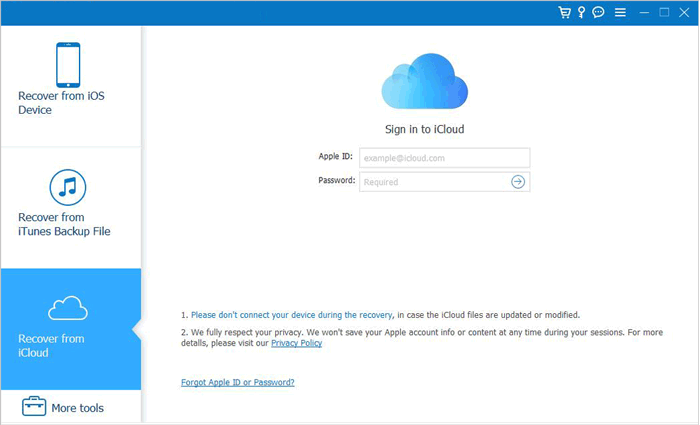 02 After signing in, you'll see all iCloud backup data displayed. Choose the ones to restore, then press the "Download" button. From the pop-up window, tick those files to be recovered, such as photos, messages, etc., to restore the iPhone from iCloud. Afterward, hit "Next" to download them.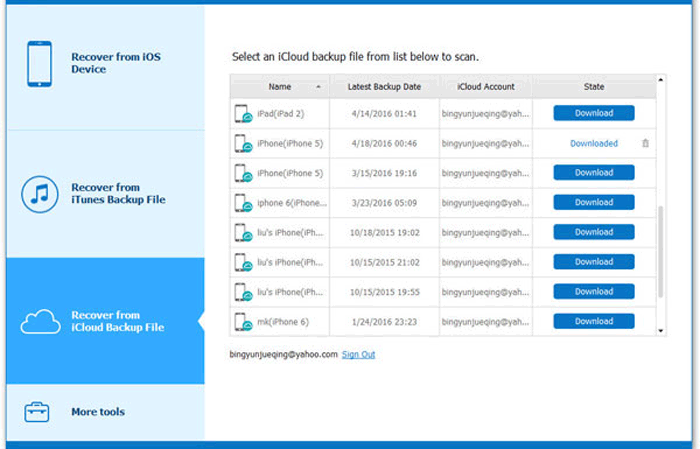 03 After the downloading process completes, wait for some time for the software to scan the files. Once done, you'll see scanned data on the screen. Choose the category from the left panel to view them from the right panel. Tick those contents to restore and hit the "Recover" tab to initiate recovery. Your lost or deleted files will be recovered to the computer in no time.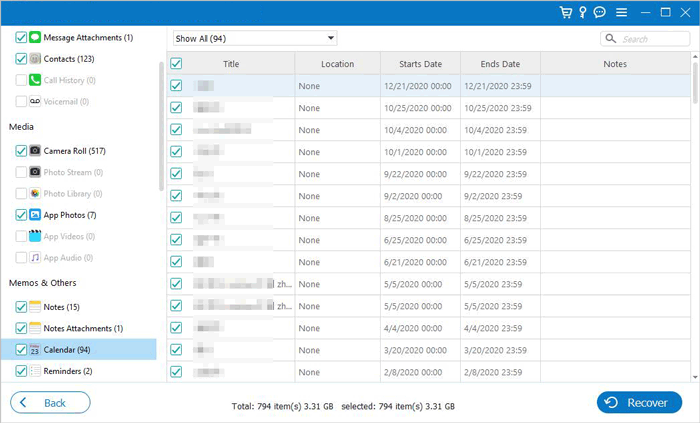 Part 3. FAQs on Restoring from iCloud Paused
Q1. Why is my restore from iCloud paused?
iPhone restore from iCloud can be interrupted due to various reasons like unstable internet connection, insufficient storage space, outdated iPhone system, and much more.
Q2. What Does Restore From iCloud Paused Mean?
When an iPad/iPhone stuck restoring from iCloud, it means the process of restoring the backup can't finish because there is a problem with your iOS device or iCloud account.
Summary
Restoring an iPhone from iCloud has become a normal process for most users. But if something goes wrong and the restoration process gets interrupted, the fixes above can help you fix the "restore from iCloud is paused" problem.
In the worst case, if you've lost or deleted your files, you have iPhone Data Recovery at your disposal to help you retrieve them. The tool is super simple and reliable. So, what are you waiting for? Try it now and get your files immediately!
Related Articles:
iPhone "Save Image" Not Working, How to Fix?
How to Fix Green Lines on iPhone Screen? Proven Solutions Are Here
iPhone Internal Storage DCIM Folder Is Empty on Windows 10? Fix It Here
[Solved] How to Update iPhone without Wi-Fi? (iOS 16/15/14/13/12/11 Supported)
Not Enough iCloud Storage? Fix This Issue with This Full Guide