Guide on How to Restore Voicemail on iPhone
Summary: In some cases, you may need to delete voicemails on iPhone so as to free up enough space. But in some other cases when you accidentally delete important voicemails, you might need to get them back. This passage tells you how to easily and quickly restore voicemail on iPhone.
The voicemail feature on iPhones revolutionized the voicemail feature on phones, particularly smartphones. Gone are the days when you would have to go through multiple voice mails to get to the newest one all the while interacting with a computerized command prompt. Voicemail allows you to locate the most important voice message directly, skipping the unnecessary ones.
Why need to restore voicemail on iPhone?
Some voicemail messages can be discarded with no bearing consequences. Other we just keep because we can. There are those most important ones that if lost, it would be inconveniencing and sometimes costly. There are those voicemail messages that we truly treasure; it could be a message from a loved one, or details about an upcoming meeting. The most important voice messages are simply too precious to entrust them to the functional integrity of the phone.
Under the "Phone" app on your phone, under voicemail, there are the "undelete" and "clear all" button. While it is fairly easy to restore deleted voicemails on the iPhone, this feature only works if you have not permanently deleted the messages. Permanently deleting the voicemails involves using the "clear all" option. This however does not mean all is lost. The fact is, this graveyard feature can be used to "exhume" your voicemails. What if you "cremated" the messages using the "clear all" feature, or it so happens your phone malfunctioned and you cannot access the phone's memory?
Tutorial: How to Restore Voicemail on iPhone
In fact, losing voicemails on iPhone is nothing big deal, because you can easily restore voicemail on iPhone as long as you get this all-in-one Coolmuster iOS Rescuer software. This is your best option when you want to restore deleted, formatted, corrupted or lost data on your iOS device. Its new and innovative features are able to restore lost files and data with or without iTunes Backup. So just free yourself from troubles caused by sudden data losses, get the right version of this software by hitting the below icons:
Read More:
Simple Way to Restore A Locked iPhone
How to Easily Restore iPhone from Backup
Major Features of this Software:
1. Recover Data Directly from your iOS Device. If you want to restore cleared voicemail messages to your iPhone or iPad, and you do not have iTunes Backup, then the Coolmuster Rescuer App is the solution. Even if you accidentally formatted your phone or it so happens that your iOS device became corrupted, you can still recover your voicemail messages directly to your phone.
2. Extract iTunes Backup to restore lost files. All the files on you iOS device are backed up by iTunes automatically provided you have synced your device with iTunes. What if you lost your device and cannot access iTunes directly from it? The Coolmuster iOS Rescuer app will extract your data, including voicemails even if you do not have your device at hand. As long as you have not updated your iTunes after you lost your data, Coolmuster will restore your files.
3. Preview before recovery. With Coolmuster, you can discard what you do not need recovered to ensure you get only what you need. With the built in preview function, all your files will be categorized in folders so that you know exactly what you want to restore.
4. Export recovered files to your computer. All recovered files can be exported to your computer's hard drive for later retrieval. With the Coolmuster Rescuer app, you will be able to preview all the recovered files and select the output location as your computer. You can then easily export your files, including voicemail messages.
Step-by-step guide to use this software
Step 1. Download the right version of this software on your PC or Mac computer and run the installation process. Then choose the right recovery mode to continue the process and hit the StartScan option to continue the process.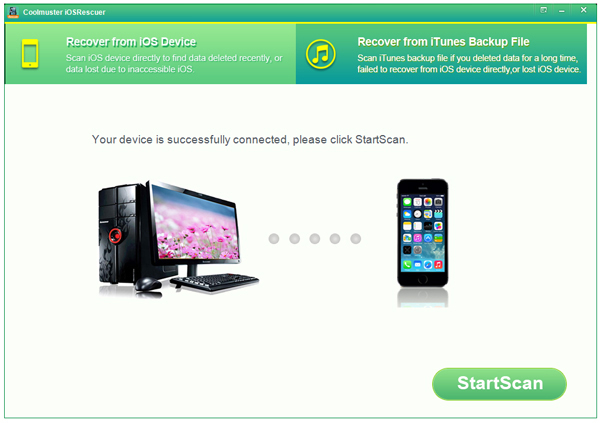 Step 2. After that, connect your iPhone to the computer via the USB cord. This software will detect all files saved on your device and display on the main interface for your preview.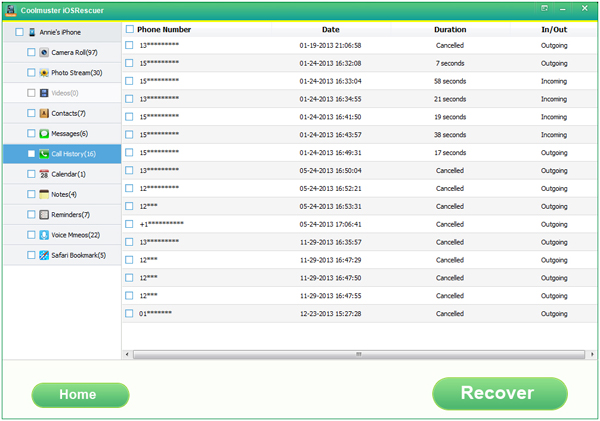 Step 3. Enter the Voicemail tab to preview more detailed file information. While previewing, select the wanted files by ticking them out. Then hit the Recover option to begin the file recovery process. Finally, just wait patiently for the process to get completed within a little while.
No matter you want to recover lost voicemail on iPhone from the device itself or from iTunes backup, you can always give absolute trust on this all-in-one Coolmuster iOS Rescuer software.
Related Articles:
How to Recover iPad Files without iCloud Backup