Digital documents have greatly influenced the need to convert documents into different file formats according to the users' requirements. When converting Word to PDF, having a reliable PDF manager is necessary. Many online converters are available but are not always guaranteed to work as expected.
First, they depend on an internet connection, so they need a stable connection to work, and if it gets disconnected, the conversion process will fail. Second, uploading your files online can be riskier. Due to this, most users will want an offline tool for stability and security reasons. Here, we'll outline the 4 best reliable offline Word to PDF converters. Keep reading to learn more.
Part 1. 4 Best Doc to PDF Offline Converters
If you want a reliable and efficient tool, you can't afford to choose an under-par app. We yearn for an amazing experience while converting files between different formats. However, finding a game-changer app can be challenging, but not anymore. Below is a list of the best tools to convert Docs to PDF offline and how to use them.
1. How to Convert Word to PDF Offline by Coolmuster Word to PDF Converter [Windows & Mac]
Our top Word to PDF converter offline tool that is powerful and feature-rich is Coolmuster Word to PDF Converter. This is the tool to choose if you want to create only professional-looking PDFs while maintaining the formatting. It's tailored to change how users interact with their files. It's equipped with only amazing features that are handy when dealing with Word to PDF conversions.
The best thing about this incredibly valuable tool is that it supports batch conversions. You can add as many files as you want on the tool and create PDFs at once with just a click.
Moreover, it boasts powerful customization options allowing users to modify their PDFs to suit their needs. This fantastic offline PDF converter tool offers only the best quality and is very easy to use, making it a go-to option for beginners and experienced users alike. Additionally, it's plenty of options to suit all user needs. It's super fast, regardless of the file size you are converting.
Key highlights of Coolmuster Word to PDF Converter:
Convert Word to PDF at lightning speeds, irrespective of file size.
Convert as many files as possible with just a click of a button.
Maintain content layout, formatting, and integrity.
Plenty of customization options.
Intuitive interface that makes it easier to navigate around.
Follow the steps below to convert Word to PDF offline using Coolmuster Word to PDF Converter:
01Install the Program on Computer
Install and launch the app to find its interface. Import your Word documents onto the tool using the "Add File" or "Add Folder" buttons. Also, you can simply drag your files and then drop them into the tool interface.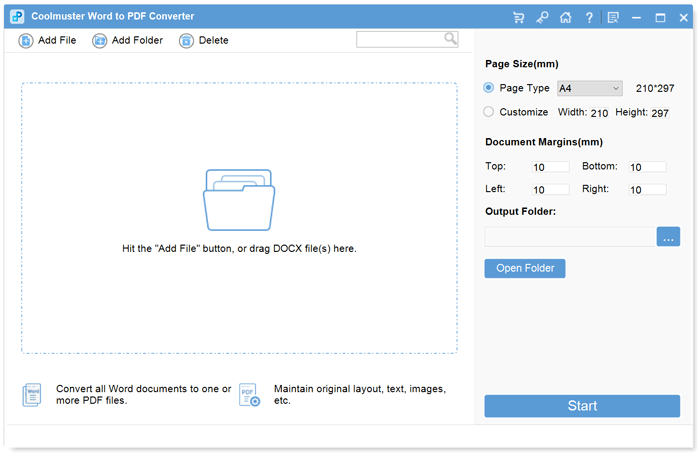 02Customize the Output
After selecting the Word files, you may customize the output document margin and page size and decide on the Output Folder.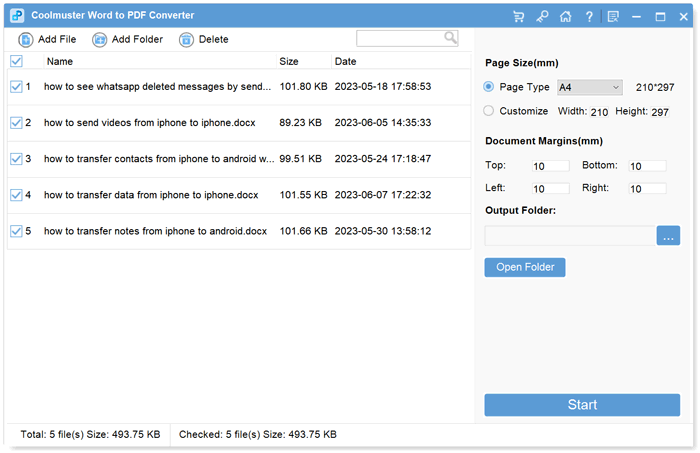 03Convert Doc to PDF
After making the necessary changes, tap the "Start" button to start the conversion procedure. The tool will convert files efficiently, and you will have your PDF files ready in a few seconds.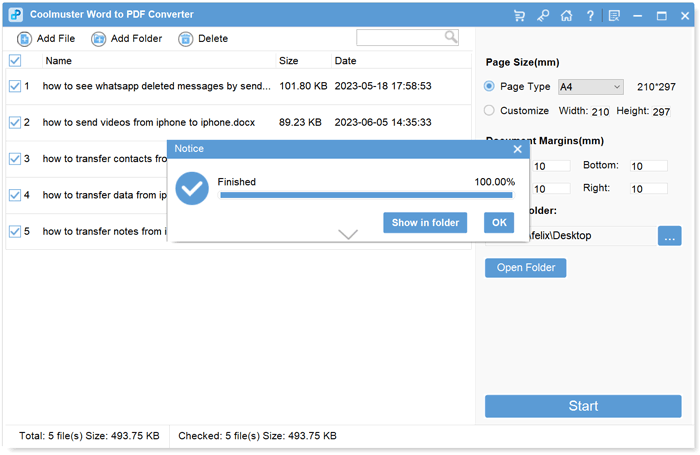 Read More:
How to Save a Word Document as a PDF on Windows & Mac Systems
[Solved] How to Change Word Document to PDF in Efficient Ways
2. How to Convert Word to PDF Offline Using WPS Office [Windows, Mac & Mobile Devices]
WPS Office is another offline Word to PDF Converter that makes your conversion process a walk in the park. It is a versatile tool that offers all the office features you may require to convert files hassle-free and at no cost. It's a recommended choice for writers and data analysts due to its ease of use.
Converting your Docx files to PDF with this tool is easy. You just have to install the app on your device and start converting your files. Here is how to use the WPS Office app to convert Word to PDF on various devices:
2.1 On Windows and Mac
Here are the steps to use WPS to create PDF files on a computer:
Step 1. Launch the WPS Office app after installing it, then open the desired file. From the upper left section, tap on the "Menu" option.
Step 2. Hover over the options and tap "Export to PDF".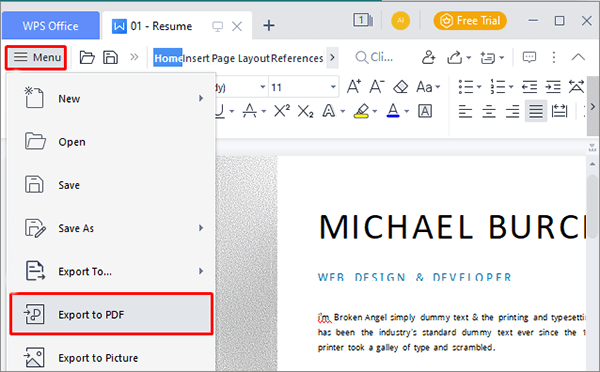 Step 3. Edit the path to save your PDF and confirm.
Step 4. You may also convert your custom pages by choosing your desired page range. After that, hit "Export to PDF".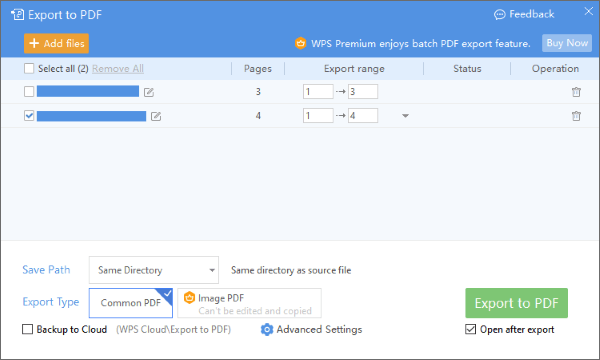 2.2 On Android and iPhone
There is a WPS Office app for both Android and iPhone, which users can use to convert their documents to PDF free. The best part is that the layout for Android and iPhone is the same. This helps in maximizing user experience and interactivity within the application.
Here are steps to convert Word to PDF on mobile devices using WPS Office app:
Step 1. Download the app from Play Store or App Store. Launch the app and open the document to convert.
Step 2. Click on the toolbar in the lower left corner.
Step 3. Choose the "File" option and select "Output as PDF" when done.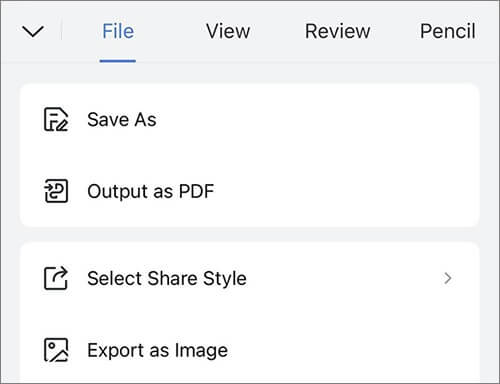 May Like:
Unlocking Efficiency: How to Create Fillable PDF from Word Effortlessly
How to Combine Documents with Merge PDF Online Free Tools
3. How to Convert Word to PDF Offline with Microsoft Word [Windows & Mac]
Microsoft Office Suite is also a handy tool to open or edit your documents and save them as PDFs. Below are the steps:
Step 1. First, open your document and hit the "File" option at the upper left of the screen.

Step 2. Tap on "Export" from the available options.
Step 3. Below the "Export" tab, you will find the "Create PDF/XPS Document". Click on it.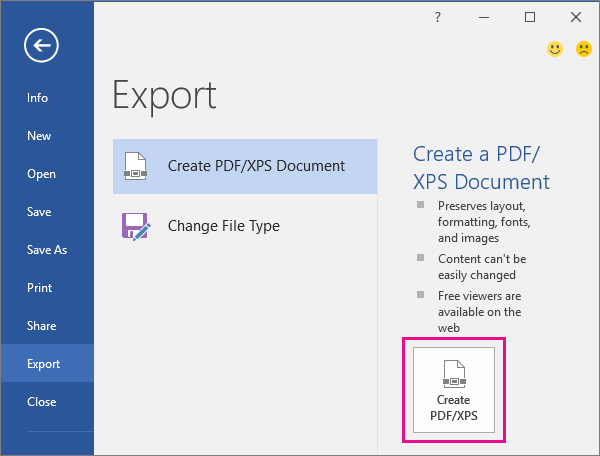 Step 4. A new window will appear. Choose where to save the file and hit the "Publish" icon to begin the conversion process.
Can't Miss:
Efficient Collaboration: How to Email a Google Doc as a PDF
[Useful Office Tips] How to Scan Document to PDF in 5 Easy Methods
4. How to Convert Word to PDF Offline via Preview App [Mac]
Preview app is an in-built PDF viewer that allows you to save Word documents as PDFs offline. This image viewer app comes preinstalled on macOS and can also view PDFs.
It is useful when viewing digital images or if you want to print them. Apart from that, you can also view PDF files with the Preview app. However, you cannot edit the file like you would in a Word processor. After you open the Doc with a preview, the app will let you turn it into PDF format.
Here are the steps to follow:
Step 1. First, open the Doc file you want to change to PDF. It's automatically open in the Preview app; if it doesn't, just right-click on the file and choose "Open With Preview".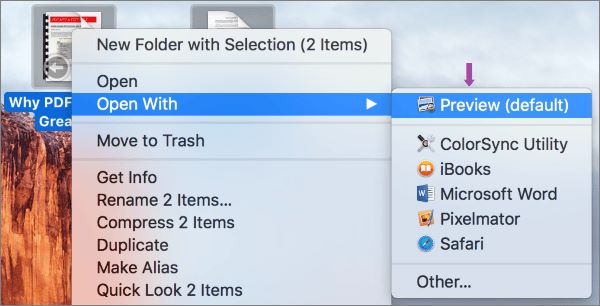 Step 2. Head to the "File" tab, then the "Export As PDF" option. Decide where you'll save the file and press "Save".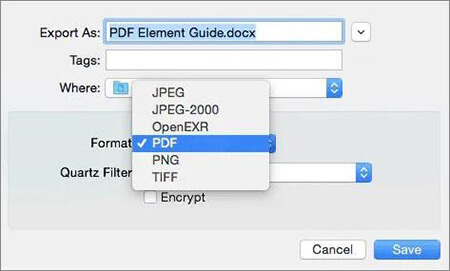 See Also:
How to Save a Google Doc as a PDF? [Computer & Mobile Device]
Effortless PDF Conversion: How to Save Google Docs as PDF on iPhone
Part 2. FAQs on Converting Word to PDF Offline
Q1. What's the best converter Doc to PDF offline?
Among the Word-to-PDF converters on the market, Coolmuster Word to PDF Converter is the best tool in terms of speed, accuracy, security, and ease of use. You can worry-free convert your documents to PDF quickly and with high quality while maintaining consistency in layout.
Q2. Can I turn Word Doc into PDF offline for free?
Yes. Microsoft Office allows users to convert Doc to PDF free. It's a preinstalled app available on Windows computers. If your computer has Word 2007, 2010, or 2013, you can easily save Word files to PDF formats. Furthermore, other third-party tools can also help, though they may have limitations.
In the End
That's all on how to convert Word documents to PDF offline. We have outlined different tools you can use to create PDFs offline. Just choose the most suitable tool according to your needs. If you prefer using a more dedicated tool, consider choosing Coolmuster Word to PDF Converter. It is competent, simple to use, and provides quick results.
Related Articles:
Simplify Your Workflow: How to Merge PDF Files in Minutes
Mastering PDF Merging: Learn How to Merge Two PDF Files Like a Pro
Word to PDF Hyperlinks Not Working? Troubleshooting Tips and Tricks
Effortless Document Transformation: Converting Word to PDF with iLovePDF
How to Merge Multiple PDF Files Like a Pro: Step-by-Step Guide
How to Convert Word to PDF Free Offline & Online: Easily Solved