In today's digital age, visual content plays a crucial role in communication and documentation. Whether it's an eye-catching graphic, a scanned document, or an illustration, preserving the quality and professionalism of these images is essential. This is where the conversion from PNG (Portable Network Graphics) to PDF (Portable Document Format) comes into play. By transforming PNG images into PDF documents, you can unlock a multitude of benefits, from enhanced compatibility to secure and shareable files.
To change PNG to PDF, you will need a converting tool like PNG to PDF Converter. Instead of finding the most suitable one in the Interface by trial and error, I recommend you use Coolmuster
PDF Creator Pro
, which is an easy-to-use and cost-effective PDF tool to convert a lot of PNG files to Adobe PDF quickly in 3 steps. If you are interested with this program, you can read on to learn the step-by-step guide.
Step 1. Install the Coolmuster Program
Click Download to get the installation package of the PDF Creator Pro. Double click the .exe file to install it on your computer and click the quick start icon on the computer desktop to launch the software to get ready.
Step 2. Upload PNG Images
The program offers not only the PDF converting ability. It can also allow you to convert Text, Word, MOBI and other image types such as JPG/JPEG, TIFF, BMP, and GIF to PDF format. For converting PNG to PDF, you should select Image to PDF conversion type and then click "Add Files" to import the target PNG files into the program.
Batch conversion mode is supported by this application. So, if you are in a hurry, you can upload an array of PNG images at one time.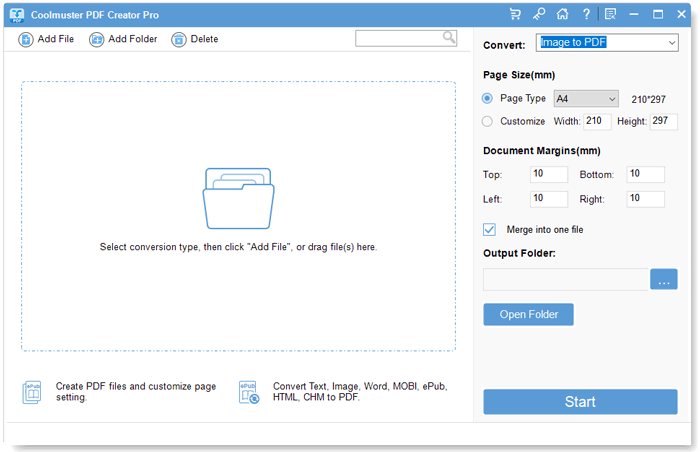 Step 3. Output Settings (Optional)
1. You can click the Browse button to choose an output folder for saving the output PDF files if you don't want to save them in the source folder.
2. If you want to merge multiple PNG files into one single PDF, you can check the "Merge into one file" option.
Step 4. Ready to Convert
Here is the final step. What you need to do is just clicking the Start button to let the converter begin the conversion from PNG files to PDFs.
If you do not want to convert all the imported PNG files, you can right-click on specific PDF file and choose "convert selected" to convert it separately. The conversion can be finished in seconds. After that, you can hit the button of "Open" to check the output PDF files. You will be surprised by the high quality of the PDF documents.
In conclusion, the conversion from PNG to PDF offers a range of benefits for preserving the quality and professionalism of visual content in today's digital age. By utilizing a reliable converting tool like Coolmuster PDF Creator Pro, you can easily and efficiently transform PNG images into PDF documents with just a few simple steps.
With Coolmuster PDF Creator Pro, you have the flexibility to convert a large number of PNG files to Adobe PDF quickly and effortlessly. The program supports batch conversion, allowing you to save time and streamline your workflow. Additionally, you can customize the output settings, choose the destination folder, and even merge multiple PNG files into a single PDF for better organization.
By following the step-by-step guide provided, you can convert PNG to PDF with ease and achieve high-quality PDF documents that meet your professional standards. Experience the convenience and efficiency of Coolmuster PDF Creator Pro for yourself, and unlock the power of transforming images into polished, versatile, and shareable documents.