"I have lots of pages that are scanned into .tiff format. How do I convert them into .pdf for easier web viewing? Is there any easy way to do it while keeping the good quality? Any suggestion is appreciated!" - Question from Yahoo!Answer
If you like the questioner above who want to convert TIFF, as well as other image formats like BMP and GIF, to PDF document so that you can save them on your computer and transfer them to tablet for reading. You need to find a professional TIFF to PDF Converter to help you convert TIFF images into PDF files. If you do not have the tips on choosing a suitable tool, this article will tell you the way.
My recommendation here is using Coolmuster PDF Creator Pro, which allows you convert TIFF to PDF format with one mouse click. Zero quality loss during the conversion and all original elements can be preserved in the output PDF files. You can also combine multiple TIFF images into one single PDF document thanks to the merge function provided by this application.
Read on to learn the Mac based guide for converting TIFF to PDF step by step (Windows users can refer this guide - how to create PDF from other file types). First of all, you should download the trial version of the program to get ready.
Easy Steps to Convert TIFF to PDF on Mac (BMP, GIF, etc.)
We are going to set the Mac version as example. If you are a Windows user, you can depend on the Windows version of the Coolmuster PDF Creator Pro to perform the same steps on Windows 8/7/XP.
Step 1. Upload TIFF Images
After launching the PDF tool, choose "Image to PDF" from the interface and click "Add Files" to import the TIFF files you want to convert. You can also upload the images in other formats, including BMP, GIF, JPG, JPEG, PNG, etc.
Batch conversion mode is supported by this application. So, if you are in a hurry, you can upload an array of TIFF images at one time.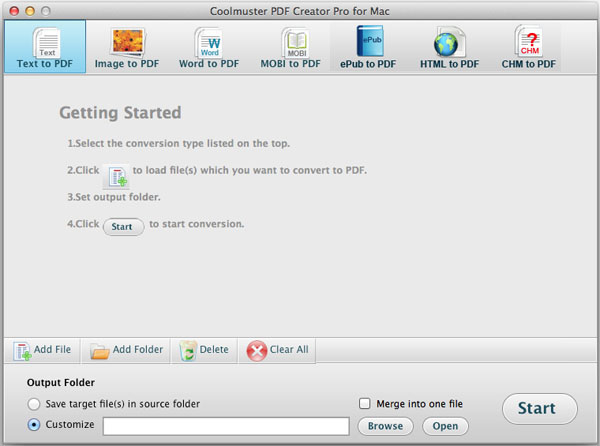 Step 2. Customize Output Settings
The converter will put the converted PDF files to the source folder. If you want another location, you can click the "Browse" button to choose an output folder on your own.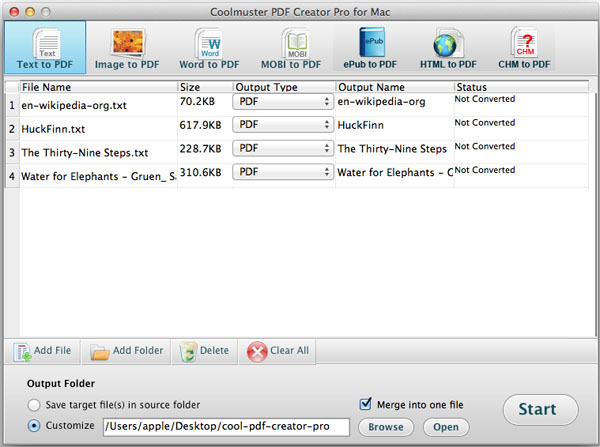 Step 3. Convert TIFF to PDF (Optional)
At last, what you need to do is just clicking the "Start" button to let the converter begin the conversion from TIFF files to PDFs automatically. If you do not want to perform batch conversion, you can right-click on one of the imported PDF files and choose "convert selected" from the drop-down list to convert it separately.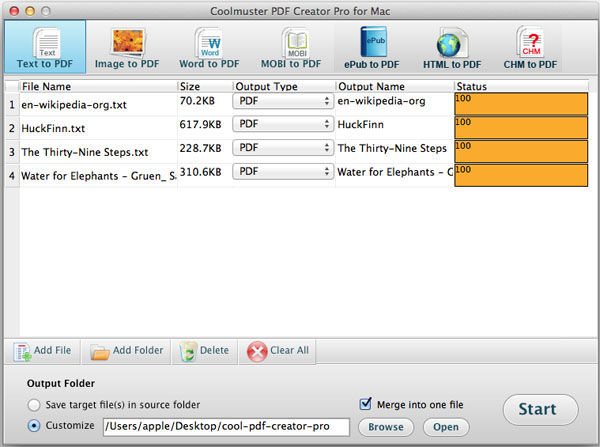 After a short waiting time, the conversion will be finished. You can press the button of "Open" to check the output PDF files. That is all!
Well, you are able to convert BMP to PDF and convert GIF to PDF with the same operations above. Have you learnt it?
More Tips about The Coolmuster PDF Creator Pro
1. Clicking the "Merge into One File", you can combine multiple imported files into one single PDF.
2. Not only for image files, the PDF tool is also good at converting Word, Text, MOBI, etc. to PDF.
3. You are allowed to customize PDF page size, margin size and PDF security before you start the conversion.
4. Get it to explore more its features.
In conclusion, Coolmuster PDF Creator Pro offers an easy and efficient solution for converting TIFF, BMP, GIF, and other image formats to high-quality PDF documents. With its user-friendly interface and batch conversion capability, you can quickly transform your images into professional PDF files. Experience the convenience and versatility of Coolmuster PDF Creator Pro and unlock a world of possibilities for managing and sharing your documents.