Pictures help to preserve the memory of a specific place and time. But what if you want to compile them in a single document before sharing them with others? In such a case, you should know how to turn a picture into a PDF.
Besides the ease of sharing, converting a picture to PDF reduces its size, meaning you can use less storage space while having digital access to a vast library of documents. Accessing PDF files shared online is also easy because they're compatible with mobile devices, and they don't require additional software to open.
Have you been considering how to change a picture to PDF? This guide shares useful online and offline tools to help you achieve a seamless conversion process.

Part 1: How to Make a Picture into a PDF Offline
Offline picture-to-PDF converter tools are the perfect option for anyone looking to turn pictures into PDFs without internet connectivity. One major benefit of such tools is that they allow for seamless document conversion without compromising quality. They also support the conversion of different image formats.
Check out how to convert pictures to PDF with free offline tools.
Tool 1. How to Convert Picture to PDF Using Coolmuster JPG to PDF Converter
Coolmuster JPG to PDF Converter should be your go-to option when converting multiple image files simultaneously, as it supports batch file processing. This tool also provides the option to adjust your document page size and orientation.
The Coolmuster JPG to PDF Converter uses advanced algorithms to preserve the document's original image resolution and color accuracy after conversion. You also have the option to re-arrange, re-name, and merge several image files in one PDF document. Additionally, the document conversion process is quicker as the software features an easy-to-use interface suitable for people of all skill levels. Read on to learn about this tool's key features and steps to use it.
Features of the Coolmuster JPG to PDF Converter
Convert multiple image files seamlessly regardless of their file format.
Benefit from plenty of customization options after document conversion.
Retain the image quality and color accuracy after the conversion is complete.
Enjoy quick file conversion on an easy-to-use interface
To convert your image files to PDF, here are the steps you should follow.
01Download the Coolmuster application and launch it on your computer. Click the Add File or Add Folder option on the user interface to import the images you want to convert. Alternatively, drag and drop your files on the user interface, and they will appear as a list.
02Select the files you wish to convert from the list, then set the output page sizes and document margins. You can then choose your preferred output folder or retain the default setting.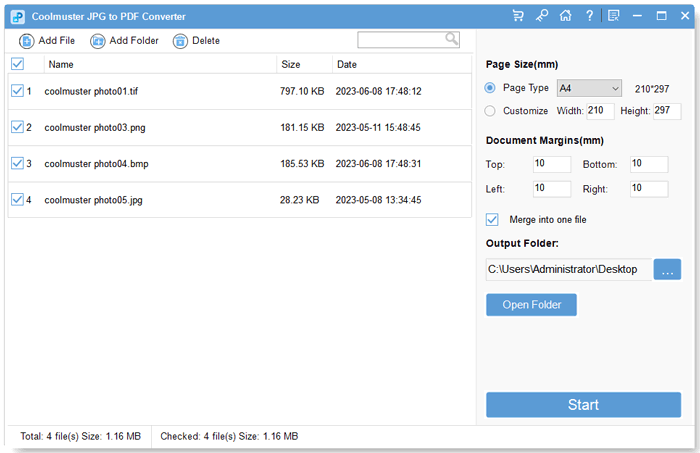 03Click on Start to begin the document conversion process. You'll see a progress bar on the user interface showing the progress of your conversion. When complete, a pop-up window will appear. Click on Show in Folder to access your converted document.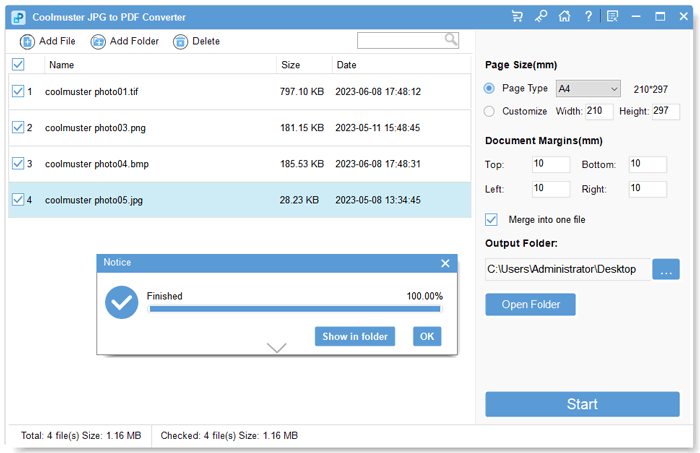 Also read:
How to Insert PDF into Word Easily [A Comprehensive Tutorial]
Text Be Gone: How to Remove Text from PDF [The Complete Tutorial]
Tool 2. How to Save Picture as PDF on an iPad or iPhone
If you've always wanted to convert PDF documents on a mobile device but don't know how to turn a picture into a PDF on iPhone, you should know that the process is quick and easy. All you need to do is long-press the photo and follow a few prompts.
Here are detailed steps on how to convert pictures to PDF on iPhone.
Step 1. On your iPhone home screen or app library, click on the Photos application. Tap and hold to select the image that you wish to convert. Click on the Share icon and select Save to Files. Choose your preferred folder and tap Save.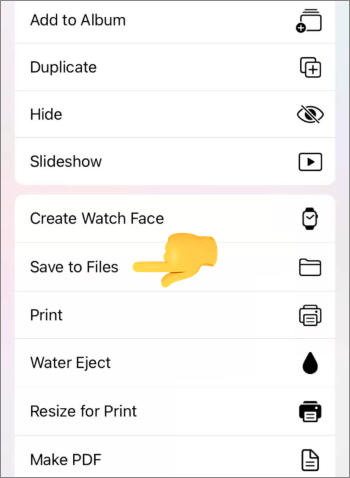 Step 2. Open your device files app and locate where you have saved your image. Long press on the image and tap on Create PDF from the context menu. iOS will automatically create a PDF document with the name of the original document.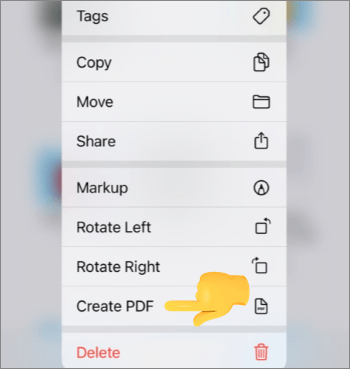 Part 2: How to Make a Picture a PDF Online
Online picture-to-PDF tools provide an effortless way for people working with a few image files to convert them with ease. Most tools will have an easy-to-use interface that makes converting files easier, even for beginners. You are also assured of the security of your documents because most of them will be deleted within a few hours.
If you've never used an online file conversion tool before, you probably are thinking, how do I turn a picture into a PDF online? Here are a few tools and the steps you should take.
Tool 1. PDF Converter
PDF Converter offers top-notch security for your documents as they use a 256-bit SSL encryption during the image conversion process. After the file processing, you have up to three hours to download and save them, or they'll be automatically deleted. Using this image-to-PDF converter, you can also enjoy seamless file conversion of documents across different devices and operating systems.
Here's how to change a picture to PDF using a PDF converter.
Step 1. Navigate to the PDF Converter website, and on the main interface, click on Choose Image file. You can upload your file from Dropbox, Google Drive, or Website URL.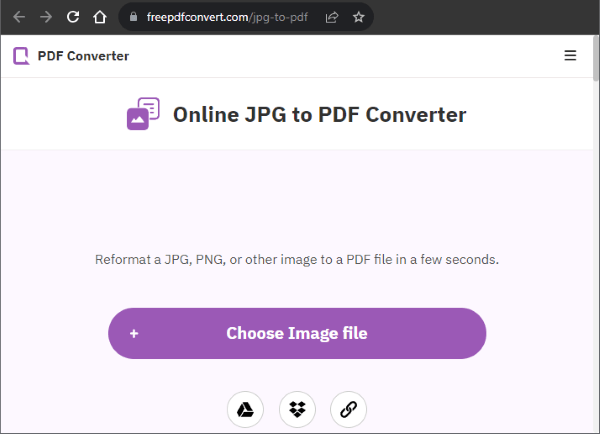 Step 2. Your file will convert and download automatically. If you have several images converting, you can choose the Merge Images to One PDF option and click Create PDF to merge all images into one document.
Tool 2. 11zon
11zon JPG to PDF converter allows users to add and convert multiple files on a user-friendly interface. Unlike most tools, you can convert multiple tools unlimited times. The security of your files is guaranteed because all the uploaded files are automatically deleted from the server within 2 hours.
Here's how to save pictures as PDF free online using 11zon.
Step 1. Click on Select JPG to choose the image you wish to convert. Alternatively, you can drag and drop the files on the user interface.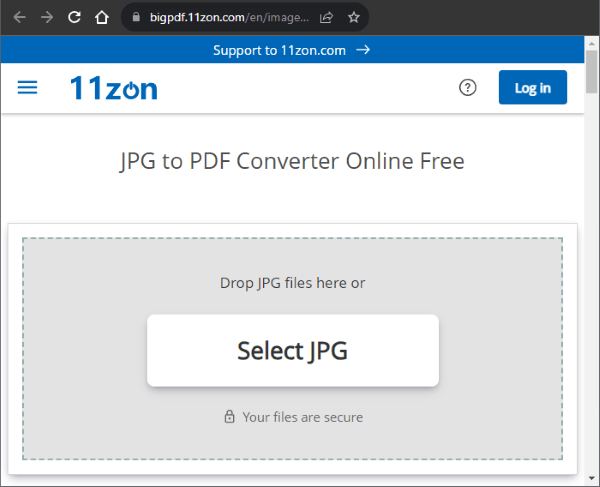 Step 2. Choose your desired file format (A4, US Letter, Fit (as image size), output document orientation (Portrait or Landscape), and Margins (Small, Big or No Margin). Select the output quality and tap on CONVERT TO PDF.
Tool 3. PDF2GO
PDF2GO allows users to quickly change image files of different file formats to PDF. After adding the image, you can convert it with OCR, which converts files with text that can be edited. You'll also love its easy-to-use interface that allows for quick use even for beginners.
Learn how to save a picture as a PDF online for free using PDF2GO.
Step 1. Navigate to the PDF2GO website and click on Choose File to upload your file, or you can drag and drop your files on the user interface.
Step 2. Choose between Convert and Convert with OCR. When you select Convert, all your pages will be images. Convert with OCR option will convert your scanned paged to editable text. You also have the option to apply or not to apply a filter.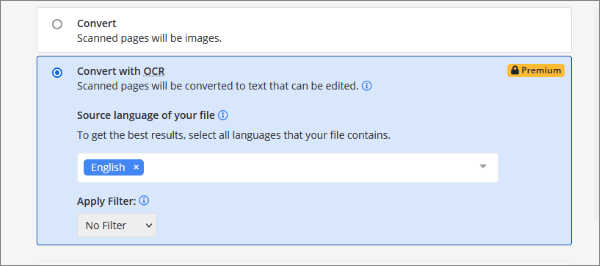 Step 3. Check the Enable Deskew option to fix crooked images, select your preferred PDF version, and click START to convert your image.
See also:
From PDF to Pages: Streamline Your Document Editing Process
Unlock Your PDFs: Effortlessly Convert PDF Files to PNG Images
Tool 4. CleverPDF
CleverPDF stands out from its competitors by allowing users to customize the output file easily. For instance, they can set their preferred page size and margins. They can also add multiple PDF files and combine them into a single image.
Here are the steps you should follow to combine pictures into a PDF:
Step 1. Upload the images you would like to convert by clicking on Choose file. You also have the option to upload your document by dragging and dropping it on the user interface or via Google Drive and the website URL.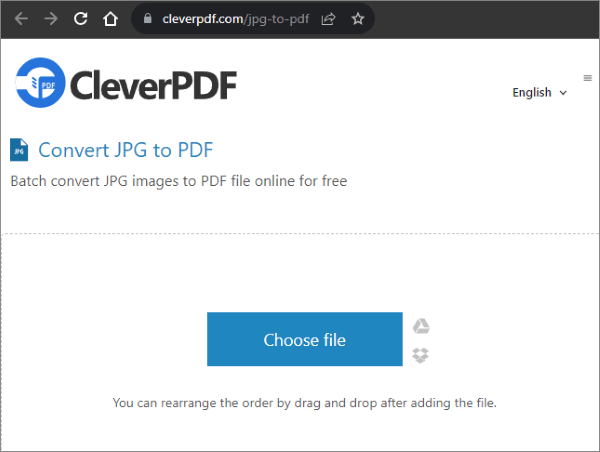 Step 2. Set your PDF page size by selecting the custom page size. Choose your desired page margin and click Start Conversion to convert your image to PDF.
Tool 5. ILovePDF
ILovePDF allows for seamless conversion of PDF documents on the cloud. It also allows for the conversion of documents in different file formats. The security of your documents is guaranteed because the files uploaded can be automatically deleted after being processed.
Here are the steps you need to follow.
Step 1. Click on Select JPG Images to upload the images you wish to convert. You can also drag and drop the images on the user interface or upload them via Google Drive or Dropbox.
Step 2. Select the page orientation (landscape or portrait), page size, and margin, then click Convert to PDF to begin the conversion process.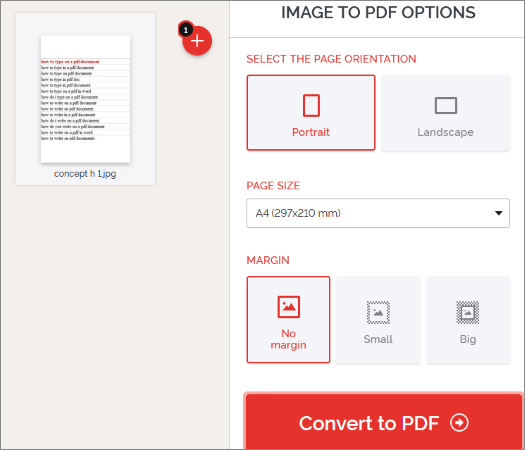 Conclusion
Picture-to-PDF converters provide an effortless way to convert images for free. Whether you use offline or online tools, most tools will prove batch processing of files. You also have the option to perform different customization options, like changing the margins and orientation of the output file.
Among all the different conversion tools, the Coolmuster JPG to PDF Converter should be at the top of your selection options. Using this tool guarantees you'll retain your document image quality, color accuracy, and resolution.
Related Articles:
How to Change TIFF/BMP/GIF to PDF Format on Mac OS X?
How to Create Watermark on PDF Files?
How to Create Bookmarks on PDF Using Adobe Acrobat?
PNG to PDF: Transforming Images into Professional Documents
Fortify Your PDF Fortress: Unlocking the Secrets of Secure PDF Files
From PDF to Perfection: Discover the Top PDF Converter Software