Are you looking for ways on how to extract text from a PDF? Here's a breakdown of the best online and offline extractors that will ensure you get the best results.
PDF text extraction isn't as simple as you think because few PDF readers can extract text from PDFs. The issue compounds if your PDF contains tables or other forms of non-linear data that cannot be easily copied and pasted. However, many software tools can help you extract text from PDF text and image-based documents. Read to learn about these tools.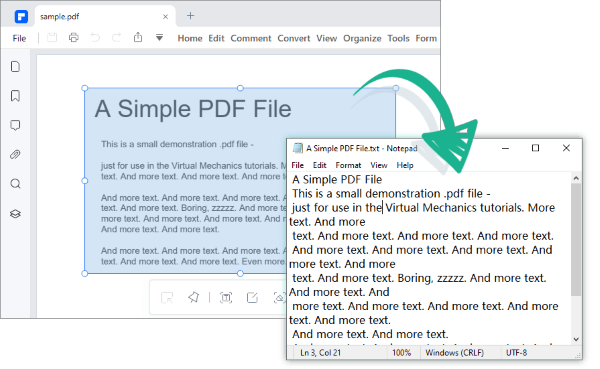 Part 1. How to Extract Text from a PDF Offline
If you're looking to extract text from your PDF files but don't want to be limited to working in a place with a stable internet connection, offline text extractors are worth considering. Most offline tools have an optical character recognition (OCR) feature that ensures quick text extraction from images on PDFs while keeping the formatting intact.
Offline text-to-PDF extractors are compatible with Windows and MacOS and allow for text extraction of multiple documents simultaneously. Here are some of the best offline tools worth trying out today.
Tool 1. PDF Editor
PDF Editor lets users quickly extract text from documents while retaining the images or font size. This text extractor from PDF uses OCR to scan your document and accurately detect text from an image-based PDF document. Still, you can use the software to extract text-based PDF documents using the software edit function.
It is also possible to extract tables from PDF documents to other forms like CSV or Excel in an organized format. Additionally, this PDF extractor allows for batch data extraction from PDF documents, and you can use it across different operating systems, including MacOS and Windows.
Check out the key features of using this tool:
Extract text from PDF to Excel, PowerPoint, and Word, among other formats.
Quick and effortless extraction of text using OCR.
Upload and extract text from PDF quickly on an easy-to-use interface.
Extract text effortlessly from image-scanned PDF with an in-built OCR feature.
Ready to extract PDF to text? Here are the pdf text extract steps you should know about.
01Download and install PDF Editor on your computer. Select the PDF file to extract text by clicking on Open File.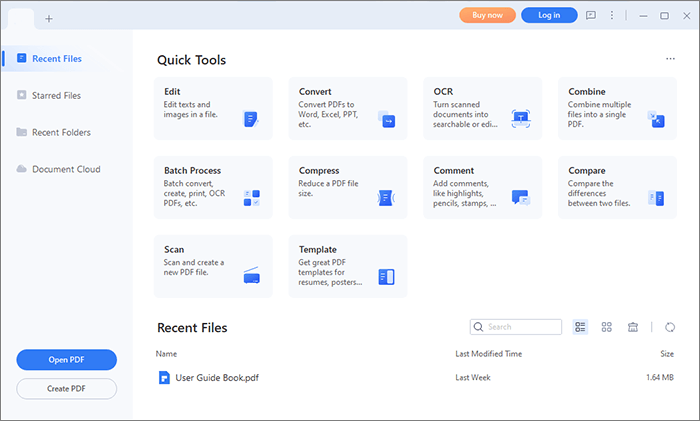 02Navigate to the Edit tab section and choose the Edit switch button in the top right area. Choose the text you want to extract, right-click, and click Copy.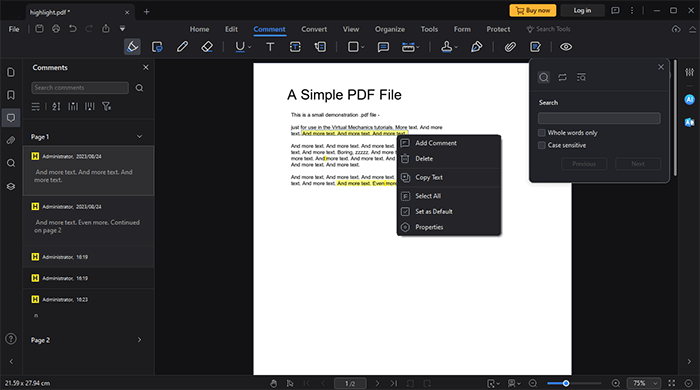 03The other option is to convert your PDF document to Word. To do this, select To Word below the Convert tab. A pop-up window will appear. Click Save to convert your PDF to Word. Your document will be automatically converted to Word, and you can extract content from your new file.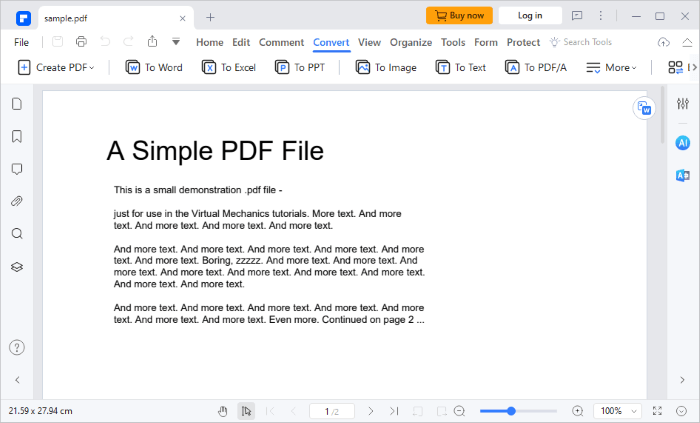 You might also be wondering:
Ultimate Way to Extract Text Messages from iPhone Backup [Latest Tutorial]
No More Limits: How to Copy Text from Protected PDF on Mac and Windows
Tool 2. PDFGear Text Extractor
PDF Gear Text Extractor is among the leading PDF editors with plenty of tools that allow you to perform different functions like writing text on PDF, adding signatures to documents, etc. You'll also find it handy if you're hoping to extract text from PDF. This tool is free to download and use, and you can use it on both Windows and MacOS. If you want to extract text from image-based scanned PDFs using PDFGear, you'll need to use the OCR (Optical Character Recognition) tool.
Check out the steps to extract text from PDF images using PDFGear.
Step 1. Download, install, and run the PDFGear application on your computer. On the main interface, click the Open File button, and you'll be redirected to your computer's File Explorer to choose the PDF you wish to edit.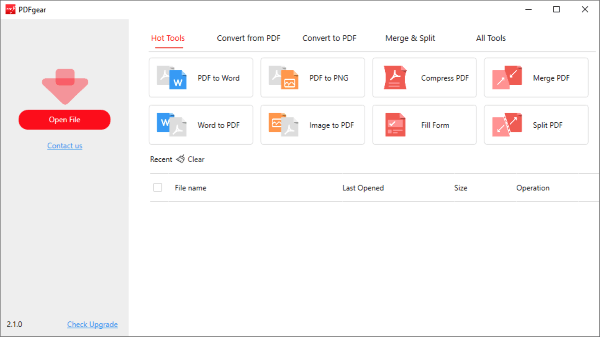 Step 2. On the tabs section of the software main interface, Click Home, then click and hold down the left mouse button to choose the area where to extract your text. Once complete, click Done to extract text from the image PDF without losing the formatting.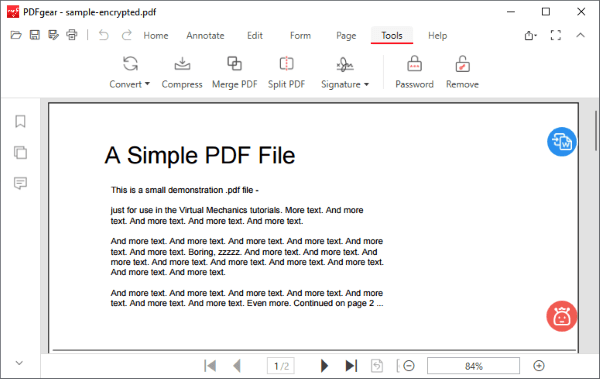 Part 2. How to Extract Text from a PDF Online
Online tools provide a quick and effortless way to extract text from PDF documents. Unlike the offline tools that provide the option for batch file processing, most online tools will not allow text extraction from multiple PDF documents. For those with this option, they have a limitation on the file size or the number of pages you can extract text at a given time.
Here are a few tools to help you extract all text from PDF online.
Tool 1. PDF Candy
PDF Candy is a reliable tool for extracting text from PDF without distortion. This online tool automatically applies OCR to uploaded PDF documents, capturing the text to be extracted. As an online-based PDF-to-text extractor, it eliminates the need to download programs and applications. All you have to do is upload your document and get the converted file with a few clicks.
Check out how to extract text from PDF using PDF Candy.
Step 1. Navigate to the PDF Candy extract text page and click the Add File option. You can also drag and drop your files on the main user interface or upload them via Dropbox or Google Drive. Your file will be automatically converted.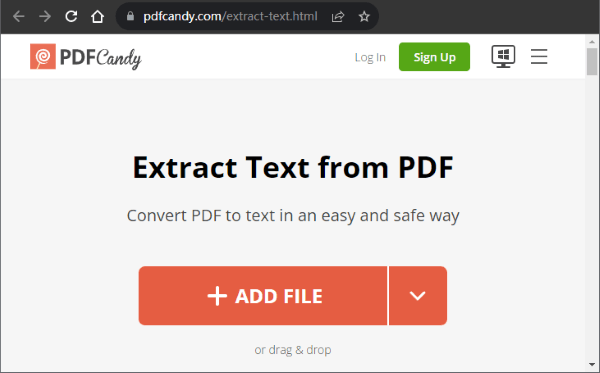 Step 2. Click Download File to download your document. You also have the option to upload to Google Drive or Dropbox. After downloading, delete the converted file by clicking Delete File.
Tool 2. PDFCreator Online
PDF Creator Online offers quick extraction of text from PDF files in simple clicks. With this tool, you can process multiple documents simultaneously up to a maximum size of 250 MB. The extraction process takes just a few seconds.
Step 1. Upload PDF files by clicking Select File. You can also upload your files via URL or drag and drop them on the user interface. Your text will be automatically extracted.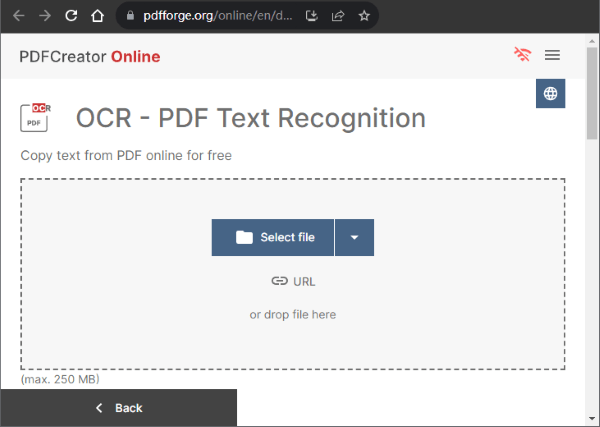 Step 2. Click on Download to save the extracted text on your computer.
Tool 3. Image to Text
Image to Text should be your go-to tool when extracting text from an image PDF file. This tool features an Optical Character Recognition service that efficiently extracts text from PDF. After converting your files, you can download your document in the text(txt) or Word(doc/docx) format. In addition to downloading your file, you can copy text from your PDF in real time using the Copy to Clipboard. This tool is also easy to use because you don't need to provide your personal information before extracting your files.
Here are the steps for quick text extraction from PDF using Image to Text.
Step 1. Drag and drop your PDF document on the user interface. You can also copy and paste your document on the interface. Click Submit to start the document conversion process.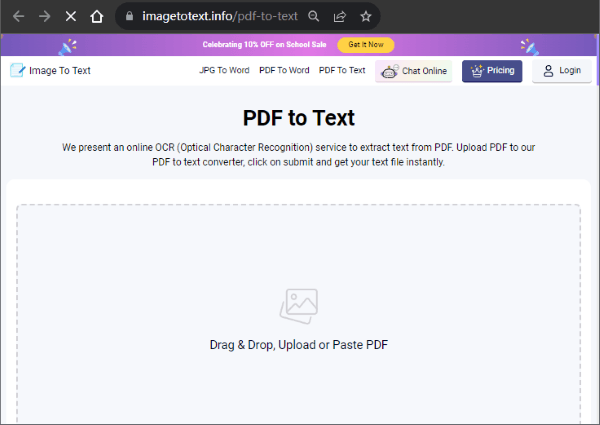 Step 2. Click on Save as Document to download your document or Copy To Clipboard to edit it online.
Read more:
Unlocking Visual Treasures: How to Extract Stunning Photos from PDF on Mac
Preview Alternative: Fast Convert PDF to TIFF/GIF/BMP on Mac
Tool 4. OCR 2 Edit
OCR 2 Edit should be your preferred online PDF text extractor if you want to extract image-based PDF text quickly. You can open the extracted text using different types of document editors. This platform also has an easy-to-use interface that makes uploading and extracting files quicker.
Here are the steps you should take while extracting text from PDF.
Step 1. Click Choose File to select the PDF from which you wish to extract text. You can also drag and drop on the user interface to upload your document.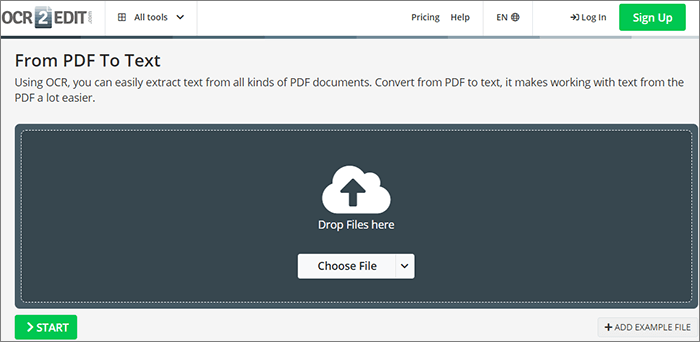 Step 2. Select the language of your document, choose whether or not to apply the filter, and click Start. Your document will convert automatically to text. Download your document as a Zip File or upload it to the cloud.
Tool 5. Sejda PDF
Sejda PDF allows for quick extraction of text from PDF in simple steps. This tool guarantees the safety of your uploaded files because all the converted files are automatically deleted after 2 hours. You can also extract as many documents as you like, as it's less than 50 MB and not more than 200 pages.
Here are the steps to extract text only from PDF using sejda PDF.
Step 1. Upload the files you wish to extract your text. Alternatively, upload your files from Dropbox, Google Drive, OneDrive, and Web Address.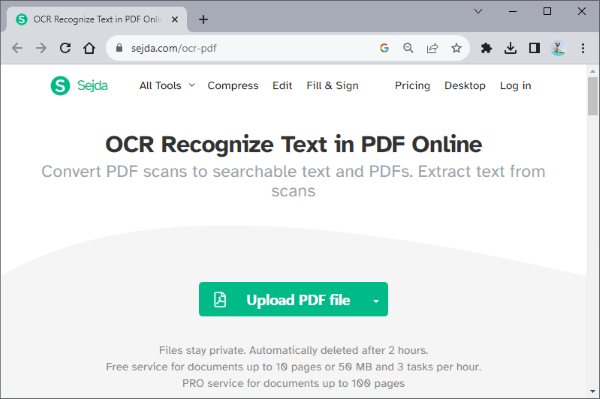 Step 2. Click on Extract Text to begin the extraction process.
Step 3. Click Download and your document will be automatically saved on your computer. You also have the option to save it to Dropbox, OneDrive, and Google Drive. After downloading your files, you can click Delete Files to delete your documents automatically.
Conclusion
Editing a scanned PED image or text-based PDF document isn't easy unless you extract the text in editable format. However, you can easily accomplish such a task if you use any of the tools mentioned in this guide. If you are working on many documents, offline tools may be very useful. The online tools are worth trying if you have a few documents you want to extract text from quickly. Regardless of the text extractor you choose, you can be sure you'll retain your document's original formatting.
Related Articles:
From Pixels to Paragraphs: PDF Image to Text Conversion
[Office Tips] 7 Ways to Extract Images from PDFs You Should Try
No-Cost Magic: How to Convert PDF to JPG Free Like a Pro
How to Convert TIFF to PDF: Online and Offline Methods Unveiled
Efficient PDF Enhancement: How to Add Image to PDF Like a Pro
How to Scan a Picture to PDF Like a Pro? Your Ultimate Guide