In today's digital age, PDF documents have become an integral part of our professional and personal lives. While they are incredibly versatile and convenient, there are times when we need to perform specific actions on PDFs, such as removing unwanted text. Whether you're striving for a cleaner document, enhancing confidentiality, or adapting content to new needs, the ability to remove text from PDFs is a valuable skill.
This comprehensive guide will explore various methods and tools that empower you to efficiently and effectively eliminate text from your PDF documents. With the information in this article, you'll be able to get rid of any unwanted text from your PDFs.
Part 1. How to Remove Text from PDF with PDFelement (Recommended)
PDFelement provides a comprehensive service for removing text from PDF documents. This program can modify PDF content, such as text, pictures, hyperlinks, etc. Among its many features, the standout function is the capability to effortlessly remove text from PDF files. This feature proves invaluable for a myriad of applications, ranging from safeguarding sensitive information and redacting confidential data to making textual revisions within PDF documents. It works fine on PCs, Macs, iOS, and Android.
Some key features of PDFelement are:
Add and remove text from scanned documents and recognize text in PDFs in a few clicks.
Build fillable forms with customizable fields that can be used everywhere on the platform.
Convert files to and from PDF format while maintaining a high level of quality, and edit PDFs as if they were Word documents.
Set up your digital signatures with 256-bit AES encryption for passwords and incorporate different permissions and document management.
PDFelement makes it easy to remove text from PDFs; here's how to do it:
01Download PDFelement and start it. To open a new PDF document for editing, select it from the "+" button. You can now select a PDF file from the list of recently utilized files.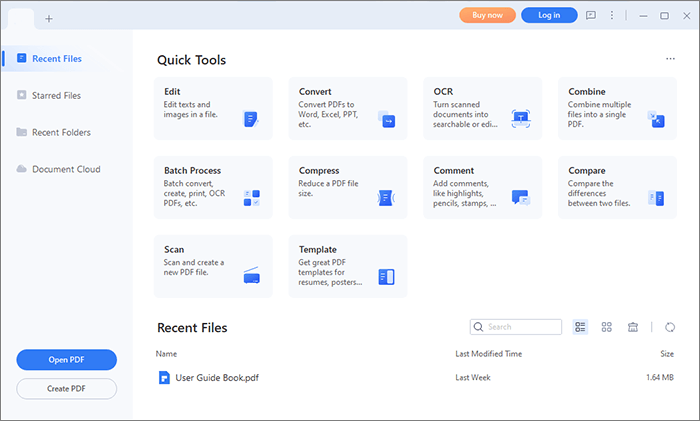 02Select the "Edit" tab to enter editing mode. Delete an undesired paragraph by selecting the text, right-clicking it, and selecting "Delete".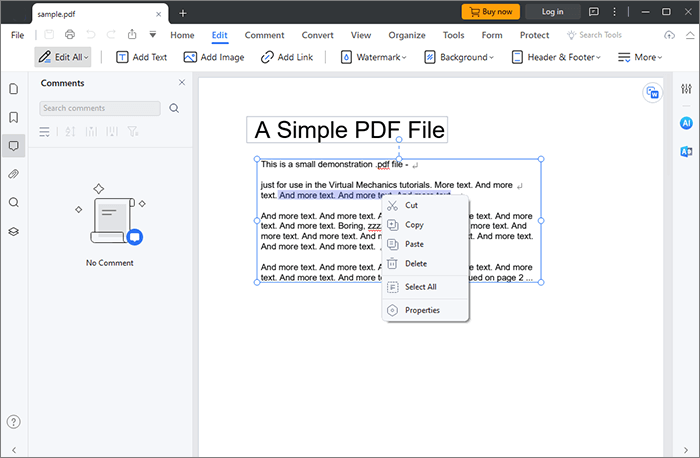 03Select "Save As" in the File bar to store the PDF. The removed text is no longer present in the original PDF file.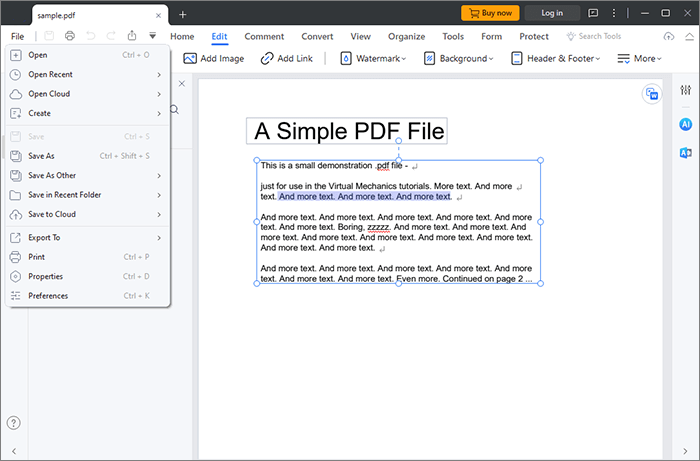 Read More:
How to Remove Watermark from PDF Effectively? [5 Amazing Ways]
How to Remove Highlight in PDF with Effect [Expert Tips]
Part 2. How to Remove Text from PDF - Offline Methods
Offline text removal from a PDF can be accomplished with the help of PDF editing software. This feature might be helpful when you need to change the text within a PDF to fix errors or add new text. Here are the apps to remove texts from PDFs:
Method 1. How to Remove Text from a PDF by Adobe Acrobat Reader
Adobe Acrobat Reader is compatible with Mac and Windows computers. It allows you to read documents in dark mode and contains several simple functions like highlighting text, adding text, and comments.
Here is how to delete content in Adobe:
Step 1. Download and launch Adobe Acrobat Reader, navigate to the Tools menu, and choose "Edit PDF".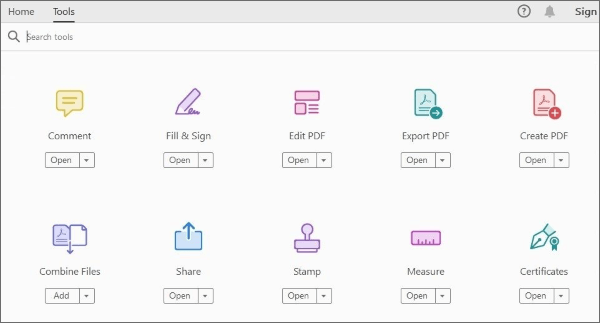 Step 2. To delete a text, click it and hit the "delete" icon. You can delete the text by clicking as many times as you need to make enough dots. Enlarge them as you move them around. When done, save your file with an erased text.
Method 2. How to Remove Text from a PDF Through Preview
Preview is an application available exclusively on Mac devices. With it, you can easily highlight, annotate, and sign PDF documents, among many other things. Preview, however, is not a PDF editor and so does not have the option to erase text in PDF files. If you want to hide the text in a PDF file, all you need to do is draw a white rectangle over it. Preview also can remove text from scanned and searched PDFs.
So how do you PDF remove text on Preview?
Step 1. Download the Preview app. Read the PDF. Choose "View" > "Show Markup Toolbar".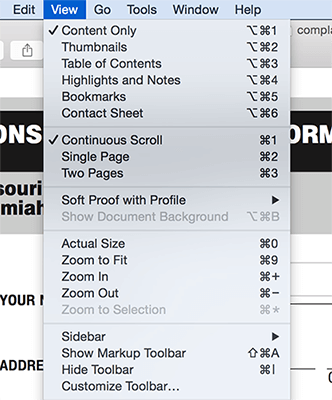 Step 2. Choose a "shape", then change its settings so that its fill is white and its borders are transparent.
Step 3. You can hide text by dragging the shape over them.
Step 4. Click "File" > "Save" after covering the text.
See Also:
Unlock Your PDFs: The Ultimate Guide to Removing Password Protection
Unrestricted Access: Mastering the Art of Removing Security from PDF
Part 3. How to Remove Text from PDF - Online Methods
In addition to offline PDF editors, several options are available online to remove PDF text. Online PDF text remover does not require downloading any program and is compatible with any OS. The tools outlined below show you how to remove text from PDF online:
Method 1. How to Remove Text from PDF by PDFZorro
PDFZorro is a web-based service that offers a simple way to edit PDFs in various ways, including annotating, highlighting, and even erasing text. Follow these simple steps to delete text in PDF using PDFZorro:
Step 1. Launch PDFZorro from its main webpage in a web browser. Open the PDF and select "Upload". You can also import a remote URL or transfer a file from Google Drive.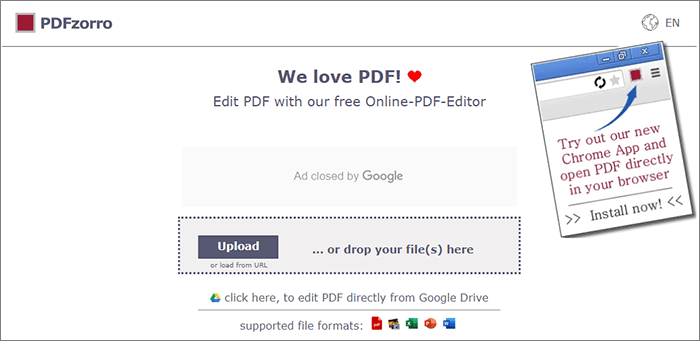 Step 2. Click "start PDF Editor" after uploading the file. In the following window, choose the pages from which you want to remove text PDF.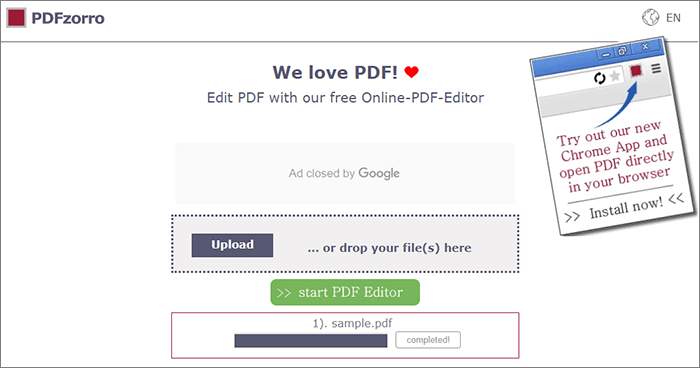 Step 3. Select "Erase" from the panel's main menu. Select the region on the PDF you want to delete, then drag the tool over it. After removing the text from the PDF, click "SAVE" to complete the process.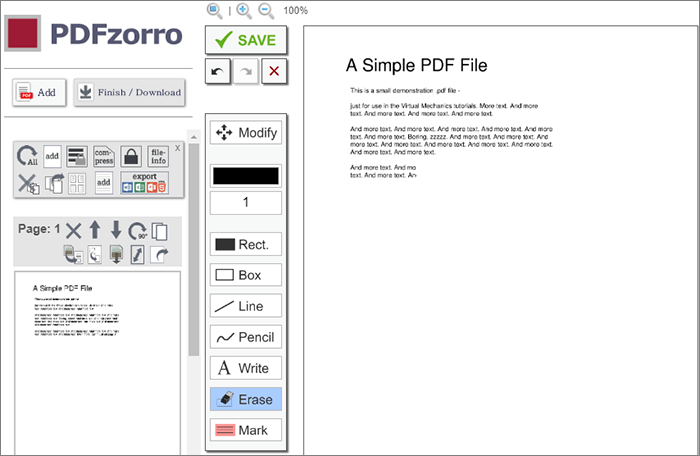 Method 2. How to Delete Text from PDF with iLovePDF
iLovePDF is a powerful web-based platform that provides a wide range of PDF tools, including compression, merging, splitting, conversion, unlocking, and signing. iLovePDF provides a simple method with a user-friendly interface to remove text from a PDF, making it a viable option for simple text editing tasks.
Here is how to edit PDF to remove text using iLovePDF:
Step 1. Visit the iLovePDF webpage. Drop the PDF here or choose "Select PDF file" to upload a PDF.
Step 2. Click on the "Add shape" icon, specifically the option for a rectangle.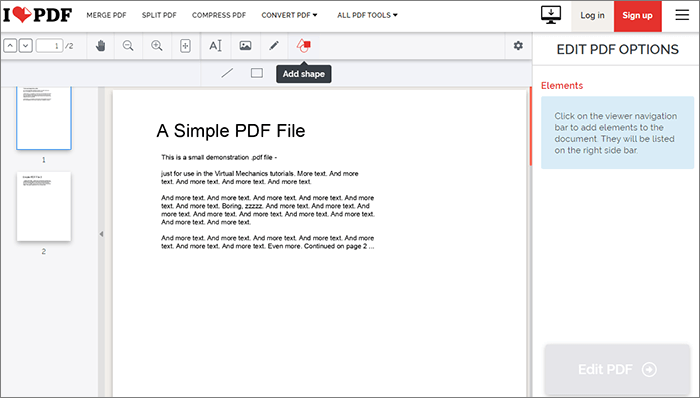 Step 3. Set the border and fill the colors to white. Resize and move the rectangle over the object you wish to delete, and when you're done making shifts, select "Edit PDF" to save your work.
Can't Miss:
Effortless Document Transformation: Converting Word to PDF with iLovePDF
Streamline PDF Management: A Comprehensive Review of iLove PDF Merge
Method 3. How to Delete Text from PDF via Google Docs
Google Docs is a prevalent online word processor in the cloud and can be used to create and modify documents anywhere with an internet connection. While it lacks a native PDF editor, Google Docs can turn a PDF into a document that can be edited before being re-exported as a PDF.
Here is the simple procedure for using Google Docs as a PDF text remover:
Step 1. Open your Google Drive account. Click the "+ New folder" button on the left-hand side. Select "File upload" and choose the PDF document you want to edit.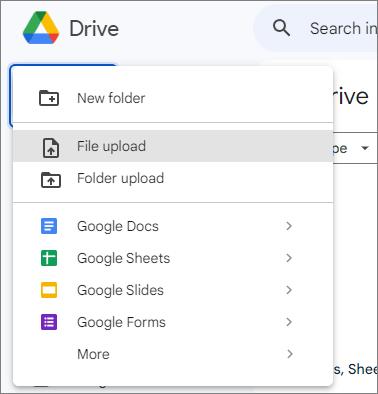 Step 2. Once the PDF is uploaded, right-click on it within Google Drive. Select "Open with" and choose "Google Docs". Google Docs will convert the PDF to a Word document.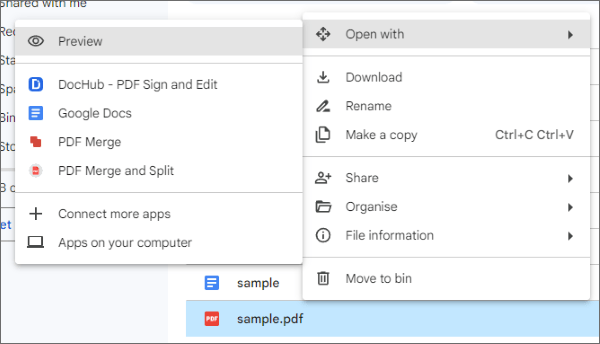 Step 3. Tap on the text you want to remove and right-click. Then select "Delete".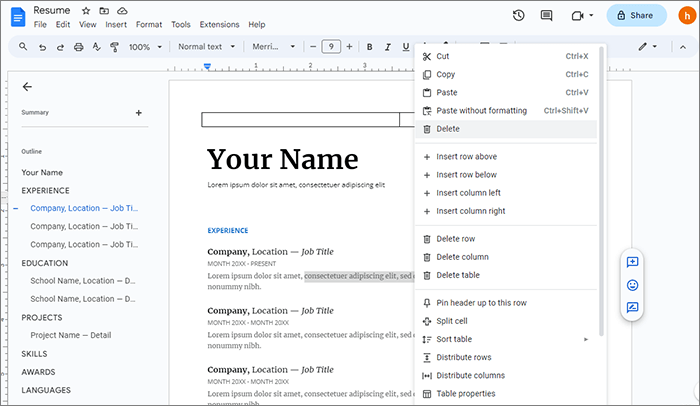 Step 4. When you're done editing the document, select "File" > "Download" > "PDF Document (.pdf)" to save it in its original format.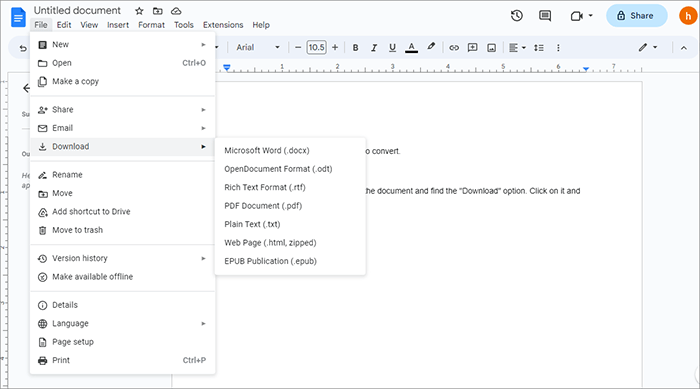 Method 4. How to Delete Text from PDF Using PDFfiller
PDFfiller is an online tool to help you make the necessary edits to your PDF. It is an easy way to change PDF files on your device. It lets you edit PDF text by removing, editing, replacing, and highlighting.
Here is how to delete text from PDF using PDFfiller:
Step 1. Visit the PDFfiller online website and click "Browse for a Document on Your Computer".
Step 2. Select the "Text" tool, which gets you to Erase. Highlight the PDF text you want to remove, then hit the "DONE" button. All your changes have been saved.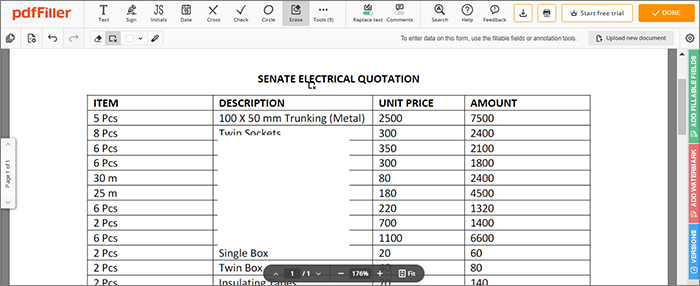 May Like:
Best Programs on How to Remove Password from PDF on Mac [Newest]
The Best Free PDF Security Remover Tools to Recommend [7 Tools]
Method 5. How to Remove Text from PDF Through Sejda
Sejda is a web-based PDF editing tool that offers a range of features, including the ability to remove text from a PDF document. You can use Sejda as follows:
Step 1. Go to Sejda's web and upload your PDF.
Step 2. Go to the PDF file, find the text you must remove, and press the "Delete" icon.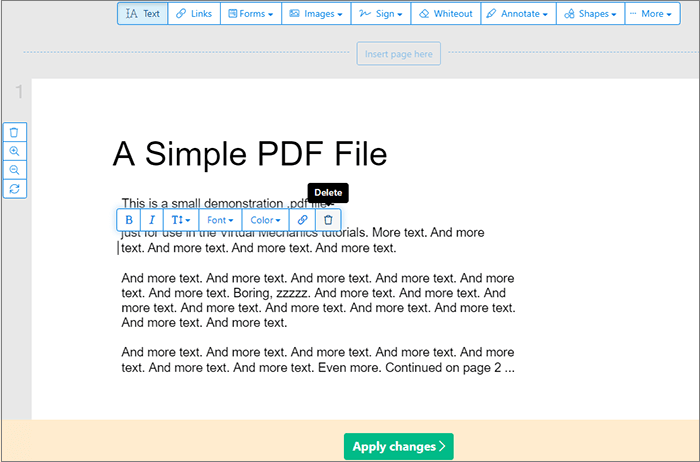 Step 3. Once done, hit "Apply changes".
The Verdict
PDF text can be deleted immediately and permanently with professional offline PDF editors. At the same time, some free and online programs temporarily cover the material with white forms that can be moved and undone with ease. Thus, PDFelement is the better option to remove text from PDF. Download it now at a reduced price and enjoy extensive editing capabilities.
Related Articles:
[Solved] How to Remove Permissions from PDF Files Easy & Efficiently
[Useful PDF Tips] How to Open Password-Protected PDF Without the Password
How to Remove Password from PDF on iPhone with the Most Popular Apps
Say Goodbye to Restrictions: Adobe PDF Remove Password Solutions
[Office Solutions] How to Send Password Protected PDF in 6 Different Ways
How to Convert JPG to PDF Like a Pro [Computer & Mobile Phones]