PDF is a popular document format because of its small size and compactness. However, specialized software or plugins are required to access the files. This could be a major hassle if you don't have the method to view PDF files. That's why learning how to convert PDFs to JPGs is important. The JPG file format is used to store compressed digital images.
When searching for a PDF-to-JPG converter, it might be time-consuming to evaluate many options before settling on one. Reading this article, which provides demos of reliable converting programs, many of which are free of charge, will simplify your search.
Part 1. How to Convert PDF to JPG Using Offline Methods
PDF to JPG conversion using offline tools is a dependable and flexible alternative, especially for handling highly confidential documents without access to the internet. These programs' flexible settings give you complete command over the output images, including their quality, resolution, and other parameters. Here are some offline methods you can rely on to convert a PDF to JPG.
Method 1. How to Convert PDF into JPG by Coolmuster PDF to JPG Converter [Hot]
Coolmuster PDF to JPG Converter converts your PDFs into high-quality photos, making it simple to edit and share your PDFs in an appealing visual format. It supports converting PDF files to various image formats like PNG, JPG/JPEG, TIF, GIF, and BMP. With the ability to choose individual pages or page ranges at will and batch convert PDF files to picture formats, you can quickly and easily process massive amounts of documents.
Don't worry if you can't find the pages you need to convert since Coolmuster PDF to JPG Converter includes a built-in file viewer, so you can see a preview of your PDF before converting it. Your PDF files' layout, photos, text formatting, tables, hyperlinks, and graphics are protected by the program's careful handling during conversion.
With just a few clicks, you can use Coolmuster PDF to JPG Converter on your Windows to save PDF as JPGs. Here are some key features of this PDF-to-JPG converter that make it stand out among other converters:
Create images in JPG, PNG, TIF, BMP, or GIF format from a PDF file effortlessly.
Retain the design, typefaces, and images as they were originally.
Convert as many image files from PDFs as you'd like.
Preview the document and pick which pages or page ranges to convert.
Produce accurate conversion results quickly with an intuitive UI.

Free Download for PC
Here is how to change PDF to JPG using Coolmuster PDF to JPG Converter:
01Download and install the program. Open it, and to add the PDFs you intend to use, click the "Add File" or "Add Folder" button.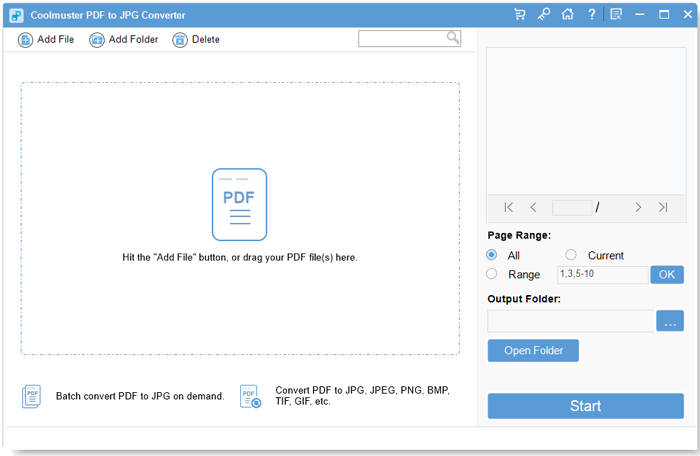 02Choose PDFs, set page range ("All", "Current", or "Range"), and pick an image format ("JPG", "PNG", "TIF", "BMP", "GIF") from the Mode drop-down. Files saved in the original PDF folder or select a new location via "Browse".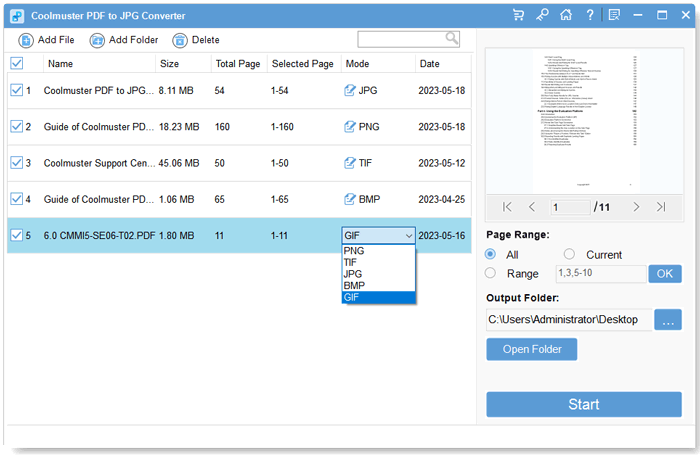 03Click "Start". A bar showing the current completion percentage will show the work status. Select "Show in folder" from the pop-up box or "Open Folder" from the program's main menu to view the converted files.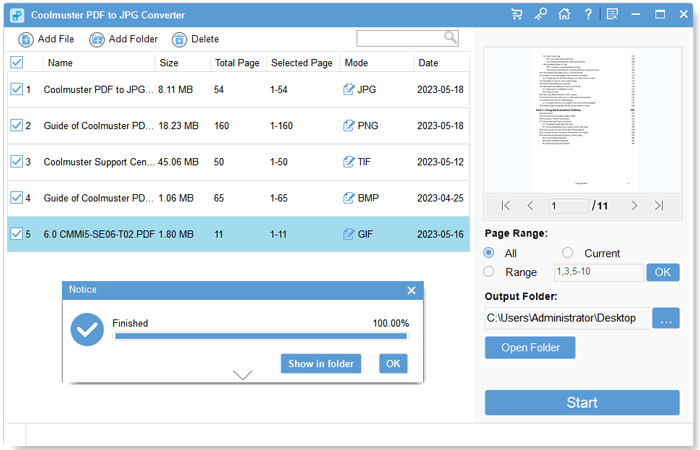 Read More:
From PDF to Picture: How to Convert Your Documents into Images
How to Combine JPG to PDF Files Offline & Online [Windows/Mac]
Method 2. How to Convert PDF into JPG via Adobe Acrobat
Adobe Acrobat is widely recognized as a popular software tool for converting PDF files to JPG image format. The PDF to JPG image converter provides first-rate converting services and maintains the original image quality. Adobe Acrobat's batch processing tool makes it simple to convert many PDFs to JPG images simultaneously, saving you time and effort over doing so manually.
Here's how to convert a PDF to a JPG using Adobe Acrobat:
Step 1. Download and install Adobe Acrobat. Choose the PDF to work with, and select "Export PDF" from Tools.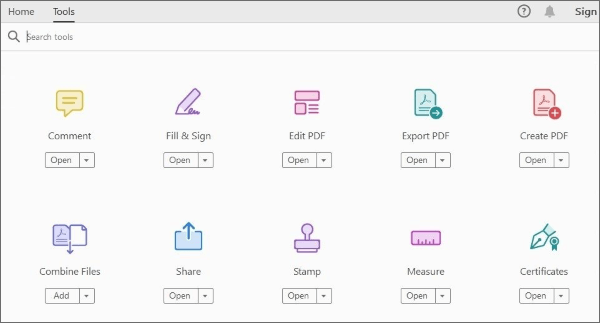 Step 2. You can see the export formats on the Export your PDF to any format. Selecting "Image" will bring up a list of available image file types. Choose "JPEG" > "Export".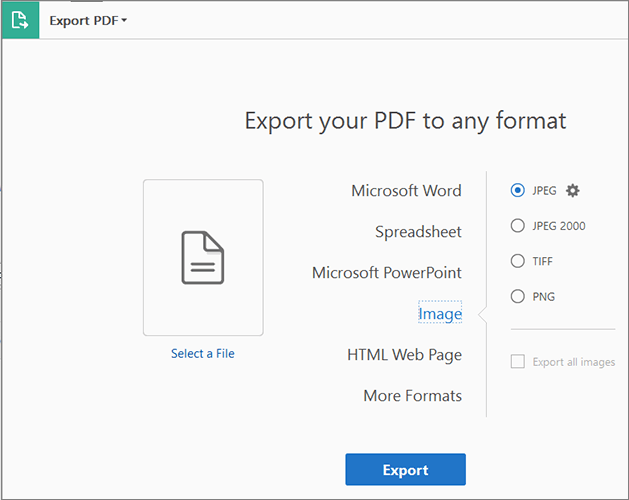 Step 3. A save as dialogue box will appear once the conversion is done. Select a destination directory and provide a name for your file. Then tap "Save".
Method 3. How to Convert a PDF to JPG Through Preview
Preview, a built-in software on macOS, makes it easy and convenient to convert PDFs to JPG photos. It's a program that can read and make minor changes to many different file formats, but PDFs are what it's most commonly used for. Here are the simple steps to turn PDFs into JPGs using Preview:
Step 1. Right-click on the PDF you want to open and select "Open With" > "Preview".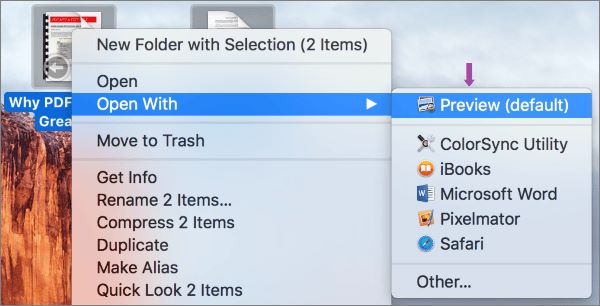 Step 2. Click on the PDF page you wish to convert into a JPG. Then go to "File" > "Export" from the main menu.
Step 3. Preview's export window will pop up. Select a location to store your new JPG file, click "Export As", and give your file a new name. Select "JPEG" format and choose quality. You must not adjust the resolution. Then, save your file.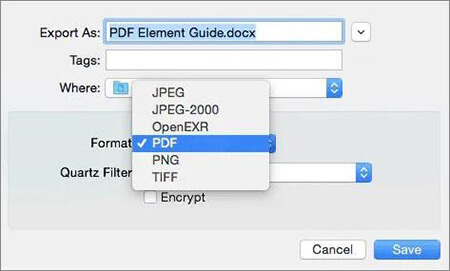 Can't Miss:
How to Convert Password Protected PDF to Without Password: Approved Methods
[Easy PDF Solutions] How to Convert Scanned PDF to Word via Multiple Ways
Part 2. How to Make a PDF into a JPG Using Online Methods
Online PDF to JPG image conversion provides a flexible and easily accessible option for users on various platforms and devices. Because it doesn't require any additional software, it's great for spontaneous conversions. Converting PDFs to JPGs is made possible through the following online ways:
Method 1. How to Convert PDF to JPG Using iLovePDF
iLovePDF is a straightforward program that facilitates the conversion of PDFs into JPGs and is available for both Mac and Windows users. In addition to converting PDFs to JPG, the file converter allows you to merge, split, compress, organize, optimize, rotate, edit, repair and unlock PDFs.
Here are the simple steps to save PDF as JPG using iLovePDF:
Step 1. On iLovePDF website, select "PDF to JPG" from the homepage and click the "Select PDF files" button.

Step 2. After the file is loaded, click the "Convert to JPG" button.
Step 3. Download JPG images.
Method 2. How to Convert from PDF to JPG with Smallpdf
Smallpdf is among the top options for converting PDF to JPG. The PDF converter utilizes cloud storage for convenience in converting PDFs to JPGs. The service is available without registration or software download so that you can use it instantly. Smallpdf converts PDFs to high-quality photos in seconds, and it does not limit the size of uploaded files. Here is how to change PDFs to JPGs using Smallpdf:
Step 1. On the Smallpdf Convert PDF to JPG web, tap "CHOOSE FILE".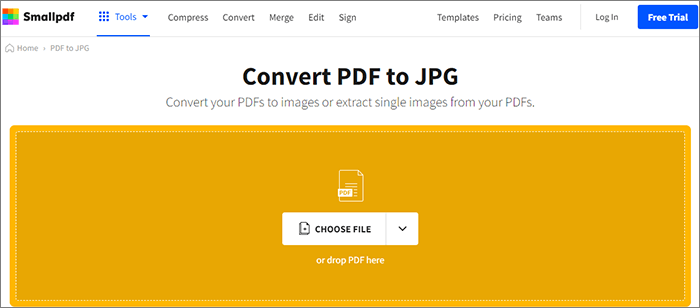 Step 2. Click "Convert entire pages" > "Choose option".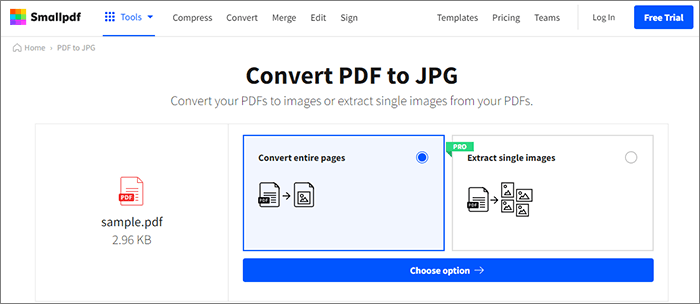 Step 3. Download your converted file.
May Like:
Mastering the Art: How to Copy PDF to Word Like a Pro [5 Ways]
How to Embed a PDF into Word Effortlessly? [Tips and Tricks]
Method 3. How to Turn PDF into JPG Through PDF2Go
PDF2Go is a robust tool that facilitates the conversion of PDF files into JPG photos for users. The software can enhance the image quality to a higher standard and apply other photo effects to files without requiring installation. Here is how to use PDF2Go to convert a PDF to JPGs:
Step 1. Visit PDF2Go, click "Choose File", and upload your PDF.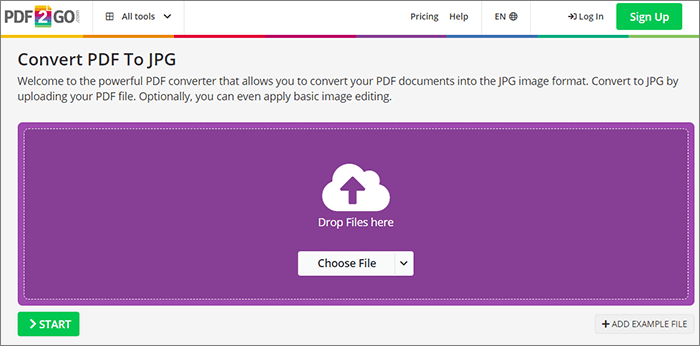 Step 2. In the Optional Settings, you can change the resulting image's size and quality, enabling Deskew to fix the crooked image and apply a filter. Then click "START".
Step 3. Once done, download your JPG file to your device.
Method 4. How to Convert PDF into JPG by Adobe Acrobat Online
Adobe Acrobat's online services let you convert your PDF to a TIFF, JPEG, or PNG image file so long as you're connected to the web. The Acrobat PDF to image converter is compatible with all major browsers, including Chrome and Microsoft Edge on any OS.
With the free PDF to JPG converter, you can easily make JPG files that look just like the original. Use the below simple procedure to turn PDF into JPG using Adobe Acrobat's online service:
Step 1. Go to the Adobe Acrobat Online website and click on the "Select a file" button to upload the PDF file you want to convert.
Step 2. After uploading the PDF, you'll have options to configure your conversion settings. Once you've configured your settings, click the "Convert to JPG" button. Adobe Acrobat Online will process your PDF and convert it into JPG format.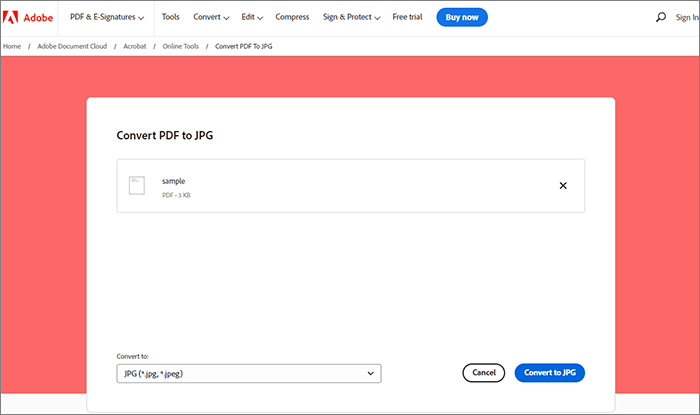 Step 3. After the conversion is complete, Adobe Acrobat Online will provide a button to download your JPG file. Click on it to save the JPG to your device.
See Also:
[Easy Guide] Convert Word to PDF via Adobe Acrobat & Alternatives
Simplify Document Management: Adobe Merge PDF in Action [Updated]
Method 5. How to Convert from PDF to JPG with PDF Converter
The PDF Converter UI is straightforward and intuitive, making it ideal for anybody looking to change PDF files to high-quality JPG photographs quickly. PDF Converter is not limited to converting files from PDF to JPG format. It also has various PDF editing features like compress, merge, split, rotate, etc.
Here is how to use PDF Converter to JPG:
Step 1. On the PDF to JPG Converter, click "Choose PDF file".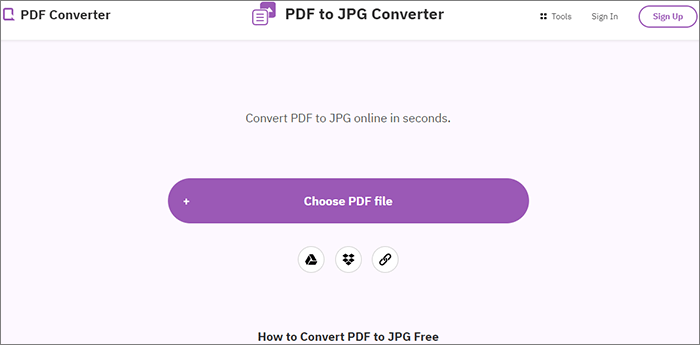 Step 2. Once the PDF is uploaded, select "Screen quality" > "Apply Changes".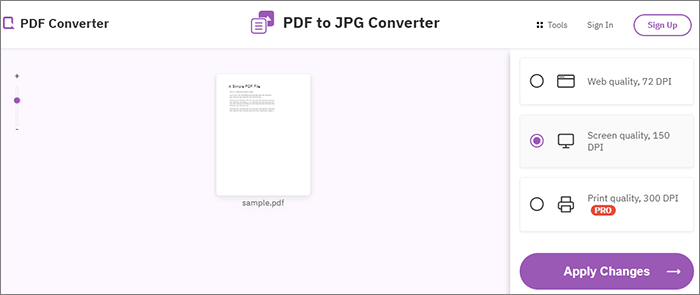 Step 3. Download the JPG.
The Verdict
This article provides a comprehensive overview of PDF-to-JPG converters, enabling you to manage the conversion process using your preferred approach confidently. When working with JPG files, thinking about things like image quality, resolution, and personal preferences is important. If you're unsure how to convert PDF to JPGs, try Coolmuster PDF to JPG Converter. Get your PDFs transformed into the perfect photos by downloading this program now.
Related Articles:
[Easy Office Solution] How to Link a PDF in Google Docs | 4 Methods
How to Combine PDF Free Effortlessly: Easy Steps and Solutions
Efficient PDF Enhancement: How to Add Image to PDF Like a Pro
How to Scan a Picture to PDF Like a Pro? Your Ultimate Guide
[Make Your Office Easy] How to Decrypt PDF Fast and Freely in 9 Ways
How to Remove Pages from PDF: Insider Tips for Quick Results