We all agree that passwords enhance a PDF document's safety and privacy. However, receiving a PDF-protected file means you must key in the password whenever you want to access it. Sounds fun, right? Well, it cannot be very enjoyable when it takes time to recall a password, to the extent of calling the sender back and forth to remind you.
Know how to save PDFs without a password and say goodbye to such frustrating hassles. You will realize the processes and steps involved aren't as hard as people make it sound. It's worth it when you opt for ways that save you time and effort. This article covers the six efficient ways to save password-protected PDFs without a password. From the different ways, Coolmuster PDF Password Remover tops as the best and most sought-after tool in the marketplace.
Way 1. How to Save PDF Without Password by Coolmuster PDF Password Remover [Best]
Your worries about "How can I save a PDF without a password" ends when you learn about the Coolmuster PDF Password Remover. This simple yet well-featured password recovery tool has gained traction over the years, and you can be sure it will not disappoint you. As a comprehensive software, it has everything you need to remove a password from your PDF on a computer.
A question that comes to your mind when you encounter such an app is, "Is it possible to remove a PDF password instantly and safely?" We understand that most people trying to unlock the PDF password hesitate to try out some tools because they don't deliver what they promise. The Coolmuster PDF Password Remover secures your file data when you upload it for saving or conversion – no password leakage or exposure. More so, the process requires a few of your seconds when you can remember the password.
In a nutshell, here are some of the key features of this tool:
Unlock passwords in seconds.
Remove passwords from multiple PDF documents.
Secure connection and processing.
Three easy password removal steps.
Best for unlocking most secured PDF files.
Follow these three steps to learn how to save a password-protected PDF to a normal PDF on your computer.
01Install and open the Coolmuster PDF Password Remover on your computer. Hit the "Add File" to upload the PDF files. Confirm you have the appropriate PDFs you want the password removed.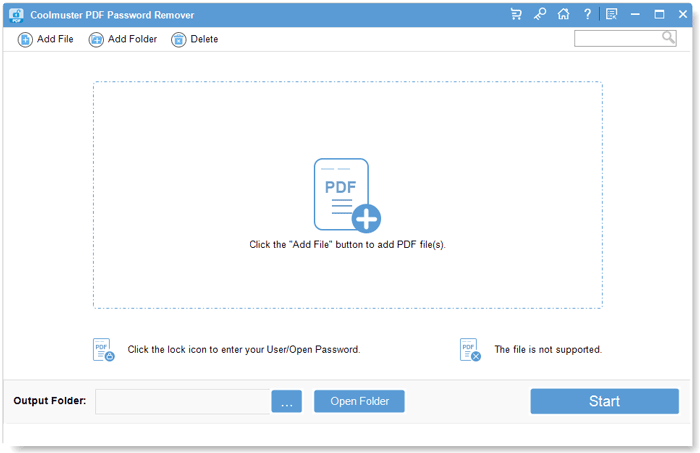 02From the "Output Folder", select a location you want to store your PDFs once they unlock.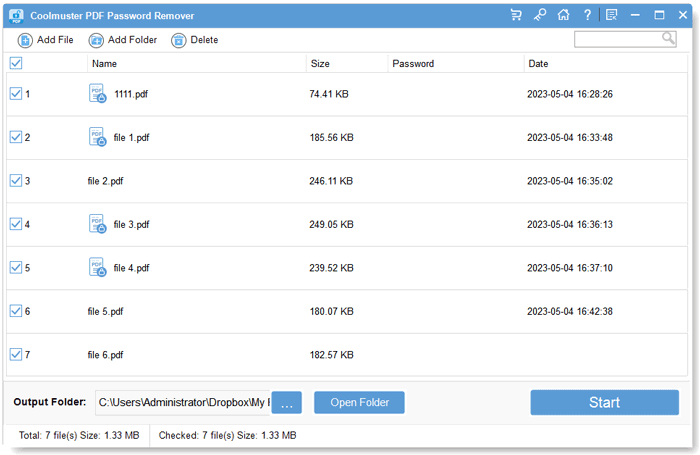 03Next, click the "Start" option. The encryption process will proceed immediately. Once done, hit "Show in folder" from the pop-up to access unlocked files. The PDFs are saved in your folder of choice without a password.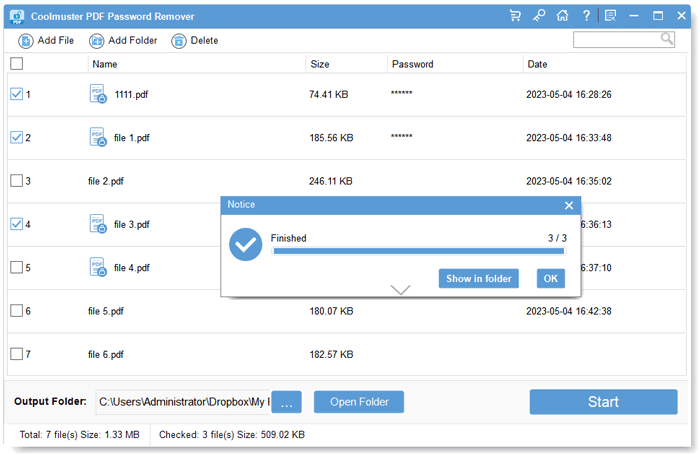 Read More:
Unlocking the Secrets: How to Remove PDF Passwords on Your Mac
Unrestricted Access: Mastering the Art of Removing Security from PDF
Way 2. How to Save a PDF Without Password Using Microsoft Edge
"Can I save a password-protected PDF as unprotected on Windows?" The answer is yes. If your computer runs on Windows 10/11, you should be able to access this Microsoft's native app easily. Microsoft Edge allows you to provide the PDF's password and remove it from the print option.
Once you have the password with you, follow these simple steps:
Step 1. Key in the password to open the PDF with Microsoft Edge. From the PDF toolbar, click on "Print".
Step 2. Choose the printer's "Microsoft Print to PDF" option and proceed to "Print".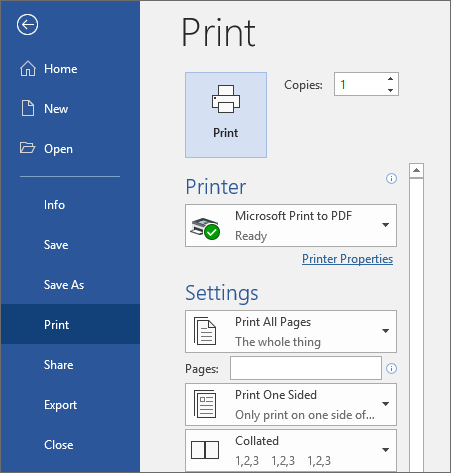 Step 3. Choose the storage location and name, then save your unprotected PDF.
See Also:
Effective Ways to Password Protect PDF Files with Sensitive Data
How to Save a Google Doc as a PDF? [Computer & Mobile Device]
Way 3. How to Save a Password-Protected PDF Without a Password with WPS Office
WPS Office continues to get preference for its expansive features and limited storage space. It also allows you to read, modify, and manage your PDF. Ready to give it a try?
Follow the four steps to save your PDF without a password.
Step 1. Use the password to open your PDF in WPS Office.
Step 2. Go to "Protect", then hit "Encrypt".
Step 3. The Encryption pop-up box shows up; uncheck the "Set password of editing and extracting" box.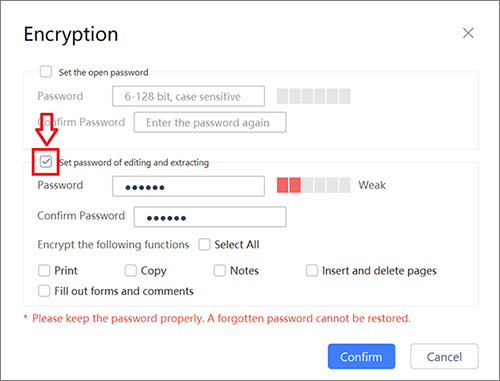 Step 4. Press "Confirm" to remove the password. Your PDF saves again and without a password.
Way 4. How to Save a Password-Protected PDF as Unprotected Through Preview
Preview is the app you use on Mac to unlock your PDF. It's a native app on your Mac device. Do you know that many people use Mac Preview mostly to open, view, and print their PDF files? There's more to that.
Use these three direct-to-the-point steps to learn how Preview can unprotect your PDF.
Step 1. Open your PDF password-protected PDF file with Mac's Preview. In case you can't see the app, download and install it.
Step 2. Click on "File" on the top menu. From the options, go to "Export" then "Export As". Next, go ahead and uncheck the "Encrypt" box. You can change the location to save your PDF at this step.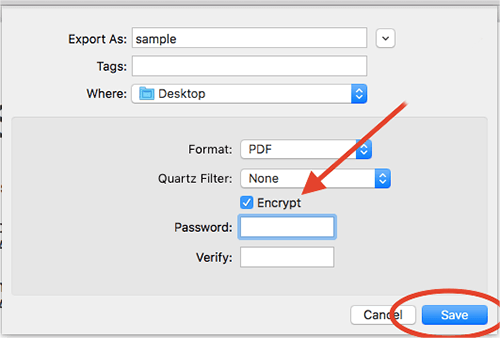 Step 3. Click on "Save" to create your unprotected PDF.
Can't Miss:
Unlocking the Power of Conversion: How to Convert PDF to Word
[Efficient Office Solutions] How to Convert Word to PDF in 4 Different Methods
Way 5. How to Save a Password-Protected PDF to Normal PDF via Google Drive
Google Drive continues to get preference for its expansive features and storage space. As a popular cloud storage solution, it allows you to get access to your files anytime and without fear of losing any of them.
Note that if you have a Google account, you automatically get a Drive to store your files in different formats, including PDF. If you don't have an account, sign up, and follow these simple steps to get started.
Step 1. Open Drive, click "My Drive", and hit the "File upload" option. At this point, upload your password-protected PDF, and ensure it is visible on your Drive account.
Step 2. Once you can access the encrypted PDF, right-click on the file, go to "Open with", and then select "Google Docs".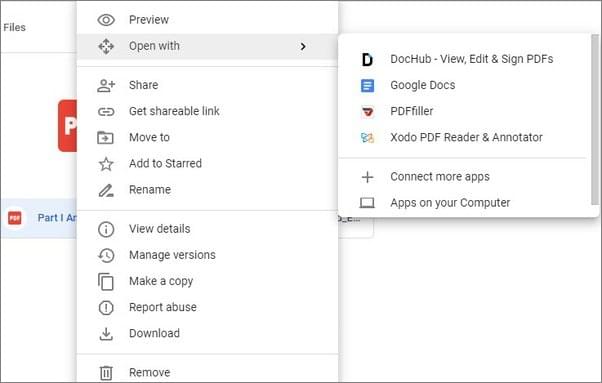 Step 3. Resave the file. Click on "File" > "Download" > "PDF Document(.pdf)" from Google Docs to save the file. Once the new file saves, it will not have password protection.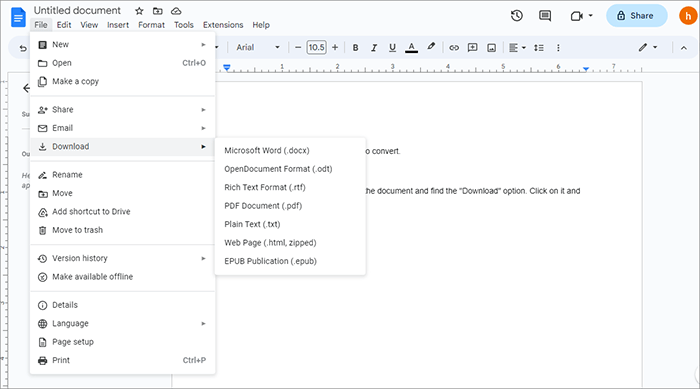 Way 6. How to Save a PDF Without Password Using Google Chrome
Here's another approach: saving a password-protected PDF to a normal PDF on all your devices, provided you have a Chrome browser. You probably use Chrome only to surf and have not tried this approach before. You are not alone. But why not give it a try?
But before that, if you don't have this browser on your PC, tablet, or smartphone, install it. It's pretty simple. The browser should be up and running before you commence the process. Here is how you unprotect PDFs with Google Chrome in four effective steps.
Step 1. Browse your PDF location. Next, right-click, then "Open with", and you'll see the option for Google Chrome. Click it to open. Your PDF with password opens on the Google Chrome browser.
Step 2. Go to the Print icon for printing. Alternatively, press "Control" + "P". Another way is to right-click inside the PDF and then click on "Print".
Step 3. From the print options, change to "Save as PDF". Doing so will save the new PDF document without a password.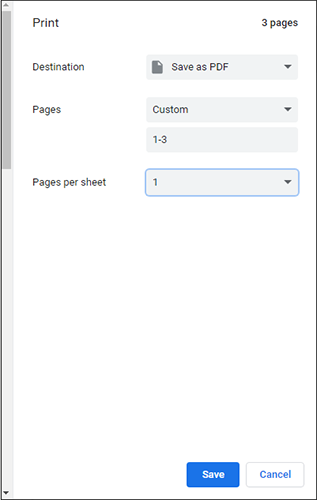 Note: Using Google Drive or Google Chrome to open a password-protected PDF on Windows or Mac doesn't offer as satisfactory results as it would have with premium tools like the Coolmuster PDF Password Remover. It's because the two methods might alter the layout of your file.
May Like:
[Solved] How to Change Word Document to PDF in Efficient Ways
[Comprehensive Tutorial] How to Save a PDF as a Word Document
Way 7. How to Save Password-Protected PDFs Without Password Online
You can save a PDF with a password removed using alternative online tools. You'll find it straightforward even when you've never used the tools. iLovePDF will unprotect your PDF without struggle. The three procedural steps below demonstrate how to use iLovePDF unlock to save an unlocked PDF document.
Step 1. Search for iLovePDF online to gain full access.
Step 2. Next, click "Select PDF files". The move allows you to choose a protected PDF you want to remove the password.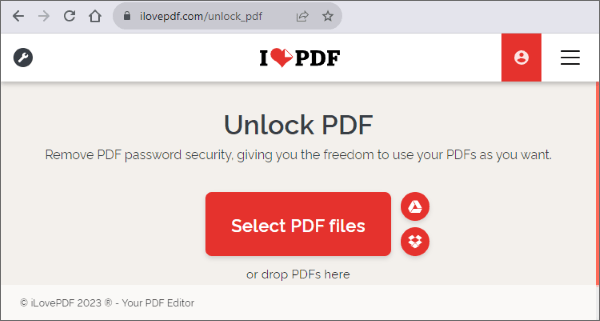 Step 3. Click on "Unlock PDF". The file unlocks effortlessly. Then save the unlocked PDF.
A significant challenge with this approach is that if you don't save the unlocked PDF differently, you will still need to unlock your file whenever you want to access it. The best way is to save your unprotected PDF with a different name to save time.
Conclusion
You now know how to save a password-protected PDF without a password. In each method discussed, the secret is knowing which app to use and the process to follow. With this guide, you can save password-protected PDFs without worry or panic; you only need to follow the steps keenly.
Since different methods offer varying experiences to users, it helps to always go for the best alternative, especially from third-party apps. That is where Coolmuster PDF Password Remover comes in. We recommend this all-in-one app for safe, fast, and easy PDF password removal.
Related Articles:
Effortless PDF Conversion: How to Save Google Docs as PDF on iPhone
How to Convert PDF to Word in Windows 10/11? A User-Friendly Guide
How to Save a Word Document as a PDF on Windows & Mac Systems
[Easy Office Solutions] How to Convert DOCX to PDF - 6 Methods
How to Convert Microsoft Word Document to PDF: Quick and Efficient
Mastering the Art: How to Copy PDF to Word Like a Pro [5 Ways]