No matter how much space you get with your phone it always gets filled but relevant and irrelevant items. You might want to have your favorite movies and music on your Samsung device. While the Samsung Galaxy devices can have as much as 128 GB of memory, not all Samsung phones are the same. If you are stuck with around 32 Gb of memory (or even less), what do you do? You can free up more space on Samsung phones than you think possible.
Why storage space is getting less and less & why do you need to get more storage space on Samsung phones?
Your Samsung phones need to have the space for all the relevant tasks that you need to do. So, what takes up the storage space on your smartphone? Mostly, irrelevant applications that you do not use, cache memory use, and app mismanagement can take up a lot of space. There are times when your applications are taking more space than required and cookies eat up the space as well.
The most important part of your Samsung phone was the space it promised for you to do multiple task and if you cannot use your smartphone the way you wanted to, you might want to look at ways to increase the storage space.
How to Free up More Storage Space on Samsung Phones?
Do not worry if you do not have the time to manually go and clean the storage space to increase it. Thankfully, there are simpler and effective ways of doing it. A time saving and most efficient way is to use the Android Data Cleaner. This app is designed specially to keep the phone clutter free and clean out all that is not needed.
- A quick run will remove all the temporary photo cache, cookies, crash logs, temporary downloaded files.
- Even the unnecessary space that is used by browsing history, orphaned files are also cleaned out in no time using the app.
- The software improves the phone performance and respond speed at the same time.
How to Clean Things up Permanently?
Sometimes, you just do not need what is there in your phone. Another great way to clean up the space is using Coolmuster Android Eraser. This should, however, be used when you plan to keep nothing on the device as it makes your phone as good as new.
The effective program is a great way to delete or erase all files without any possibility of them being recovered. When one plans to sell or give away the device this is what one should use.
- It is mostly used to keep your personal and important data away from the reach of anyone.
- The tool permanently deletes all your files which protects you from any data breach. Android Data Eraser cleans the deleted files imprints and all the personal data, thus it must be used when doubly sure of the actions.
Here is how to use the Android Data Eraser:
Step 1. Launch the program on your computer and connect your Android device to PC via a USB cable, then install the MobileGo connector as asked.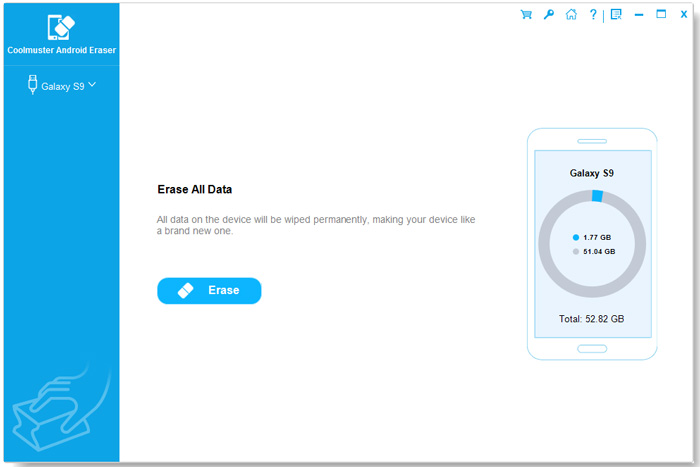 Step 2. click "Erase All Data" and "Erase Now" button to erase all Android files at once.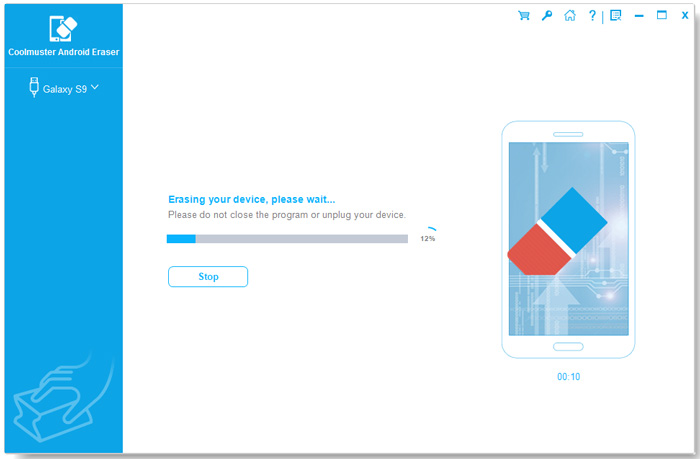 Other useful tips:
Keep a track of what is there on the phone. Only download apps that you need. The phone needs space to work and breathe. It is a good idea to install a RAM booster app. Keep a look on the apps you are using and the cache space. Use the RAM booster app to clean you device time to time to quick fix to the low memory problem.
Wrapping Up
Remember to prioritize your device's storage space and ensure it has room to function optimally. By implementing these strategies and utilizing the Coolmuster Android Eraser software when needed, you can effectively manage and maximize the storage capacity of your Samsung phone.
Related Articles:
What if You Don't Have Enough Space for Downloads
How to Clean up Junk Files from Android Phones
3 Efficient Methods to Recover Deleted Contacts on Google Pixel
Transfer ePub Files to iPad from PC or iPhone with/without iTunes