Well, you might just love those audio books on your iPhone. However, here is the problem. iPhones do not have a lot of space. Unless you've bought an iPhone with a more than 512GB version, you probably do not have as much space. In fact many of the older iPhones have as little as 16 gb of space. You cannot increase the space with an SD card too like your other Android phones. So, you are stuck. A little bit of apps and pictures can easily take up 16 GB and you would need to store things optimally. So, you may need to delete the audio books.
Help: How to Live on 16 GB Internal Memory of iPhone
Top Reasons to Delete Audio Books
Audiobooks are a great way of enjoying a book without going through the hassle of reading it. But for book lovers, their iPhone can get full of audiobooks. You may then need to delete them because:
• You have insufficient space on your iPhone
• You want to download and install new audiobooks
• You want to restore your phone
• You are selling of gifting your phone to someone and would like to delete the files
Related: Free Audiobook Sites for iPhone/iPad
Guide: How to Remove Audiobooks from iPhone
The process is simple. Here is how you can go about it.
1. Delete directly from iPhone
1. Go to the Settings tab and access the General option.
2. Now navigate to Usage option and then to Storage. Here you will see all the stored data on your device along with their size.
3. Choose the Music option. As audiobooks are in music format, they are stored under this category.
4. Now select the specific audiobook you want to delete and swipe left and confirm.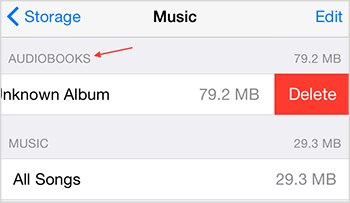 Also Read: Delete Undeletable Apps on iPhone
2. Use Apple iTunes
Now, you would not ed to launch iTunes. This is of course the traditional way. It's a bit time consuming but it does get the job done every time.
1. Connect iPhone to the computer.
2. Launch iTunes and choose your device. Make sure you have the latest version of iTunes installed.
3. Choose the Summary option and make sure Manually manage music and videos is selected.
4. From the left menu, select On My Device and choose My Music. The audiobooks are saved by default in this location.
5. Now choose the audiobooks and delete them.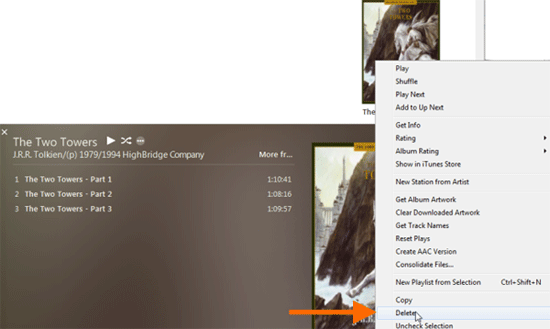 Extra Bonus: How to Permanently Erase Audiobooks from iPhone?
You may use the above ways to delete your audiobooks, but they can still be recovered using some tools. The same is applicable for all your data that you save on your phone like passwords, messages, videos, personal chats, financial details and such. It will be a big trouble if your iPhone lands up in wrong hands and the data are misused. You can be a victim of identity theft which can cause great damage to your reputation and finance. The best option is to use a professional program like Coolmuster iOS Eraser to permanently delete files, including the audiobooks.
Destroy Data Professionally – The factory restore option is not adequate to safely erase your iPhone data before selling or gifting it to someone. Only a dedicated solution like iOS Eraser can delete the items beyond recovery.
Scan and Erase – You can detect files like emails, passwords, contacts, messages with the scan feature and then delete the ones you find appropriate.
3 Levels of Erasing – You can use the first mode to save time and erase data. The second mode is the professional one while the 3rd one is the most foolproof.
It uses the over-writing technique to ensure data is removed beyond restoration. You do not need to use or download any other tool, and iOS Eraser does everything for you!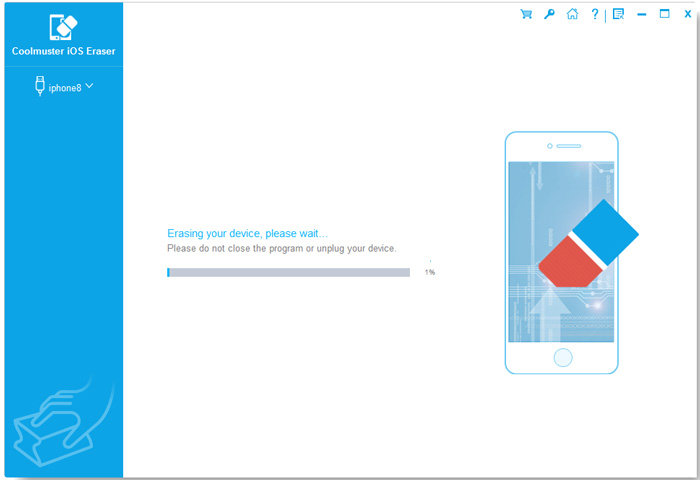 Conclusion
With Coolmuster iOS Eraser, you can scan and erase various types of data, such as emails, passwords, contacts, and messages. The program offers three levels of erasing, giving you flexibility and peace of mind when it comes to data removal. By utilizing overwriting techniques, iOS Eraser ensures that your data is destroyed beyond restoration.
Related Articles:
How to Sync Audiobooks to iPhone
Fully Delete Podcasts from iPad
Which Is the Best Phone Transfer Software for Android & iOS