"How to transfer apps from Android to Android via Bluetooth?" -From Android users
Technology has come a long way, and now you can achieve app sharing via Bluetooth. If you are looking for how to do it, then relax: we have the perfect solution for getting an app to another phone without downloading it.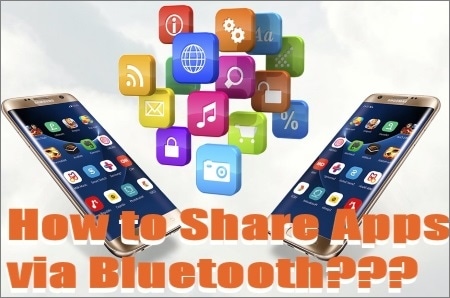 Part 1. Can I Send Apps via Bluetooth?
Yes. It is possible to send apps from one Android to another through Bluetooth. Besides, you can use Bluetooth transfer apps to share apps directly with another phone.
Furthermore, it is important to note that applications installed on either two Android phones or two iOS devices cannot be shared with their data. To share the pre-installed app's data, you should use the advanced data-sharing software we'll show at the end of the article. Besides, it supports apps to transfer between phones regardless of their systems.
Note: Sharing applications from Android to iPhone or iPhone to Android via Bluetooth is impossible unless you jailbreak the device.
Read More:
App to Transfer Data from Android to iPhone Smoothly - 10 Top Options
3 Easy Methods to Transfer from iPhone to Android
Part 2. How to Transfer Apps from Phone to Phone via Bluetooth with Third-Party Apps
How do you bluetooth an app? Transferring applications between Android devices via Bluetooth is a straightforward process, regardless of your phone's version. Whether you're using 4.0, or 5.0, it just takes a few clicks. To share applications between Android devices, you need to install third-party apps that support data sharing via Bluetooth. There are many apps that use Bluetooth to transfer files. Besides, they are very easy to use. To transfer applications from one Android to another and generate an APK file, all that is required is downloading a few applications from the Play Store. We will discuss three that present excellent support and are incredibly simple to use.
Also read: How to Transfer Apps from Samsung to Samsung [Fast Transfer]
2.1 Use Apk Share Bluetooth
Apk Share Bluetooth is an application that uses Bluetooth connection to easily share apps between Android devices. You just have to install the app, and once the installation process is complete, you will see all the downloaded apps on Android on the terminal to be safely and conveniently shared with another Android device.
Here's how to share apps via Bluetooth using Apk Share Bluetooth:
Step 1. First, launch the Play Store on the Sending device, then download the Apk Share Bluetooth app.
Step 2. Switch on Bluetooth in both devices. After that, open this tool and choose the applications you want to transfer.
Step 3. When you choose all apps, click on the "Send/Share" button and then select the option for Bluetooth.
Step 4. Select the phone you'd like to share your applications with, and then a request will be sent directly to the receiving device. When you receive it, accept it and proceed.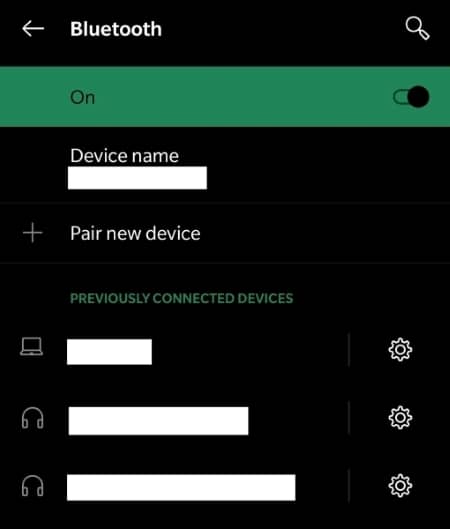 Step 5. After accepting the request, the chosen applications will now download on your receiving phone. From there, you may install it directly from the notification pop-up or "Download" found in File Manager.
2.2 Use Bluetooth App Sender APK Share
Bluetooth App Sender APK Share is another third-party app that allows you to share applications with anyone using an Android device. All you have to do is install this app, and sending apps will be a breeze. It is not a must for the receiving phone to install it because the apps will be sent from your device only. Though its speed may not always be up-to-par, that's nothing compared to how convenient it makes sharing applications.
Here's how to Bluetooth apps to another phone using this tool:
Step 1. Open the app, head to "Apps" section, and choose which ones you want to transfer.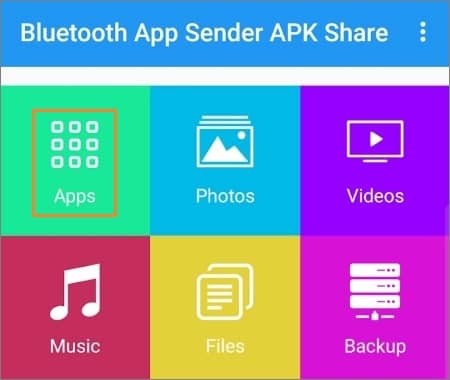 Step 2. Next, press "send apk" and select Bluetooth as the sharing mode.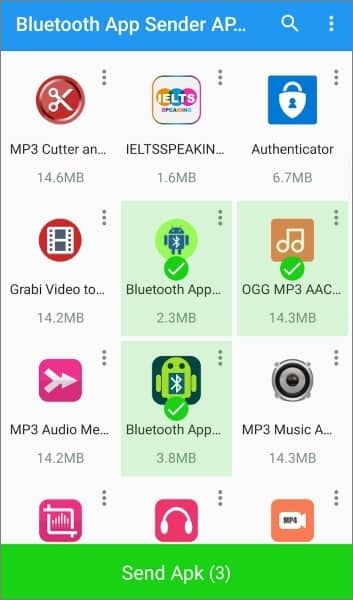 Step 3. Select the device to send the apps to. The receiving device must activate Bluetooth connection and ensure their phone is discoverable for you to locate and share these files quickly.
Step 4. After choosing the apps to send, the other device will receive an APK file.
Step 5. You can find the files in the file manager since Android usually saves the files received through Bluetooth in the folder with the same name located in storage.
Got questions? See if these would help:
Top 5 Android Bluetooth Managers - Make Bluetooth Connection Faster
Transfer Viber Messages to New iPhone
Part 3. How to Transfer Apps Through Bluetooth with Nearby Share
An efficient method for transferring apps between Android smartphones is through Nearby Share feature. This recently introduced Android feature enables users to securely and conveniently share data between Android phones that are close, and there are some devices that come with this feature already pre-installed. It establishes a connection between devices using Bluetooth, thus allowing smooth file sharing of files.
Here's how to bluetooth apps to another device using Nearby Share:
Step 1. Head to the Play Store and click on the three dots icon at the upper left corner of your display to open up the Play Store menu. Some devices don't show the three-dot menu, but your Google account does. So, click on it.
Step 2. Choose "My Apps and Games" or "Manage Apps and Devices" from the list.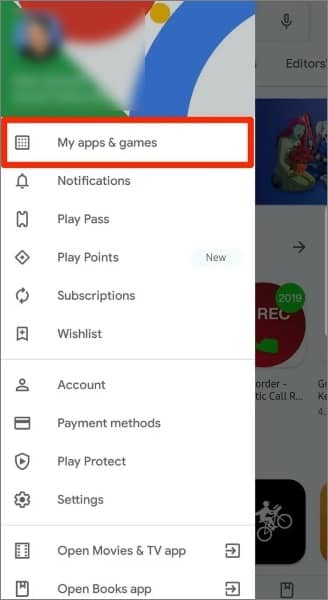 Step 3. You'll be taken to the "Updates" section. Look for the "Share" option and click on it. After that, click on the "Send" tab to share the apps through "Nearby Share".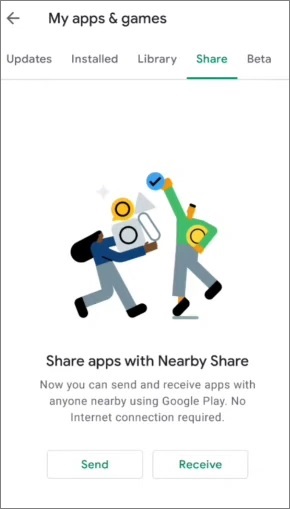 Step 4. You'll be asked to grant Play Store permission to access your location. Tap "Continue", then choose your choice from the listed options.
Step 5. On your device's display, a selection of applications to share from your phone will appear. Simply pick the ones you want. Afterward, tap on "Send" at the top.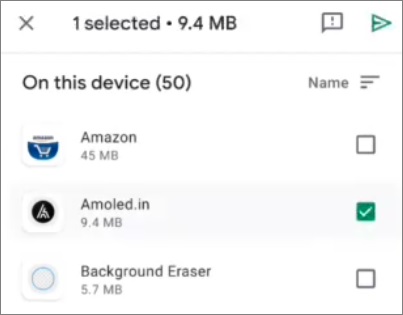 Step 6. Open the Play Store on the receiving device, head to the "Share" button, and choose "Receive ". Immediately you choose the "Receive" option, you will see the device's icon on the Android device from which you are sending the app.
Step 7. You will get a pairing code on both screens. Simply tap the right buttons to continue. The process will start, and when it is finished, you'll now be able to install the applications you've shared on the other Android.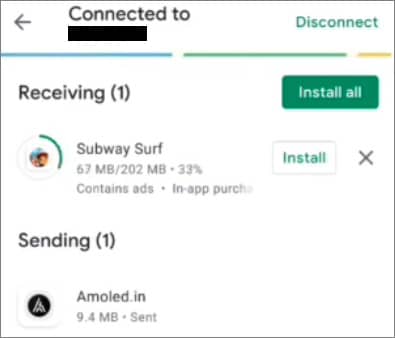 To successfully transfer data from one Android device to another, both devices must have Bluetooth enabled.
More relevant articles:
How to Transfer Data from LG to Motorola Easily? 5 Amazing Ways
How to Transfer iPhone Ringtones to Android?
Bonus: Transfer Apps Between Android Devices in 1 Click via USB
Bluetooth can be a real drag when trying to share apps. If you need a faster, smoother way to transfer apps between Android devices, try Coolmuster Mobile Transfer, it's sure to make the process lightning quick.
Mobile Transfer is the ultimate solution for transferring app data between Android to Android, iPhone to iPhone, and vice versa. It's an intuitive tool that can be used by tech-savvy and non-tech-savvy users alike. With its wide range of tools and easy setup process, you'll have your apps transferred quickly.
It transfers data such as apps, photos, videos, and documents from one Android to another in just one click. This software offers sophisticated backup and restoration capabilities that make it easy for users to quickly back up and restore their device data.
Here are the features of Coolmuster Mobile Transfer you should know about:
Transfers apps between Android devices in 1 click.
Supports transfer of apps, SMS, Contacts, Photos, Music, Videos, Call Logs and Documents.
Supports iOS 16 & Android 11.
Swift transfer process.
Compatible with Mac and Windows.
Here are steps to transfer apps between Android:
01Start by installing the program on the computer and running it. Choose "Mobile Transfer".
02Plug in both of your Android devices to the computer using USB cables, follow the instructions on screen to turn on USB debugging, and grant specific permissions for each phone. After setting up, double-check that your devices are properly placed; if not, tap "Flip" to switch their positions.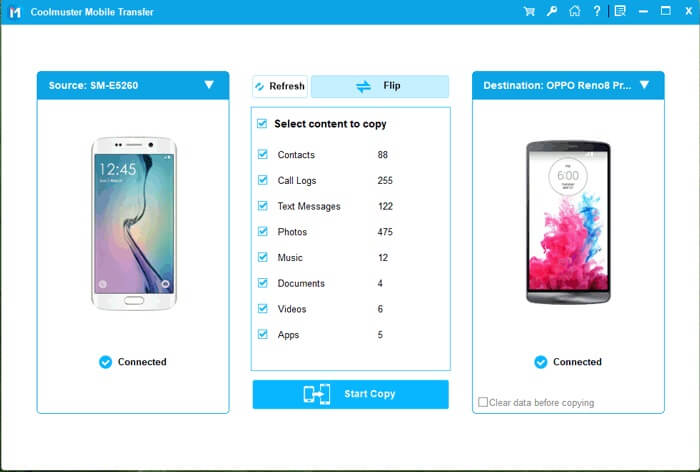 03Choose "Apps" since you are transferring them over to another Android. After you do that, hit "Start Copy", and all apps from your Android phone will be effortlessly transferred to another.
Conclusion
Hopefully, you've successfully mastered the skill of sharing apps via Bluetooth. We demonstrated straightforward ways to share applications between Android phones. It's quite easy. You can use third-party apps like Apk Share Bluetooth, Bluetooth App Sender APK Share, or take advantage of the Nearby Share feature available on your Android.
Additionally, Coolmuster Mobile Transfer is an alternative app to transfer applications between Android devices effortlessly. The best thing is that you will conveniently share all your apps in minutes, saving you time.
Related Articles:
Efficient 9 Ways to Transfer Data from Android to Android
How to Sync Android Phone with Tablet (iPad & Android Tablets)?
How to Transfer Stuff from One iPod to Another in 7 Elementary Ways? (Updated)
How to Clone an Android Phone to Another? 5 Easy Methods
How to Transfer Photos from Android to iPad in 4 Simple Ways? (Updated)