Android to iOS transfer is stuck on 1 minute? Apple offers a powerful Move to iOS feature that allows Android users an easy transition. It promises a smooth and convenient transition from Android device to iPhone; but, there can be times when it fails. You may end up in the unfortunate predicament of the "Move to iOS stuck on 1 minute" problem.
We understand your frustration and have done our investigation into this issue to develop some easy-to-follow methods that will help you solve the problem quickly! Let's dive right into it.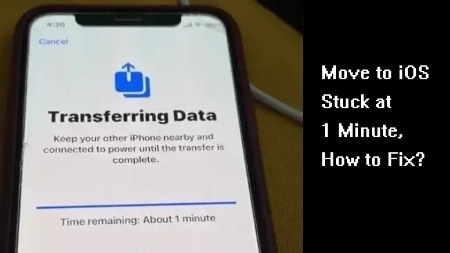 Part 1. Why Is Move to iOS Stuck at 1 Minute?
Unfortunately, no definite answers have been determined since this issue has just started occurring. Nevertheless, tech-savvy iPhone users have identified the possible culprits behind a "stuck" transfer that appears to be taking forever. They include:
Weak Wi-Fi Connection.
Not enough storage on iPhone.
Minor errors.
Software-related problems.
Outdated Move to iOS app.
Two many large files being shared.
You may also be wondering:
Why Is Move to iOS Taking Forever?
How to Fix the iPhone Transferring Data Stuck Issue Effortlessly?
Part 2. How to Fix Move to iOS Stuck at 1 Minute
The notification simply indicates that your data transfer process is stalled and has stopped progressing as it should. A weak Wi-Fi connection is one of the most frequent causes of Move to iOS failure when transitioning from Android.
When your wireless internet disconnects during this process, you may experience the "Move to iOS app stuck on 1 minute" issue. Luckily, there are ways we can prevent this problem. We simply need to make sure our Wi-Fi signal remains stable throughout the transfer so that no hiccups arise. Let's explore some reliable solutions for fixing the 'Move to iOS stuck at 1 minute remaining' error.
2.1 Ensure Your Internet Connection Is Strong
As mentioned before, a faulty internet connection can be one of the root causes of your stuck issue. If you've Wi-Fi Assist enabled on your device, it may cause frequent disconnections and result in an unsteady transfer between Wi-Fi and cellular data which could lead to a frozen problem.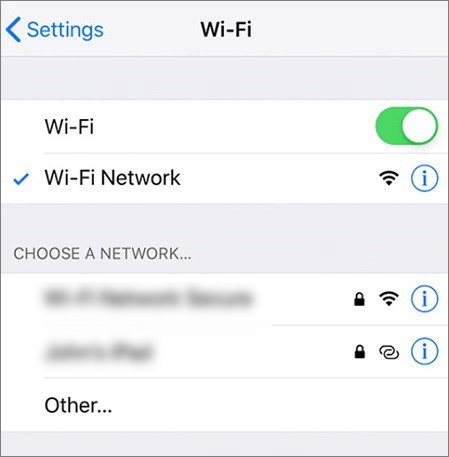 2.2 Disable Low Power Mode
Are you wondering why your iPhone data transfer is so sluggish? We understand that the Low Power Mode of an iPhone can be useful for conserving energy. Nevertheless, it may also affect how well the device functions; this includes stopping a data transfer already in progress. To stop this from happening, here's what you need to do to deactivate "Low Power Mode":
Step 1. Head to "Battery" in the Settings.
Step 2. Find the "Low Power Mode", then toggle it off.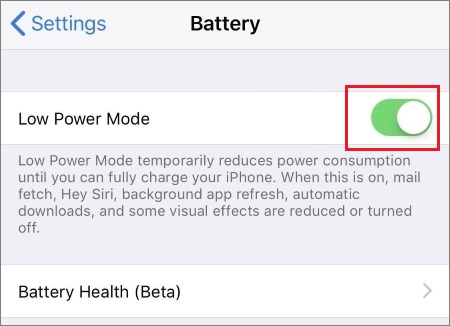 2.3 Switch to Airplane Mode on Android
Putting your phone in airplane mode is the most efficient solution to avoid distractions that impede your data transfer. Here's how to do it swiftly:
Step 1. Go to the "Quick Settings" window by swiping down twice from the top of your screen.
Step 2. Then scan through the grid until you find the "Airplane mode" and click on it.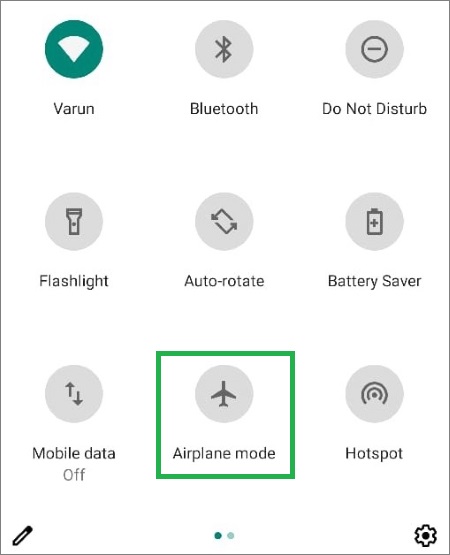 Step 3. Don't forget to switch on the Wi-Fi connection when in Airplane mode. If you don't see the toggle, swipe to the other side, where you'll find more icons.
See also:
What to Do If Samsung Smart Switch Stuck at 99% during Transfer
Is Android Phone Stuck on Boot Screen? Repair It via Effective Tricks
2.4 Maintain Your Wi-Fi Network
Keep your phone connected to Wi-Fi all the time. As you know, when Wi-Fi disconnects, the transfer process will also be interrupted. Follow these easy steps for uninterrupted connectivity:
Step 1. Head to the Settings page on your device and tap "Wireless & Networks". Then, search for the icon marked Wi-Fi in the upper right corner and click on it.
Step 2. Choose "Advanced" and ensure that the "Keep Wi-Fi On During Sleep" option is set to "Always".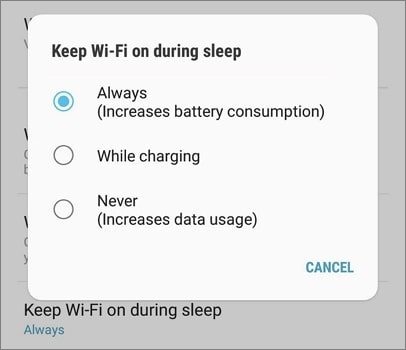 2.5 Use Your Phone's Mobile Network
If all else has failed, swapping between Wi-Fi and wireless network connection could be the answer for your Android to iPhone transfer stuck at a 1-minute predicament. Deactivate your Wi-Fi from both phones and choose Mobile Data as an alternative. To do so, open the control panel and click "Mobile Data".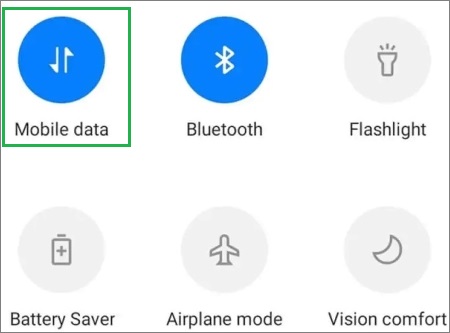 More relevant articles:
Top 5 Huawei Mobile Data Recovery Software
How to Perform the Lenovo Mobile Recovery? [Best Lenovo Recovery Tool Included]
2.6 Disable the Wi-Fi Power Saving
You may notice your Wi-Fi network being frequently disrupted or your phone occasionally failing to connect. Also, your phone may display a connection but still not access the Internet. This is likely due to an enabled setting called "Wi-Fi Saving mode" which is on by default. Therefore, consider disabling this power-saving feature. The following steps will guide you through this process:
Step 1. Navigate to the Home screen of your device. Press the Wi-Fi icon and tap Settings, which is the gear icon in your notification panel.
Step 2. Click on the "Menu" icon which is the three dots located at the top right corner and proceed to "Advanced" and "Wi-Fi Power Saving" mode. Once it is unchecked, restart your device.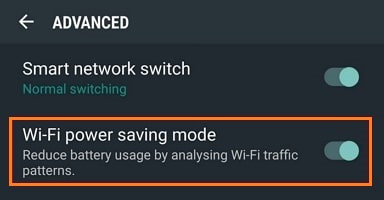 2.7 Restart the Devices
If you're dealing with Android to iPhone transfer stuck at 1 minute, restarting your devices is usually enough to solve it. However, don't rush into turning them back on. Give them some time first, and then try again.
To restart Android, press the Power button until the Power Options menu appears. Then select "Restart".
To reboot an iPhone, firmly grip both the volume and side buttons until the slider to switch it off appears. Then, drag the slider over and wait thirty seconds for your device to turn off completely.
2.8 Update Your Device's Firmware
If you are encountering this issue, it means there's an existing bug in your system. So, updating your firmware will help solve the predicament. To ensure your Android device is up-to-date, use the Over-The-Air (OTA) program, which helps to distribute software updates.
Here are the steps:
Step 1. Navigate to the Software update section in Settings.
Step 2. Choose an option for "Download updates automatically" and tap on the most recent version available.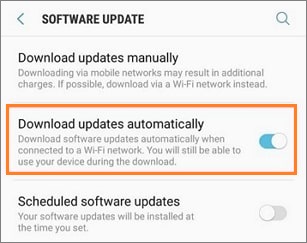 Are you also interested in:
How to Fix iPhone Won't Update Issue
10 Ways to Fix the iPhone Migration Not Working Error without Trouble
2.9 Close Any Applications Operating in the Background
If you experience problems during the Move to iOS process, it may be because of apps running in the background. For example, Gmail and other applications constantly syncing with servers can cause this problem. To seamlessly close the applications, simply follow these steps:
Step 1. Swipe up on your device and hold the display to see those apps you opened.
Step 2. To close them, simply slide upwards on each app to shut it down.
Part 3. Alternative Software to Move Files from Android to iOS
The multitude of limitations associated with the Move to iOS app, such as requiring both devices on a stable Wi-Fi connection, can be frustrating. That's why we suggest a dependable alternative for you to consider.
Coolmuster Mobile Transfer is that amazing Move to iOS alternative to consider. Whether you use Android or iPhone, this app can work with both. Not only can it properly manage and store your data safely, but it also transfers the information from one platform to another without compromising its security.
You can easily copy one or many files to your iOS device. Besides, in seconds, it supports data transfer between different devices. Using this tool, your contacts, eBooks (PDFs and ePubs), and other information can be effortlessly synced from any Android device to iPhone/iPad/iPod with simply one click.
Key Features:
Securely transfer data between your iOS & Android devices with just one click.
Photos, videos, contacts, music, SMS messages, calendar events & notes can all be transferred effortlessly.
Compatible with the newest versions of iOS 16 and Android 11.
The transferring process is very swift.
01Step 1. Launch the software on your Computer. Once done, you'll be met with a toolbox from which you can select "Mobile Transfer" and continue.
02Step 2. Plug your devices into the PC with a USB cable and activate USB debugging. This program will detect your devices, display them on the screen, and then scan all data from the source device.
03Step 3. Ensure the phones are correctly placed, or hit the "Flip" tab to change their locations. Then select which files you would like to transfer and hit the "Start Copy" button.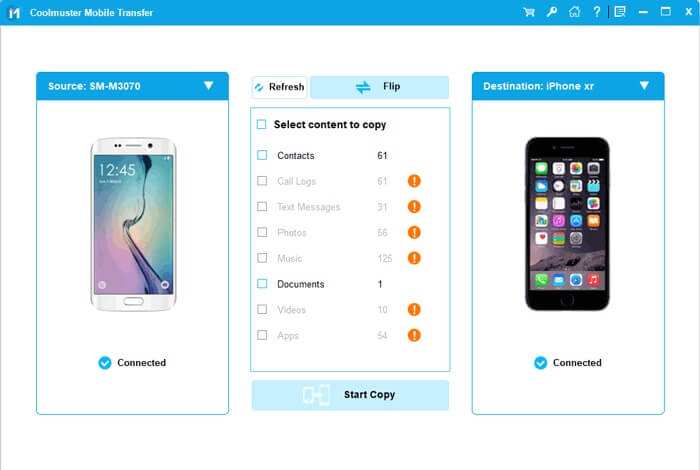 Conclusion
Although created to help users switch their Android data over to iPhone, there're times when Move to iOS get stuck on 1 minute from Android. After reading this article, we hope you can get rid of any further issues with Move to iOS getting unable to continue functioning properly. Furthermore, we suggest trying Coolmuster Mobile Transfer if you find yourself in such an unfortunate situation again.
Related Articles:
How to Transfer Photos from Android to iPhone
[Guide 2023] How to Restore WhatsApp Backup from iCloud to Android
How to Transfer Data from Samsung to Motorola Effortlessly? (5 Easy & Effective Ways)
How to Transfer Contacts from OPPO to Samsung in 7 Trouble-free Ways?
Top 5 Ways to Sync iPad with Android Phone/Tablet
How to Transfer SMS from Motorola to Motorola Quickly? [Solved]