Switching data from a Nokia phone to a Huawei mobile can be challenging because Nokia is running Symbian system while Huawei is from Android. They are totally different operating systems. However, whether you can realize the data transfer between Nokia and Huawei smoothly is based on the software solution that owner uses. If the software that is used for the transfer is not all-encompassing or designed to take care of common issues, the user will most likely encounter problems. But if you fortunately use an efficient tool, the result would be totally different.
To better protect your phone and phone data, you had better pick up a 100% secure program at the beginning. You can look no further than the Nokia to Huawei Transfer, one in which will eliminate the normal issues that users encounter when they are trying to transfer their data from their Nokia to Huawei Ascend/Honor/Mate/P9/P8/P7. This is popular and powerful phone to phone data transfer software enabling you to transfer almost all types of data, including contacts, SMS, photos, videos, call logs, music, apps, calendar and more from Nokia Symbian to Huawei Android in an easy way.
You may also be interested in:
How to Transfer Data from Samsung to Huawei?
How Can I Transfer Data from Huawei to iPhone?
To transfer your data from your Nokia to your Huawei, all you have to do is following the steps provided for you below.
How to Transfer Content from Nokia to Huawei Mate 50/P60/P50/P40?
Step 1. Connect Nokia and Huawei phones to computer
Install and launch the Nokia to Huawei Transfer program on your computer. Connect both your Symbian Nokia and Android Huawei devices to the computer using two USB cables.
Step 2. Enter Phone to Phone Transfer window
Click to go to the mode of Phone to Phone Transfer, and the program will recognize the two connected devices directly. The new window displays all the contents i.e. photos, videos, contacts, apps which are all can be transferred here.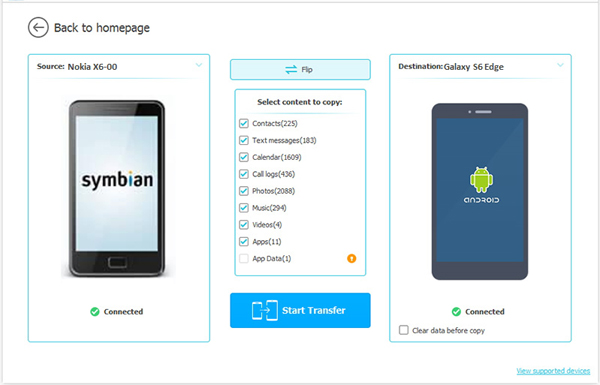 Step 3. Start Nokia to Huawei transfer
Choose all the data you want to transfer and click the button of "Start Transfer". Then, all the selected contents saved in your Nokia device, will be transferred to the Huawei mobile phone instantly. That's totally easy, right?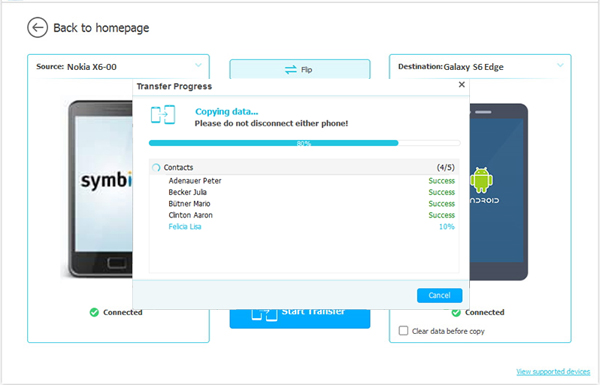 Except Nokia and Huawei devices, this phone transfer can also transfer data between other Android, iOS, Symbian and even BlackBerry devices.
Related Articles:
Top 8 Samsung Smart Switch Alternatives for Samsung or Other Phone Data Transfer
How to Install APK on Android from PC [Top 3 Ways]
How to Transfer WhatsApp from Old Samsung to New Samsung in 4 Hassle-free Ways
Efficient 9 Ways to Transfer Data from Android to Android [Can't Miss]