SHAREit is one of the most popular data transfer apps in the application market. Apart from Android and iOS devices, it also applies to Windows PC and Mac. If you take a look at its installation frequency in various App Stores, you will find it's enormous. Yes, without brain-busting configuration and complex protocols, it has attracted many users with standalone sharing options.
However, you may have also browsed some negative SHAREit reviews about user-sensitive data leakage and unnecessary permissions authorization. Is the SHAREit app safe? What does the SHAREit app do? Well, this article will guide you through the comprehensive SHAREit review with all detailed information, including features, safety, pros, cons, user comments, directions, price, and SHAREit alternative.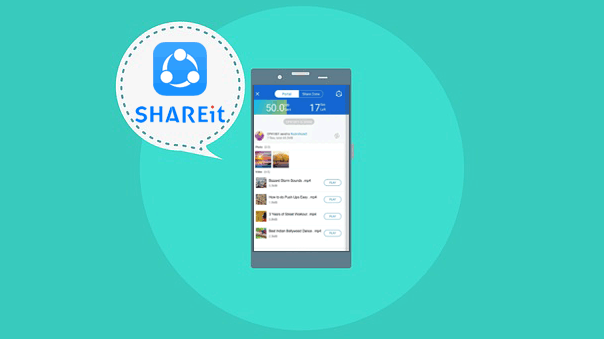 Part 1. What Is SHAREit App?
Part 2. What Does SHAREit Interface Look Like?
Part 3. Is SHAREit Safe to Use?
Part 4. What Is the SHAREit Price?
Part 5. How Does the SHAREit App Work?
Part 6. SHAREit App Review: Pros, Cons, and User Comments
Part 7. Which App Is Better than SHAREit?
Part 1. What Is SHAREit App?
SHAREit is a file transfer app sharing movies, music, GIFs, documents, photos, and other files among different platforms, like Windows, Mac, Android, and iOS devices. Over 1.8 billion users download SHAREit in the market, making it one of the most popular file-sharing apps.
Besides file transfer, SHAREit also allows you to manage and enjoy unlimited music & movies, share the trending online music & videos, and download personalized wallpapers, GIFs, & stickers. Moreover, SHAREit does not rely on Wi-Fi or cellular data to move data, and it is said to be 200 times faster than Bluetooth transfer.
Key features:
* Share files among Android, iOS, Mac, and Windows PC.
* Support photos, music, videos, apps (the app data not transferred), documents, messages, contacts, and wallpapers with various formats.
* Enjoy high-quality music and videos online, share the songs or movies with friends in the Share Zone, and play offline music.
* The excellent inside equalizer brings you immersive experiences.
* Customize, download, & share wallpapers, GIFs, and stickers.
* Consume no network during transfer.
* Provide a transfer speed of around 10-15 megabytes/second.
* Available on all major operating systems, including Android 11 iOS 14.
Read more: Wonder where the WhatsApp chat history are stored on your phone or PC? You can find out the answer by browsing this post.
Part 2. What Does SHAREit Interface Look Like?
The PC or Mac end SHAREit interface is very simple. After scanning the QR code shown on the interface, you can establish a connection between your phone and the computer and start to transfer files.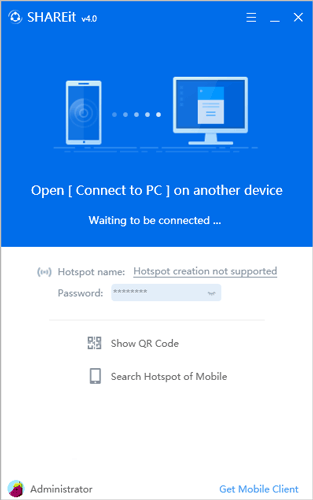 However, when you turn to the Android SHAREit app, you will find it a bit more like Google Play Store than a file transfer app. The Android SHAREit interface is filled with recommended games and other apps that you probably don't need and displays annoying ads now and then, which makes it confused and deviated from its core functions.
What's more, the music and video players also seem to be unnecessary for a data-sharing app. However, it offers you a necessary radar-like interface indicating other devices with SHAREit installed.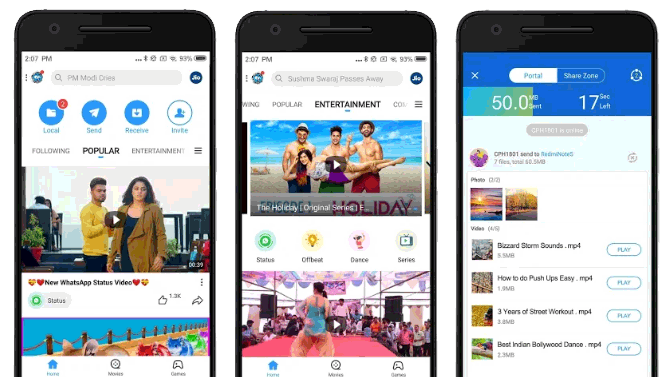 Meanwhile, the interface for iOS SHAREit is much simpler than that for Android. The iOS developers get rid of the extra music and video players, games, and other recommended apps to download. Nevertheless, the ads will still pop up on the iOS SHAREit interface.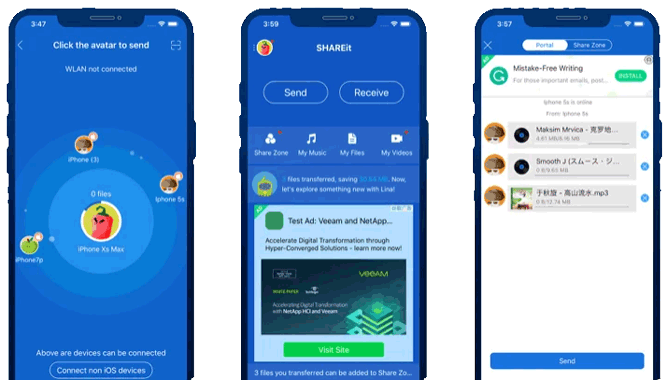 Guess you like:
Want to send your videos from a Samsung device to an iPhone? Here are seamless ways for your reference.
This article is about AnyDesk, including all the info on the app.
Part 3. Is SHAREit Safe to Use?
According to Trend Micro, an American-Japanese data security software company, SHAREit has severe vulnerabilities that will lead to sensitive data disclosure and remote code execution. Well, in our discovery, we find that the app doesn't encrypt the transferred data.
Also, it asks for permissions to the camera (to scan the QR code), location, storage, contacts, and microphone. Some permissions may be necessary, but others are not essential for a data transfer app, like location. If you don't authorize the required permissions, you cannot use SHAREit.
What's worse, the hotspot you create to connect both devices is also a potential threat. While playing an important role in connection and file transfer, the hotspot will also let other users receive and send files to your device if they decode the hotspot.
Still, suppose you don't put the installation files to protected storage during the key installing period. In that case, hackers will have a chance to interrupt and replace the installation files with malware and steal your privacy.
Therefore, for the sake of security, you'd better not install SHAREit on your device.
Part 4. What Is the SHAREit Price?
SHAREit is free of charge on Android, Windows PC, and Mac and offers free and premium versions on iOS devices. The premium version on iOS devices will cost you $2.99 to remove ads. Aside from ad-block, there is no difference in features between free and premium versions.
Part 5. How Does the SHAREit App Work?
If you don't know how the SHAREit app works exactly, you may refer to the following instructions. Note that this guide only works for phone-to-phone transfer, and the operations may be different if you handle the computer-to-phone transfer.
How to use the SHAREit app?
1. Install SHAREit from Google Play Store on Android or App Store on iPhone. Then grant necessary permissions and place both devices nearby with Wi-Fi and Bluetooth enabled.
2. Open SHAREit on the source phone, choose the Send option and select the other device as the Android or iOS. Next, launch the app on the target phone and click the Receive button. After making a successful connection between both devices, you can select the files you wish to send and hit Next to start sending them.
3. Receive the files on your target device.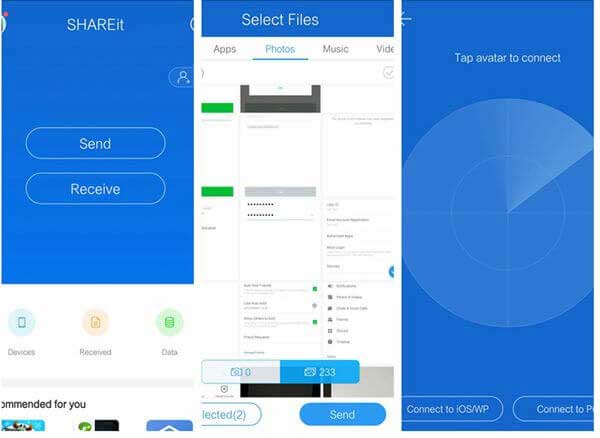 Read also: Super Android Unlock Apps: Unlock Android Devices Easily [New]
Part 6. SHAREit App Review: Pros, Cons, and User Comments
There is no such thing as a free lunch, and even the SHAREit app has the good and bad, too. Integrated with user's SHAREit reviews and our trial, we find that:
Pros:
* Fast speed and wireless transfer.
* The basic version is free to use.
* Provide media sharing, downloading, and other features.
* No registration requirements and file size limit.
* Widely compatible with all devices.
Cons:
* Ads pop up every second.
* The transfer process can get stuck sometimes.
* Complicated connection procedure.
* Some features are not available on iOS and Mac versions.
* Vulnerable to bugs, malware, and attacks.
* Slow when processing multitasks.
User's Review:
The latest comments in App Grooves show much more information. Some users think it used to be friendly, fast, and simple to use. But now, it becomes cumbersome and full of ads & permissions and takes forever to connect since it doesn't recognize the QR code. What's worse, this app only scores 2.3 on Trustpilot.com, an authoritative software review website.
Part 7. Which App Is Better than SHAREit?
What is better than SHAREit? If you seek a SHAREit alternative to switch data between your old and new phones, Coolmuster Mobile Transfer is the best alternative worth trying. This green app makes it easiest for you to transfer most data between Android and iOS devices with or without cable. Additionally, it is completely ads-free and redundant features-free.
Key features:
* One-click to migrate data between Android and iPhone/iPad/iPod.
* Android to Android: Transfer contacts, videos, photos, apps, music, call logs, SMS, and eBooks.
* Android to iOS: Send contacts and eBooks (PDFs & ePubs).
* iOS to iOS: Copy notes (not supported in iOS 11 or later), contacts, calendars, eBooks (PDFs & ePubs), and bookmarks.
* iOS to Android: Move photos, music, contacts, videos, SMS, and eBooks (PDFs & ePubs).
* Transfer non-heavy files in seconds and heavy media files in minutes.
* Allow Wi-Fi and USB cable connection.
* Apply to all generations of iPhone, iPad, iPod, and most Android devices, such as iPhone 12 Pro Max/12 Pro/12/12 mini/SE/11 Pro Max/11 Pro/11/XS Max/XS/XR/X, Samsung Galaxy S21/S21+/S21 Ultra, Huawei, HTC, LG, Lenovo, Google, etc.
What does the SHAREit alternative interface look like?
Coolmuster Mobile Transfer has a simple and intuitive interface. After launching the app on your Windows PC or Mac, you will first impressed with the well-organized layout. From left to right, it displays the Source device, data types to transfer, and the Destination device in sequence.
You can view the device types and connections in Source and Destination device section. Besides, it also shows you a simple on-screen guide if the connection is not successful. Even if you are a computer novice, you can operate without hassle.
Is the SHAREit alternative safe to use?
Compared with SHAREit, Coolmuster Mobile Transfer is safer and more reliable to use.
It won't store your data on the server nor disclose it to anyone else.
As it doesn't have a phone-end app, it won't require any permissions.
It encrypts your transferred data and protects it from malicious attacks.
What is the SHAREit alternative price?
As a secure and reliable data transfer app, Coolmuster Mobile Transfer costs you a bit to maintain the software update, and it offers you multiple purchase plans. Generally, it costs $25.95 for a one-year license and $35.95 for a lifetime subscription on 1 PC. If you want to run it on more PCs, you will get a starting price at #35.95 per year for up to 5 PCs.
Suppose you have checked similar paid programs, you will find it is the most cost-effective.
How to use this SHAREit alternative?
1. Download and install Coolmuster Mobile Transfer on your computer. Later, please open it and enter the Mobile Transfer module from the initial interface.
2. Connect both phones to the computer using two original USB cables. Then, on Android devices, enable the USB debugging as prompted to make it recognizable by the computer. If one device is iPhone/iPad/iPod, please tap the Trust option to authorize the computer.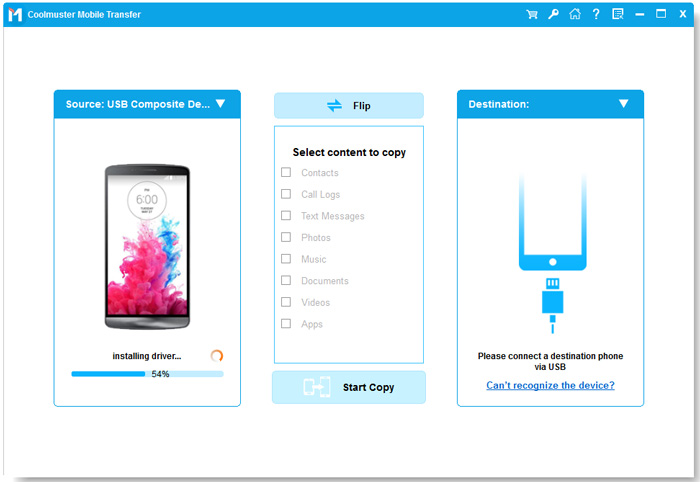 Once connected, you will see Connected under the device images. Please ensure that the source and target phones must be in strict order. If necessary, you can tap the Flip button to switch them.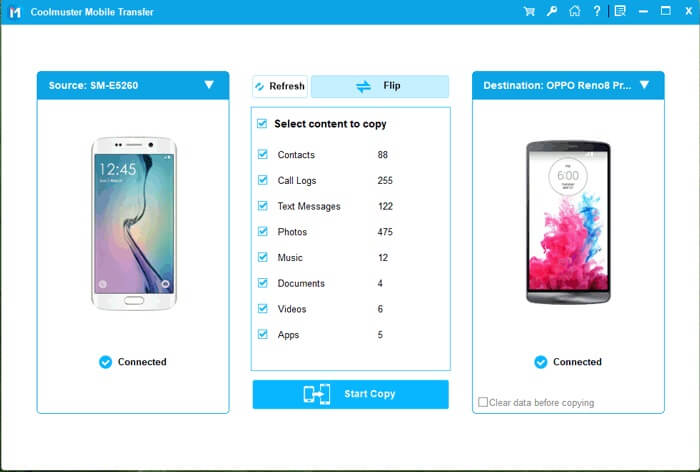 3. When connected, tick the data types you wish to copy and hit the Start Copy button below to start the transfer process.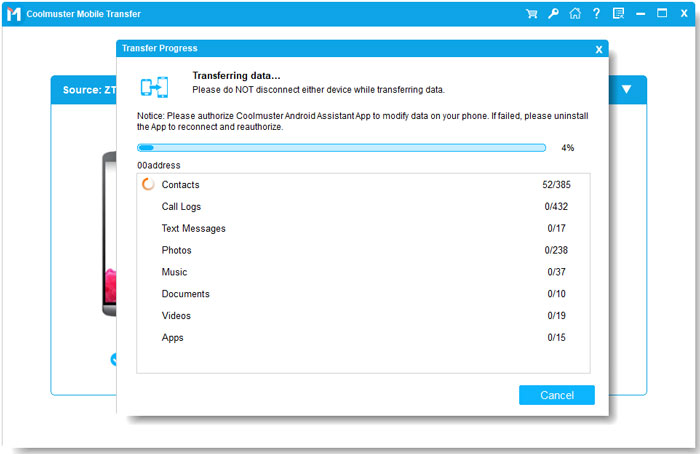 SHAREit alternative review: Pros, cons, and user comments
Check the following pros and cons provided by our users:
Pros:
* Intuitive and user-friendly SHAREit alternative.
* Highly secure and trustworthy.
* Require no permissions and registrations.
* Ads-free, time-saving, and no file limit.
* 3-step operation is rather simple to use.
* Cost-efficient.
* Consume no network when transferring files.
Cons:
* Not support transferring data between computer and phone.
You may like:
Android File Transfer - Transfer Android Data to Computer
[Solved]How to Transfer Files from PC to Android Phone without USB Cable in 2021?
User's reviews:
Most users think highly of the app, yet still, some users hope it can support WhatsApp chats transfer. All the feedback has been conveyed to its developers. It will open WhatsApp/LINE/Facebook chat transfer and more other data types soon.
The Bottom Line
Phone-to-phone file transfer is a basic demand when we switch to a new phone. After reading this complete SHAREit review, I am sure you have more thought about the SHAREit app and its alternative. Since SHAREit is not a flawless and secure app, you can abandon it and try Coolmuster Mobile Transfer decisively. It is secure, easy, and fast to transfer files between Android and iOS devices.
Most strikingly, it doesn't contain any irritating ads and inductive downloads. Why don't you give it a try?
Related Articles:
How to Use Motorola Migrate & Top 5 Motorola Migrate Alternative
BackupTrans Review: What is BackupTrans and How to Use It?
Top 8 Samsung Smart Switch Alternatives for Samsung or Other Phone Data Transfer
The Best 12 AirDroid Alternatives You Can't Miss
Top 7 Best Phone Cloning Software/Apps of 2022
Which Is the Best Phone Transfer Software for Android & iOS in 2022?