Electronics are used every minute of everyday, and almost everyone has either an Apple product or an Android. They are used for music, media sharing, texting, calling, and using calendars to keep organized. Every few months, no matter what electronics, we tend to upgrade them. Why? We love the own the best and brightest in technology. With this comes the increasing need to transfer files from one device to another. What's the first thing most people need transferred? Their calendars. Without their schedules, most people would be forgetful about certain tasks, errands, and meetings in their lives. So much in fact that it is a priority that calendars can be transferred between devices so clients do not lose what they need.
Transferring from iTunes or iCloud can only transfer to same brand products, like Apple to Apple. With many people switching back and forth between iOS and Android, you need a third party app that is equipped to do the job. Android to iPad Transfer has gotten many positive reviews throughout the online community so I thought I would try it. I got a free trial to test it out, and I decided to transfer my calendar from my Android phone onto my brand new iPad Air 2. I wasn't really worried if the calendar did not transfer, as my schedule is always written down on a regular calendar to, so it would buy me time to find a new way to transfer it. I kinda expected the worst, as Android to iPad Transfer was not directly connected to the Apple or Android Company, but once I used it, I was pleasantly surprised.
The whole process only took about 5-10 minutes, and my calendar did completely transfer to my iPad! And I also test the software to see whether it does as much as it says to transfer almost everything between two mobile devices. The result is certainly a surprise to me. This Phone Transfer is successful in transferring photos, videos, music, apps, contacts, SMS, etc. between phones and tablets in Android, iOS and Symbian OSes. And it also comes with Mac version, which is rightly designed for Mac users.
Please free download the trial version of the Android to iPad Transfer to give it a try by yourself. It supports all Android phones and devices, as well as iPad Air, iPad mini, iPad Pro, etc.
Steps: Sync Calendars from Android Phone/Tablet to iPad Air, mini, 4
Before beginning, please install the iTunes on your computer to make sure the Phone Transfer can run properly.
Step 1. Launch Android to iPad transfer software
Launch the downloaded and installed Android to iPad Transfer on your computer. Enter the "Phone to Phone Transfer" window by choosing the corresponding option. Then, you will be asked to connect your devices to the computer.
Step 2. Connect your Android and iPad with computer
Plug them into the computer by using two USB cables. Both devices will show up on the screen, ready for the next step. Please note they will be placed on Source and Destination respectively. Please tap the "Flip" button make sure they are in the right places before the transfer.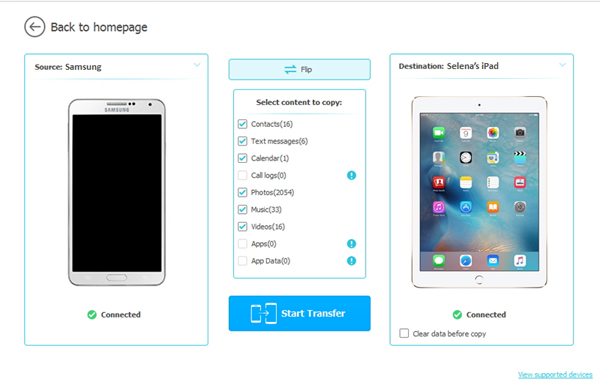 Step 3: Start to sync Android calendars with iPad
Below the box, there is a button label "Start Transfer". Click the button after you select the "Calendar" and your transfer will be done in no time! Yes, it really is this easy! After your files are done switching over, enjoy them on your new device!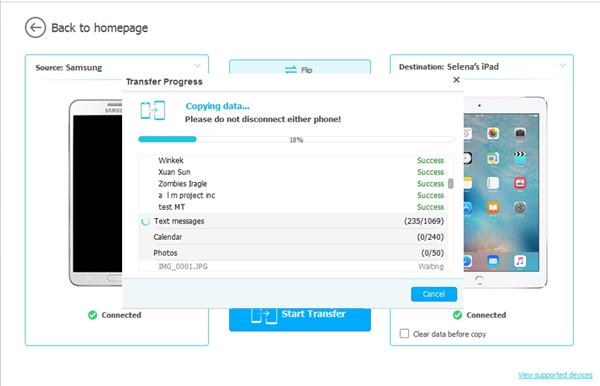 Just follow the same way to transfer more between your Android phone/tablet and iPad please! Enjoy yourself!
Related Articles:
How to Move Photos, Videos, Music & More from HTC to iPad
Transfer Contacts between Nokia and Android
Recover Deleted Text Messages on iPhone without Backup