It's always great to have more than one cell phone, but it can be frustrating to have two completely different devices that don't operate on the same platform. Having an iPad and an Android is essential, but you should also consider if these devices can sync. Remember that an iPad functions very differently from Android, and if you can't sync them together, it might be worth buying a separate device.
The good news is that there are still a few options out there to help you sync your iPad Pro/Air/4/mini/2 with Android. We've rounded up the best of the bunch so you can keep both devices synced.
Part 1. Can You Sync an Android Phone with an iPad?
Can I link my Android phone to my iPad? Officially, Apple does not offer any way of syncing iPad with Android devices since Android has a different operating system. This makes it impossible for Android phones to use Apple's unique features freely. Syncing devices helps in sharing data from one device to the other. So, when you sync the iPad with Android, you can move some of the files. Even though there's no official way to sync these devices, you can use the software.
We will show you the most effective ways to sync iPad with Android devices. They are reliable in getting your devices syncing in no time.
You may like:
How to Sync Samsung Phone to iPad Pro/Air/4/mini/2
How to Sync Android Phone with Tablet (iPad & Android Tablets)
Part 2. What Can I Transfer While Moving LINE Account?
Among very many tools of data management, Coolmuster Mobile Transfer stands out. It's a professional and reliable data management application for iOS and Android that has been specially developed to help you sync your iOS to Android devices, and vice versa.
Mobile Transfer does a great job transferring data between two devices in a short time. It works efficiently and is compatible with most iOS and Android devices. Even though the devices operate under a different OS, the software will complete the transfer limitlessly. Furthermore, you will not need to worry about a breach of privacy.
Key Features of Mobile Transfer
* Transfer data between two smartphones despite operating under different OS.
* Simple and secure way to transfer data between Android and iOS devices.
* Simple, secure, and efficient process.
* Compatible with all iOS and Android versions.
* Compatible with Windows 7/8/10/11/XP/Vista.
How to Sync iPad with Android Devices Using Coolmuster Mobile Transfer?
01 Install Coolmuster Mobile Transfer on the computer
After completing the installation process, open the Coolmuster Mobile Transfer to get to its primary interface. Click "Mobile Transfer" and proceed.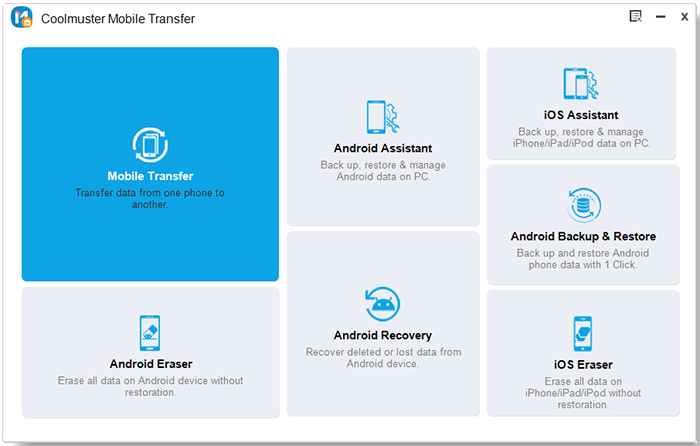 02 Link the devices to the PC
Open the program and ensure that your iPad and Android device are linked to the computer correctly using USB cables. Follow the on-screen prompts to allow USB debugging on the Android phone. Unlock the iPad and tap "Trust" when requested to "Trust this computer." The software will start detecting the devices.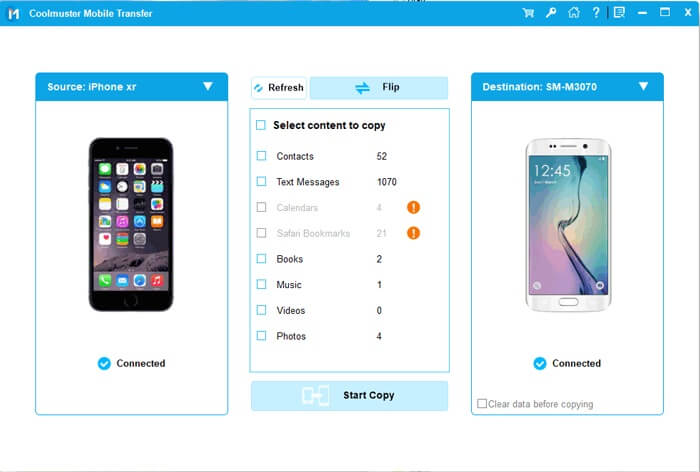 03 Sync iPad with Android phone
After successfully connecting the Android and iPad devices to the PC, you will find the screen depicting the Source and Target device. Select the respective data that you want to share. Additionally, you can include Text Messages, Photos, Contacts, Music, Videos, and Books can be shared (See how to transfer videos from Android to iPad). Click "Clear Data Before Copying" if required, click "Start Copy" to begin the transfer.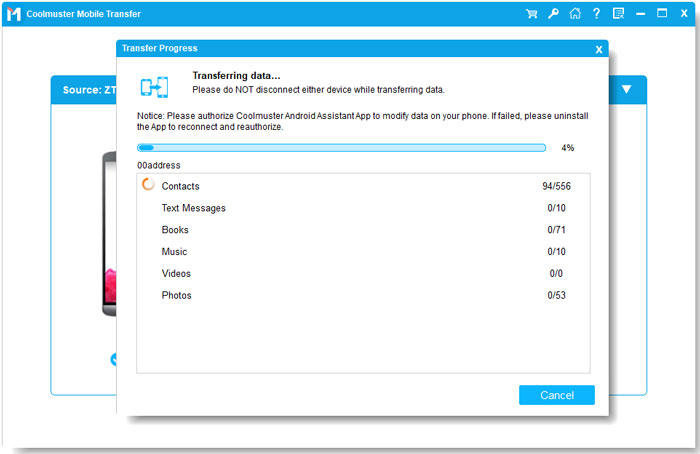 Check it if needed: Fix iCloud Photos Not Syncing on iOS Devices
Part 3. How to Sync Android to iPad through Email
Email is another strategy used to sync iPad to Android. If you are wondering how do I sync my Android phone to my iPad with Email, follow the guidelines below:
Step 1: Log into two different email accounts on your iPad and Android.
Step 2: On the Android device, select the files you wish to sync to the iPad. Enter the email address you signed into the iPad and click "Send" to send them to your iPad.
Step 3: Go to your iPad to check the sent files.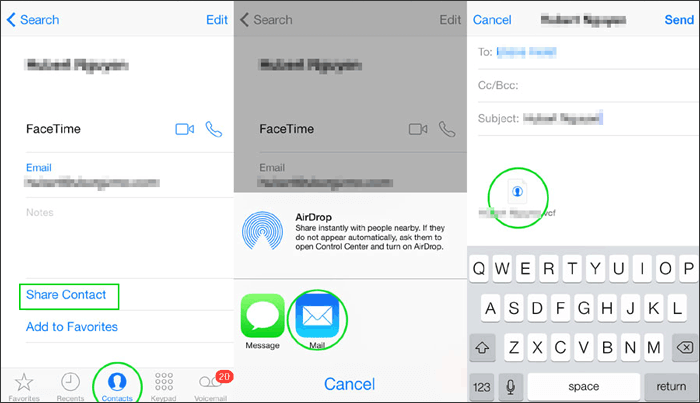 See more:
How to Run iPad Apps on Android Phone/Tablet?
How to Sync Android Calendar with iPad Easily and Safely?
Part 4. How to Sync Android Phone to iPad with Google
Google Workspace is a simple and efficient method to sync your iPad and Android device. The Workspace incorporates Google Drive, Google Docs, Photos, and Sheets. Google provides more features to users who need extra storage space than the allocated one. Furthermore, you can sync your pictures to Google Photos, thus enabling you to access them on your iPad or Android device.
Firstly, you will install Google apps on your iPad and Android. These applications are available in the Apple Store and PlayStore. Most Android devices have built-in Google Photos, Docs, Drive, and Sheets. If not, get them in the respective app store and download them.
After installing the applications, sign in to your Google account. The application will start syncing your iOS or Android data to the cloud. This data can be easily accessed using any smartphone that has signed in to the Google account. You will be required to correctly save any file you wish to link in Google Drive.
Below is the process of how to link Android phone to iPad using Google Drive.
Step 1: Launch the Google Drive application on your iPad or Android.
Step 2: Select the folder you want to save your data.
Step 3: Click on the plus icon in the right-hand corner at the bottom to open menu options.
Step 4: Select Upload File. Locate and select the file you want to upload.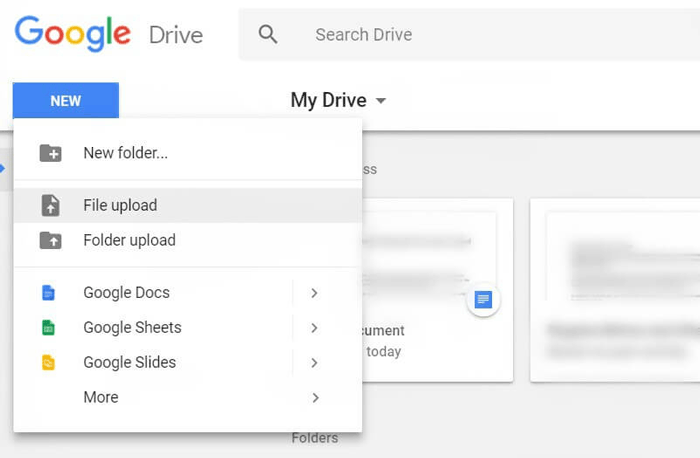 The process might be a little different for iOS, but they operate the same.
Part 5. How to Sync iPad and Android Phone with Dropbox
Dropbox is a convenient and efficient cloud storage application. Like Google's applications, Dropbox offers a particular amount of storage for free. However, you can pay for individual subscriptions if you need more space. To start the process, register on the Dropbox website. After the signup, download Dropbox to your respective device (Dropbox on Android). Follow the guidelines below to sync a file between iPad and Android devices;
Step 1: Open Dropbox and click on the plus icon.
Step 2: Click on "Create or upload file."
Step 3: Next, click on "Upload Files."
Step 4: Choose the file you wish to upload and sync it with Dropbox. After the sync, you can access the data on your Android or iPad.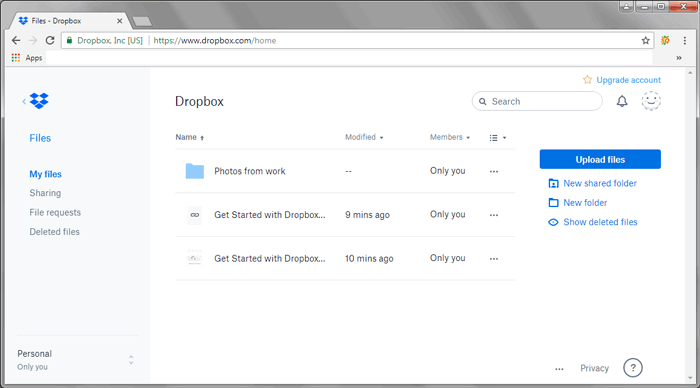 Part 6. How to Sync iPad to Android Phone via SIM Card
Can you sync iPad to Android phone without an additional tool? You can use a SIM card if you want to sync contacts from iPad to Android without using a third-party application. But, first, you must export your contacts to the SIM card.
Step 1: Access Contacts on your Android, click on the three dots menu and select "Import/Export" contacts.
Step 2:Click on Export to SIM card and click on the contacts you want to sync.
Step 3: Insert the SIM card into your iOS device and access the contacts.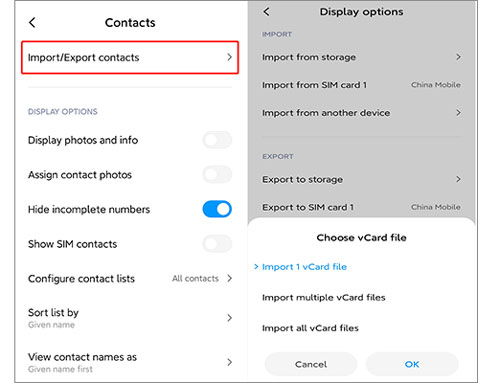 Conclusion
There are plenty of ways to get your iPad and Android phone synced. The methods elaborated above are effective and reliable, but the easiest and most recommended is using Coolmuster Mobile Transfer. It's a pro app that significantly simplifies the syncing iPad with an Android phone.
Related Articles:
Efficient 9 Ways to Transfer Data from Android to Android [Can't Miss]
How to Transfer Files from iPad to Android Phone? (6 Evaluated Methods)
Top 9 Ways to Fix "Messages Didn't Transfer to the New iPhone"
[Proven] How to Transfer WhatsApp to New Phone Easily? (Android & iPhone)
[Fast Transfer] How to Transfer WhatsApp from iPhone to Android
4 Easy Ways to Restore iPad without iTunes You Need to Know (New Discovery in 2023)