As more and more people can afford to buy a new phone, you may have more than one smartphone. OPPO and Vivo, the two rising stars in the global mobile phone market, have achieved impressive sales in recent years. If you happen to switch from an OPPO to a Vivo phone, you may want to perform the data migration. After all, there are too many billing lists, interpersonal connections, documents, and other vital contents on our old phones that we can't give up easily.
But the painful task we are facing is how to transfer data from OPPO to Vivo. Do you have any idea of how to do it? If not, that doesn't matter. We will explain three compelling ways for you to tackle this issue. Let's go ahead!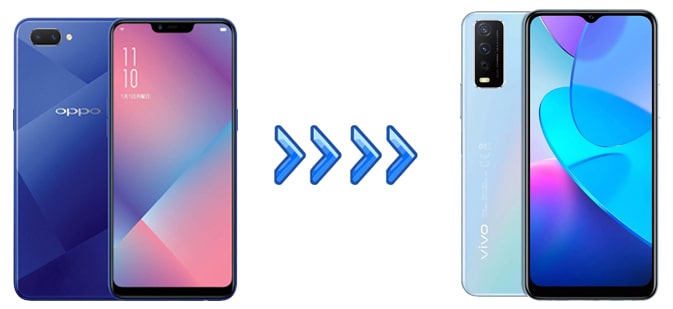 Way 1. How to Transfer Data from OPPO to Vivo in One Click Using Coolmuster Mobile Transfer
Way 2. How to Make OPPO to Vivo Data Transfer via EasyShare
Way 3. How to Move Data from OPPO to Vivo with Bluetooth
Way 1. How to Transfer Data from OPPO to Vivo in One Click Using Coolmuster Mobile Transfer
If you wish to transfer everything from your OPPO to Vivo in one click, please give Coolmuster Mobile Transfer some time. As you have expected, the one-stop OPPO to Vivo data transfer app allows you to transfer SMS, contacts, music, apps, call logs, photos, videos, and eBooks from OPPO to Vivo in one click. Besides, it also works for iOS devices and supports the data transfer between iOS and Android. If you change your OPPO to an iPhone, you can also use this tool to transfer data from OPPO to iPhone.
To get a comprehensive understanding of Coolmuster Mobile Transfer, you can check the main features below.
Key features:
* One-click to move videos, contacts, apps, eBooks, call logs, SMS, photos, and music from OPPO to Vivo.
* Directly transfer data from iOS to iOS, iOS to Android, and Android to iOS, like contacts, calendars, eBooks, etc.
* Work for devices running at least iOS 5 and Android 4.0, such as iPhone, iPad, iPod, Samsung, Sony, Huawei, OPPO Find X6 Pro/Find X6/X5/Find X3/Find X2/Find X/K3/F11 Pro, OPPO Reno9 Pro/Reno9/Reno8 T/Reno 8/Reno7, Vivo X90 Pro/X90/X80/X70/X60/X51/X50/X30, Vivo V27/V27e/V27/V25/V23/V21/V20, etc.
* One-click transfer, highly secure, and user-friendly interface.
One-click to transfer everything from OPPO to Vivo:
Step 1. Install and launch the OPPO to Vivo data transfer app on your computer. After that, choose Mobile Transfer from the interface.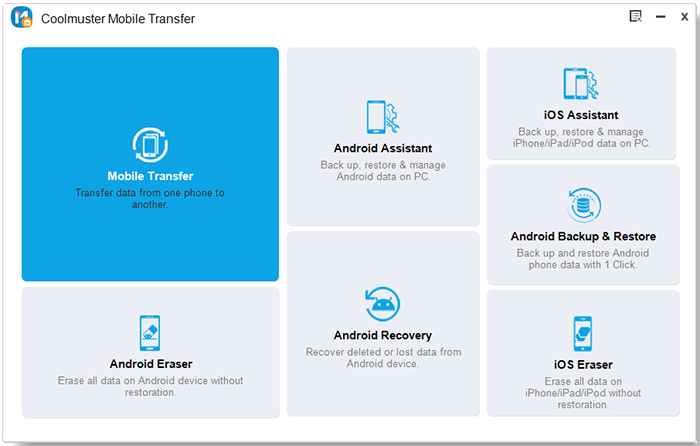 Step 2. Connect your OPPO and Vivo with the PC via two working USB cables, and enable the USB debugging on your phones as prompted.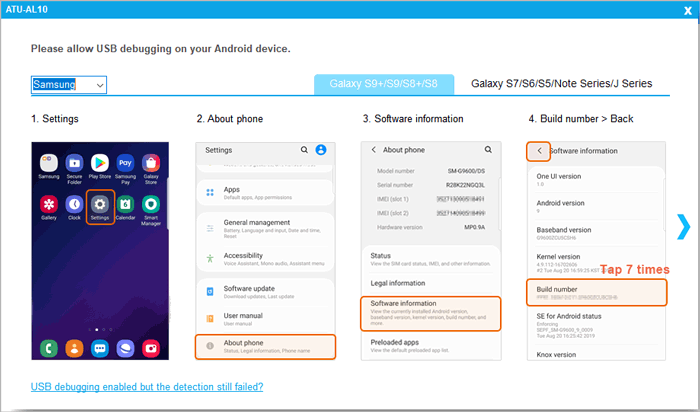 Step 3. After a successful connection, you will see Connected under the device images. Please note that the OPPO device must be in the Source device position. If not, click the Flip button to make a change.
Step 4. Tick the content you wish to transfer and hit the Start Copy button below to start syncing files.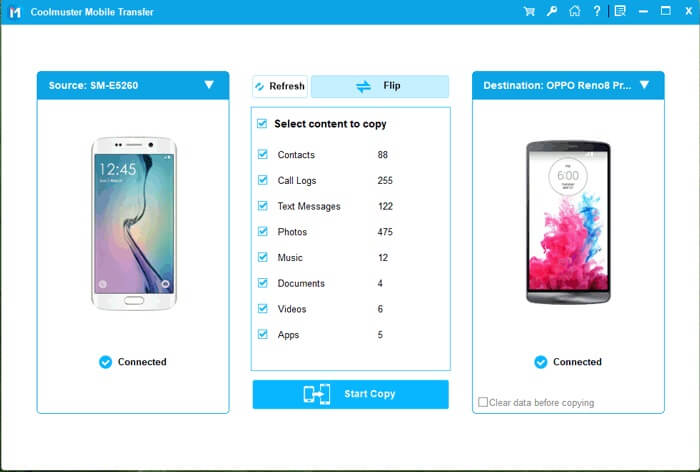 You may like:
iPhone to Vivo Data Transfer: 4 Swift Methods You Can Follow
How to Transfer Data from Vivo to Samsung (2023 Tips)
Way 2. How to Make OPPO to Vivo Data Transfer via EasyShare
EasyShare is a cross-platform transfer app developed by Vivo Official, which supports sharing all kinds of files among Android, iOS, Windows, and Mac. When you transfer files from OPPO to Vivo, it is fast, secure, and stable to use and consumes no internet connection.
To start with, you need to install this app on both phones. Then, you can follow the instructions below to get the files transferred.
How do I transfer data to my Vivo phone from an old OPPO device?
1. Install EasyShare from Google Play Store on both phones and open the app.
2. Tap the Replacement option at the lower-right corner and choose Old phone on your OPPO phone. On your new Vivo phone, tap New phone and select the old phone type as Android phone. Next, scan the QR code generated on the OPPO phone with your Vivo phone to establish a connection between the two devices.
3. When connected, you can choose the data types you want to transfer and tap the Start device switch button. Once the file transmission is complete, hit Done.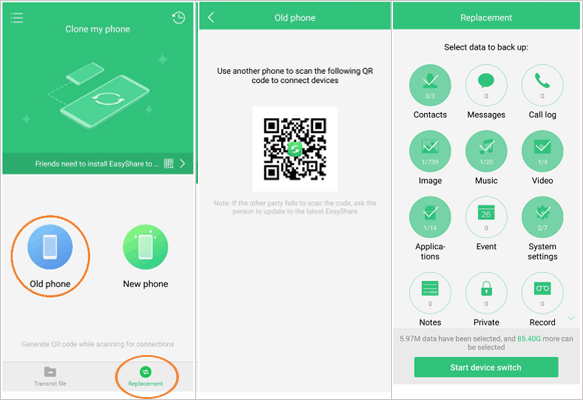 Way 3. How to Move Data from OPPO to Vivo with Bluetooth
As OPPO and Vivo run Android operating systems, you can use Bluetooth to send light files from OPPO to Vivo without installing any third-party apps. Nowadays, Bluetooth on Android can transfer contacts, messages, photos, music, videos, documents, apps, and other files you want. However, when it comes to transferring large media files, the transfer speed is prolonged. Therefore, Bluetooth is better to transfer only a few pieces of small-sized files.
Let's see how it works.
1. Enable Bluetooth from the drop-down screen or the Settings menu and turn on the Phone Visibility on both devices.
2. On one phone, go to Settings > Bluetooth > Available devices and tap the other device's name here. Afterward, pair the two devices by following the on-screen prompts.
3. Select the files you want to transfer. You can open the Gallery app on OPPO phone, click the desired photo, and press Share > Bluetooth > Vivo's name. Finally, tap Receive on your Vivo phone promptly to start the transfer process.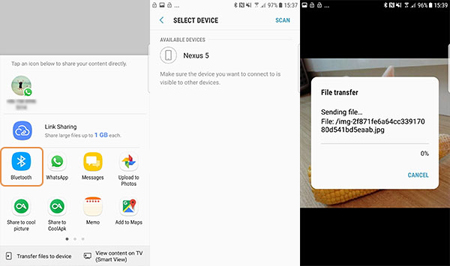 The Bottom Line
The advanced technology on the latest version of smartphones brings us convenience and happiness in life. Meanwhile, you may get somewhat confused about how to transfer data from OPPO to Vivo when you need to make the switch. In this post, you learn three simple solutions to get the transfer done smoothly. However, which is the best way to choose?
In my opinion, Coolmuster Mobile Transfer is the best solution since it transfers everything between two phones in one click and is time-saving and secure to use. By comparison, the other two methods are complicated and time-consuming, and you'd better not try them.
If you need our technical support anytime, please tell us in the comments.
Related Articles:
Considering OPPO Contact Backup? 3 Amazing Ways May Help You (Step by Step)
How to Transfer Data from Samsung to Vivo V27 Pro/X90 in five Simple Solutions?
[Full Guide] How to Transfer Contacts from Android to Android in 7 Ways
How to Transfer Pictures from Android to Android? (4 Ways)
How to Sync Android Phone with Tablet (iPad & Android Tablets)?
How to Transfer Data from iPhone to OPPO Find X3/X2/Reno4 Seamlessly? (4 Tested Methods)