Most people nowadays prefer to use customized ringtones that they download or create themselves. The technology of cell phones has evolved significantly, from large and cumbersome devices to the current slim and easily transportable smartphones. Additionally, we can now customize our devices the way we want. Instead of a standard ringtone, you can set a ringtone you feel it's pleasing. Let's say you have a collection of customized ringtones and wish to transfer them to another Android device. How to transfer ringtones from Android to Android? It is very easy and you will understand better when you read this article.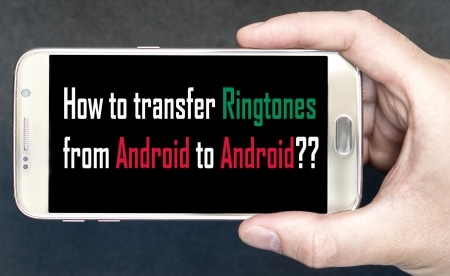 Part 1. Where Can I Find Android Ringtones?
Wondering where you can find the ringtones on your Android? Android ringtones are found in the Ringtones folder in the storage directory of the Android. Also, it can be in the Media/Music folders. This tells you that the exact location of ringtones folders varies depending on the version of the Android device. But locating it is quite easier.
To open the folder, simply swipe up on any empty area on the home screen to reveal folders having many ringtones. You can choose one ringtone and set it for your contacts. You may access the ringtones from your device's settings. Click "Sounds and Vibration " to find a selection of tunes for incoming calls. Choose your favorite ringtone from the blue circle. Select "Save to Device" to save the ringtone to your phone's media folder for easy access.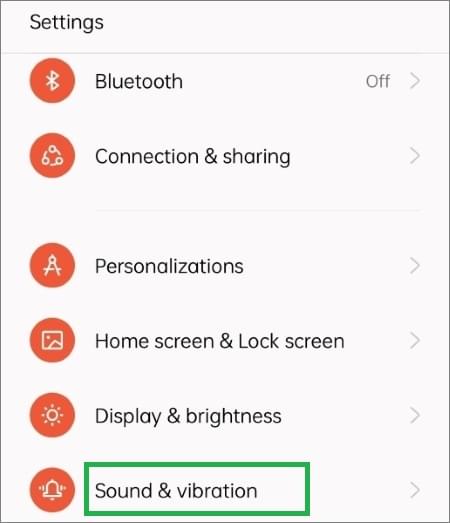 Here's more for you to learn about:
How to Transfer iPhone Ringtones to Android?
Get Android Ringtone Apps to Make Special Ringtones
Part 2. Is It Possible to Transfer Ringtones Between Android Devices?
"Can I transfer the ringtones to a new Android phone?"
"Any way to send ringtone to Android phones?"
...
Absolutely! It's possible to transfer ringtones between Android phones. Since they operate on the same platform, migrating them will be a piece of cake. There are various ways to help you successfully migrate ringtones to another Android. You can use Bluetooth, or use your Email to get your favorite ringtones to another Android. So, if you just got a new Android and want a familiar sound from your old Android phone, you can transfer them without any problem.
Transferring ringtones between Android devices is very important. Here are some of the pros of moving ringtones from one Android to another:
You can personalize your phone's ringtone and set each contact with its ringtone.
You can easily share your favorite ringtones with friends and family members.
It will save you the time and effort of creating the same ringtones again.
Additionally, by sending your ringtones to other devices, you could save yourself from the stress of data loss in case the device gets damaged or lost.
Part 3. Methods to Transfer Ringtones from Android to Android
We'll explore methods you can use to send ringtones to Android devices. Whether they are your own or downloaded ringtones, you will surely have something new on your other Android.
Method 1. Use Email to Transfer Ringtones Between Android Phones
You can use email to transfer ringtones from one Android device to another. This method allows you to share your preferred ringtone with friends no matter where they are located. An added advantage of using email to transfer ringtones on Android devices is that the devices don't need to be close together for the process to be successful. As long as you haven't deleted the email, you can access the shared ringtones anytime.
Follow the steps below to transfer ringtones between Android devices.
Step 1. First, open "File Manager" on your phone and locate the directory where your ringtones are saved. From there, choose the ringtone you want to share and open the menu.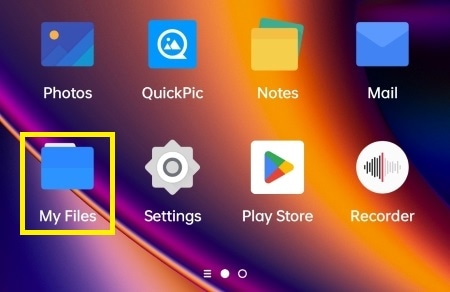 Step 2. Select an email host from the sharing menu, such as Gmail or Yahoo Mail. This will open a new email template with your ringtone file already added.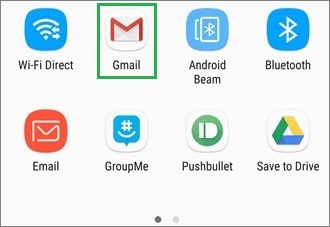 Step 3. Enter the email address of the recipient and send your file. Once they receive the email, they can open it and download its contents.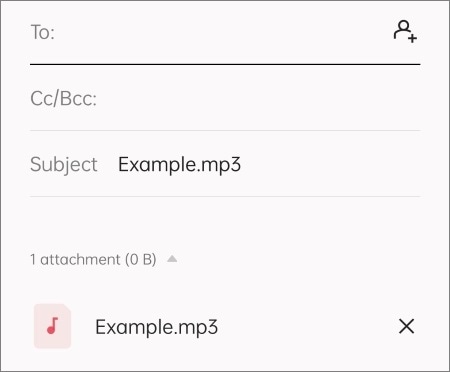 With this method, there's a file size limitation. The size of attachments you can upload in a single email is 25MB. Moreover, both Android devices must have an active internet connection to transfer and download ringtones.
More related articles:
Easy Steps to Backup Email Account on Android
Must-Have Top 5 Mail Apps for Android/iPhone
Method 2. Use Bluetooth to Move Ringtones from One Android to Another
How do I send ringtones from one Android to another? Bluetooth is one of the simplest ways to share files between two Android devices. It's a free built-in feature available on every Android device. However, Bluetooth is only suitable for transferring smaller files since the process is very slow. For example, transferring a few photos or videos from the gallery is acceptable.
Remember, transferring large files may take longer; therefore, it's best suited to transfer smaller files between devices quickly. Besides, for Bluetooth transfer to work, the Android devices that are being targeted should be near each other.
So, if your ringtone isn't large, you can transfer them via Bluetooth. Here's how:
Step 1. Turn on Bluetooth Android devices to pair them. Once paired, open the "File Manager" app on your Android phone and go to the ringtones folder.
Step 2. Choose the ringtones to be shared from the share menu. Then select "Bluetooth". When the other Android device shows in the sections for the available devices, just choose it to transfer the ringtone files.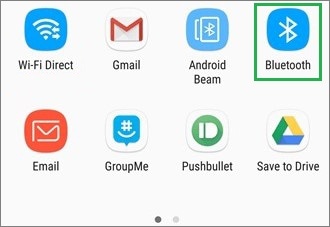 Step 3. Accept the files coming in on the new Android device. Wait for the process to finish.
The major plus of using Bluetooth to transfer ringtones is that it is a straightforward process that does not require additional applications or cables. Additionally, Bluetooth is a feature available on all Android devices, which can be helpful if other methods of transferring ringtones are unavailable.
Also read:
Top 5 Android Bluetooth Managers - Make Bluetooth Connection Faster
Transfer Files via Bluetooth between Phones
Bonus: Transfer files Between Android Devices with Coolmuster Mobile Transfer
Changing from one device to another can be stressful; you have ringtones that need transferring, and so does your other important mobile data. While email and Bluetooth may suffice for transferring ringtones, they won't cut it for the rest of your content.
In that case, you should use a reliable app to migrate files between Android devices. Coolmuster Mobile Transfer is an unbeatable tool for all your data transfer needs. You only have to select which files you want to move and let this amazing software do its thing. You can transfer photos, videos, contacts, documents, and call logs from one Android to another.
It's a convenient tool for all users. It lets users swiftly and securely migrate their most cherished data from an old Android to a new one without a fuss. It supports all major Android phone brands and versions; it's easy to transfer data quickly while ensuring safety.
What Coolmuster Mobile Transfer can help you with:
Move music, SMS, photos, apps, and contacts from one Android to another.
Move files between iOS devices and Android to iOS.
Supports almost all Android devices operating on version 4.0 and above.
Supports the latest Android and iOS models (such as iOS 16 and Android 11).
Simple to use.
Here's how to transfer files from Android to Android with one click:
01Download the Mobile Transfer app on the computer, then open it. Choose Mobile Transfer from the interface.
02The screen will display instructions asking you to connect both the source and destination phones using USB cables. Plug in your Android devices but ensure each is in the right position.
03Finally, choose the data you wish to transfer to the other phone and click "Start Copy".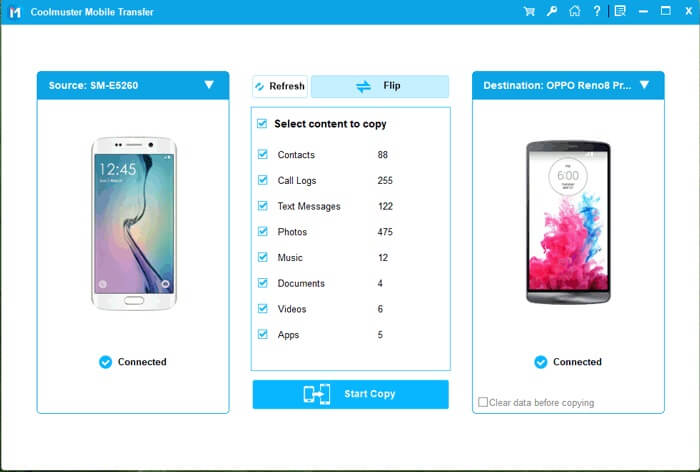 With Mobile Transfer, the entire process has been made so simple. Just sit back and wait for your transfer to be completed.
Conclusion
Tired of the same old boring ringtone every time your phone rings? With the above mentioned methods, it's easy to copy and share an exciting new ringtone with all eyes turning when your device buzzes.
Coolmuster Mobile Transfer is a handy software that can share any other file you would like from your old Android to the new one. It's very safe to use and transfers files between Android devices in a blink of an eye. The process is simple, secure, and lightning-fast.
Related Articles:
7 Practical Ways to Transfer iPod to iPhone without a Hassle
How to Transfer Pictures from Android to Android? [4 Ways]
Top 5 Ways to Sync iPad with Android Phone/Tablet
Transfer iCloud Messages to Android with 2 Hassle-free Methods
How to Transfer Photos from Android to iPhone
Efficient 9 Ways to Transfer Data from Android to Android [Can't Miss]