2 Ways to Transfer Call Logs from Android to Android

Why Need to Transfer Your Call Logs between Android?
For Android owners, there are a few reasons why it may be important to take one set of call logs and get them on another phone. Probably the most common is that you've just purchased a new phone, and you don't want to lose all your old data that are saved on your old phone. By transferring your call logs to your new phone, you'll be able to pick up exactly where you left off. Another reason is that sometimes someone might have two phones, for their business and for their personal lives.
By being able to transfer their call logs from old Android to new Android phone, they can keep accurate records of who was called and when without getting confused about which phone to use or about finding the number of someone who called them last week. (Here is a guide to tell you how to recover lost call logs from Android).
Why It's A Lot Better To Use A Third-Party Solution
Transferring call logs manually is a complicated process that isn't always straightforward to every smartphone user. A third-party solution like Phone to Phone Transfer or Android Assistant gives you the software tools you need to make this project easy and smooth, which is exactly what you want. In this article, we will show you two such kinds of programs to transfer call logs between two Android phones.
Part 1: Transfer Call Logs between Android Phones with Android Assistant
Part 2: Transfer Call Logs from Android to Android with Phone Transfer
Part 1: How to Transfer Call Logs from Android to Android with Android Assistant
First of all, we suggest you to have a try with the Coolmuster Android Assistant or Coolmuster Android Assistant for Mac, which provides you with the easiest and most efficient way to transfer and manage Android phone data. It is able to backup your data from Android device to PC or Mac computer, inicluding contacts, call logs, text messages, photos, videos, music, applications and more. Also it can restore the backup files to the same or another Android phone with one click. It is fully compatible with overall Android based devices, including Samsung, HTC, ZTE, Huawei, LG, Sony, Motorola and more.
Download the free trial version of Coolmuster Android Assistant to have a try, and then follow the steps in the below to move call history from one Android phone to another one.
Step 1. Connect old Android phone to computer
Launch the Android Assistant on your computer and connect your old Android phone to the computer via a USB cord. Beforehand, make sure that the USB debugging option is turned on on your Android. After that, the Android phone will be detected by the program smoothly.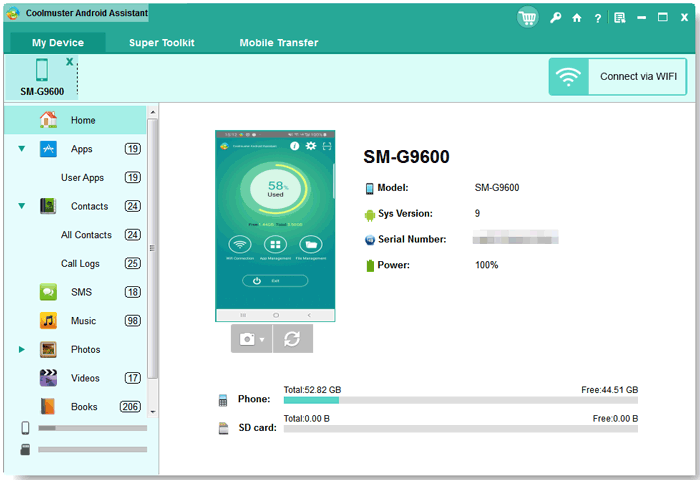 Step 2: Choose "Super Toolkit" option
Go to the top menu to select "Super Toolkit". Then, you can see there are "Backup" and "Restore" options are displayed here. choose "Backup" option and all the supported file types will be displayed.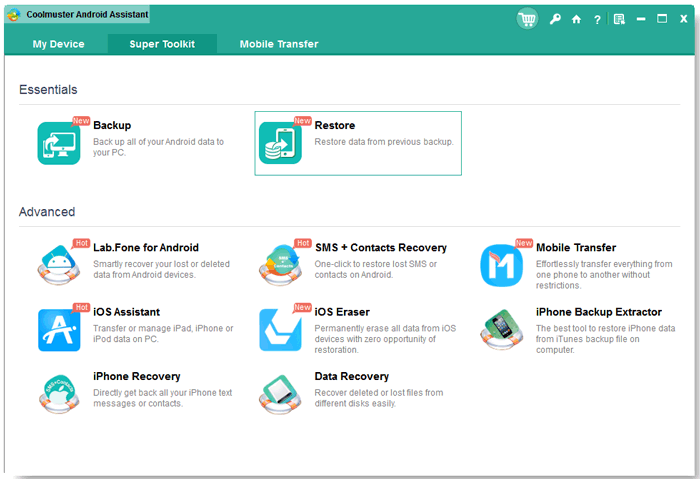 Step 3: Backup call logs from old Android to Computer
To backup call logs, you just tick off the "Call Logs" file type and click "Start Copy" button to backup all call logs from your old Android phone to your computer.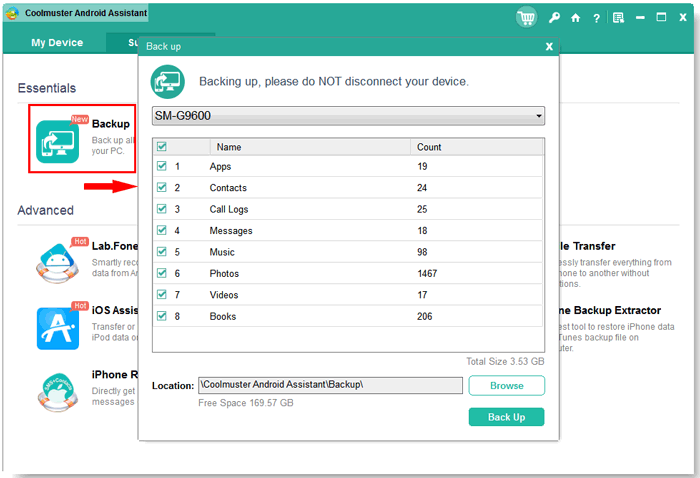 Step 4: Restore call logs to new Android phone
Connect your new Android phone to the same computer. Go to "Super Toolkit" > "Restore" and tick off the "Call Logs" file type. After that, you can click "Restore" button to restore the call logs from your computer to your new Android phone.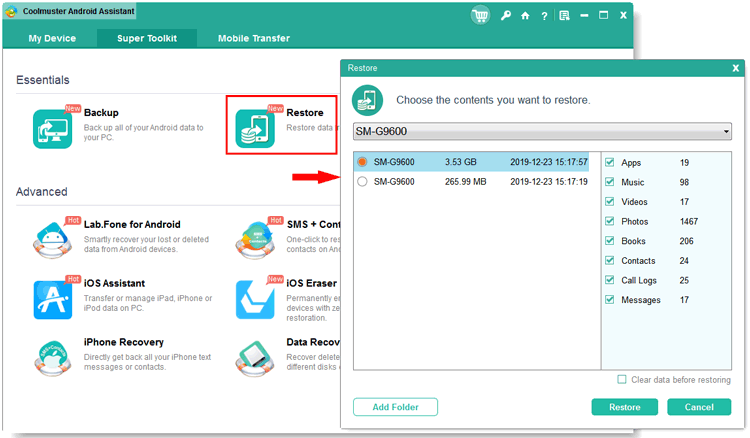 Video Tutorial
Here are also some useful guides to teach you how to:
Transfer Data from Samsung to Huawei
How to Transfer Data to iPhone X/8
Part 2: Transfer Call Logs from Android to Android with Phone Transfer
Phone Transfer is a new software solution for Android users to be able to transfer all sorts of data between phones like Samsung, HTC, LG, Sony, Motorola, etc. The creators knew that data was king, but also that many users were struggling to get every type of data off their phone. So they set out to make an easier solution that would allow users to transfer their call logs, messages... and most importantly, all the rest of their important data, from phone to phone.
To transfer call logs from your old Android to new phones, there are some simple steps to follow to make it as smooth a process as possible. Here they are. Please note that in addition to call logs, Phone Transfer can also copy contacts, SMS, photos, videos, music and more between two mobile phones in Android, iOS or Symbian system.
Step 1: Install and launch the tool on your computer
After you downloaded the Phone Transfer on your computer, double-click on the .exe package (.dmg package on Mac) to install the tool. After that, launch it by clicking the icon on the desktop and then you will see a primary window as follows.
Step 2: Connect two Android phones to the computer
Connect both of your Android phone with the same computer via two USB cords. Once the connection is enabled, Mobile Transfer will detect them and display them as "Source" and "Destination" devices. You can easily change the places of the two phones by clicking the "Flip" button in the middle of them.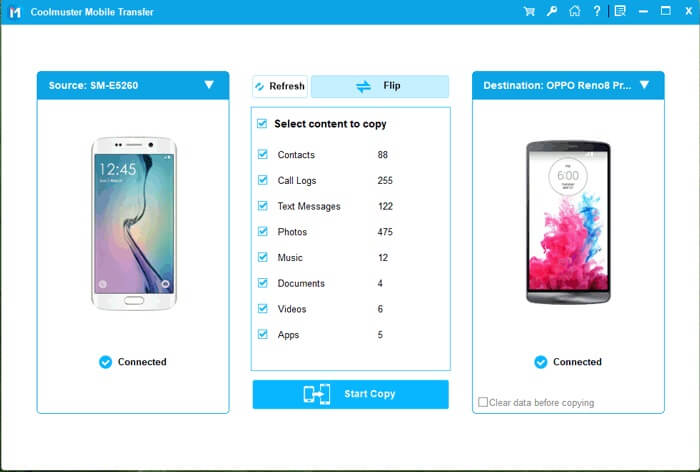 Step 3: Transfer call history from Android to New Phone
Here are several file types can be transferred by the program. To transfer call logs only, you ought to mark "Call History" option and remove the marks before other file types. Then, click "Start Transfer" to initiate call log transferring.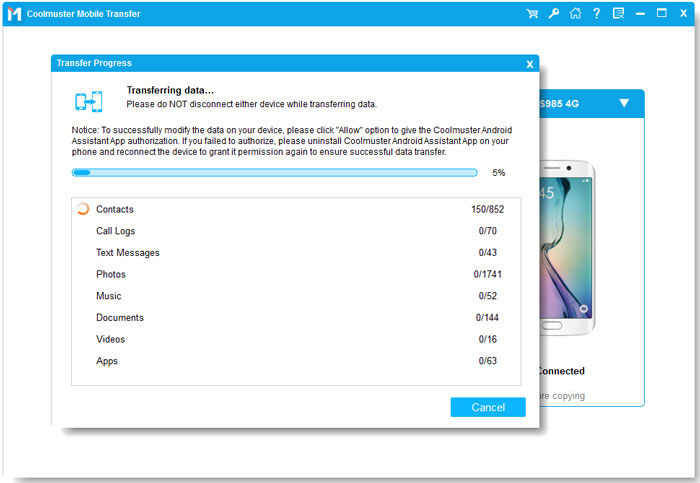 Wonderful! All the call logs on your old Android phone has been moved to your new Android phone successfully. It is really simple to achieve, isn't it?
Related Articles:
How to Copy Contacts between Nokia and Android