Chances are that you and those close to you may need to access each other's computers remotely at some point. Maybe it's due to working from home, traveling outside your country, or simply living far away from your workplace. Whatever the situation, having remote access comes in handy. In recent times, AnyDesk has been making waves in the tech world. This remote desktop software is a highly sought-after solution, and this article will provide an insightful review of what it can do for you and explore its viable alternative. Let's jump into our thorough AnyDesk review.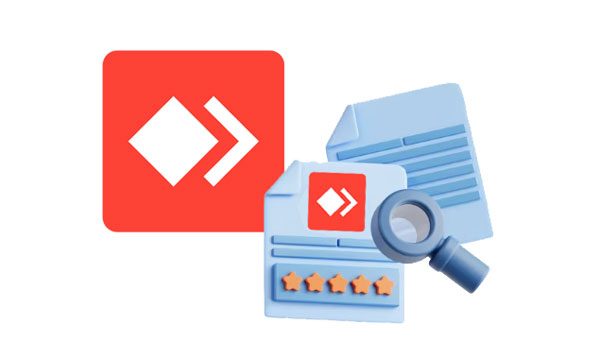 Part 1: Uncovering the Purpose of AnyDesk: What Does It Do?
AnyDesk is an efficient and user-friendly remote assistance application that benefits businesses of all sizes. With it, companies can easily connect with their customers' computing devices remotely to solve any issues that may arise.
In addition, users can easily access their office computers while working from their homes. With a successful connection established, users can share files between their computers. You can also keep track of your usage by simply recording the session! The great news is that this amazing software works with many operating systems, such as Linux, Windows, macOS, iOS, and Android, making it all accessible to everyone.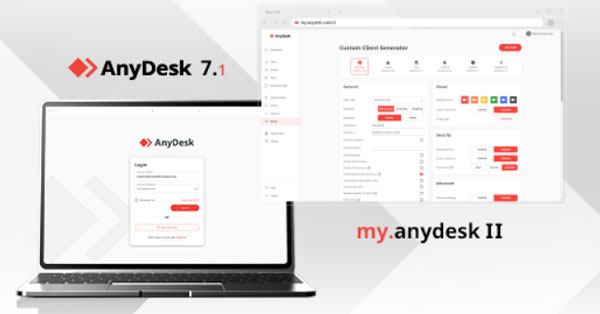 1.1 AnyDesk Application Features
AnyDesk takes pride in making remote access and communication easier. With several features on offer, users can make the most out of this software in helping their business run more smoothly. Below are some of the outstanding AnyDesk features:
1. Secure Connection
With TLS 1.2 encryption technologies, AnyDesk fortifies your data from unauthorized access and guarantees the highest levels of security when accessing computers remotely.
2. Easy to Use
With its user-friendly interface, AnyDesk is the perfect solution for business professionals of all backgrounds and technical expertise. You can instantly access and control other systems with the click of a button. It's that easy!
3. File Transfer
This amazing feature offers users the comfort of transferring files and documents between computers without stress! This system has you covered even if transfers fail due to unpredictable interruptions. It allows resuming of interrupted transfers.
4. Multi-Platform Support
AnyDesk works on various operating systems such as Linux, Windows, macOS, iOS, Android, Raspberry Pi, and others.
See also: What if the screen mirroring feature is not working? Maybe you can repair it with these easy tricks.
1.2 Advantages of Using AnyDesk
AnyDesk is an amazing tool for your disposal regarding remote access and communication. Here are some of the advantages of using AnyDesk:
1. High Performance
AnyDesk is different from traditional remote access tools as it offers better performance and speed even on slow connections. It also has low latency, which enables you to have a smooth and enjoyable remote access experience.
2. Supportive Customer Service
Need help with AnyDesk? Their customer service team is available 24/7 to answer all your inquiries and address any issues. You just need to get in touch by visiting their website, emailing, or connecting on social media!
3. Secure to Use
AnyDesk can be installed and used by anyone, regardless of their technical knowledge. Plus, it uses TLS 1.2 encryption technology that ensures all data transmissions remain secure between your computer and the remote device.
1.3 Disadvantages of Using AnyDesk
So, what about the weaknesses of AnyDesk? Let's take a look.
1. Limited Control for Mobile Devices
Even though you can use AnyDesk to control multiple computers, it will fail to cast the screen of a mobile phone to a computer.
2. No Audio Feature
At present, you can't communicate with others via AnyDesk by speaking because there is no audio feature in it.
3. Time-consuming to Transfer Files
AnyDesk is not good at sharing big files across platforms, which will take a lot of time to complete it.
Guess you need: Want to cast your Android screen to a Windows 10 PC? Here's a full guide you can follow.
Part 2: How to Use AnyDesk to Access a Remote Computer?
Using AnyDesk to access a remote computer is a simple process that takes little time. All you need to do is install the software on both computers and connect them via an ID code from AnyDesk. Here's a simple guide on how to use AnyDesk to connect to a remote computer:
Step 1: Download and Install AnyDesk
Begin the process by downloading the AnyDesk application on both devices from AnyDesk official website. Next, install the AnyDesk application on both devices by following the setup wizard instructions.
Step 2: Get the ID Code
Request the person with the remote computer you want to connect to send you his computer's ID code. Enter the ID code, click on the connect button, and wait for the remote computer user to grant you access rights by clicking the "Accept" button.
Step 3: Start Accessing the Remote Device
Once the remote user grants you access rights, you can start accessing their devices. You can now work on files, troubleshoot technical problems, transfer data, and do more with AnyDesk.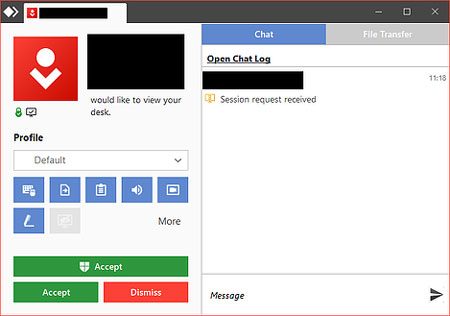 You might like: How to Mirror iPhone/iPad Screen to TV with AirPlay Mirroring
Part 3: Practical AnyDesk Alternative: Screen Mirror
Despite its popularity, AnyDesk isn't the only tool available for remote access. If you're looking for alternatives to AnyDesk, this Screen Mirror tool is a great choice. It is a remote access tool that allows you to mirror your phone screen to a computer with ease.
With it, you can also control your mobile phone on the computer with a mouse and keyboard. Besides, this tool can help you transfer your phone files to your PC and vice versa.
Key features of this mirroring program:
* Enable you to screen-share iOS and Android devices to your computer.
* Control your phone using your computer's large screen.
* Manage your social media applications easily.
* Support data transfer between PCs and phones.
* Wi-Fi and USB connections are available.
* Display with high-quality resolutions.
Download the alternative to AnyDesk.

Free Download for PC
Below is the guide on how to use this application to mirror your phone to a computer:
01Launch the Application on Your Computer
Open the screen mirror application after downloading and installing it on your PC. Select "Android Mirror" or "iOS Mirror", depending on your mobile device.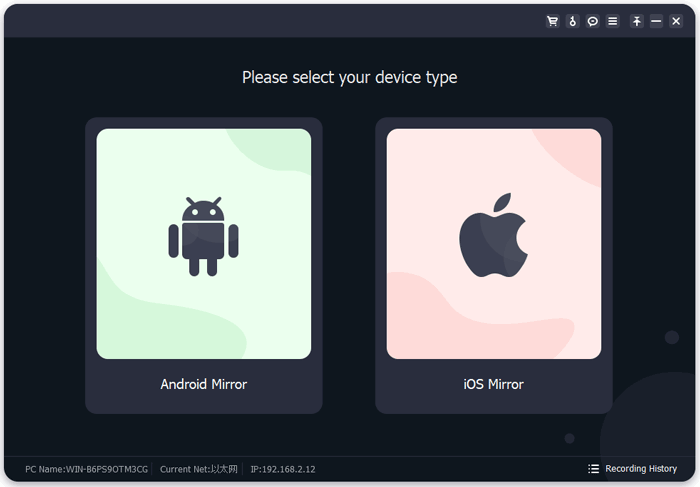 02Connect the Phone to PC
Choose "WiFi Connection", and make sure your phone and PC are connected to the same network.
03Enable USB Debugging
Open your phone's "Settings" app and choose the "About phone" option. Tap on the "Software information" and click the "build number" button seven times. Click on the "OK" button to allow USB debugging mode.
04Control Your Phone on PC
Download the mirroring app on your phone. Once the connection is established, you can start controlling your phone from your computer.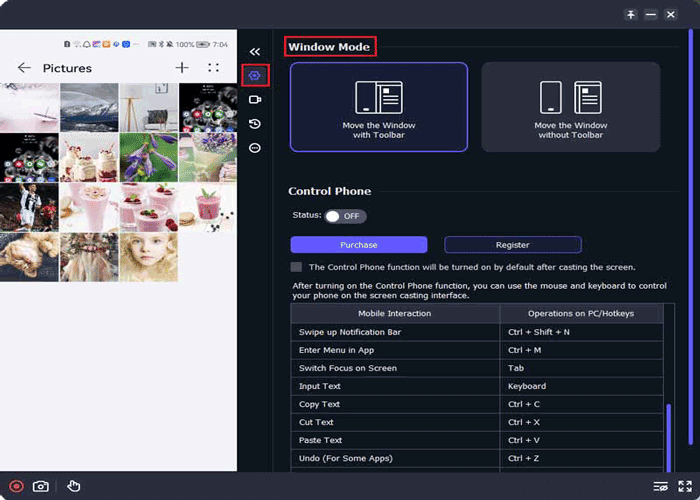 Learn more: Excellent Screen Mirroring App for Android to PC
Part 4: Frequently Asked Questions of AnyDesk
Q1. How much does AnyDesk cost?
AnyDesk is free for personal use, and there are also four business plans which you can choose from depending on your needs.
Q2. Is Screen Mirror safe?
Yes, Screen Mirror is safe to use. It uses TLS 1.2 encryption technology which guarantees complete security for all data transmissions between your computer and the remote Devices. Its user-friendly interface makes it easy to navigate, even for tech newbies!
Q3. Can I control my phone from my computer?
Absolutely! With the screen mirror tool, you can effortlessly connect and control your phone right from the comfort of your laptop or PC. All it takes is a few quick steps to link both gadgets together, and soon enough, you will be able to manage all aspects of your smartphone on the desktop.
Conclusion
From our AnyDesk app review, we can easily conclude what AnyDesk is and its features. What's more, you can get an excellent alternative to AnyDesk - Screen Mirror. It is a screen-sharing application with many useful features. It is compatible with most devices, and has a user-friendly interface and high-quality resolution streams. Plus, its TLS 1.2 encryption technology ensures complete security for all data transmissions between your computer and the remote device.
Related Articles:
A Complete Guide on SHAREit Review: Features, Pros & Cons, Security, Price, and More
How to Stop Someone from Spying on My Cell Phone? [With Preventions]
iMazing HEIC Converter Review & Its 7 Alternatives
List of 10 Best iPhone Backup Extractor Software
13 Best iPhone Recovery Software in 2023 (Detailed Reviews)
Get the Best iSpoofer Alternative for Android and iOS [Informative Guide]